WMV is a compressed video file format that generally uses the ASF container. It is often miswritten as WVM, WMF, AMV, and WMMP, but they are not the same.
The support of WMV has been limited to Windows. You can't open it on Mac with QuickTime, iTunes, iMovie, etc.
Why not change it to MP4? We all know that MP4 is a cross-platform and popular format with a comparable compression rate of WMV.
| | WMV | MP4 |
| --- | --- | --- |
| Type | Windows media video file | MPEG-4 video file (MPEG-4 Part 14) |
| Developed by | Microsoft | Moving Picture Experts Group |
| Container | ASF | MPEG-4 Part 12 |
| Video quality | Contain high-quality video | Better quality than WMV |
| File size | Smaller than MP4 | Small |
| Used by | Apps that are not unique to iOS and DVD players | Almost all media players and devices |
Mass Convert Large WMV to MP4 on Mac without Quality Loss
As an all-around WMV to MP4 converter for Mac, Cisdem Video Converter is able to turn videos from wmv1, wmv2, wmv3, wmv3 image, vc1, etc. encoded WMV into MP4 format.
It can convert WMV to h264/h265/mpeg4 MP4 or convert 4k WMV to 4k h264/h265 MP4 (different 4k resolutions involved). In our tests, when using x265 to decompress 1920 × 1080 WMV videos, the outputs save up to 50% better data compression than x264, while 3849 × 2160 videos up to 35%. And they produce the same quality stream.
Besides WMV and MP4, the app supports a vast range of formats, more than 300, including an assortment of preloaded profiles like iPhones, iPad, iMovie, Android, and so on.
Highlighted features:
Convert WMV (above 500MB & 2GB) to MP4, MPEG4, MOV, MP3, WAV, WebM, etc.
Batch convert multiple WMV files in a fast manner
Compress large WMV files and keep smaller outputs with h265
Manually optimize the codec, frame rate, bitrate, resolution, etc.
Remain hardcore subtitles and Dolby 5.1 soundtracks
Join several WMV clips into one file
Directly play WMV movies in the software without conversion
Download video/audio from YouTube, Vimeo, Tiktok, IG, FB and other 1000+ sites

Free Download
Steps to convert WMV to MP4 on Mac without limits:
Step 1. Add WMV files
Drag-n-drop all HD or 4k WMV videos you'd like to convert into the software.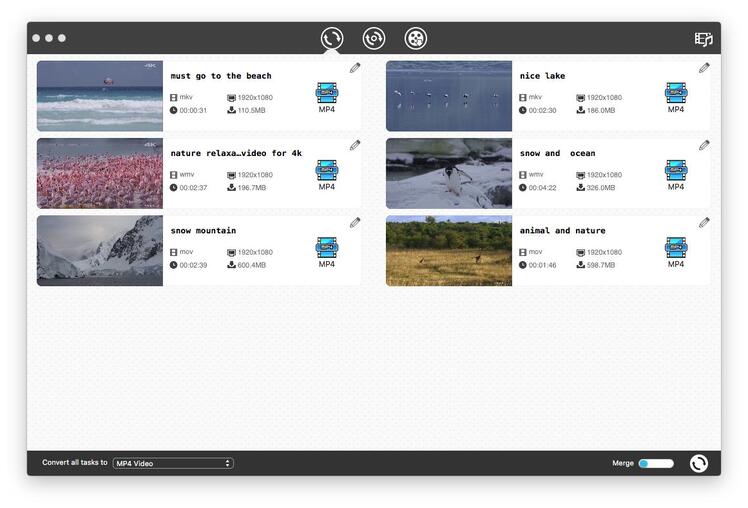 Step 2. Select the output option
Open the "Output Format" pull-down list. Choose target formats from "General Video" or "4K Video", say, "MP4 Video".
The file size of MP4 is larger than that of WMV. To get a smaller file, you can choose "MP4 HEVC Video" or "MP4 4K HEVC - XXXX (resolution).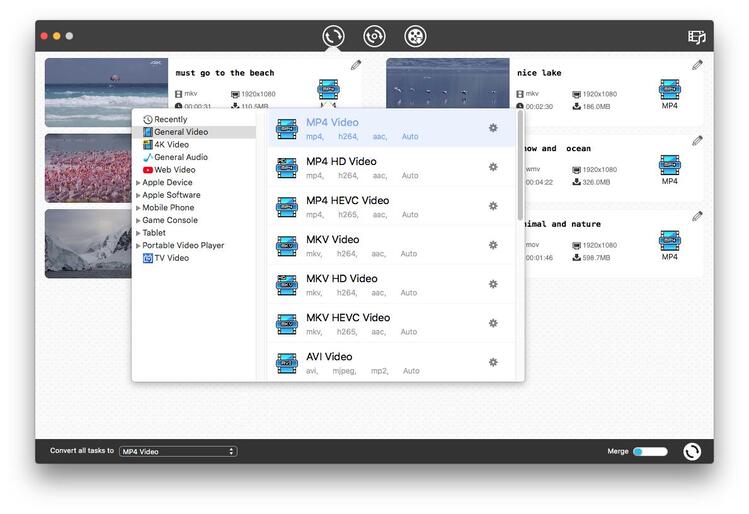 Step 3. Set parameters (optional)
Click the

button nearby the format option to call up the output controls, from where you can re-configure settings or leave them alone.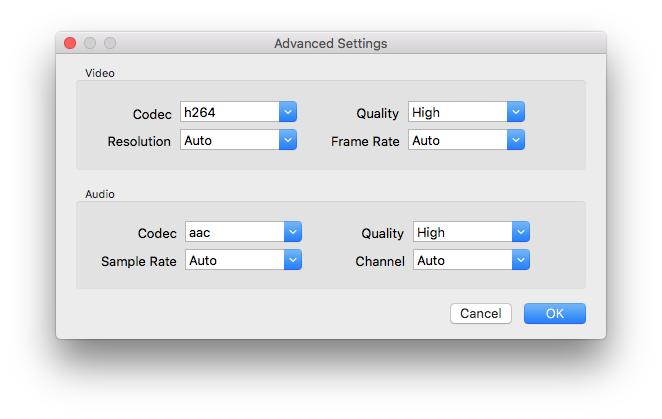 Step 4. Convert multiple WMV to MP4 on Mac
Before conversion, you can edit WMV videos.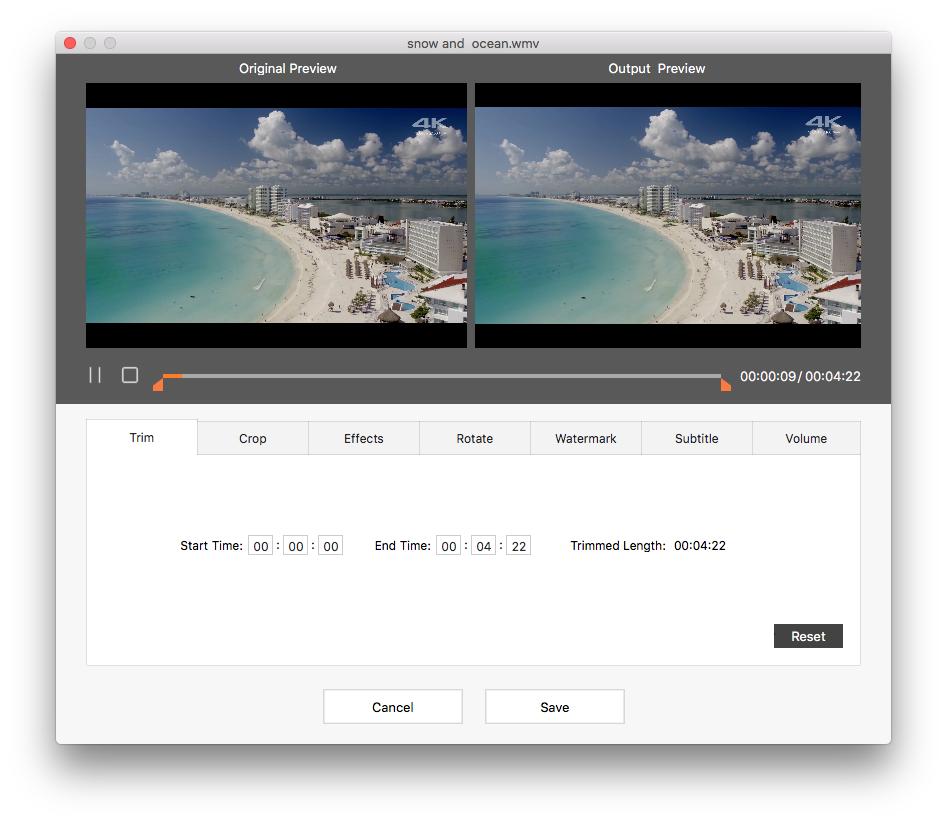 If unnecessary, click the

button located at the lower right side to start changing WMV files to MP4.

Free Download
How to Convert WMV to MP4 on Mac via Freeware?
VLC is a multi-platform media player. Not only can it view WMV on Mac, but also transcode WMV into MP4 as well as other formats. You have the ability to adjust the encapsulation, video codec, and audio codec.
It pursues quick conversion. The original file will be compressed more, but there is no obvious lack of quality. You can't compress WMV video with h265 (not support), only h264.
Launch VLC. Click "File" on the menu bar, and choose "Convert/Stream".
In the dialog box that opens, hit "Open media" and load a WMV.
Choose the profile as "Video – H.264 + MP3 (MP4)".
Go to the "Customize" window. Check the box "Keep original video/audio track" under the "Video/Audio codec". Apply it.
Note: If skip this step, your resulting file might involve only the video and the audio track is missing.
Click "Save as File". Specify the file name and destination for MP4.
Click "Save", and the output file will appear in M4V format. Don't open it right away. You need to wait for transcoding.
Change filename extension - .m4v to .mp4. M4V and MP4 are essentially the same in your scenario.
However, the conversion from WMV to MP4 on Mac won't be so smooth. In addition to the loss of audio tracks, there may also be problems such as:
Unsynchronized audio and video
Merely part of the video is converted
The exported MP4 can't be played (having to reset its video bitrate, audio codec, etc.)
How to Change WMV to MP4 on Mac with Commands?
FFmpeg is a bit difficult for beginners to turn WMV into MP4 on Mac, especially batch conversion of WMV files. You have to write scripts for it.
To make things easier, the following describes how to use the command lines to convert a single WMV file to MP4.
Run Terminal program and have FFmpeg installed on your Mac.
Type the basic command: ffmpeg –i xxx.wmv xxx.mp4.
Note: The output MP4 file will be encoded with h264 (libx264) and aac (native) by default. If you wish to change the video and audio codecs, enter the command like ffmpeg -i xxx.wmv -vcodec h264 -acodec mp3 xxx.mp4 instead.
Press "Enter" to re-encoding WMV video.
You can't remux WMV into MP4 via ffmpeg –i xxx.wmv -codec copy xxx.mp4 or ffmpeg -i xxx.wmv -c:v copy -c:a copy -y xxx.mp4, as WMV and MP4 are not using the same codecs.
To keep the highest quality, you can try: ffmpeg -i xxx.wmv -qscale 0 xxx.mp4. Qscale means the compression level, ranging from 1 to 31. The lower the qscale value, the better the quality.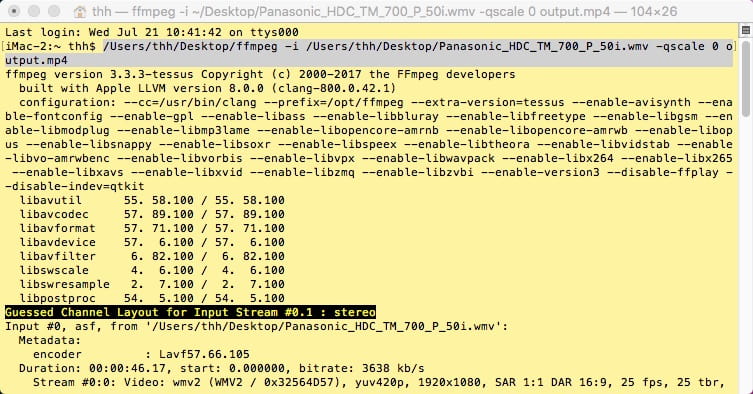 Free Online WMV to MP4 Converter for Mac
FreeConvert.com is an outstanding web-based service established in 2011. It's capable of converting videos over 500MB without limits and watermarks (Max file size 1GB. Once exceeds, you need to buy a pro account, which is not cheap). And you can convert up to 5 WMV videos at a time.
Visit the web page https://www.freeconvert.com/wmv-to-mp4 in the browser.
Click "Choose Files" and then upload WMV files from your Mac.
Hit the "Convert to MP4" button.
Download all converted MP4.
When converting WMV to MP4 Mac online with FreeConvert.com, we noticed the shortcomings below:
Free account merely supports 10 conversions per day.
Can't encode WMV via h265. Based on the test, a 33.5 MB WMV 4k video will be changed to 135.6MB. If you use the Cisdem Video Converter's HEVC compression feature, the final MP4 4k video will be 23.1MB.
Unable to convert 1GB+ videos.
Not 100% safe. Your media content may be leaked.
FAQs
1) Can iMovie turn WMV into MP4 on Mac?
The short answer is no.
iMovie does not allow importing WMV anyway. Although AVI was also created by Microsoft, as long as it contains iMovie-supported codecs, it can be imported into iMovie.
2) Can MPEG Streamclip convert WMV to MP4 on Mac?
Yes, it's possible.
MPEG Streamclip is a free and lightweight video converter & player. It supports the formats like VOB, DV, AVI, MPEG-4, MPEG-1, MPEG-2, etc., 4k not included. As for WMV, you should install Flip4Mac. Otherwise, an error message pops up.

However, we don't recommend you use MPEG Streamclip. It's too old and hasn't been upgraded since 2012. For the latest Mac system, its compatibility is poor.
3) Can I transcode WMV file to MP4 through Handbrake?
You can do it, but the x265 transcoding function of Handbrake doesn't work well. You might get the converted MP4 with large size and not very high quality.
4) How to play WMV on Mac?
You are able to install the component - Flip4Mac for QuickTime, or use other WMV players for Mac, such as Cisdem Video Player, 5KPlayer, VLC, and so forth.
But you can't play DRM protected WMV on Mac with these media players.
At Last…
According to the discussion over the best WMV to MP4 converter for Mac, we can make a brief conclusion. VLC and FFmpeg will complicate the conversion. A professional app like Cisdem Video Converter is undoubtedly the most helpful. An online WMV converter is also convenient for conversion, but don't upload private videos.