Both WAV and M4A are audio formats supported by Apple devices or programs. You can easily play them on iPhone, iPad, iPod, Mac (OS X, macOS), etc. But WAV files are large and require more disk space, whereas M4A is able to save audio files in high quality and minimal file size. Here will help you convert WAV to M4A on Mac and Windows with 5 methods.
Best WAV to M4A Converter for Mac and Windows
Convert WAV to MP3, M4A, AAC, AMR, FLAC, etc.
Run multiple files conversion of various formats in bulk
Offer a fast speed to make conversions without data loss
Split long WAV audio into pieces
Join WAV tracks and convert all to a single M4A file
Adjust the embedded volume to the appropriate state
Change audio bitrate, channels, & sampling frequency, etc.
Provide 300+ customized presets for other devices, like Android, iPhone, etc.
Download audio and video from streaming sites like YouTube
Rip music DVD discs to WAV, M4A, or any digital format

Free Download

Free Download
What is WAV?
WAV, short for WAVE, is a standard audio file format for recording. It's often stored in a 44.1 kHz, 16-bit, stereo format, which is almost the same as that of a CD. It can be compressed into other lossless or lossy formats such as M4A.
However, WAV is a lossless music format and eats up too much storage space, making it difficult to spread. A 3-minute WAV song is between 30MB and 50MB.
What is M4A?
M4A is an extension of the MPEG4 audio standard file, which is encoded with either AAC or ALAC. It has become popular since Apple started using M4A in iTunes and iPod to distinguish between audio MP4 and video MP4. Almost all software that supports MPEG4 audio supports M4A.
M4A audio file is relatively smaller in size. So it's ideal for saving and sharing audiobook content, podcasts, digital music, and more.
Difference between a WAV file and an M4A file
5 Ways to Convert WAV to M4A on Mac and Windows
In many cases, we have to perform the audio conversion. This section will introduce 5 different types to change WAV to M4A on Mac and Windows easily.
#1 Cisdem Video Converter (Recommended)
Cisdem Video Converter is a comprehensive media converter with the potent ability to make conversions between 600+ video and audio formats on Mac and Windows. That is to say, besides converting WAV to M4A, it can also help you convert M4A to WAV or other 50+ audio formats in seconds. Plus, it can extract audio tracks from 200+ video formats like MP4, MOV, MTS, AVI, VOB, etc.
This program is the best way to convert WAV to M4A for your option as it supports batch conversion with an amazing fast speed and preserves the original audio structure. Furthermore, this WAV converter allows you to download audio from YouTube, rip purchased DVDs to iTunes, customizable encoding parameters, and so forth.
Steps on how to convert WAV to M4A in batches without quality loss via Cisdem:
Step 1. Load WAV audio tracks
Launch Cisdem Video Converter.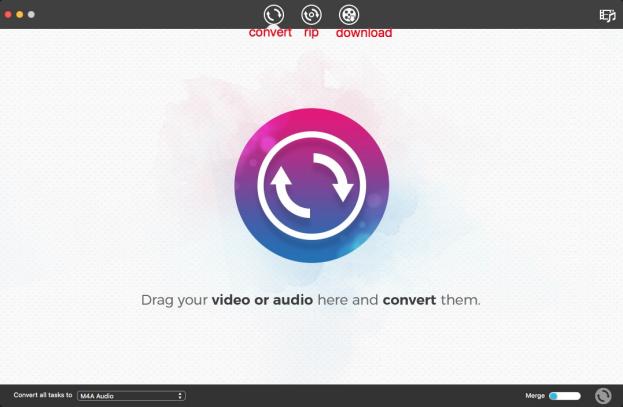 In the "convert" interface, drag and drop all your WAV files into it.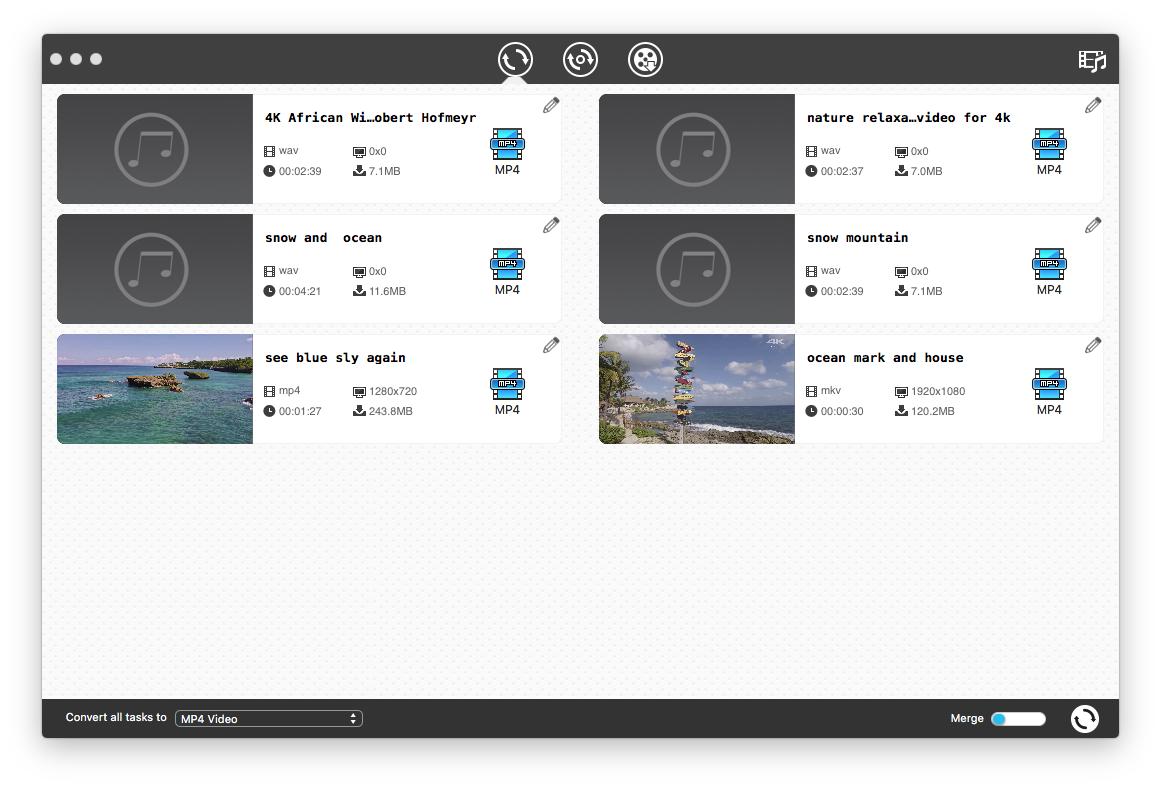 Step 2. Select M4A as the target format
There is a format button next to each audio thumbnail. Click it to open the format list, choose "M4A Audio" under "General Audio" category. Or click "Convert all tasks to" button at the bottom right to set the output format for all files in one click.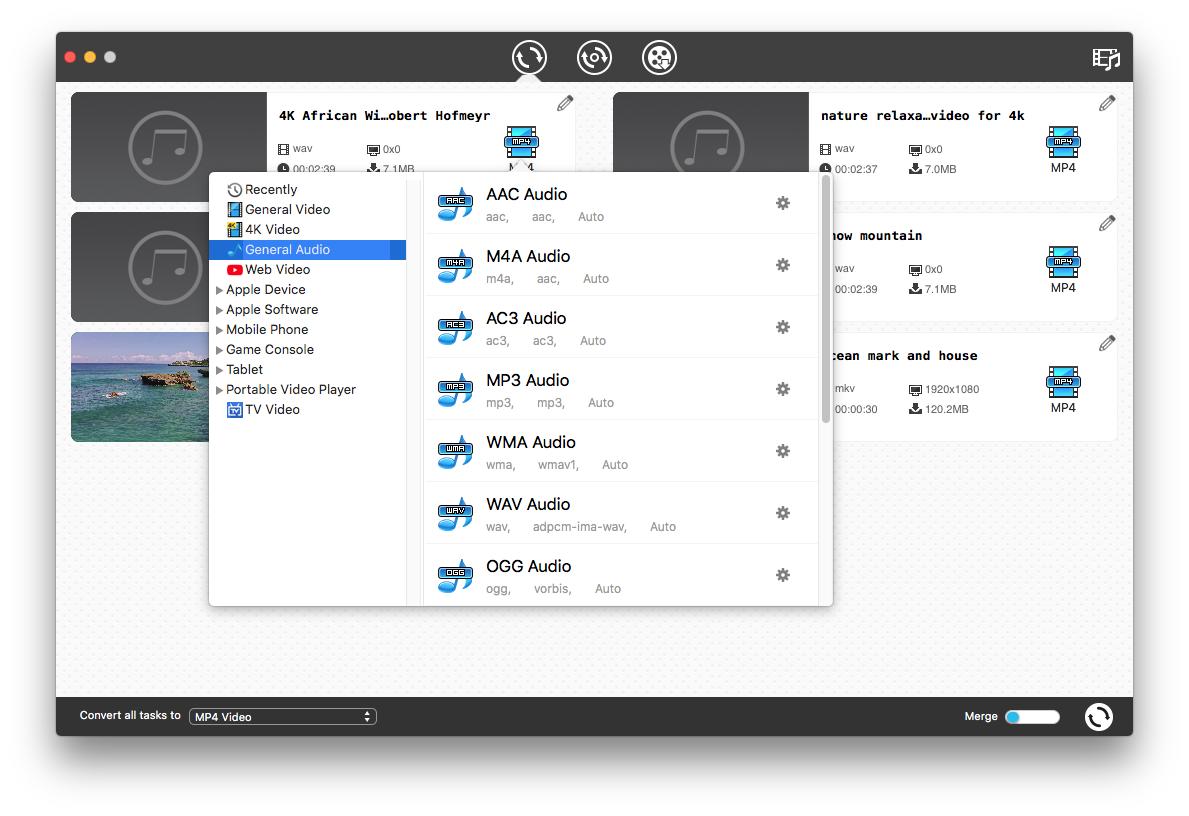 Step 3. Tweak output settings (optional)
Open the "Advanced Settings" panel by clicking the

icon next to the output format you choose. Then, you can adjust audio parameters. For beginner, leave them at their default.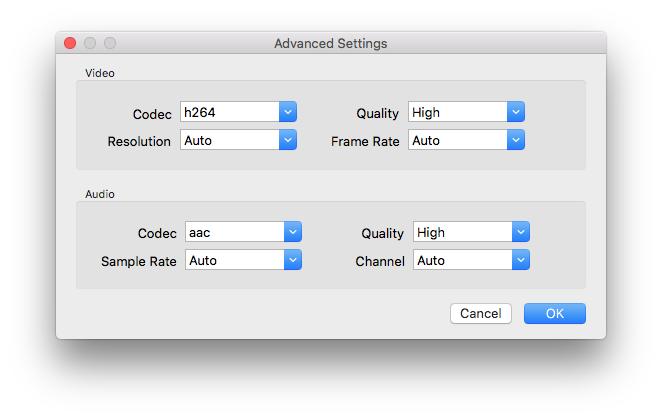 Step 4. Batch Convert WAV to M4A
Click the

button at the bottom right side to begin the bulk conversion with the fastest speed.
#2 Audacity
Audacity is a free audio recording and editing tool for Mac and Windows. Using Audacity to convert WAV to M4A can enjoy the provided audio editing features to improve audio quality or effect. But, Audacity itself can only export to a few common audio formats, including MP3, WAV, FLAC, AIFF, OGG, MP2, but no M4A format.
To convert WAV to M4A with Audacity, the FFmpeg library - a plug-in is required to ensure that Audacity imports or exports more audio formats.
Tip: FFmpeg 2.2.2 works for Audacity 2.0.6, and higher versions of FFmpeg work for Audacity versions prior to 2.0.6.
Install FFmpeg for Audacity.
Drag-n-drop WAV files into the Audacity.
Go to "File" > "Export" > "Export Audio". If you want to export two or more WAV files, click "Export Multiple".
Choose the file type as M4A (AAC) Files (FFmpeg) as well as where to store the file. Click "Save".
If needed, edit metadata tags. Finally, hit "OK".
#3 Online Audio Converter
MP3Cutter.com covers an Audio Converter tool that's able to convert your local files to 10 formats such as MP3, OGG, iPhone Ringtone, etc. You can edit track information, choose quality (bitrate), regardless of constant or variable, and apply the effects like fade in/out.
But this free WAV to M4A converter online merely lets you convert up to 5 WAV files at a time. Even if you add more than 5 audio files, only the first 5 will be converted. Moreover, it's not safe to convert confidential audio. Another inconvenience of it is that it can easily get stuck or work slowly due to the unstable internet connection.
Visit https://www.mp3cutter.com/audio-converter in your browser.
Hit the green "Choose File" button to add WAV files.
Choose the output file format option as M4A.
(Optional) Change quality or advanced settings.
Click "Convert" to export WAV as M4A.
After completing the converting process, click "Download Your File(s) Here" to save it on your computer. If there are multiple files, they will be compressed into a zip file.
#4 FFmpeg Commands
FFmpeg is a robust project that can process lots of multimedia tasks, including audio converting. It's convenient to convert WAV to M4A on Mac/Windows with commands.
To transcode multiple files, you have to rewrite scripts. I tried some scripts recommended on forums, but all failed. Therefore, for technical novices, using FFmpeg is a waste of time, as you don't know how to write the scripts by yourself.
Below are the steps to convert single WAV audio.
Download FFmpeg from official website or via a package manager such as APT.
Open Terminal program and drag-n-drop FFmpeg you download into it.
Type the command-line: -i input.wav -map 0 output.m4a or -i input.wav output.m4a, both of them work.
Note: "input wav" is not to input text directly, but to drag your WAV file into Terminal.
Press "Enter" to make a transcoded audio. After the end, find M4A in the home directory.
#5 Default Players
Quicktime Player (Mac)
QuickTime, the default player for Mac, offers multiple functions for other uses, such as editing movies and recording screen. It can also extract the playing file to another file format easily. But the output format it provides is limited, the output audio format can only be M4A, and the video is MOV.
Open QuickTime on your Mac computer.
Import and open a WAV file by clicking "File > Open File" on the top menu bar.
Then, click "File > Export As > Audio Only" to extract WAV as M4A.

It comes up a new window with .m4a format in the file button. Make a suitable storage name and destination.
Finally, hit on "OK" button.
Windows Media Player (Windows)
Correspondingly, Windows Media Player is the default player for Windows systems. Suffice to say, the new version of Windows Media Player is void of conversion function. However, it is able to burn and rip CD/DVD discs. So, if you want to convert WAV to M4A on Windows 10/11, Windows Media Player can be an effective way. Its process is more complex than others, which contains two parts, burning WMV audio tracks to a CD and ripping the files as W4A files later.
Find and run Windows Media Player, insert a blank and writable CD disc into the computer drive.
Right-click on "Burn" tab, and select "Audio CD" button.
Drag and drop all MAV files you want to the target place that says "Drag items here to create a burn list".
Tap on "Start burn" button to create WMV files to CD. After finishing, the disc will eject automatically.
Insert the CD again, select all files for conversion. Click "Rip settings" > "More options" in Windows Media Player.

On the new window, select a new location by clicking "Change" button.
Then, hover your mouse to click "Format" button to choose the output format. You will see that there is no M4A format in the list. Don't worry, as M4A file format is also encoded with lossless ALAC, so you can select "ALAC (Lossless)" in the expanding list. After completing the task, you will see the files with M4A extension on your computer.
Besides, move the icon of the quality progress bar to adjust the audio quality. When all is done, click "Apply".
Click "Rip CD" button to change WMA to M4A with Windows Media Player.

FAQs
1) Can iTunes convert WAV to M4A?
Yes, it can!
Below is the simple steps On Mac:
Navigate to "iTunes" > "Preferences" > "Import Settings"(under "General" tap) on the top toolbox.
Select Apple Lossless Encoder from "Import Using". Click "OK".

As iTunes supports WAV format, and you can straightly import a WAV file.
Then, go to "File" > "Convert", and choose "Create Apple Lossless Version".
It will start the converting process instantly. Once done, you will see a new file with .m4a extension on your settled destination.
Apple Music is the Windows version of iTunes, whose steps are similar to those of Mac. The only slight difference is that you need click "Edit > Preferences" in the top toolbox at first.
2) Can I convert WAV audio to M4A using Afconvert?
The answer is yes.
Afconvert can be an app or a command-line utility built into the macOS. When it specifically refers to a converter app for Mac, the output format can only be M4A, MP4, and AIFF. If it's a command-line tool similar to FFmpeg, you can try the command: afconvert -f WAVE -d LEI24 Audio File.wav Audio File.m4a.
3) Can VLC convert WAV to M4A?
No. Although VLC Media Player does a decent job in converting by supporting some popular audio and video formats, it offers no option as W4A. Instead, if you want to convert M4A to WAV on Windows 10 or Mac, VLC is a great audio converter freeware for your choice.
The Bottom Line
There are too many ways to convert WAV to M4A on Mac. This article focuses on 5 types of solutions, and several ways are also mentioned in FAQs. But not all of them are perfect. I still think that a WAV to M4A professional converter like Cisdem Video Converter is the best. Compared with other tools, it's easy to make audio & video conversion among any format in batch without losing quality, plus, it's packed with some other useful features for multimedia.