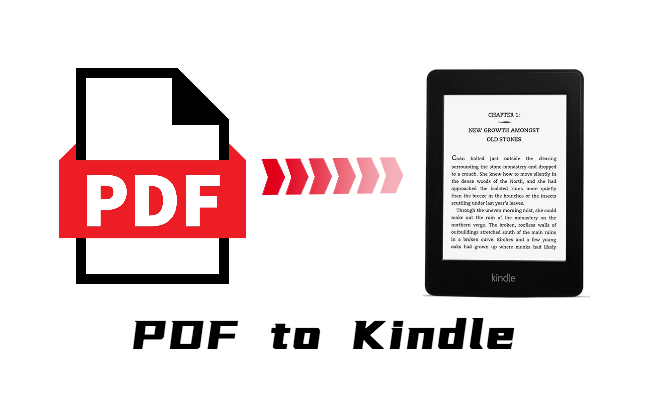 Amazon's Kindle e-Reader does a great job of displaying eBooks and is widely used globally. Though the PDF format is supported since Kindle 2, only those Kindle-friendly PDFs can be formatted well and accurately on Kindle. For a great part of PDFs, to read PDF documents with large margins, multiple columns, and other formatting choices are not so attainable for Kindle.
If you want a better PDF reading experience on Kindle, especially on latest Kindle aperWhite, the most effective solution is to convert PDF to Kindle format by using a professional PDF converter. Here we recommend 6 useful methods to help you convert PDF to Kindle format on Mac/Windows.
Why Cisdem PDF to Kindle Converter?
Convert native PDF to Kindle format, and other 15 formats(Word, Excel, Keynote, Pages, etc.)
Convert scanned PDF and images to Kindle format and 40+ formats (PDF, Word, Excel, ePub, HTML, etc.)
Convert protected PDF to Kindle format easily
Convert large PDF to Kindle fast
Convert Kindle ebooks and other files to PDF easily
Merge, compress and add passwords when creating PDFs from Kindle or others

Free Download

Free Download
The Best PDF to Kindle Converter You Can Not Miss
Among so many PDF to Kindle converters, Cisdem PDF to Kindle Converter on Mac and Windows is one that stands out for intelligent file conversion, which can highly preserve the original quality of the document. As such, you can be sure that with this program, everything including graphics, tables, hyperlinks, etc. will be preserved. Up to 16 formats you can choose from. Have a try after reading our tutorials.
With this all-in-one PDF converter, you can solve several PDF tasks in one go. Let us explore what Cisdem PDF Converter OCR provides:
Steps to Converting PDF To Kindle Format with the Best Converter
Download and install Cisdem PDF to Kindle converter.
Free Download Free Download
Load PDF files to PDF Converter OCR.
Go to Converter, drag and drop the PDF files that you would like to convert to Kindle format. It supports large PDF files and can batch convert.
Adjust Preferences for PDF to Kindle Conversion.
►Choose all pages or page range as you like. Select the output format as Text or ePub for you to read PDF on Kindle.
►If you are working on scanned or image files, turn OCR button ON, choose file language and output as needed.
►For protected PDFs, Cisdem can remove the owner password protection automatically.
Click "Convert" to perform PDF to Kindle conversion and choose the output folder. The status bar will indicate a successful conversion.
Convert PDF to Kindle Format on Mac/Windows
#1 Calibre
There is a completely free and open source e-book manager for you, which is called Calibre. Except for converting PDF to Kindle format, most e-books can be edited by changing the font size, table of content, margin, background color, text color and book metadata. As an e-book library, Calibre can also help you to find the e-books you want by searching for book sources from websites.
In fact, it PDF to Kindle converter not only benefits Mac and Windows users, but Linux, Android and iOS users can also enjoy the surprises brought by this free software.
Calibre supports converting PDF to: AZW3, MOBI, EPUB, DOCX, FB2, HTMLZ, LIT, LRF, PDB, PDF, PMLZ, RB, RTF, SNB, TCR, TXT, TXTZ, and ZIP
How to Convert PDF to Kindle Format on Mac/Windows with Calibre?
Click the Add books icon situated on the top left to import your PDF files.
Press the Convert books icon on the toolbar, and choose Convert individually or Bulk convert according to your needs.
Set the output format as AZW3, MOBI or other e-book formats according to the version of your Kindle.
Then edit the metadata for your e-book, including title, author, publisher, tags and more.
Press the OK button to run the PDF to Kindle converter on Mac/Windows with Calibre.
#2 Epubor Ultimate eBook Converter
If your needs are relatively simple, then another simple-to-use PDF to Kindle converter on Mac/Windows is suitable for you. Epubor Ultimate eBook converter supports converting PDF to popular Kindle formats, modifying metadata, automatically detect eReader and loading books.
Input formats: EPUB, AZW, AZW1, AZW3, AZW4, MOBI, PDF, TXT, PRC, TPZ, TOPAZ, and HTML.
Output Formats: EPUB, AZW3, MOBI, PDF, TXT.
Epubor Ultimate supports eBooks from: Amazon Kindle, Kobo, Adobe Digital Edition, Barnes & Noble Nook, Sony, Google Play etc.
Start PDF to Kindle Conversion on Mac/Windows:
Drag and drop PDF files into the Drag Drop Books Here area or click Add button to upload files.
Select the output formats from the drop-down menu, you can convert PDF to ePUB, Mobi, Azw3, Txt, etc.
If you want to add information to your files, press the Edit meta icon on the file bar. You are allowed to edit title, author, date, language, publisher and introduction.
When you complete, click the Finished button to launch the PDF to Kindle converter.
Convert PDF to Kindle via Amazon Email
The Amazon Kindle is a series of e-readers designed and marketed by Amazon.com. And actually, Kindle can read PDFs, but users can't get a text reflow as they expect. Anyway, you can email the PDF document to your kindle account and Amazon will convert it for you.
Easy Steps on How to Convert PDF to Kindle via Amazon Email:
Open your Kindle device, go to Settings > My Account, and find your Amazon email address.
Send your PDF that need to be converted to Kindle to this Amazon email address, and you will need to input Convert in the subject line.
Once ready, click Send, then find the Kindle file in your Kindle device.
It is indeed a sweet service by Amazon, however, it just let me down when talking about these points:
It takes time. I once sent a few documents with just a few pages to the Kindle account, the converted kindle format arrived an hour later.
It doesn't work for all PDFs, some are just in a mess.
It cannot perform PDF OCR to convert scanned PDF or images to kindle format. If you are an office man who needs to regularly work on scanned PDF documents, it helps nothing.
Convert PDF to Kindle Format Online for Free
When searching for PDF to Kindle converters on Google, online eBook converters are always occupy the main page. They are free of charge and simple to use, no one can refuse to use such tools. Here we pick 2 online free PDF to Kindle converters: eBook.online-convert and ASPOSE PDF to Kindle.
#1 eBook.online-convert
eBook.online-convert is one part of online-convert, an online file converter to do conversions on eBooks, Audios, Documents, Images, Videos and others. It supports batch conversion and allows users to tweak the settings as needed. You can upload the files from local, Dropbox, Google Drive, even via URL.
Let's Run the Free Online PDF to Kindle Converter:
1.Go to eBook.online-convert, and choose the Kindle Reader format according to your need. This free eBook converter offers 9 options for you.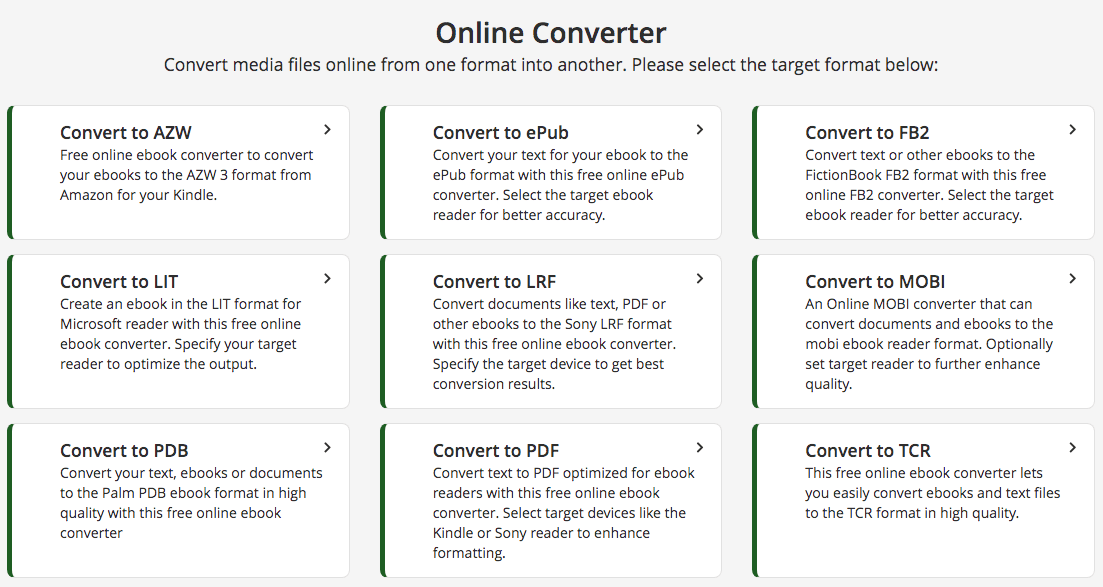 2.Click "Choose Files" to upload your PDF for PDF to Kindle conversion.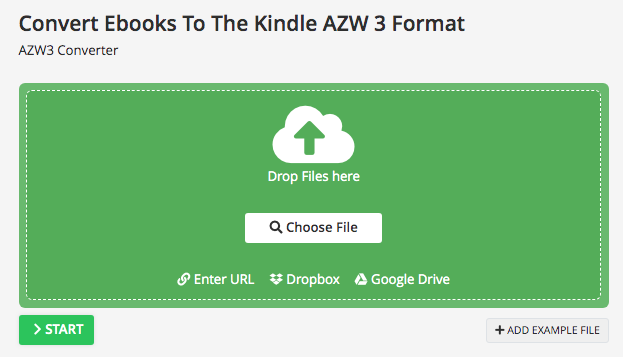 3.Go to Optional Settings and adjust as needed.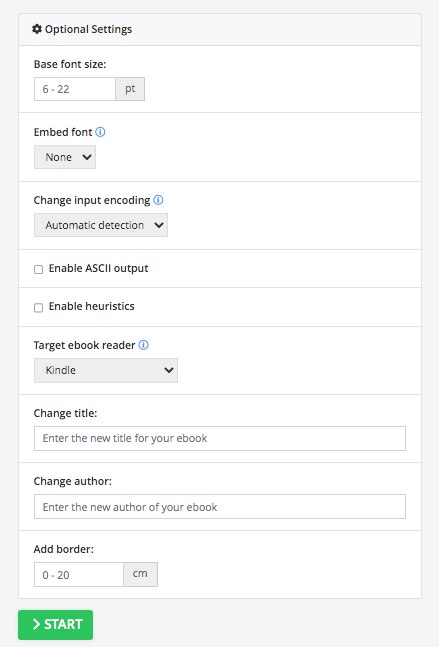 4.Click "START" to change your PDF to Kindle online for free.
5.Once your PDF is converted into AZW3, you can download the converted file. And you will be able to read PDF on Kindle.
It is quite easy and works fast for small size PDFs. However, for large size PDFs, the uploading speed may drive you crazy. In addition, your PDF will be uploaded and saved by the converter, so, if your file is highly confidential, like your business contract or financial report, the converter is not recommended.
#2 ASPOSE PDF to Kindle
ASPOSE is a cross platform file format application for working with Kindle Reader format, MS Office, Visio, CAD, 2D & 3D imaging, Project, etc., which committed to offer a 100% free of charge converter for light use. In addition to conversion tools, it can also read eBooks, manage eBooks, and turn text into natural-sounding speech.
How to Convert PDF to Kindle Format Online Free?
1.Choose PDF files that you want to convert to Kindle Reader format from your computer, Google Drive or Dropbox.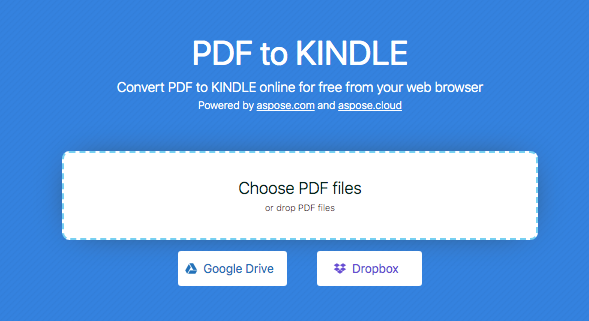 2.Specify the output format, there are AZW3, MOBI and EPUB you can choose from.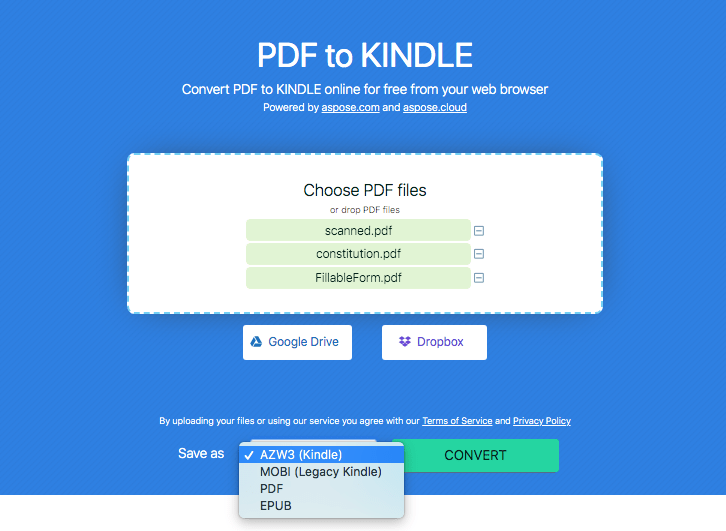 3.Press Convert to turn your PDF to Kindle Format, and download the generated Kindle file (you can also upload it to Google/Dropbox, or send the link to email).
Basic Knowledge about Kindle Format
The proprietary formats:Kindle devices are designed to use Amazon's own e-book formats: AZW, and, in fourth generation and later Kindles, AZW3, also called KF8.
Format supported by Kindle Device:
The first-generation Kindle supports MOBI, PRC,TXT, TPZ and Amazon's AZW format;
The Kindle 2, besides those formats supported by Kindle 1, also support native PDF,AAX and HTML files;
Later versions from Kindle 4th generation to 10th generation, Touch, Paperwhite (1st to 5th generations), all Voyage and Oasis supports AZW, AZW3, TXT, PDF, unprotected MOBI, PRC. HTML, DOC, DOCX, JPEG, GIF, PNG, and BMP are usable through conversion. The Keyboard and Touch also supports AA, AAX and MP3, the 7th Kindle and all Kindle Paperwhite versions, Voyage, Oasis can also read KFX files.
So, once you understand Kindle covers which formats, we are getting closer to reading PDF on Kindle, or put it simply, just converting PDF to the most Kindle-friendly format, TXT, the same way as Amazon and other PDF converters do.
It's Time to Pick the Best PDF to Kindle Converter!
According to our test on these 6 PDF to Kindle format converters and some basic knowledge about Kindle format, we highly recommend the Cisdem PDF Converter OCR, for its impressive speed and profession to enable you to read both native and scanned PDFs on an old model of Kindle or the latest PaperWhite Kindle.