Amazon's Kindle e-Reader does a great job of displaying eBooks, especially when PDF serves as the most popular format for eBooks. Though PDF format is supported since Kindle 2, only those Kindle-friendly PDFs can be formatted well and accurately on Kindle. For a great part of PDFs, to read PDF documents with large margins, multiple columns, and other formatting choices is not so attainable for Kindle.
If you want a better PDF reading experience on kindle, the most effective solution of converting PDF to Kindle format on Mac is using a professonal PDF converter. Here we recommend 3 useful methods to help you convert PDF to Kindle on Mac.
The Best PDF to Kindle Converter for Mac You Can Not Miss
Among so many PDF to Kindle Converter for mac, Cisdem PDF to Kindle Converter for Mac is one that stands out for intelligent file conversion, which can highly preserve the original quality of the document. As such, you can be sure that with this program, everything including graphics, tables, hyperlinks, etc. will be preserved.
Main Features of Cisdem PDF to Kindle Converter:
Convert all PDFs into Kindle and other 15 formats, including Word, Exel, Pages, Keynote, Image, etc;
Convert images or scanned files into editable Word, Kindle, Excel, Powerpoint, etc;
Preserve original file quality;
Create PDF from Word, Kindle, PowerPoint and other documents(also allow protecting and compressing PDFs)
Batch convert PDFs;
Why Cisdem PDF to Kindle Converter?
Convert native PDF to Kindle format, and other 15 formats(Word, Excel, Keynote, Pages, etc.);
Convert scanned PDF and images to Kindle format and others(PDF, Word, Excel, ePub, HTML, etc.);
Convert protected PDF to Kindle format easily;
Convert Kindle ebooks and other files to PDF easily;
Merge, compress and add passwords when creating PDFs from Kindle or others;

Free Download
Steps to convert PDF To Kindle on Mac
Step 2

Load PDF files to PDF Converter OCR for Mac.

Go to "Converter", drag and drop the PDF files that you would like to convert to Kindle format. It supports batch conversion.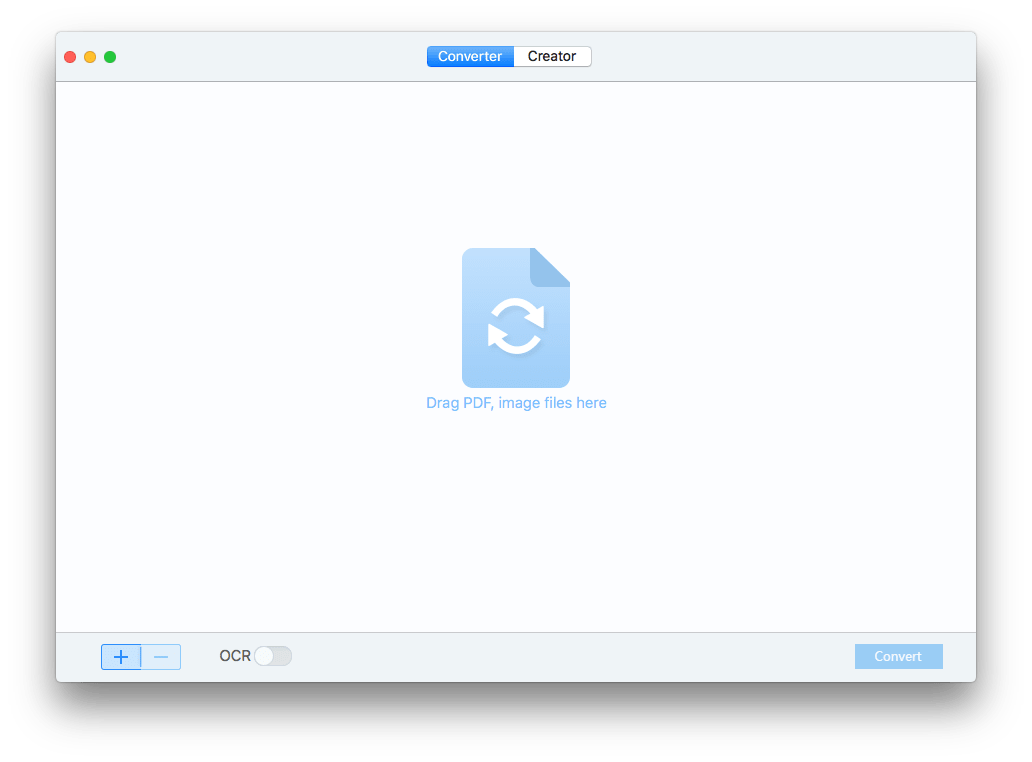 Step 3

Adjust Preferences for PDF to Kindle Conversion on Mac.

Choose all pages or page range as you like. Select the output format as Text or ePub for you to read PDF on Kindle.

If you are working on scanned or image files, turn OCR button ON, choose file language and output as needed;

For protected PDFs, Cisdem can remove the owner password protection automatically, but you will need to enter corrent user password if there is one locking the PDF.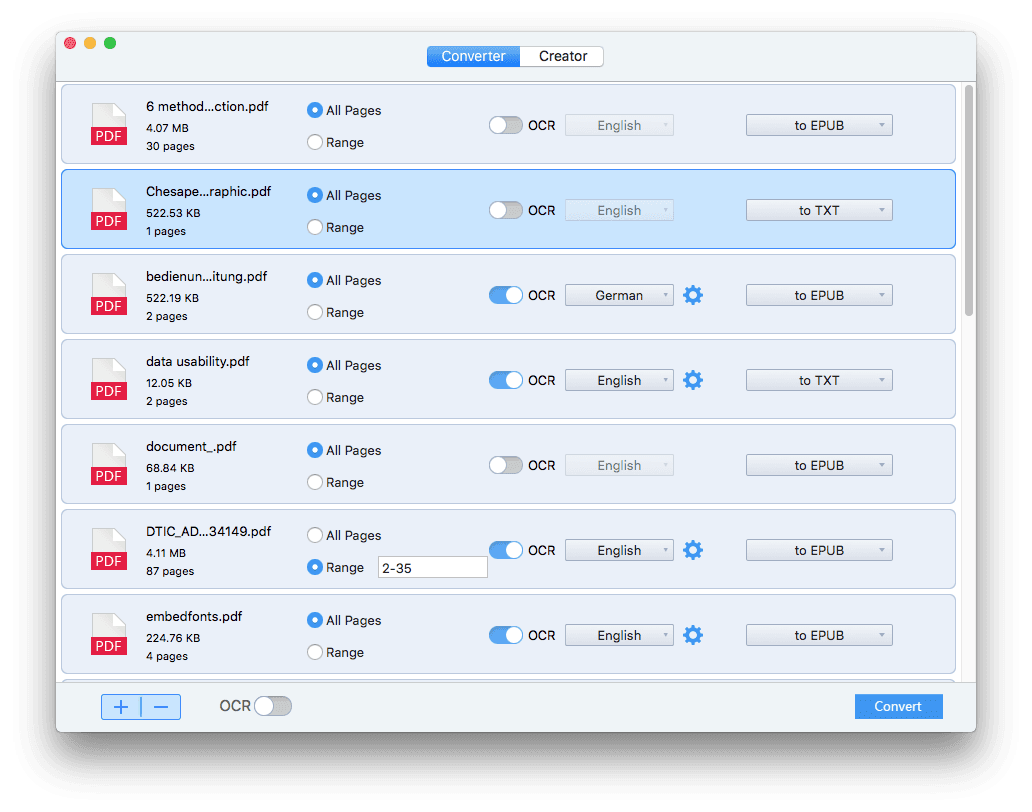 Step 4

Click "Convert" to start the PDF to Kindle conversion.

Click "Convert" to perform PDF to Kindle conversion and choose the output folder. The status bar will indicate a successful conversion.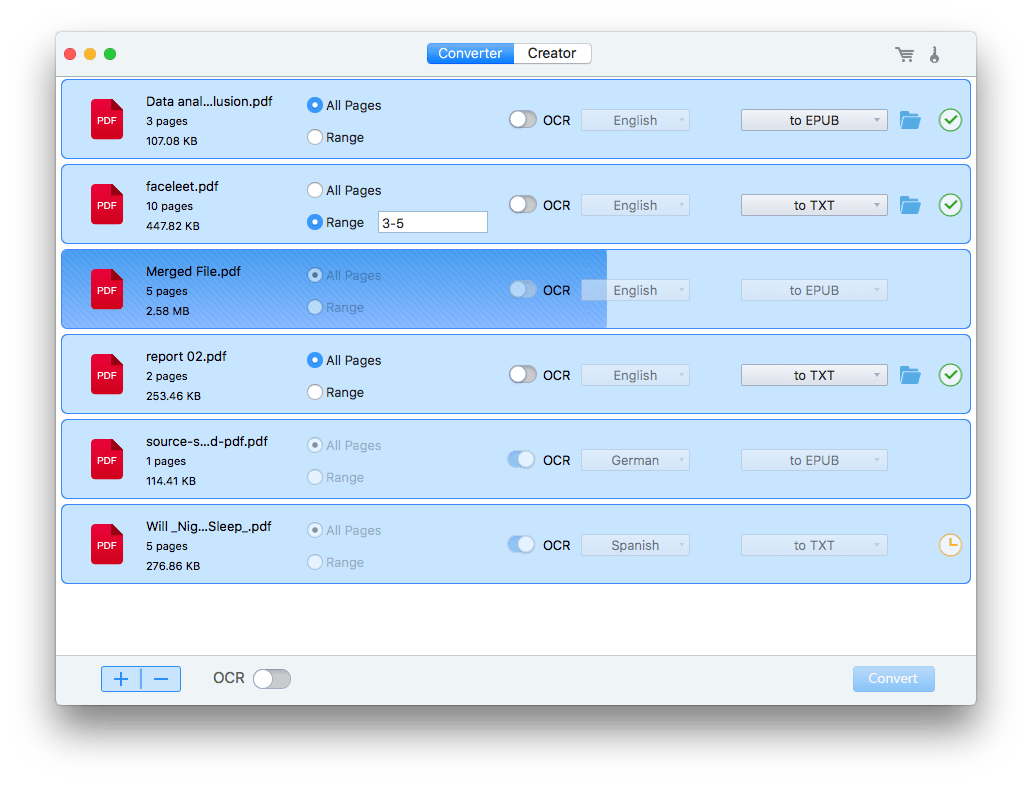 Convert PDF to Kindle on Mac via Amazon
The Amazon Kindle is a series of e-readers designed and marketed by Amazon.com. And actually, Kindle can read PDFs, but users can't get text reflow as they expect. Anyway, you can email the PDF document to your kindle account and Amazon will convert it for you.
Open your Kindle device, go to Settings>My Account, and find your Amazon email address;
Send your PDF that need to be converted to Kindle to this Amazon email address, and you will need to input "Convert" in the subject line;
Once ready, click "Send", then find the Kindle file in your Kindle device.
It is indeed a sweet service by Amazon, however, it just let me down when talking about these points:
It takes time, I once sent a few documents with just a few pages to Kindle account, the converted kindle format arrived a hour later;
It does't work for all PDFs, some just in a mess;
It cannot perform pdf ocr to convert scanned PDF or images to kindle format. If you are an office man who needs to regularly work on scanned PDF documents, it helps nothing.
Using Online PDF to Kindle Converter
ebook online convert is one part of online-cnvert, an online file converter to do conversions on eBooks, Audios, Documents, Images, Videos and others. It supports batch conversion and allows users to tweak the settings as needed. You can upload the files from local, Dropbox, Google Drive, even via URL.
Go to ebook.online-convert >Ebook converter, choose the output according to your need;
Click "Choose Files" to upload your PDF for PDF to Kindle conversion.
Go to Optional Settings and adjust as needed;
Click "Start conversion" to change your PDF to Kindle online free.
Once your PDF is converted into AZW3, you can download the converted file. And you will be able to read PDF on Kindle.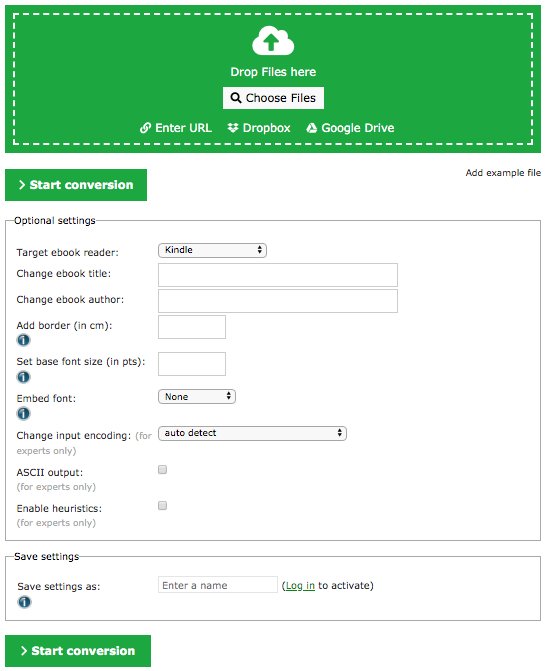 It is quite easy and work fast for small size PDFs. However, for large size PDFs, the uploading speed may drive you crazy. In addition, your PDF will be uploaded and saved by the converter, so, if your file is highly confidential, like your business contract or financial report, the converter is not recommended.
Basic Knowledge: What is Kindle Format?
The proprietary formats:Kindle devices are designed to use Amazon's own e-book formats: AZW, and, in fourth generation and later Kindles, AZW3, also called KF8.
Format supported by Kindle Device:
The first-generation Kindle supports MOBI, PRC,TXT, TPZ and Amazon's AZW format;
The Kindle 2, besides those formats supported by Kindle 1, also support native PDF,AAX and HTML files;
Later versions like 4th /5th / 7th Kindles, Touch, Paperwhite(1st,2nd, 3rd generations), Voyage and Oasis supports AZW, AZW3, TXT, PDF, unprotected MOBI, PRC. HTML, DOC, DOCX, JPEG, GIF, PNG, and BMP are usable through conversion. The Keyboard and Touch also supports AA, AAX and MP3, the 7th Kindle and all Kindle Paperwhite versions, Voyage, Oasis can also read KFX files.
So, once you understand Kindle covers which formats, we are getting closer to read PDF on Kindle, or put it simply, just convert PDF to the most Kindle-friendly format, TXT, as the same way as Amazon and other PDF Converters do.
Final Words
According to my test on these Three PDF to Kindle format converter for Mac, I highly recommend the Cisdem PDFConverterOCR, for its impressive speed and profession to enable you to read both native and scanned PDFs on Kindle.

Free Download

Rosa Reyes


Rosa has worked in Mac software industry for more than eight years. She believes that the purpose of software is to make life better and work more productively. In addition to writing, Rosa is also an avid runner.