Cameras, camcorders, Adobe Premiere, etc. often export large AVI files, and many movies downloaded from the Internet are also in AVI format. To easily back up AVI videos and watch them on any standalone DVD player attached to an HD TV, people tend to burn AVI to DVD.
There are dozens of AVI to DVD converters for Mac and Windows. Which is the best DVD burning software? Let's move on to the actual practice and guide on creating DVD from AVI.
The Most Trustworthy Apps to Burn AVI to DVD on Mac/Windows
Cisdem DVD Burner for Mac
Requirements: macOS 10.12+, including macOS 13.0 Ventura; Windows 10/11. It keeps upgrading with the newest technology and OS operating system.
Cisdem DVD Burner is a powerful AVI to DVD converter for Mac to make a good-looking DVD project. It allows you to burn virtually all video formats such as AVI, MP4, WMV, FLV, AVI, MTS, TS, MKV, MOV, MPG, etc. with high quality. Plus, it can make personalized movies from YouTube, Google, and any other video website.
This best AVI to DVD burning software helps recognize most disc types and burn large files into 1 disc. And its converting speed is faster than you think.
Product Highlights:
Convert AVI movies to all popular disc types, DVD folder, or ISO
Besides AVI supporting a huge number of video formats
Burn videos exported from VHS, hard drive, memory cards, etc.
Automatically compressed oversized AVI to fit a standard disc
Edit AVI video for more perfect visual effect
Built-in menu library, providing sets of stylish templates
Supports NTSC and PAL movies
Simultaneously burn multiple DVD copies
For both home users and professionals alike
How to burn AVI to DVD on Mac (no watermark):
Step 1. Download and Launch Cisdem AVI to DVD converter, insert a blank disc which compatible with your Mac CD-ROM.
Step 2. Load AVI videos in batch.
Drag-n-drop AVI videos to this AVI to DVD converter, or load video files via

access.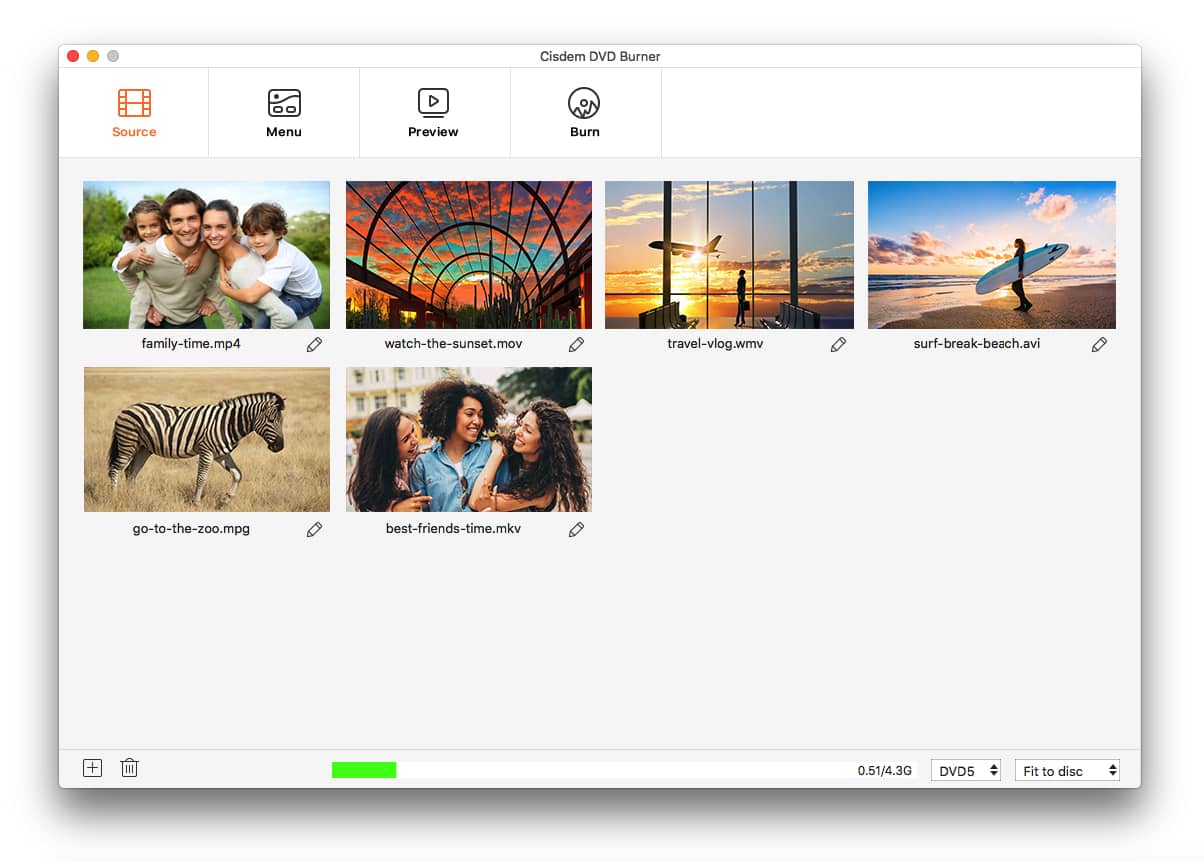 Step 3. Edit video to the next level.
In order to remove some blurs, create artistic visual effects, rotate rough clips, add .srt or .ass subtitle in familiar language, Cisdem AVI to DVD converter is developed with this built-in video editor.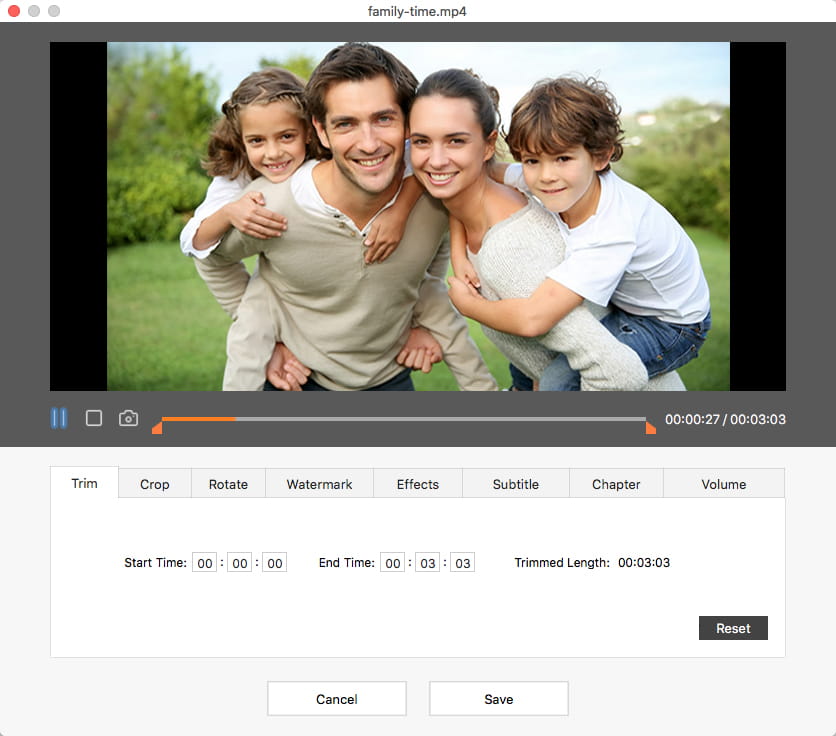 Step 4. Make a DVD menu with a bunch of decorations, like free templates, title buttons, menu buttons, etc. Plus, you can text the video thumbnail and add a background song for your menu.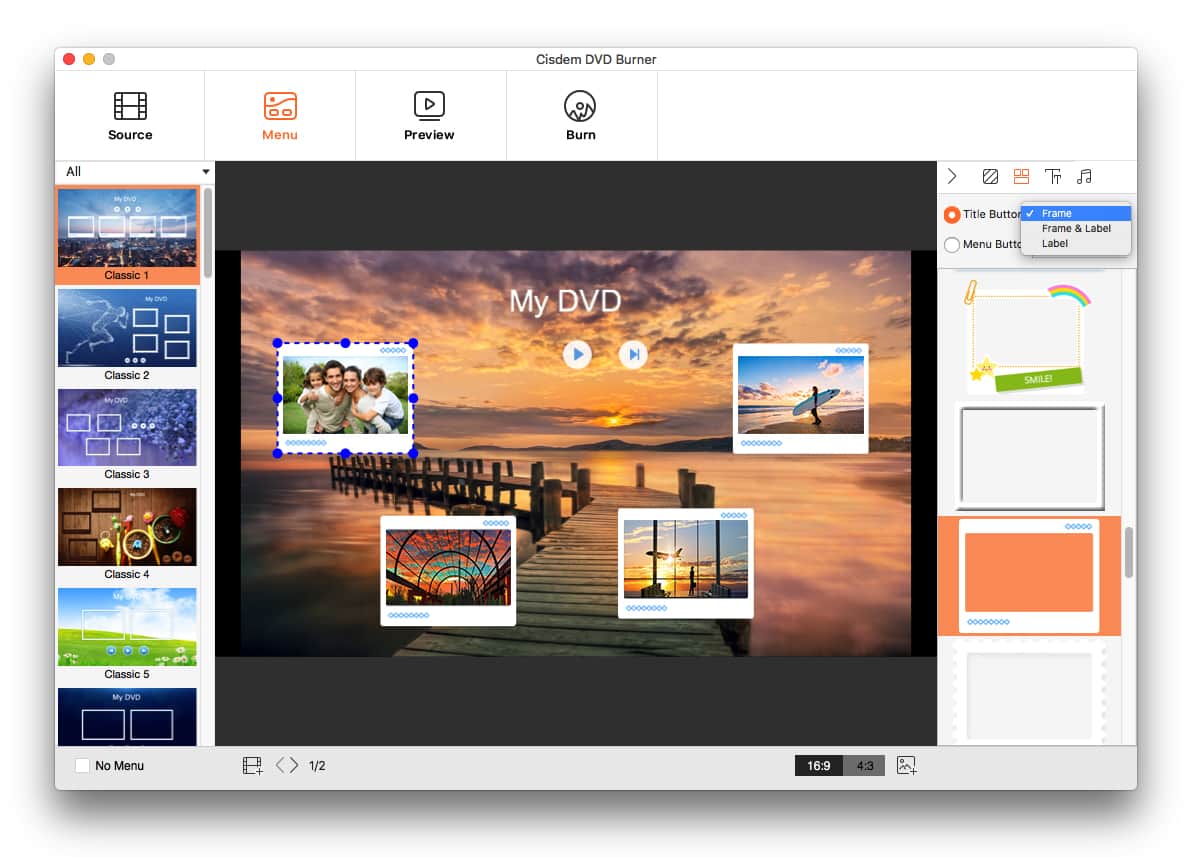 Step 5. Burn AVI to DVD.
Click

to switch to the burning window. Preset the output parameters, and click the "Burn" button to start fast burning.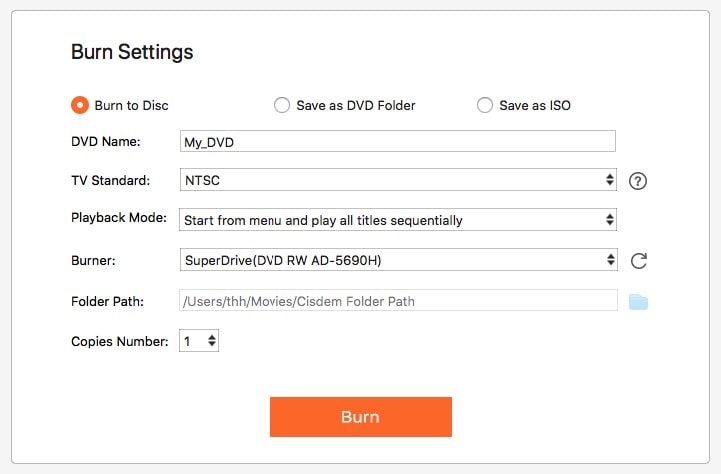 Nero Burning ROM for Windows
Requirements: Windows 7/8/8.1/10/11
Nero is a CD, DVD, and Blu-ray burning app with the ability to import, copy, edit, and back up your files. Apart from burning AVI to DVD on Windows, it can import many other media formats, such as ASF, DV, MPEG, DAT, MP4, MOV, VOB, AAC, AIFF, AIF, CDA, AC3, MP3, OGG, OGM, WAV, etc.
Nero has multiple versions, each with new features and different prices. Now there are lots of bloatware included, which makes it less intuitive than before.
How to convert AVI to DVD on Windows:
Open Nero and put the DVD disc on your computer.
From the drop menu in the "New Compilation" dashboard, choose DVD as the type of media, then DVD-Video.
Select the writing speed. Click "New".
A selection screen will show up. Find AVI videos you want to burn to DVD and drag them to the VIDEO_TS folder (not DVD root).
Choose DVD 5, and press the "Burn Now" button.
Optionally, adjust the "Action" and "Writing" data.
Start creating DVD from AVI.
Freeware to Burn AVI Files to DVD without Watermark
#1 Burn
Requirements: macOS 10.9 or higher; An PowerPC or Intel Mac.
Burn application comes with a pretty simple interface and easy-to-use working flow. It lets you do basic burning tasks, like burning data, audio, video to CDs and DVDs, as well as copy discs or use disk images to recreate your discs.
Pay attention to is that this free AVI to DVD converter for Mac is unable for you to edit, and make a menu, even preview the video before burning. Video formats supported are also limited.
Download and start Burn application on Mac. Name the DVD.
Switch to the Video interface, drag-n-drop AVI video files to it.
Note: While you load video to it, it asks you to convert it to MPG in order to be compatible with this program. So you need to click the "Convert" button, and choose a Folder to save, it would start encoding file 1 of 1 to MPG. And AVI videos are retrieved to the application soon.
Choose DVD type, and click "Burn".
#2 DVD Flick
Requirements: Windows XP, 2000 Professional, Vista, 7.
DVD Flick is an open-source tool to handle almost video burning. You can use it to burn AVI to DVD on Windows, and actually, it supports more than 40 file formats. Moreover, it empowers you to add simple DVD menu, import personal audio tracks, read AviSynth scripts, etc.
As this free AVI to DVD converter rarely upgrades, some problems remain. For example, the burning time is long, the quality went down a bit, and audio drifts out of sync over time. So freeware doesn't always supply satisfactory service.
Run DVD Flick. Click "Add title…" on the right-hand side.
A Browse box appears for you to choose and add AVI files. Click "Open", DVD Flick will then analyze and load the files.
Configure "Project settings" options – Target Size, Target Format, and Encoding Profile.
Go to the "Burning" tab, and check the "Burn project to disc" box. Click "Accept".
On its main dashboard, hit "Create DVD" at the top. Once complete the burning process, you can play AVI video DVD on PC or home DVD player.
#3 LiquidCD
Requirements: Mac OS X 10.5 or better, but not 100% ready for Lion or later.
LiquidCD is a piece of free burning software, capable of converting DVDs and CDs as well as a vast assortment of other media files including Dreamcast discs. Its application's interface is impressively clean due to the large toolbar icons resting at the top of the window. It also offers options for burning different ISO images and you can quickly add a custom icon to a disc and other files.
But the AVI to DVD converter hasn't received a substantial overhaul and might not be updated in the future.
Under the "Data" tab, click "+" on the lower left of the interface to upload your AVI video files.
Click "Untitled Disc" (you can rename it), and the AVI file you added will display below.
Hit the "Burn" button. A window pops up for you to edit the burning options.
After everything is ready, you click "Burn" to start burning AVI to DVD.
FAQ: Is possible to convert AVI to DVD online?
Online converter only helps you convert AVI to VOB format - the movie data file stored in DVD VIDEO_TS. You can't directly add converted VOB to your DVD folder for playing on a DVD player either. Only the AVI to DVD burning software can write the AVI data to DVD.
Extended: What is AVI?
AVI, Audio Video Interleave (full name), is a widely used container format and file type introduced by Microsoft. It can package both video and audio data to ensure that they are played synchronously. And the media files in the container can be compressed using different codecs such as Xvid, DivX, 3ivX, etc.
Conclusion
The only way to burn AVI files to DVD is to use burning software. Windows users can find such software easily. However, as Macs began removing optical drives, many AVI to DVD converters for Mac stopped developing as well. Especially the freeware available on the market is more or less problematic, whereas Cisdem DVD Burner, on the other hand, is bucking the trend, constantly adding new features and fixing bugs.