Despite the convenience of keeping videos on the cloud or USB drive, DVD is still an important way for people to store video files. You can convert video to DVD for playback on your TV or cleaning up computer storage space.
For whatever reason, all you need is the video to DVD converter software, which is used to write video files to DVD-R or DVD-RW discs. In this article, we have compared the best free video to DVD converters for Mac or Windows.
The Best Video to DVD converter Software
Burn DVD disc from videos in any format for playback on standalone home player
Support all writable disc types, including DVD-9, DVD-5, DVD±R/RW, and DVD±R DL, DVD-RAM, and M-Disc
Create ISO and DVD folder from videos
Smartly adjust video bitrate to convert video files in large size, even larger than 4.7GB
Edit each video by trimming, cropping, adding subtitles/effects, creating chapters, changing thumbnail, etc.
Control the appearance of your menus by applying existing menu templates, adjusting frames and icons, adding texts, uploading external images, etc.
Save customized menu design as a default template or save project file for future use
Preview DVD playing to see whether the final result is just right
Preset DVD in 5 playback modes, 3 DVD looping modes included
Fast convert video to DVD with high quality
Available for macOS 10.12+, Windows 11/10

Free Download

Free Download
Top 5 Free Video to DVD Converters for Windows PC or Mac
There is much less free video to DVD converter software for Mac than for Windows, and the performance is not as good as Windows ones, so below we have picked out just one converter for Mac.
#1 DVDStyler
Platform: Windows 11, 10, 8, 7, XP, 2000; 10.15 Catalina or later
Best for making video DVD with custom audio/video bitrate and menu
Overall Rating: 4/5
DVDStyler is a cross-platform free video to DVD converter specially designed to create DVD 1/2/5/9. It provides up to 36 languages, including most of the countries with high demand for video to DVD conversion.
The software allows you to beatify the menu using the widgets inside such as backgrounds, buttons, adding ellipse/gold frame/rectangle/text, and more. Also, you can manually select the video bitrate (2MBits/s – 8MBits/s), audio format (MP2, AC3, or PCM), and video format (PAL or NTSC).
Early DVDStyler was pretty bad, but it has improved over time. During our testing, we still found a notable issue, if your converted DVD contains soft or hardcore subtitles, the subtitles will appear as black on a DVD player.
Advantages:
Convert custom homemade HD quality videos
Create ISO image
Multi-core processor support
Disadvantages:
Many options in Settings and Properties, making beginners confused
The burned videos on DVD may be jerky and laggy
Converting speed is a bit slow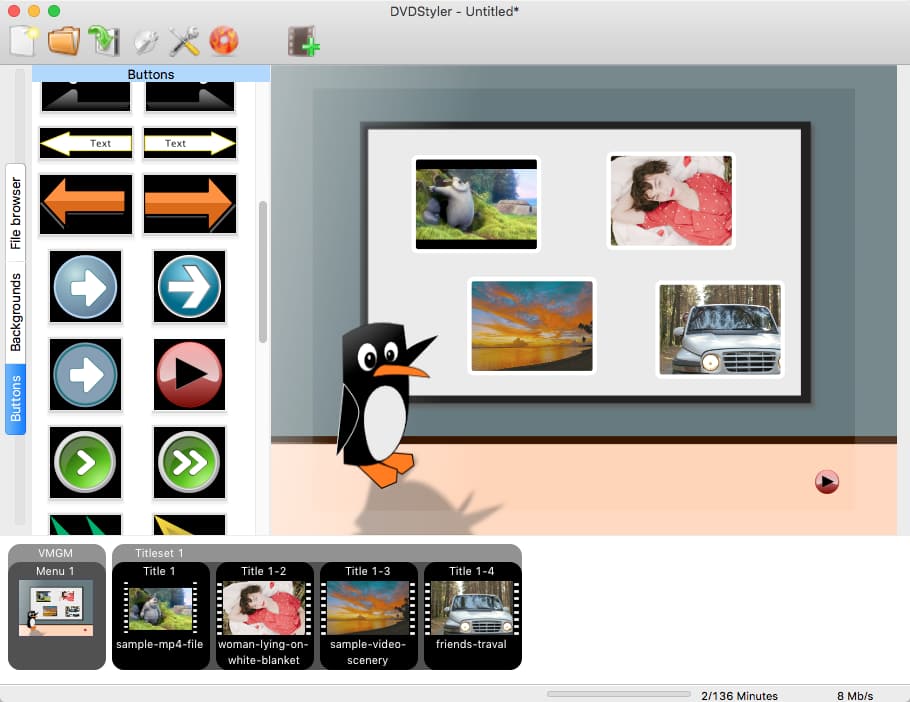 #2 WinX DVD Author
Platform: Windows 10, 8.1, 8, 7
Best for configuring DVD encoding speed or quality and DVD language
Overall Rating: 4/5
WinX DVD Author is a lightweight free video to DVD converter that can burn all types of videos. It offers 16 DVD languages for English, Russian, French, Spanish, Korean, Portuguese, Japanese, etc. users. Before video to DVD conversion, you can choose one of the encoder engines. The faster the encoding, the lower the quality of resulting videos, and vice versa.
Besides converting video to DVD with simple menu and optional subtitles, it can also turn video into VOB, convert VOB or DVD folder to DVD disc, and download video from YouTube. But its existing menu templates are limited in number, not creative, and will not automatically typeset videos for different templates.
Advantages:
Set DVD language
Download YouTube videos and burn YouTube to DVD
Add chapter menu
Disadvantages:
Videos that are too short fail to be imported, based on testing a 5-second, 7-second video
Can't drag and drop directly when adding video
Bad compatibility of Windows 11 OS, easy to crash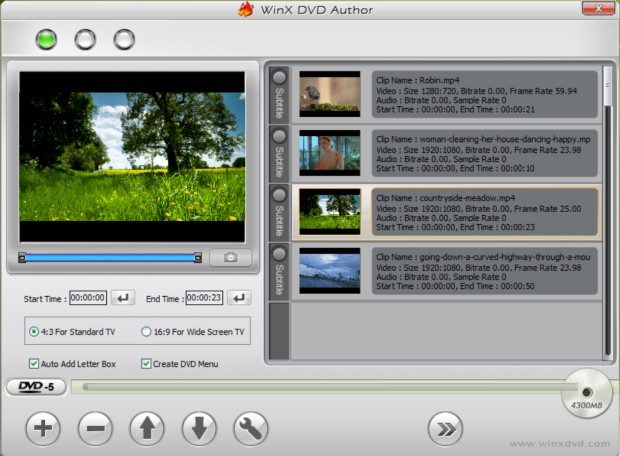 #3 BurnAware Free
Platform: Windows 11, 10, 8, 7, Vista
Best for handling multiple disc burning tasks for data, multimedia, and ISO
Overall Rating: 3/5
BurnAware Free is a smartly implemented free video to DVD converter, helping you burn anything including videos, music, images, documents, and even archives to any disk. Plus, it is capable of erasing used discs to write new files and backing up data.
You can use it to convert HD video to UDF 2.5 on DVD+RW on the fly without having to fully format the disc, so the conversion speed is close to the maximum rating of the disc. You can't burn videos that contain Dolby Digital ac-3 audio, however, BurnAware Free only supports audio encoded with mpeg-2.
Advantages:
Not use up much CPU power
Create CD or DVD from data, videos, and audio
Easy-to-use interface
Disadvantages:
Lack of the ability to create menus and chapters
Not good at converting videos with high-quality audio
Some advanced features are not free, such as copying DVD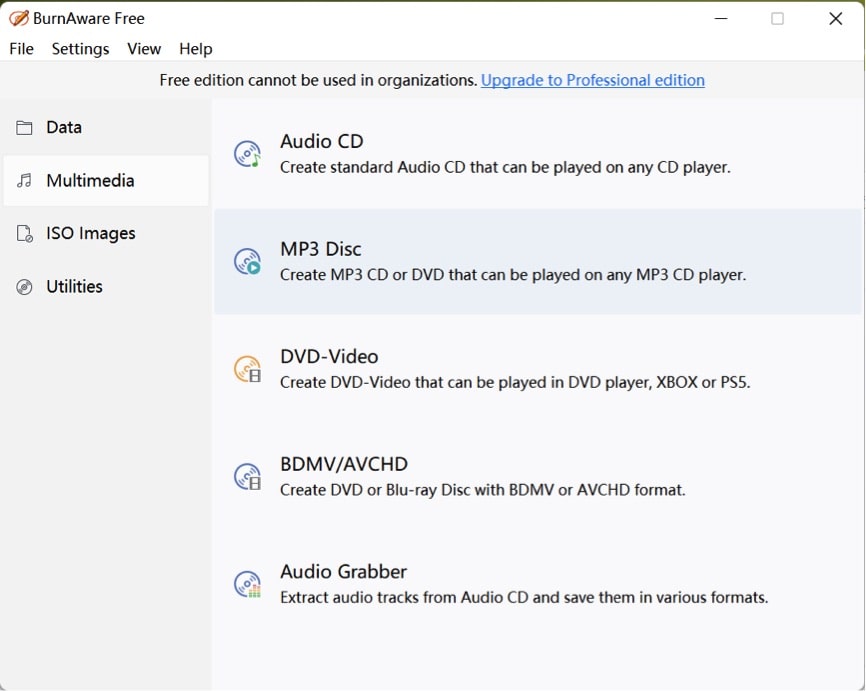 #4 Sothink Free Movie DVD Maker
Platform: Windows 11, 10, 8.1, 7, XP, Vista
Best for converting video to DVD with external subtitles in the task queue
Overall Rating: 3/5
Sothink Free Movie DVD Maker lets you convert video to DVD on Windows with uploaded subtitles. There are respectively 12 free background menu templates and title menu buttons to choose from. To further customize your DVD menu, you can add text or your local image, external music is not included. Thanks to the small .exe file size, Sothink free video to DVD converter can be installed in less than a minute.
But the free version will turn videos into a DVD with a watermark. And the test shows that 2 out of 5 DVD players can't play the converted DVD, and 1 out of 5 keeps skipping & freezing.
Advantages:
Write a list of videos on dual media DVD
Custom menu design
Almost all types of DVDs are supported
Disadvantages:
Not excel at converting large video files to DVD
The burning quality is not very good
Not playable on all DVD players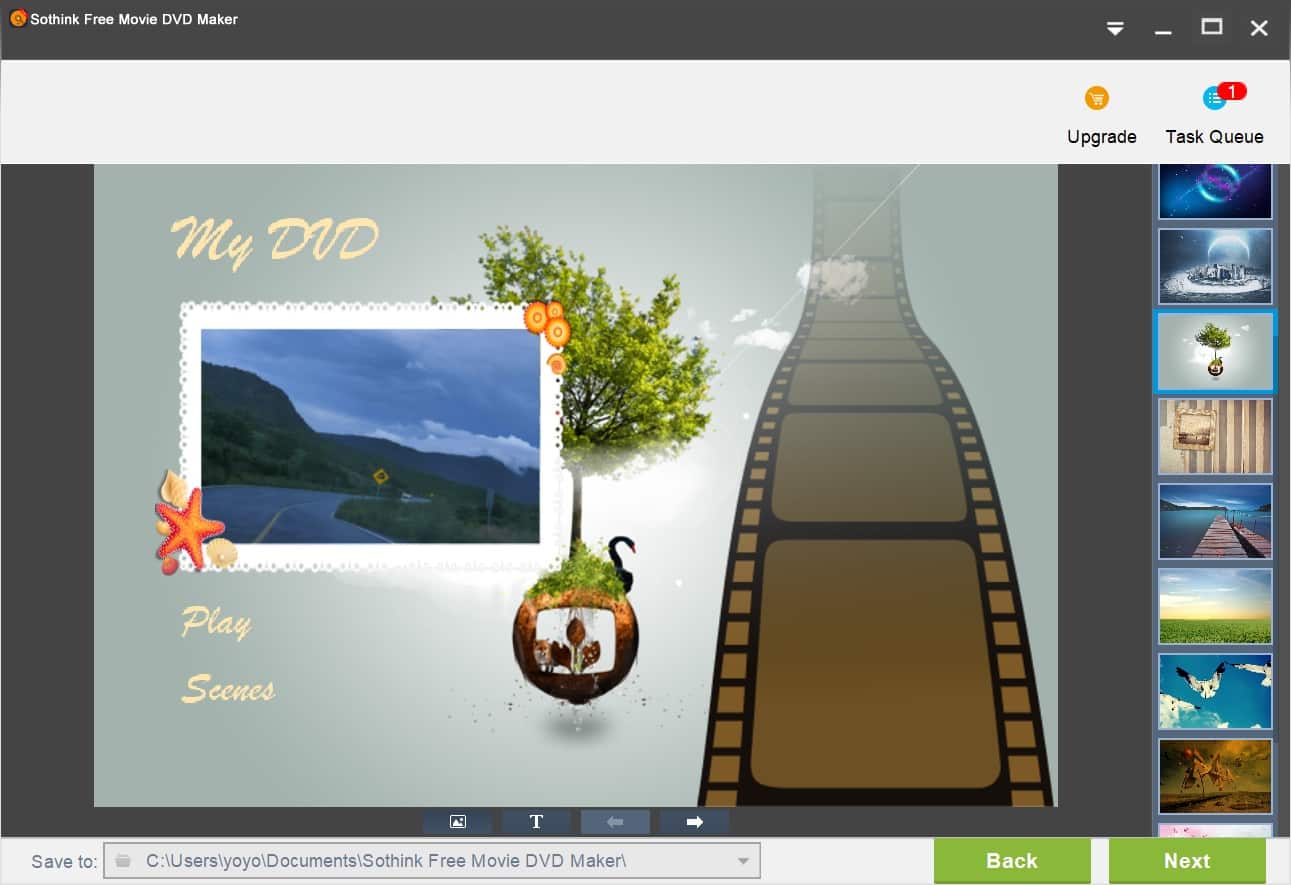 #5 DeVeDe
Platform: Windows 10, 8, 7, Vista
Best for burning DVD within the user-friendly interface for an aging media player
Overall Rating: 2/5
As an open-source free video to DVD converter, DeVeDe is readily available on Windows systems. It actually works better on Linux. It can change popular video formats like MP4, MPG, AVI, MKV, etc. to DVD or CD (VCD, SVCD, or CVD). It also has the ability to create DivX/MPEG4 files compliant with DivX home players.
Make sure not to use VeDeVe to convert M4V files purchased from iTunes, otherwise, you won't be able to extract subtitles from M4V. In testing, a full 80-minute MPEG2 video with embedded subtitles only converted for 30 minutes with no subtitles whatsoever.
Advantages:
Multiple disc type selections
Rotate videos and convert interlaced ones into a non-interlaced or progressive form
Optimization for dual core CPUs
Disadvantages:
Can't choose root menu themes and buttons
Poor compatibility with newer OS
Too old-fashioned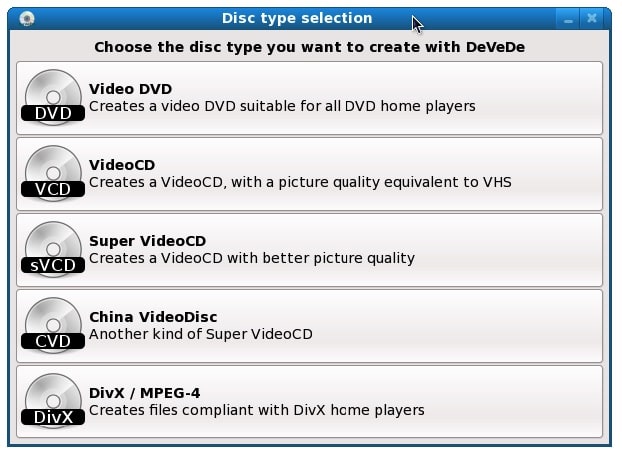 The Best Video to DVD Converters for Mac and Windows – Rating 5/5
Obviously, free video to DVD converter software has problems in terms of quality, burning speed, menu creator, etc. Most freeware doesn't support making a DVD menu and editing videos. Even if there are free templates, they are outdated, making your masterpiece not high-end. Why not use a professional commercial DVD converter?
Cisdem DVD Burner is such a full-featured yet easy-to-use video to DVD converter for Mac and Windows. It can burn SD & HD format videos like VOB, FLV, F4V, M4V, MKV, MP4, MPV, AVI, etc. to DVD disc, DVD folder, and ISO file. Moreover, it lets you edit the video, customize your own DVD menu, and select the most satisfying free templates. All templates are up-to-date for various themes.
For beginners, it will not be as confusing as setting parameters in DVDStyler. Cisdem DVD Burner already has the best parameters set by default for DVD converting.
Steps to Convert Video to DVD 5 or DVD 9 with Cisdem:
Step 1. Import a video to the software
Download and install Cisdem DVD Burner on your computer. And then launch the program.
Click "Add videos" in the middle of the interface or click "+" in the bottom left corner to import native video files. Another faster way is directly dragging and dropping videos to the program.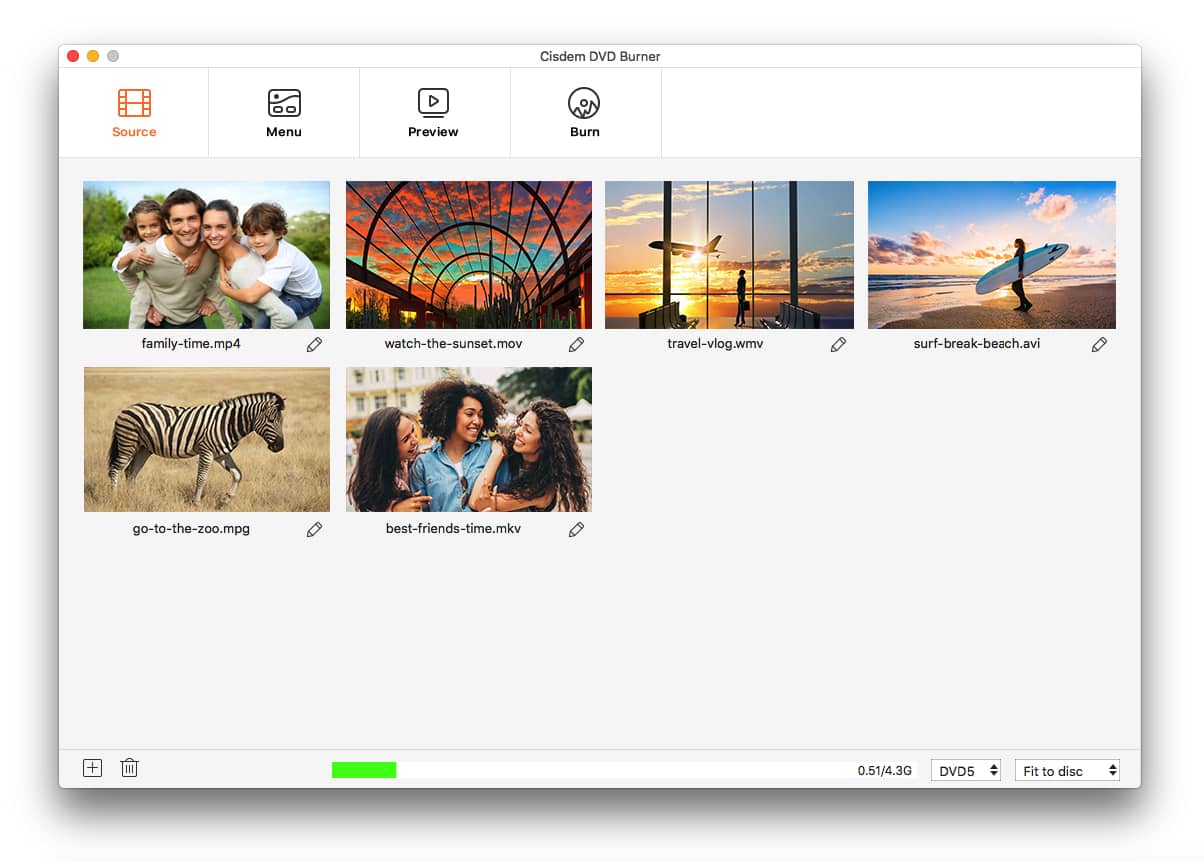 Step 2. Edit video files (Optional)
It's very simple for you to edit videos. Just click

under the video and then you can crop it, change the effects, add watermarks or subtitles, make chapters, etc.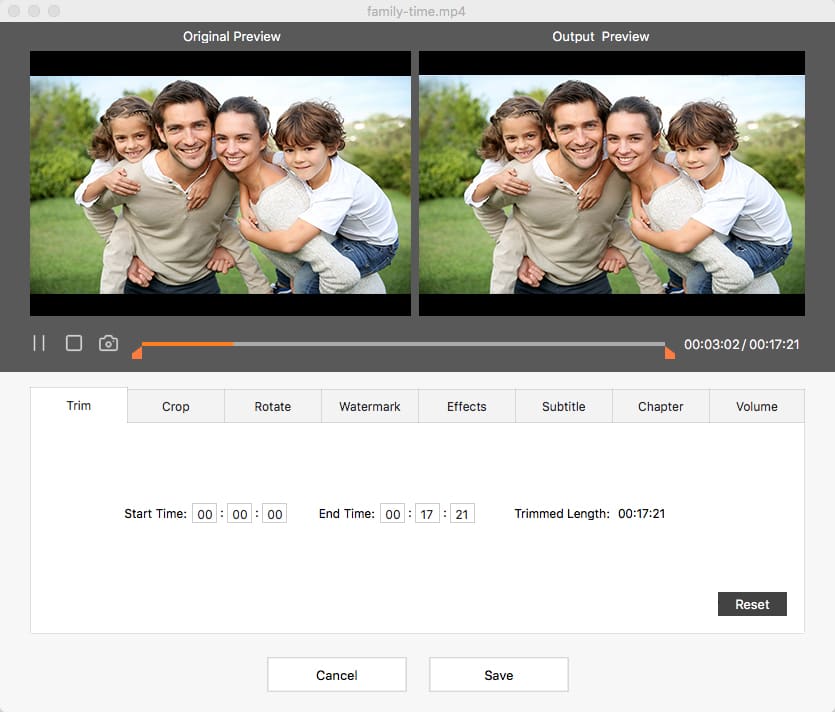 Step 3. Create your own DVD menu
Click the "Menu" button, you will find many templates and elements. You can choose one of them to create a special menu for your DVD. Furthermore, you are able to add a favorite song as DVD menu background music.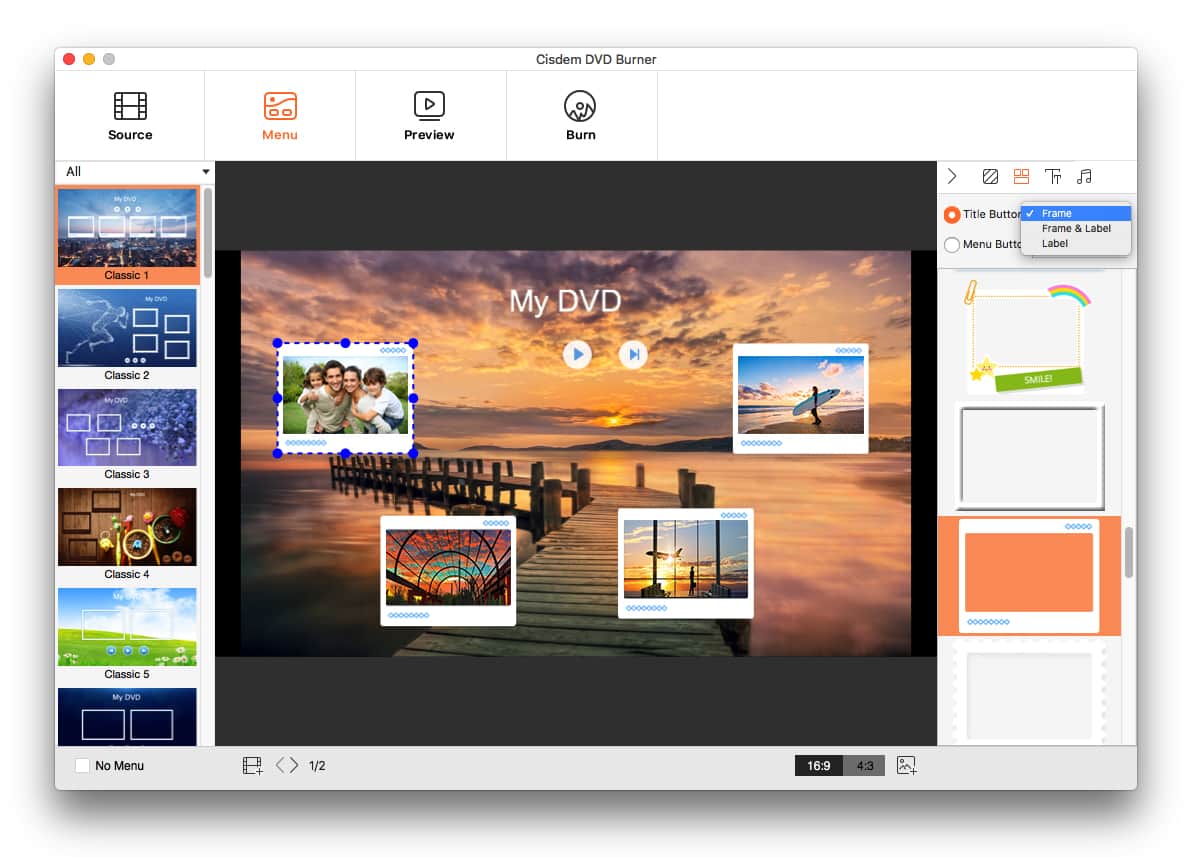 Step 4. Preview and convert videos to DVD
Preview your DVD playback. If everything goes well, go to the

panel, make the final set, and click "Burn" to begin converting videos to DVD 5 or DVD 9 on the computer.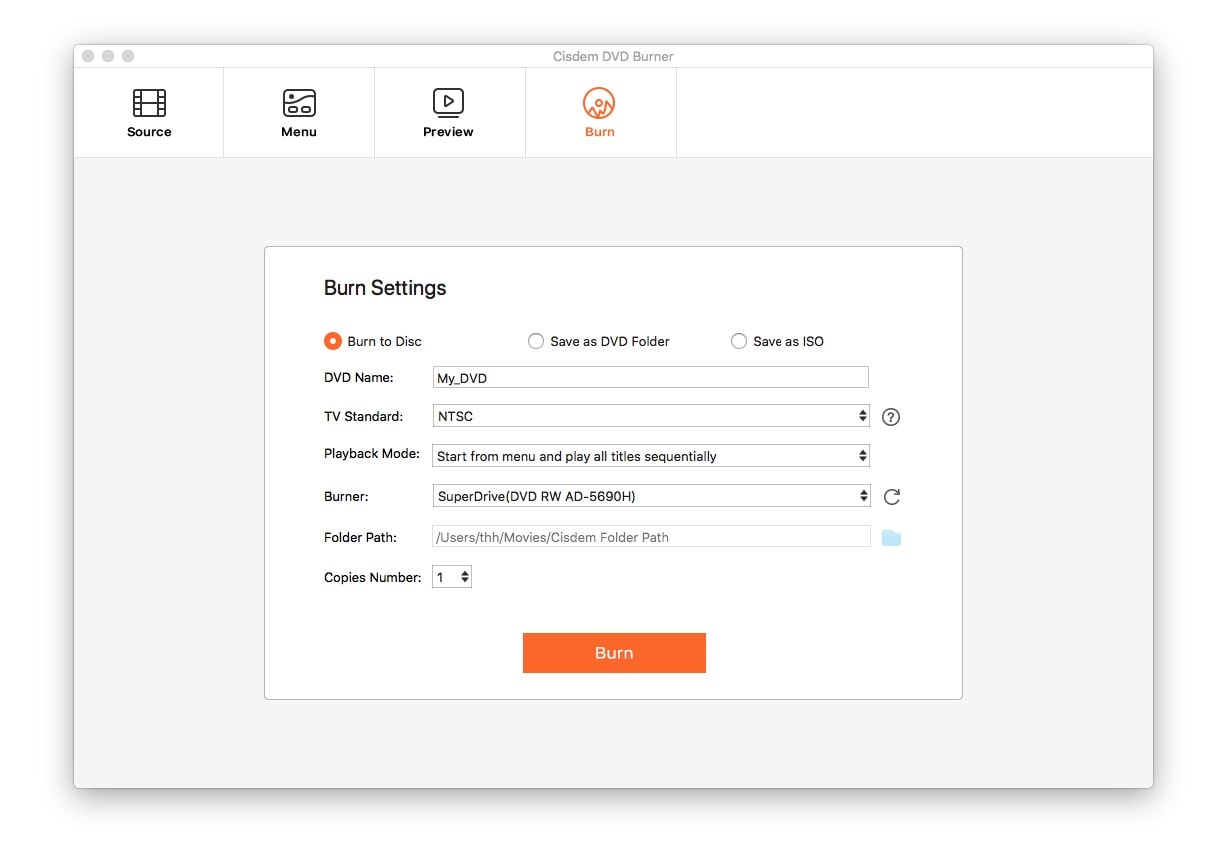 Extended: What's the Difference between DVD5 and DVD9
DVD, a digital optical disc storage format, provides higher storage capacity than ordinary discs. As everyone knows, DVD includes many types, but the most commonly used ones are DVD 5 and DVD 9.
What are DVD 5 and DVD 9?
DVD 5 is also called DVD-5 and DVD5 disc which refers to a single-sided single-layer disc (SS-SL). It's supported by DVD+R/DVD+RW and DVD-R/DVD-RW. What's more, DVD 5 holds 4.7GB of data and has the capacity to store 120-min high-quality audio and video.
DVD 9, a single-sided double layer (SSDL), is also named DVD-9, DVD9 disc, DVD-R9, DVD-R DL, and DVD+R9. It's supported by DVD+R and DVD-R. Meanwhile, DVD 9 can contain 8.5 GB of data and is able to store a 240-min DVD movie or up to a 120-min file definition film.
DVD5 VS DVD9