RAR Expander for Mac extracts the files contained in RAR archives. It supports both single and multi-part archives, and has support for password-protected archives as well. It uses the official unRAR library internally so it is fully compatible with archives produced by WinRAR.
But if you find RAR Expander doesn't perform well on your Mac, a RAR Expander alternative for Mac is indispensable. So, have you met the issues with RAR Expander, next I will state why need find a RAR Expander alternative for Mac firstly.
What Kind of Problems Mac Users Would Confront with RAR Expander?
"I am having trouble finding a rar expander that works on OS X 10.3.6, so far i have tried UnrarX 2.2, Stuffit expander2009 and RAR Expander v085 and when I click on them nothing happens, any ideas?" ——From Timar
The main reason might be the RAR Expander is not compatible with your system, since the latest version (v3.60) of RAR Expander was released on September 8th, 2006.
Meanwhile, for some reason each time it expands a file, it also adds a copy of Lightroom 4.3 installer package on computer. You don't know how to stop it and have to eject the LR package.
What's more, a user said that some websites can freely download RAR Expander, but it may hijack your browser with extensions that will reset your Firefox and Chrome homepages as well as redirect you to custom search pages.
Although this program has its advantages, the problems existed really make things inconvenient. In this case, we have to find a RAR Expander alternative to decompress and compress files successfully.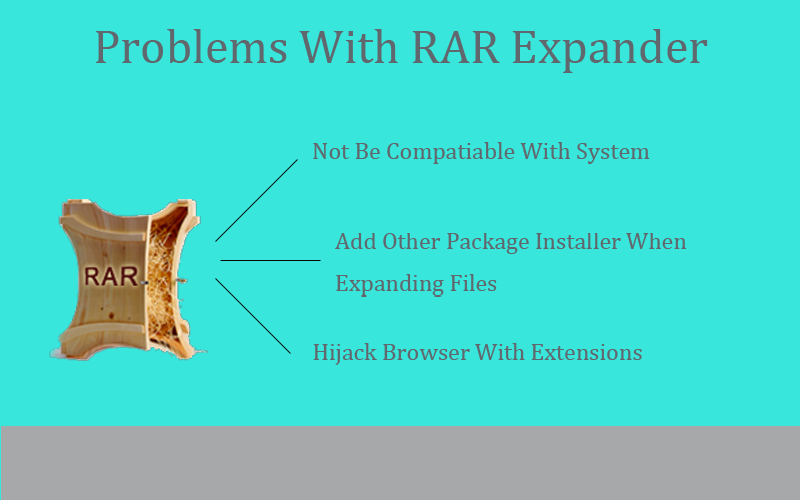 Best RAR Expander Alternative for Mac-Cisdem Unarchiver
There are many free RAR Expander alternatives for you to compress RAR files, like the Unarchiver and UnRarX. But the disadvantage of the Unarchiver is that it can't compress files, and UnRarX suffers from a really unfriendly user interface. Free software is not necessarily good, but software that you need to pay can actually bring you powerful features. There are many third-party software for you to choose, but nothing is quite as good as Cisdem Unarchiver.

Free Download
Cisdem Unarchiver is highly recommended as the best RAR Expander alternative for Mac, it allows you to preview archive contents without decompressing and entirely or partially open your archive files on Mac. Cisdem Unarchiver also helps you safeguard your sensitive files by packing them in an encrypted, password-protected archive. This software is very easy to use, its simple interface allows you to compress and decompress with several clicks. You can download free Mac version of Cisdem Unarchive for Mac below, then install it on your Mac and follow the guidance to use it.
How to Use RAR Expander Alternative to Decompress Archive Files?
Cisdem Unarchiver for Mac has simple interface,it lets you create and extract archives simply by drag&drop. This unachiver is very easy to use, so just follow the steps to compress and decompress your files with several clicks.
1. Add archive files and preview contents of archive
Click Add button of the menu bar to add your archive files or directly drag&drop your archive files. And the contents of the archive files will be listed in the middle of window. And when you click one of the contents, the detail information will be listed on the right side of window.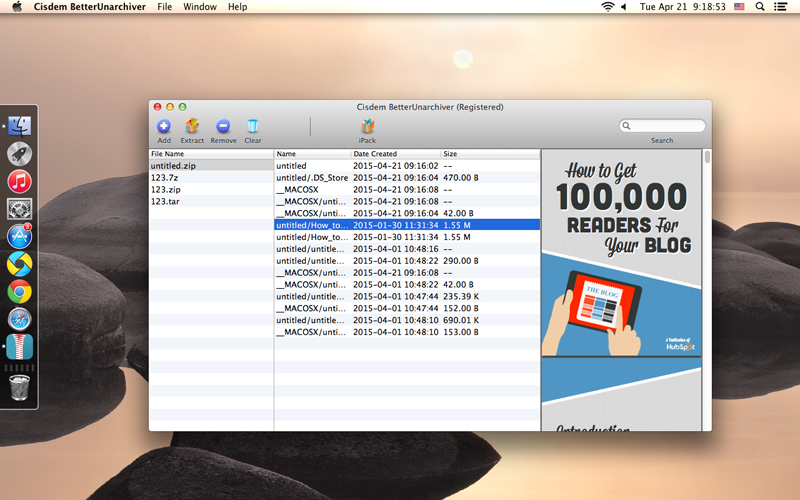 2. Decompress archive file entirely or partially on Mac
You can decompress archive file entirely by right clicking the archive files and choosing "Extract". You also can select the file you want to decompress, then right-click to decompress it.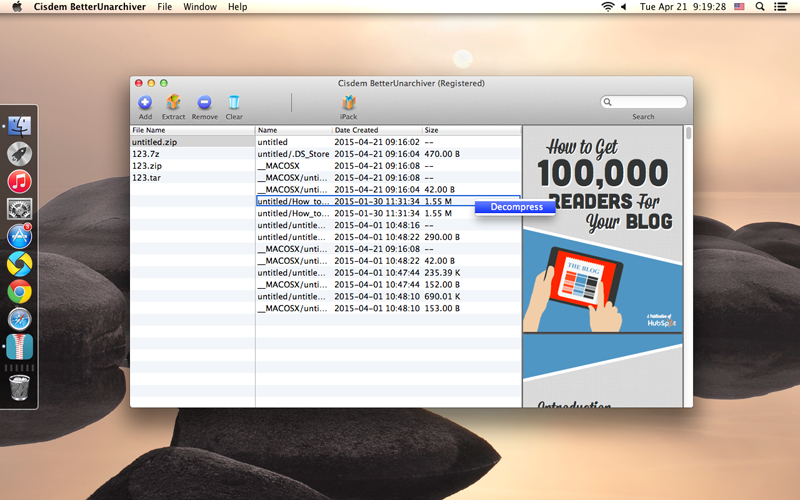 How to Use RAR Expander Alternative to Compress Files?
1. Open Cisdem Unarchive on Mac, and click "iPack" on the menu bar, a window will appear. Click Add button or directly drag and drop files to add your files which you want to compress.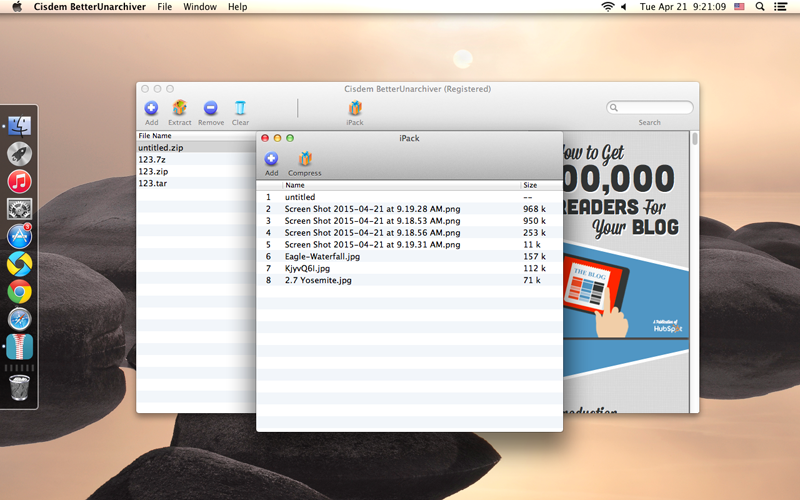 2. Click Compress of the menu bar, and you need to choose the format you want to save compressed files, there are 3 formats available for you, including 7z, Zip and Tar.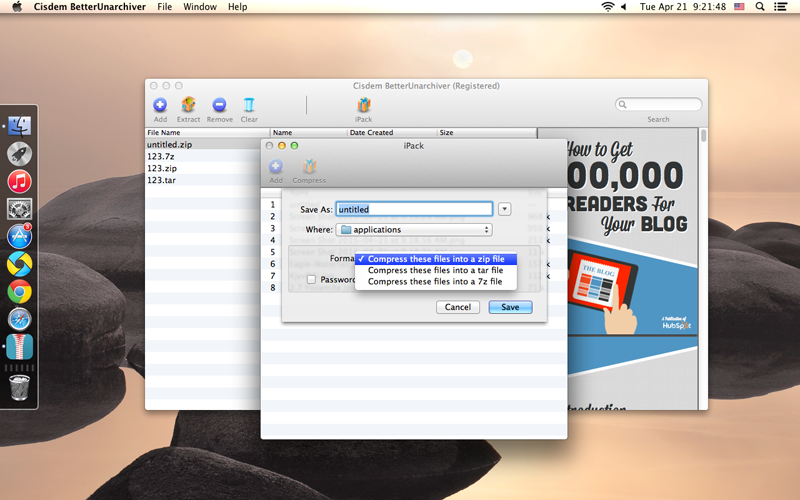 Do You Need to Know More about the Best RAR Expander?
Cisdem Unarchiver does exactly what it is made for without any obstacles, it even works better than the Unarchiver(one of the top rated unarchiving applications for Mac computers). Download free Mac version to have a try, and before long, Cisdem Unarchiver is compatible with Mac OS X EL Captian and Cisdem is always here to help you accomplish more with ease.
Need to know more about the Best RAR Expander? Be sure to read the guides: How to Open RAR Files on Mac (El Capitan Included) and How to convert RAR to ZIP on Mac?

Rosa has worked in Mac software industry for more than eight years. She believes that the purpose of software is to make life better and work more productively. In addition to writing, Rosa is also an avid runner.