If you are a Mac user and the built-in address book app Contacts can't meet your needs, you may be looking for a third-party contact manager. BusyContacts is designed to replace the built-in Contacts app. Is BusyContacts a good contact management app for Mac? What features does it offer? Check out this BusyContacts review.
The Best Contact Manager for Mac
Support contacts from multiple sources: Mac, iCloud, Google, Exchange, LinkedIn, etc.
Let you view, search, edit, add, group, tag, share, print and sync contacts
Make it easy to directly text, call or email a contact
Allow you to email a contact or a group of contacts
Export/convert contacts to 8 formats: Excel, CSV, vCard, etc.
Import contacts from CSV and vCard files
Make it easy to transfer contacts between supported sources
Find and delete/merge duplicate contacts
Let you backup/restore contacts with a click
Easy to use
Compatible with macOS 10.11 or later

Free Download
BusyContacts review
What is BusyContacts? It is the contact management software developed by Busy Apps.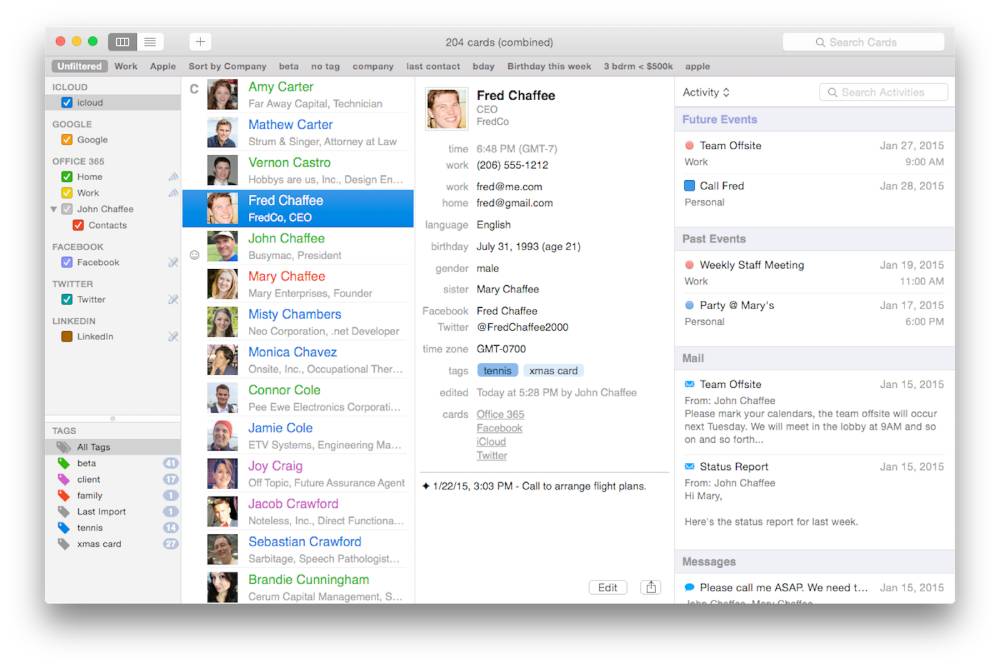 Compatibility and availability
BusyContacts is Mac-only and compatible with macOS 10.12 Sierra or later. There isn't an iOS app so far.
Users can download it from the official website. In addition, it is available in Setapp.
Price
There are two pricing options.
If users buy BusyContacts from the official website as an individual app, the cost is $49.99/lifetime.
If users use BusyContacts by subscribing to Setapp, the price is $9.99/month.
Features
BusyContacts offers some basic contact management features. It also offers some advanced features, which beginners may need some time to get familiar with.
View contacts There are two view modes: the card view and the list view. Users can switch between them for easier contact viewing.
Tag contacts It's very easy to add one or multiple tags to a contact. Tagging contacts helps filter and organize contacts.
Search contacts There are two ways to search contacts. Users can access the basic search function by clicking Search Cards in the top right corner. BusyContacts also provides a tool called Smart Filters, which is an advanced search function. Smart Filters allows users to create and save custom filters.
Integrate with social networks BusyContacts supports syncing with some social networking platforms and CardDAV services, helping users gather the information about a contact from different sources.
Integrate with BusyCal BusyContacts is not your average contact manager app. Users can benefit from its integration with BusyCal, a calendar app from the same developer. Owning the two apps, users can arrange and follow up the events/tasks associated with a contact.
Share contacts BusyContacts allows users to share address books with other users of this very app in a preferred way. It also syncs contacts with a few cloud services.
BusyContacts alternatives
As with any software, BusyContacts is not perfect. If it isn't what you are looking for, check out these alternatives.
Cisdem ContactsMate
ContactsMate can be the best software to manage contacts for Mac users. It's easy to use and powerful.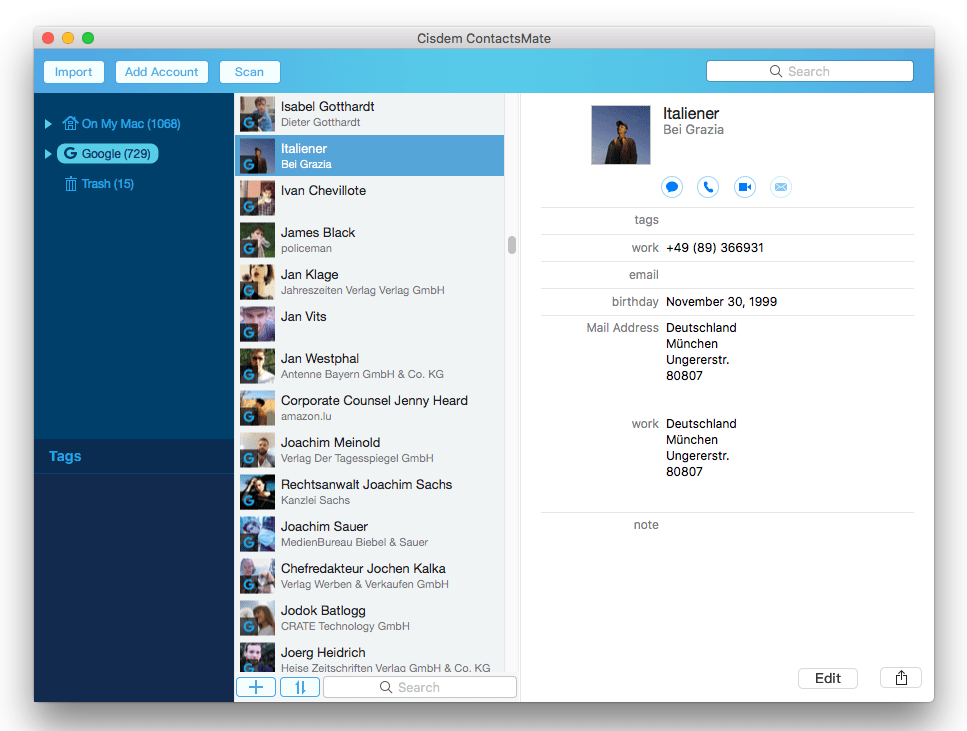 Main features:
Offer great basic features, letting you easily view, search, sort, edit, add, share and print contacts
Support syncing with multiple sources: Mac, iCloud, Exchange, Google, Yahoo, LinkedIn, etc.
Export/convert contacts from supported sources to 8 formats: CSV, Excel, VCF, etc.
Import contacts to supported sources from CSV and VCF
Let you transfer contacts between supported sources with a drag and drop
Make it easy to tag contacts and group contacts
Let you email a contact or a group of contacts, right from ContactsMate
Find and delete duplicate contacts in supported sources
Let you backup/restore contacts with a single click
Easy to use and customize
Compatible with macOS 10.11 or later

Free Download
Like BusyContacts, ContactsMate offers both basic and advanced features. It can help you easily and effectively manage the contacts on your Mac and from other sources.
Cardhop
Managing contacts can be fun with Cardhop, the contacts app by Flexibits.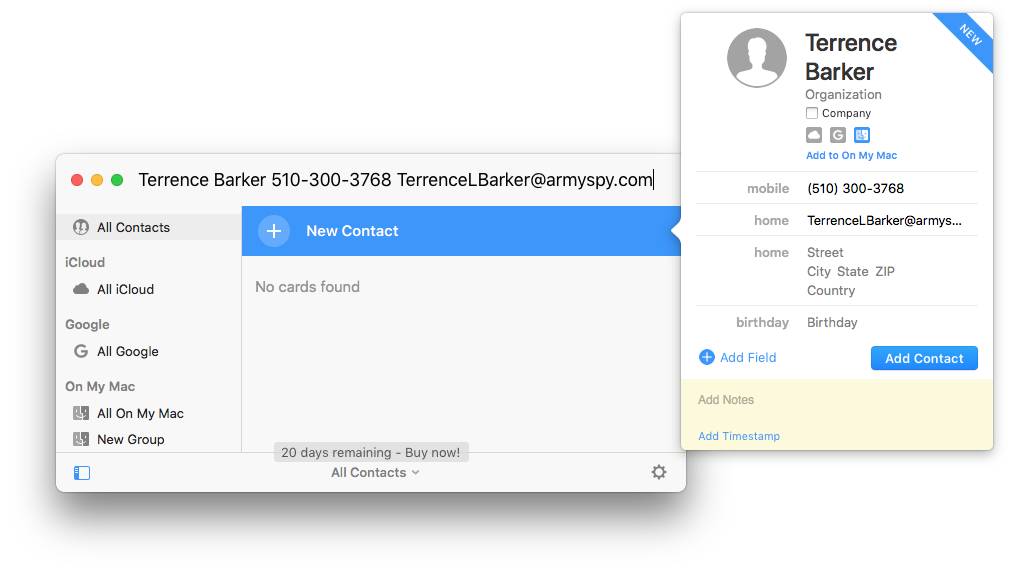 Main features:
Let you view, search and edit contacts
Let you add a contact with the New Card option
Also Cardhop will automatically add a contact after you entering the information of a new contact in the search field
Allow you to create contact groups, including smart groups
Display upcoming birthdays
Work with contacts from multiple sources
Let you perform actions (e.g. calling or emailing) right in the app
Integrate with Fantastical, a calendar app
Available on Mac, iPhone and iPad
Provide dark and light themes
Let's look at BusyContacts vs. Cardhop. Like BusyContacts, Cardhop also integrates with the calendar app by the same developer. Cardhop can be lightweight and fun to use compared to BusyContacts.
Top Contacts
This alternative to BusyContacts is versatile. In addition to basic contact management features, it provides other features such as a to-do list feature.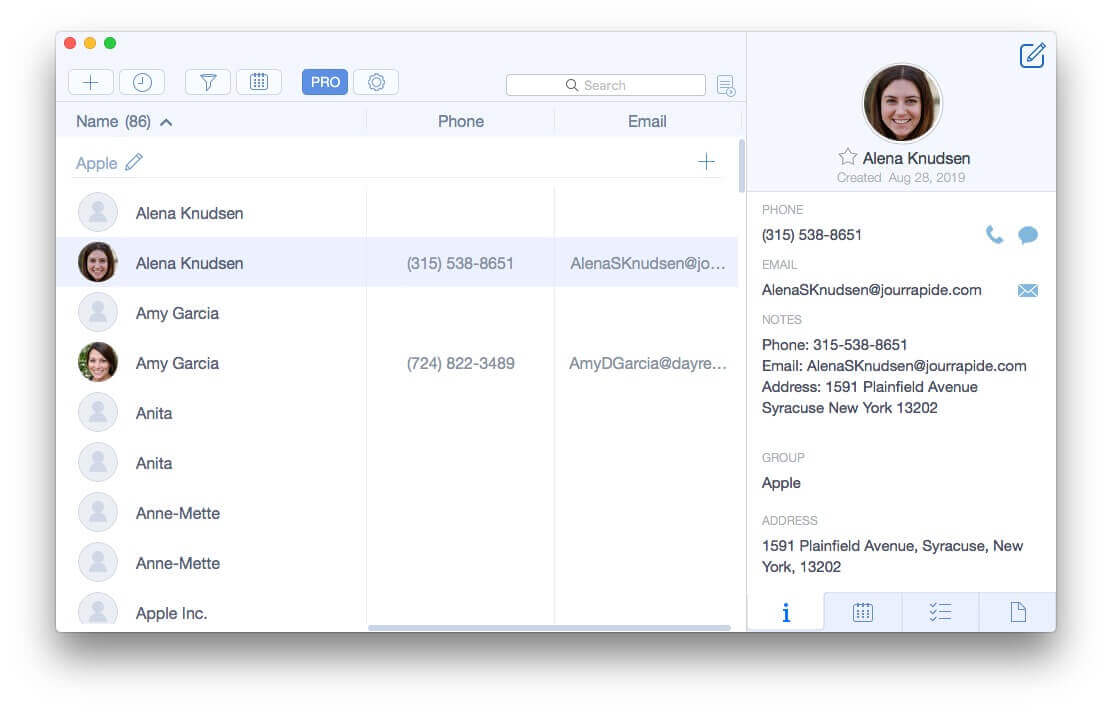 Main features:
Allow users to view, search, create and edit contacts
Import contacts from CSV and Excel files
Let users create conditions to efficiently filter contacts
Let users tag contacts with color to make them easier to organize
Provide a calendar feature
Provide a to-do list feature
This app has a built-in calendar and to-do list, which can be a plus. However, the tag feature can be improved. Tagging with color is not as useful as tagging with text. The tag feature in BusyContacts is better.
Apple Contacts
Another BusyContacts alternative can be the Contacts app on Mac. It is included with macOS.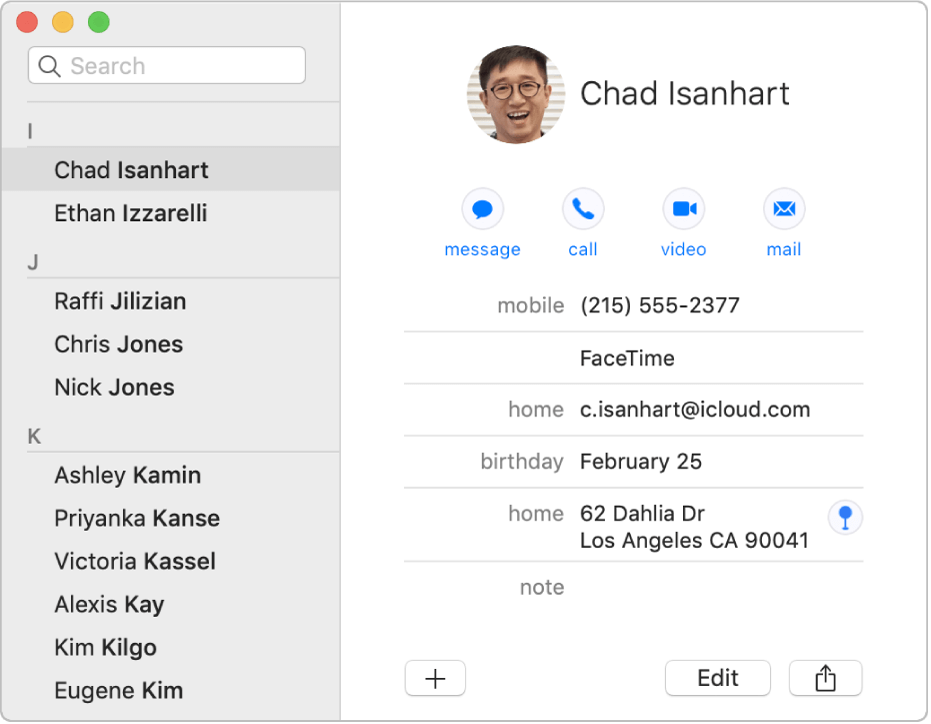 Main features:
Add and edit contacts
Delete one or multiple contacts
Export and archive contacts
Create contact groups, including smart groups
Sync contacts with iCloud and some other services
Share and print contacts
Find and merge contact duplicates
Directly email a contact
Conclusion
This BusyContacts for Mac review talks about the main features of this app. Managing contacts is made easy with it. But the price tag is a bit high. There are cheaper alternatives, which can be equally good or even better. You can check out these apps and decide which one is the best for you.

Rosa has worked in Mac software industry for more than eight years. She believes that the purpose of software is to make life better and work more productively. In addition to writing, Rosa is also an avid runner.