It's not an easy thing to manage your personal or business contacts. This is where the contact management software steps in. You've collected names, email addresses and phone numbers from dozens if not hundreds of people. Things like duplicates, outdated information and formatting issues are almost inevitable. Apps like BusyContacts, ContactsMate and their alternatives can meet your contact management needs and help organize things up. Hopefully, this review will be helpful.
The Best Contact Management Solution for Mac
Sync contacts from all accounts in one place
Support Google Contacts, iCloud, Outlook, LinkedIn, Twitter, etc.
Import contacts from CSV and VCF files
Export contacts to CSV, Excel and 6 other formats
Detect and fix duplicates, formatting errors and other issues
Allow you to easily add, view, edit, group, tag and manage contacts
Make it easy to backup, merge, export and restore contacts

Free Download
BusyContacts review
Supporting macOS 10.11 or later, BusyContacts can help users manage contacts on Mac in an easy effective manner. Users can also benefit from the integration with BusyCal, a calendar app from the same developer.
Main features:
Two view modes Users can switch from different view modes (single column card view and multi-column list view) for easier viewing and editing
Tags It's super convenient to add one or multiple tags to each contact. Tags help facilitate contacts filtering and managing.
Smart Filters This feature even allows users to create and save custom filters, which greatly improves efficiency.
Social Network Integration BusyContacts supports syncing with some CardDAV services and social networking platforms, enable users to gather contacts from different sources.
BusyCal integration BusyContacts is not your average contact app. It also helps arrange events and follow up tasks.
Sync and Share Users can sync contacts with multiple services and share address books with other users of the app in a preferred way.
In addition to providing basic contact management functions, BusyContacts also offers some advanced features which new users may need some time to get familiar with. You can make this app more powerful by installing BusyCal.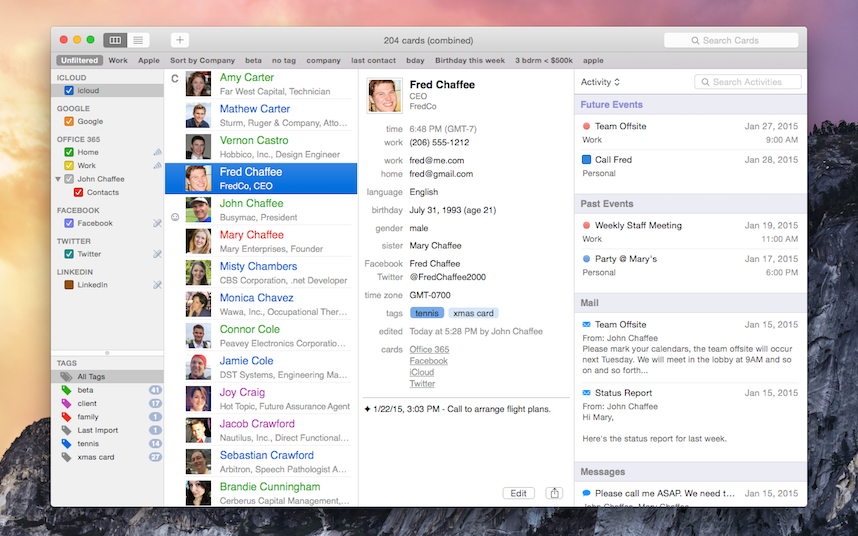 ContactsMate review
Cisdem ContactsMate provides ultimate solution for you to manage and manipulate contacts from all accounts.
Main features:
Sync and gather your contacts This Cisdem contact manager can sync contacts with iCloud, Exchange, Google, Twitter, Facebook, LinkedIn, Yahoo and other platforms.
Import and export contacts Supporting two import formats (CSV and VCF), it can export contacts to 8 different formats including CSV, Excel, DOCX, Numbers, Pages, text, vCard and HTML.
Fix conflicts It can find various types of contact duplicates such as duplicate name and exact duplicate contacts and allows you to effortlessly merge, delete and edit according to your need. You can also use it to fix other issues such as incomplete name and invalid characters.
View, edit and tag It's super easy to view, add, tag, group, search and filter contacts.
Backup & Restore You can backup or restore contacts from Mac Contacts app and other sources such as Google Contacts and Outlook in one click. Go access this feature, please go to File > Preferences > Backup & Restore.

Free Download
ContactsMate offers an array of basic and advanced features, allowing you to effectively manage contacts on Mac as well as other devices. It is able to solve many contacts tasks in reality. For example, it can be used to delete duplicate contacts on iPhone and Android devices, with a few clicks and syncing.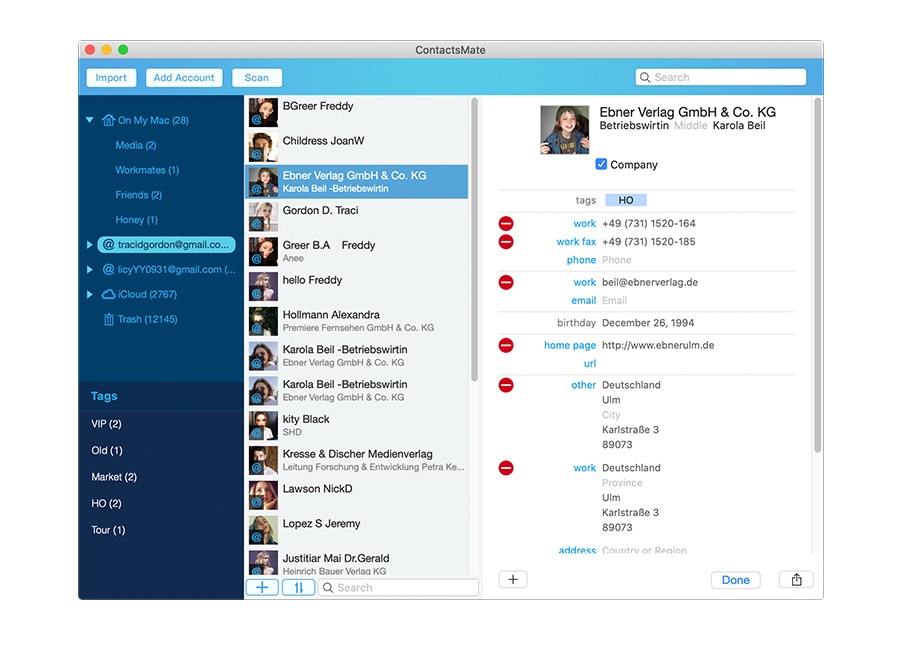 Best alternatives
There are also other ContactsMate and BusyContacts alternative apps that can do a good job.
Contacts
Contacts, Apple's own contacts apps on the Mac, many Mac expert relies on Apple's own Contacts apps on the Mac to organize their contacts.
Main features:
Creating contacts
Delete existing entries by clicking the Minus (–) button
Configuring contact fields
Creating groups and smart groups
Adding accounts
Sharing contacts
Supporting printing
Looking for Duplicates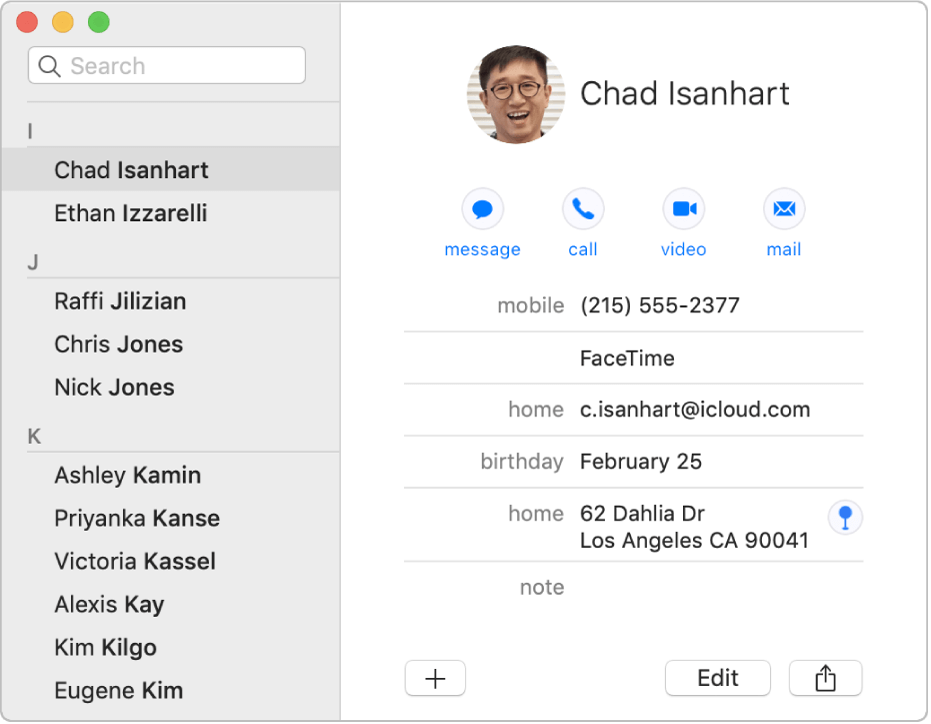 Cobook
Cobook is the unified address book that brings together contact info from your computer, social networks and other sources.
Main features:
Syncs with Mac's standard Contacts app
Syncs with Google Contacts (Gmail)
Integrated Facebook, Twitter, Foursquare, Instagram, AngelList, LinkedIn and Xing social network profiles (note - some of these integrations available as in-app purchases)
Organize contacts with tags
Email or message a group of contacts
Share contact info via email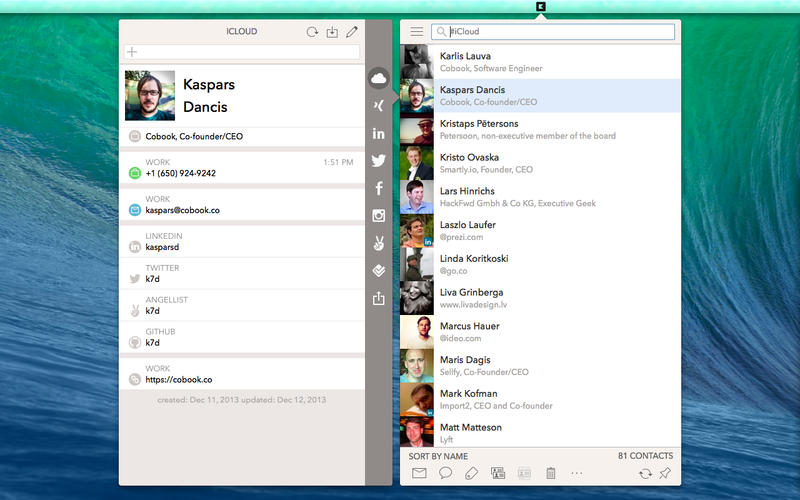 Contacts Cleaner
Contacts Cleaner is an app that can analyzes, reports, and fixes dozens of problems with OS X Contacts and Apple Sync Services.
Main features:
Finds the little problems that can creep in while you're not looking
Analyzes duplicated contacts
Reports duplicated contacts
Clean duplicated contacts
Fixes invalid characters and poorly formatted contact names
Does work with iCloud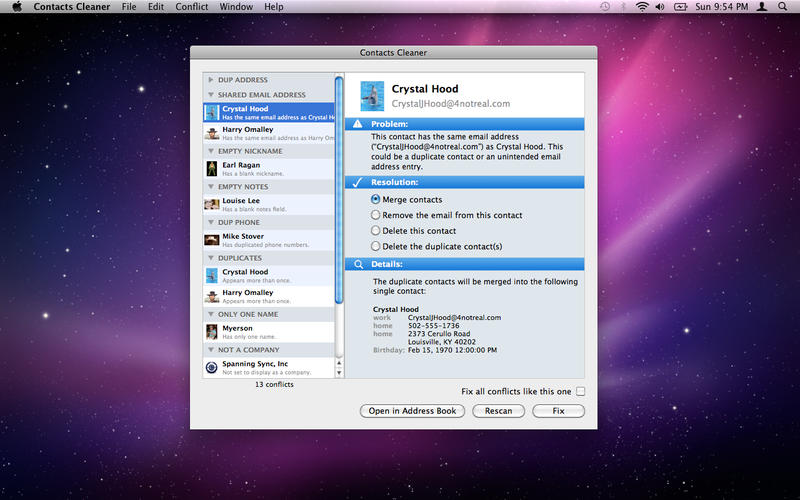 Rosa Reyes


Rosa has worked in Mac software industry for more than eight years. She believes that the purpose of software is to make life better and work more productively. In addition to writing, Rosa is also an avid runner.