It can be very wise to set password for a PDF file, but it is also very common to forgot the PDF password as time goes on.
We many also download some PDF files online and only found out that we need to have the right password to open it or edit it.
So, what to do if we forgot the password of a PDF file and failed to find the correct password?
Relax, you're not the only one experiencing this problem.
Here we'll show you how to recover or remove you forgot PDF password. Plus, you don't even require any software help.
Forgot PDF Password? Remove It Now!
Remove owner/permission password instantly
Decrypt user/open password by brute force, no matter how complicated
Batch unlock PDFs, up to 200 files can be cracked at one time
Do not damage the original file
Easy to use for beginners
Unlock PDFs in seconds
Mac and Windows supported

Free Download
macOS 10.13 or later

Free Download
Windows 11/10/8/7
Part 1: Find Out Which PDF Password You Forgot
As we all know, there are 2 PDF passwords used to protect your PDFs: User Password and Owner Password.
User (Open) Password: protecting PDF file from opening
Owner (Permission) Password: protecting PDF file from any changes on editing, from copying, printing, reading by screen readers, etc.
In other words,
If you cannot open a PDF file, there is a user password protecting your PDF, and you need to decrypt/crack PDF User Password if you forget this kind of PDF password. There are tools designed to recover forget PDF password, but it is not easy, the result will depend on the strength of the original password.
If you can open the PDF file, but are restricted to edit, copy or print, there is an owner password protecting the PDF file, and you need to remove PDF Owner Password if you forget this type of PDF password. Owner password protection can be easily removed without any software, without knowing the password.
Part 2: Two method: Remove or Recover PDF Password
Mainly, there are two types of PDF encryption methods. So, we need two encryption methods. And, there are also two methods if you forgot the PDF password:
Removing PDF passwords: This is what most of the tools works, These tools will literally remove the password from the PDF document, so you no longer need a password to open it.
Retrieving PDF passwords: In this case, the tools will try to figured out the PDF password and when it finished it will show you the PDF password, you can then use the password to read and manage the PDF file.
Part 3: How to Remove PDF Password?
Method 1: One Stop Solution for PDF Open or Permission Password
Ok! Let's get to the first stop: Removing password from PDF is not difficult and you can do it quickly on your computer. We will present 3 methods to unlock a PDF when the password is lost.
The security standard for PDF files is higher than other text documents, we need a professional software to decrypt forgot pdf password.
Most PDF password removers require you to enter the password to be able to remove it, but now you just forgot the password. You are looking a way that can unlock PDF files without password.
Given your situation, we recommend Cisdem PDF Password Remover. It is an advanced decryption tool for that can recover 100% of PDF file passwords.
Equipped with GPU acceleration and a multi-core CPU, it can process files in batch and it is dozens of times faster than regular software.
Automatically remove owner/permission password: One click to remove permission password directly, you gain the access to edit, print, copy PDF files within seconds.
Remove PDF open password with brute force: Unlike other tools that requires you to enter the open password, this PDF password remover support brute force removing your forgotten open password or strong permission password.
Fast unlocking speed: You can manually adjust parameters to accelerate password removal, and also supports removing PDF password in batches.
Highest recovery rate in the market: Been in the market for 9 years and constantly improve the performance of the app.
Try the best way for "forgot PDF password"
1st, Download its trial version and launch it on your Mac or Windows.


Free Download

macOS 10.13 or later

Free Download

Windows 11/10/8/7

2nd, Import PDF files to Cisdem PDF Password Remover, you can do this by drag and drop, or click "Add Files".
3rd, Remove forgotten PDF password.
If your file is only protected by the owner password, directly click "Remove" to remove PDF password.
If your file is also protected by a user password, a lock icon will appear on the right side, click on the lock icon and choose "forgot" to decrypt the forgotten PDF password. Once the PDF password is decrypted, the lock icon will disappear, click "Remove" to create an equivalent PDF file without any password protection in output folder.
Useful Tip: Go to the settings as follows. You can check or fill in the above options, like password length, additional characters, etc. By doing so, you will save a lot of time recovering the password.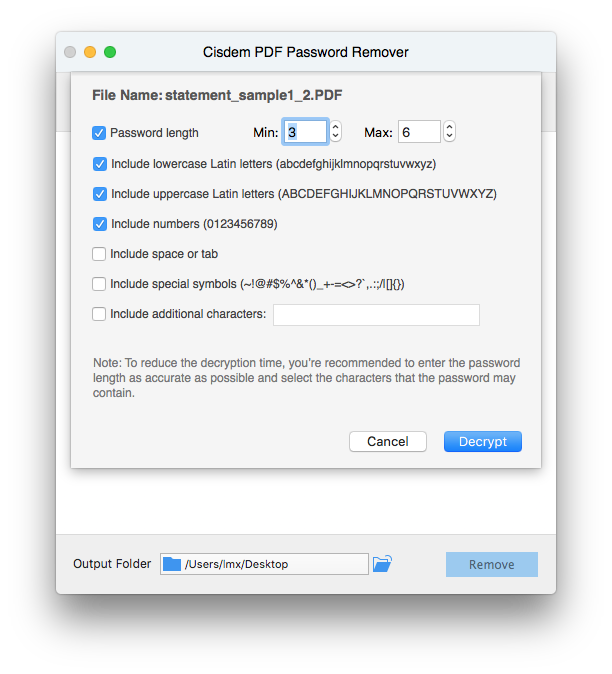 These three steps will safely remove the password of your PDF file. You files stay the same and now you can open and edit it immediately.
Method 2: Forgot PDF Owner Password? Unlock it Without Using Software
If you don't want to install any software, you can also try your luck with online PDF password remover - Smallpdf, it is one of most well know online PDF password remover which can edit, convert, compress, split, merge, convert, protect and unlock PDFs.
In terms of PDF unlocking, it can remove owner password quickly, but cannot unlock user-password protected PDF.
The advantage of this service is that it is online, and is therefore not tied to a platform, and it would be much easier to handle "forgot PDF password" without software. The maximum size you can upload is 200 MB (you obviously need a decent internet connection for that).
Follow the steps to remove the forgotten PDF password without software:
Open Smallpdf unlock PDF tool.
Click on Choose File or drag and drop to upload the PDF file.
Tick the box before the pinky swear.
Click on UNLOCK PDF, you will get PDF without any forgotten PDF password.
Notes: As this is an online service, please be aware that your PDF will be uploaded to a server, which may pose a security risk. We do not recommend this method if the file has important data. This is because there are concerns about information leaks.
Method 3: Unlock Forgotten PDF Password Free with Google Drive
There is another easy way you can try even without using an online PDF password remover. Many users use Google Drive to store files, it also plays other roles for files - a converter. It's quite easy to turn permission-password-locked PDF into an editable format without any restrictions like copying, editing and printing.
To unlock permissions password without any software and free:
Go to Google Drive and log into your account.
Click on the "+ New" button to upload the PDF that you forgot the permissions password.
When the file uploads, right-click it and open it with Google Docs.
Then your PDF will be converted to an editable Word without any restriction. Go to File > Download > PDF to save this unlocked file.
Part 4: Try Google Chrome to Save PDF As A New File
If your file is restricted from copying, another simple-to-use method for you. As the most popular search engine created by Google, Google Chrome can easily read, print, split and save PDF files. What's more, you can download the file again to rapidly remove the restriction on copying text.
To remove the restriction from copying in PDF, try Google Chrome:
Drag-n-drop your locked PDF file into Google Chrome.
Then click on the Print icon.
Now, click the Save icon to remove the copy restriction from this PDF.
Part 5: Recover Forgot PDF Password
If you need to recover the forgot PDF password you can also recover it, but be noted that you can only recover open password and there is no option to recover a permission password.
Here is how to recover forgot PDF password:
Go to LostMyPass website and add your PDF files by drag and drop.
The site will start upload and analyze your PDF file.
After analyzing, the site will give you the password of your PDF file.
Part 6: Forget PDF Password on Mobile Device? Open Them with iLovePDF
If you forgot PDF password for Android or iOS and want to open it on mobile device, or your PDF file is stored on mobile and clouds services like Google Drive, then iLovePDF is exactly what you need.
iLovePDF is few of the online PDF Password Remover that supports unlocking PDF user password. So it is definitely worth a try.
However, it fails to remove PDF password sometimes, especially when the password is long and complicated, which requires longer time or more advanced tech to decrypt.
Follow the steps to remove the forgotten PDF user password without software:
Open iLovePDF unlock PDF tool.
Click on Select PDF file to upload the protected PDF.
Click on Unlock PDF to remove the forgotten PDF password.
Conclusion
If we forgot the password of a PDF file, we can use tools to remove or recover the password, we can also unlock forgotten PDF password online without software. For the sake of information safety and 100% success to unlocking the PDF, desktop programs such as Cisdem PDF Password Remover is highly recommended, because it does exactly what is said on the tin, removing password restrictions and cracking PDF in a safe and efficient way. And in our test, it can unlockPDF file passwords with 100% probability.

Free Download Windows 11/10/8/7

Free Download macOS 10.11 or later