Forget the PDF password and cannot access to your PDF documents? Tried several PDF Password Remover but got to nowhere? Don't be upset, I am going to show you the right moves to do when you forgot PDF password.
First of all, find out which PDF password protects your PDF.
As we all know, there are 2 PDF password used to protect your PDFs: User Password and Owner Password.
User (Open) Password: protecting PDF file from opening
Owner (Master) Password: protecting PDF file from any changes on editing, from copying, printing, reading by screen readers, etc.
In another words,
If you cannot open a PDF file, your file is user-password protected, and you need to crack/restore PDF User Password;
If you can open the PDF file, but are restricted to edit, copy or print, your file is owner-password protected, and you need to crack/restore PDF Owner Password;
If you cannot open or edit the PDF file, your file is both user&owner password protected, and you need to crack/recover both PDF user and owner passwords
Then, decrypt or recover your PDF password.
But how?
As information becomes an ever aggravating factor that shapes how better we solve problems, we often return to Internet for solutions. So, most of our PDF users are inclined to seek answers from Google, and we find 2 general types to deal with forgotten PDF password decrypt (directly crack the pdf password) or recover (find back your pdf password) it.
1. Online PDF Password Recovery
PDF Password Recovery Online is the top choice. It is a web-based and paid(10 Euros) password recovery tool that requires no installation of software. You can try following steps to restore your forgotten PDF password.
Step 1. Go to PDF Password Recovery Online and you will be directed to its interface by clicking "here".


Step 2. Start the decryption process by supplying some details about the password.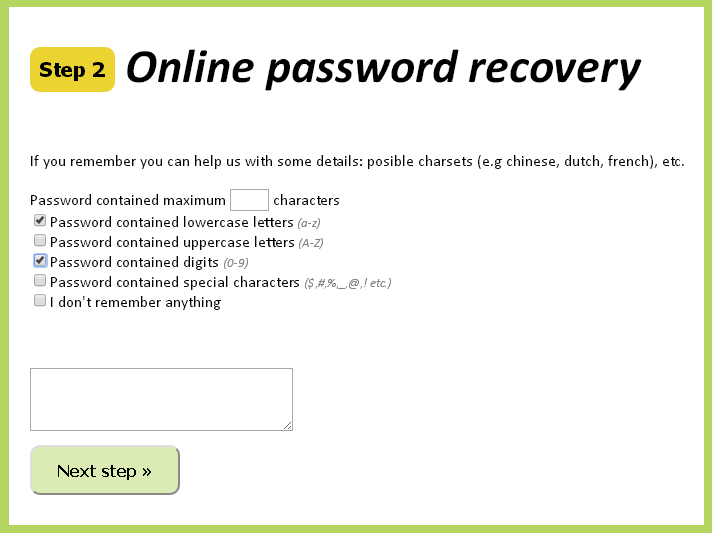 Step 3. Enter your email address so that you can be informed when your decrypted PDF file is ready.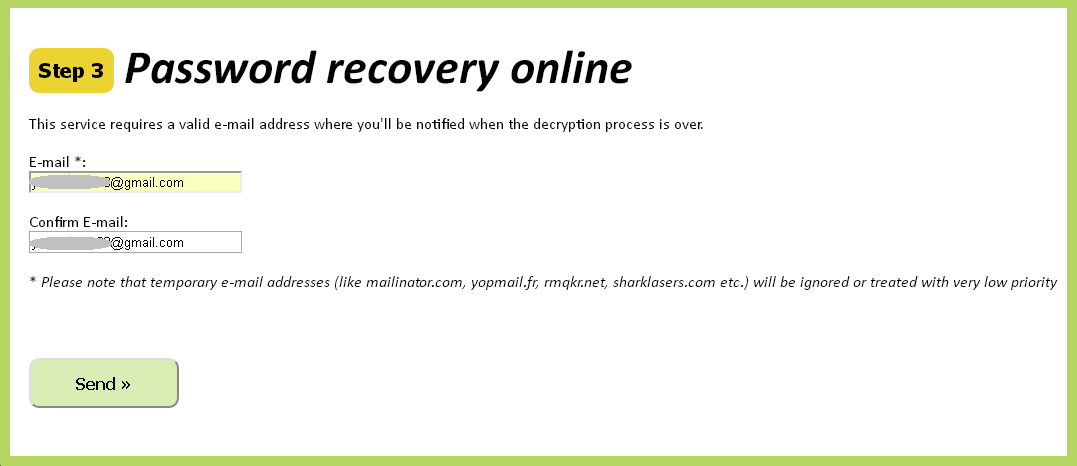 Step 4. Pay for the service and then you will be able to download the retrieved data file from the website.

It supports multiple document formats, like any type doc, xls, ppt, pdf, rar, zip, also it can restore password from a PDF within 700M.
However, the PDF password recovery service will cost users 10 Euros, also the speed to upload your PDF with forgotten password also varies greatly, it may even take a long time to upload. What's more, it involves risks of information leakage when another party keeps your file.
2. Stand-alone PDF Password Recovery
#If you are doing on a Mac
There are numerous password remover tools for mac, but quite few among them can remove both open password and owner password on mac. So, here I recommend using Cisdem PDFPasswordRemover, a comprehensive stand-alone software, designed to remove security from PDF and remove both user&owner PDF password.
Try Cisdem PDFPasswordRemover Now to Decrypt PDF Password on Mac!
1st, Download its trial version and launch it on your Mac
Free Download
2nd, Import PDF files with forgotten PDF password to Cisdem PDF Password Remover, you can do this by drag and drop, or click "Add Files".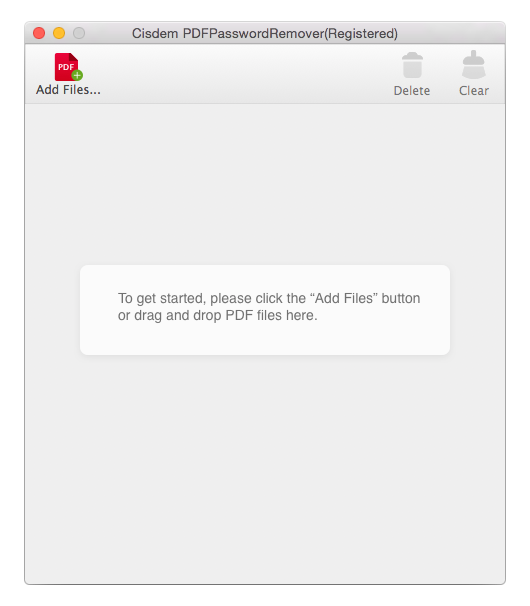 3rd, Remove forgotten PDF password.
If your file is only protected by the owner password, directly click "Remove" to remove forgotten PDF password;
If your file is also protected by an user password, a lock icon will appear on t he right side, click on the lock icon and choose "forgot" to decrypt the forgotten pdf password. Once the forgotten pdf password is decrypted, the lock icon will disappear, click "Remove" to create an equivalent PDF file without any password protection in output folder.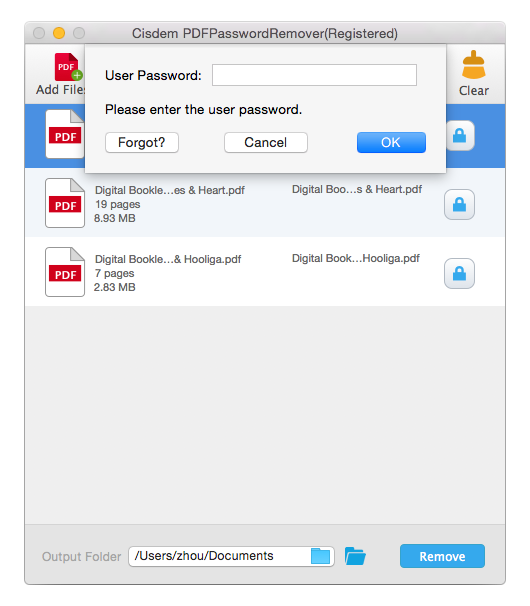 Useful Tip:Go to the settings as follows. You can check or fill in the above options like, password length, additional characters, etc. By doing so, you will save a lot of recovering the lost password.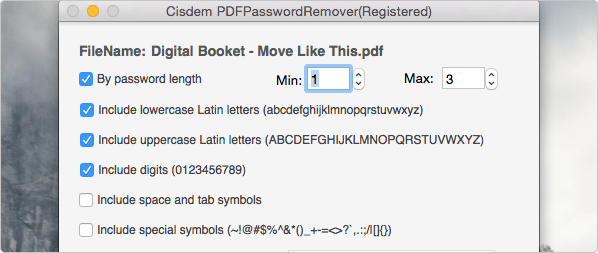 #If you are doing on a Windows PC
Eltima PDF Password Recovery is a desktop program for Windows users to decrypt, even recover lost or forgotten PDF password with Brute-force search, Dictionary search or Network search.
Try Eltima PDF Password Recovery to Decrypt PDF Password on Windows!
Download and install the program on your Windows PC, run it.
Import PDF file with forgotten PDF password into the program.
Choose the mode your want to recover the forgotten PDF password: Brute-force, Dictionary or Network. If you just want to decrypt the file, click "Decrypt" to remove the pdf password protection.
Click "Start recovery" to recover the forgotten PDF password.
Conclusion
In different cases, PDF users may adopt different tools to decrypt or recover their PDF password. But for the sake of information safety and 100% success to decrypt or recover the forgotten password, desktop programs such as Cisdem PDF Password Remover is highly recommend, because it does exactly what is says on the tin, removing password restrictions and crack PDF in a safe and efficient way.