Many people were avid for collecting home DVDs in the past. They probably are classic movies or precious moments in life. Currently, digital world has taken place of the time of DVD. Someone prefer to rip DVD to MP4 as MP4 possesses high compatibility, while someone are eager to convert DVD to MKV as MKV provides higher quality.
As we have talked about convert DVD to MP4, now we intend to share with you 4 ways to rip DVD to MKV with original quality, including ripping DVD to MKV for free with HandBrake and other reliable software.
Why Rip DVD to MKV on Mac/Windows
The reasons can be multiple for ripping DVD to MKV. They are mainly manifested as:
1. Ripping DVD can keep it from data loss in case of the DVD disc is damaged or lost.
Normally, DVD is recorded with an object that needs to be carefully preserved. Otherwise it is easy to get scratched or other accidental damage. Or if you forget where you place the DVD, it can also easily get lost. However, ripping DVD to a difital file can easily solve these issues and you can watch it anytime and anywhere.
2. Ripping DVD to MKV can backup all convert of the DVD
MKV is a container format that can store countless video, audio, picture or subtitle tracks into a file. Therefore, you can copy all DVD information into an MKV file including all titles, audio and video and subtitle tracks, chapter information metadata, etc.
3. MKV provides higher quality.
MKV adopts higher resolution codecs than normal formats such as MP4, so that it is often used for HD movies or Bluray sources to provide high-quality picture.
4. Ripping DVD can remove DVD copy protection for better enjoyment
Many copy-protected DVDs are equipped with different encryption technology such as DVD region codes, Disney X-project protection, The Analog Protection System (APS) and so on. Professional converters can help you bypass copy protection to rip DVDs successfully. Additionally, MKV is a free and open-sourced digital container format, which are convenient for you to share the DVD contents to different devices.
The Best way to Convert DVD to MKV With Lossless Quality
Cisdem Video Converter is the best professional converter to assist the needy to rip DVD to MKV with impeccable quality in just 3 steps. This best DVD to MKV converter is designed with a practical function of bypassing all copy encryption methods, making it widely used to rip all copy-protected DVDs easily.
Furthermore, Cisdem Video Converter is able to batch rip several files in the DVD, which will save you much time if you need to rip a 99-title DVD. At the same time, it can detect all titles and successfully copy 100% full content of the 99-title DVD.
Main features of the best DVD to MKV converter
Can rip all kinds of copy-protected DVD discs and DVD folders, such as region codecs, CSS encryption, etc.
Can rip DVD to MKV, MP4, MOV and other 300+ digital audio and video formats
Convert DVD to MKV or other formats with lossless quality
Offer 30X faster speed
Can rip or convert the DVD or digital files in bulk
Provide plentiful editing features
Support to choose wanted subtitles in different languages
Can rip DVD to the formats supported by other devices like iPhone, iPod, Android, etc.
Can download online videos from 1000+ websites including YouTube, Vimeo, etc.

Free Download
Advantages:
Can rip all copy-protected DVDs
Batch rip multiple files from a DVD in a fast speed
Provide higher quality after ripping
Easy to use with clear surface
Disadvantages:
Can only rip a file up to 5 minutes for free
Steps on how to convert DVD to MKV with Cisdem Video Converter
Step 1

Download and install Cisdem Video Converter
Get the program on its official websites.

Free Download
When you open it, you will see 3 different icons on the top center of the interface, which stands for conversion performance, ripping performance and downloading performance. Click the second icon to start ripping DVD to MKV.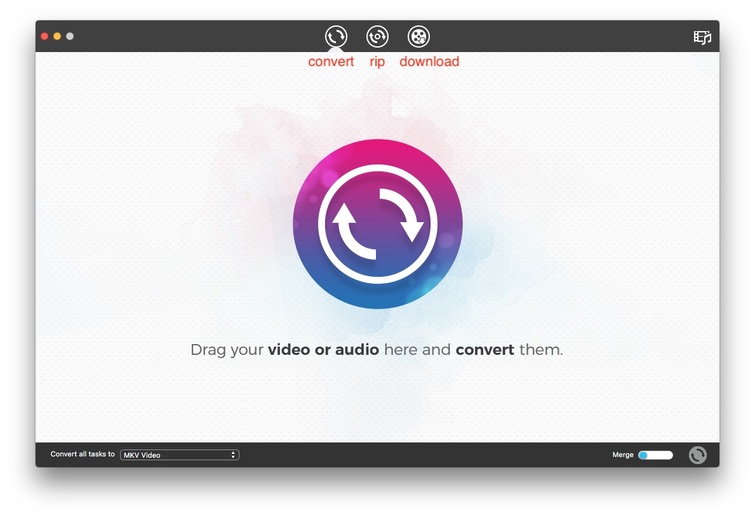 Step 2

Upload DVD

Insert a DVD into your computer, drag and drop the DVD icon into the program. Then, wait to parsing the DVD. After a while, it will show you with a list of single video thumbnail on the interface.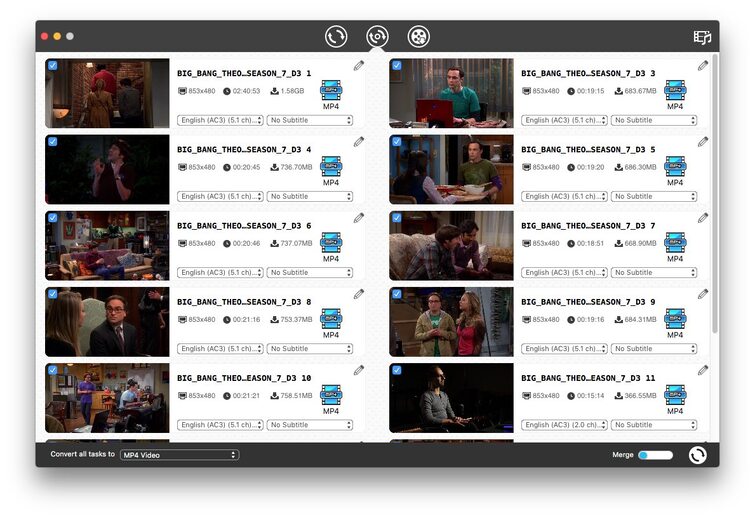 Step 3

Choose MKV as the output format

Click the drop-down icon of "Convert all tasks to" at the bottom left corner and find "MKV" in the type of "General Video".

You will find that there are 3 options for you: MKV Video, MKV HD Video and MKV HEVC Video, which are different in resolutions. You can choose any one of them. But you should keep in mind that the higher resolution you choose, the larger file will be.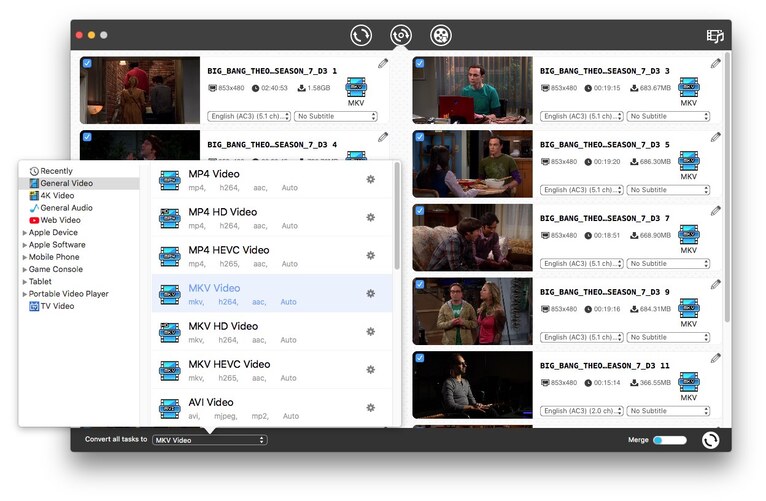 Step 4

Select desired audio track and language (Optional)

Cisdem Video Converter will select a feasible audio track for you automatically. If you want to change it with you needs, you can click the audio track box to select a proper one.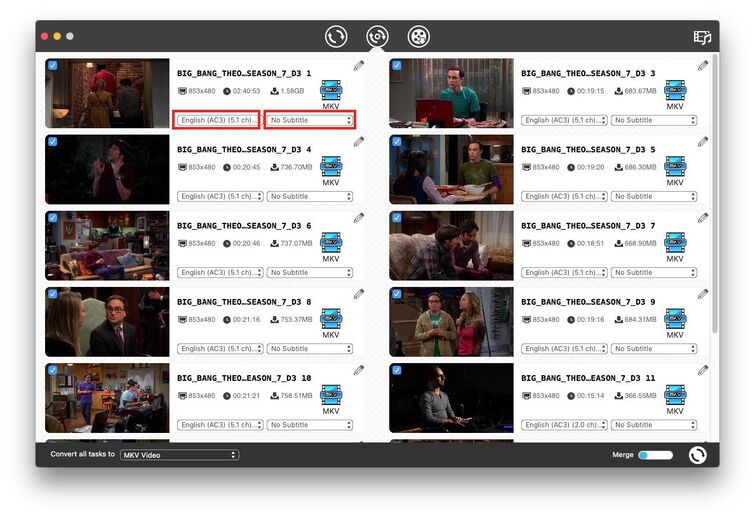 Besides, if you want to rip DVD to MKV with subtitles, you are permitted to click the subtitles box to select a favorite language in the list.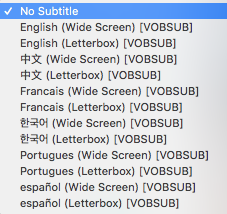 Step 5

Edit the DVD file (Optional)

You can also click

to edit the file before ripping, such as trimming, cropping, rotating the video, adding watermarks, adjusting effects and volume. When done, click "Save".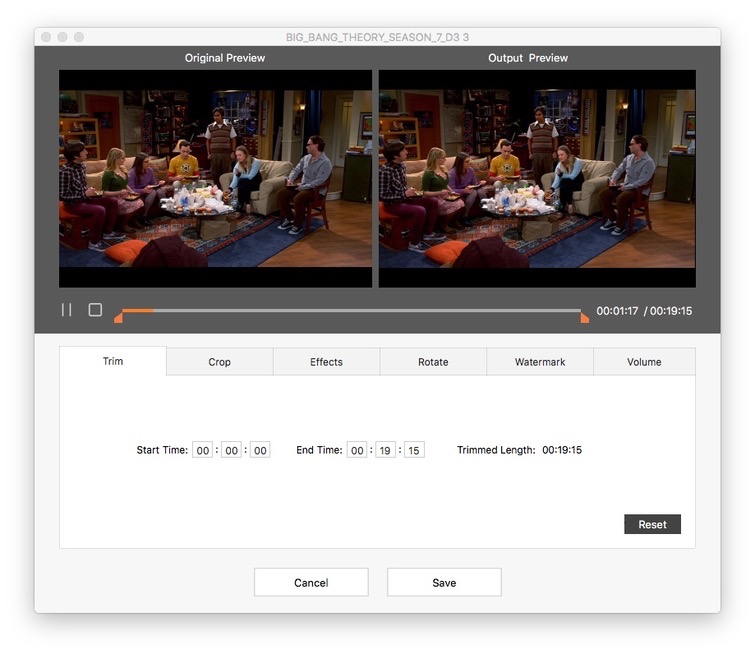 Step 6

Rip DVD to MKV

At last, click

to start the work. This process will show you how to rip all files at the same time and the progress of the work.
How to Convert DVD to MKV Free
We've tested a large number of converters in the market and ended up with selecting 3 excellent DVD to MKV converters for free. If you want to know more details, please continually read the following part of the article.
How to Rip DVD to MKV with HandBrake
HandBrake can be used to convert DVD to MKV free on Windows, Mac and Linux. This free and open-source tool can also help you free convert between some popular digital audio and video format. However, when converting DVDs, it only supports to rip DVDs without copy protection. Even if with the help of libdvdcss, it still can't rip the DVD with secret code protection.
Advantages:
Free
Provide basic editing tools
Disadvantages:
Not friendly to novices because of the complicated interface
Can't rip copy-protected DVDs
Steps on how to convert DVD to MKV with HandBrake
Download a proper version of libdvdcss in advance.
Download and install the right version of HandBrake on your computer. Launch the software.
Insert the DVD disc into your computer drive, drag-n-drop the DVD into the interface directly. Then, it needs a few minutes to parse the DVD content. Once finished, the DVD content will appear in the interface.

HandBrake will automatically select the title with the longest duration to rip. But if the DVD contains several titles of similar duration such as 99-titles, it may pick the wrong title to rip. Therefore, click the drop-down icon of the "Title" box to make sure the right one is selected.

Click the drop-down icon of "Preset" button and then click "Matroska" to select the proper output format and quality you want.

tips: But, it is not recommended to choose the high resolution because it won't improve the video quality but will add more time to rip. Instead, you should choose the basic format you need, for example, you can choose H.264 MKV 480p30 for NTSC DVD and H.264 MKV 576P25 for PAL DVD.

Then, head to "Summary" option to make sure the output format is MKV. You can also edit the DVD before ripping based on your needing, such as editing the dimensions, filters, video and audio codecs, subtitles and chapters in the corresponding options.
Now, edit the output file name in the "Save as" box and click "Browse" button to set the storage position.
Finally, click "Start" icon at the top line to start to rip DVD to MKV with HandBrake.
How to Rip DVD to MKV with VLC Media Player
As a free and open source multimedia player, VLC Media Player can also convert between some popular digital file formats and rip DVDs for free on all platforms. When you rip DVD to MKV with VLC in the normal way by clicking "File > Open disc", you will find the answer is no! Through our test, we get a proper way to do it with VLC. But, in this way, you can only rip all files contained in the DVD one by one. If you want to know how to do it, please see the following specific steps.
Disadvantages:
Can't batch rip all DVD content at once
Sometimes fail to work
Steps on how to convert DVD to MKV with VLC Media Player
Download and install VLC. Open it on your computer and insert a DVD
Click "File > Convert / Stream" in the top menu. And it will pop up a new window for you to add file.

Click "Open media" and it will pop up a window for you to choose the desired file. Navigate to the position of the inserted DVD, open it, choose the proper file and click "Open" to upload the file. You should remember that the selected file must be a video file.

Go to "Choose Profile" section, click "Customize" button and then select "MKV" in the dropped-down window. Click "Apply" to back to the main interface.

Move to "Choose Destination" section, click "Save as File" button and then "Browse" button to set the output location and name in the small window. Once done, click "Save".

Finally, click "Save" button at the bottom right corner of the main interface to begin to convert DVD to MKV free.


tips: However, sometimes, ripping DVD to MKV with VLC may encounter some errors, such as the ripped video has only audio. To solve this issue, maybe you can rip DVD to MP4 or other VLC supported format at first and then convert the ripped file to MKV. Or if you don't want to waste your time and effort, you'd better find another trustworthy tool.
How to Rip DVD to MKV with MakeMKV
MakeMKV is a preeminent tool to rip Blu-ray sources and DVDs to MKV, which is capable of decoding most copy encryption techniques. So it is widely used to help people to backup and convert all content from the DVD to the video including all audio, video and subtitle tracks, meta information and so on.
Meantime, it can check potential errors and delete the unmatched or defunct small part of the movies or features automatically when detecting the DVD. But this is not a completely free tool that is only free for 30 days.
Advantages:
Satisfying conversion speed
Can remove many encryption methods
Disadvantages:
Only support MKV as the output format
The converted file is large
30-day free trail
Steps on how to convert DVD to MKV with MakeMKV
Insert a DVD into the optical drive, open the downloaded MakeMKV on your computer. Now, MakeMKV will detect and analyze the DVD, and manifest the related message into the program.
Click the big DVD to drive icon in the main interface and it will start to scan the drive. Normally, it needs to take 10 minutes or longer to parse the drive from various aspects.

Upon finishing, the program will show you with all "chapters" information from the DVD. Head to the file that you want , click its drop-down icon, and tick the corresponding box to select the desired audio track and favorite subtitles.

Once done, move to the "Output folder" on the upper right part of the interface to edit the output destination and storage name.
Finally, simply click the "Make MKV" icon next to "Output folder" to initiate the ripping process.
Last Words
After reading so much about ripping DVD to MKV, it is easy to get that free DVD to MKV converters have many drawbacks, even though they are free. Compared to professional converters, they are limited in ripping DVDs with top-level encryption, can only rip one file at a time, offer a relatively slow conversion speed, fail to rip the entire content of a DVD and more issues.
However, using a professional converter can handle these issues well. If you are eager to rip any DVDs into high-quality digital files with ease, a reliable converter is highly recommended.

Free Download