Nowadays Solid State Drive/Disk (SSD) seems to be more popular than conventional hard disk in computer field. Having no mechanical moving parts makes SSD a breakthrough technology. Its fast processing speed and low power consumption become the attractive features for PC users.
However, with the extensive use of SSD, SSD data deletion or loss problem also emerges in endlessly. So here come the problems: Is it possible to recover data from an SSD? If yes, how? If no, why?
The answer is possible in some occasions. Whether SSD data could be rescued depends significantly on the SSD status, which will be covered across the board in this article.
TRIM Command: Key Factor to Impact SSD Data Recovery
Many SSD manufacturers will apply TRIM feature in SSD production. TRIM is used to inform an SSD which pages or blocks of data are no more needed and can be erased internally for new data entrance.
Compared to data storage principle of traditional hard drive, SSD with TRIM enabled leaves out the data deletion process and reduces unnecessary write cycles, thus improving the drive performance and service life (SSD will wear out after using a limited number of write cycles).
Therefore, TRIM function plays a decisive role on SSD data restoration. Once SSD users delete some data in the drive, the TRIM command will be triggered to wipe them rapidly without performing deletion. This greatly lowers chances of success to recover the deleted data in SSD.
In reality, none of data recovery programs in the current market have ability to restore lost data from TRIM-enabled SSDs. In this case, asking professional data recovery service for help might be a feasible method. Regarding SSD data recovery with no TRIM, continue to read the next part, which will describe three common problems and their solutions correspondingly.
3 Common Concerns in SSD Data Recovery
This part separately delivers three problems related to SSD data recovery which are frequently asked on various online forums, namely, how to recover data from TRIM-disabled SSD, corrupt/formatted SSD and SSD in a dead computer.
Concern 1: How to recover deleted data from TRIM-disabled SSD?
Providing you mistakenly delete your important files on a well-functioning SSD with TRIM command disabled, a specialized data recovery software is strongly recommended to cope with this trouble.
Among masses of data recovery tools on market, Cisdem Data Recovery for Windows and Mac can be foremost in line. It is a feature-packed product gearing toward handling data loss situations due to a variety of reasons, such as accidental deletion, trash emptied, system formatting/upgrading, human error, virus attack, physical damage, etc. This high-end software is equipped with mature technical team and 24-hour online customer service, providing users with a smooth and pleasant data retrieval experience.
Why choose Cisdem Data Recovery?
Restore lost/deleted data from SSD
Detect and repair damaged photo/document files automatically
Repair corrupted or unplayable videos, including MP4, MOV, MKV, AVI, M4V and so on
Support the data recovery from damaged/formatted SSD
Recover 200+ types of file (image, video, audio, document, archive, email, etc.)
Retrieve data from internal SSD and external storage device, performing equally outstanding
Both quick scan and deep scan designed to do thorough scanning
Preview files before recovery to pick out the wanted ones only
Filter scan results with tools like keyword, file size, date created and date modified
Recover data to local drive or safer Cloud service
Walk through the following steps to recover deleted data from SSD without difficulty.
Step 1. Download the best SSD data recovery software: Cisdem Data Recovery.
Step 2. Install and run this software.
Step 3. Select and scan the SSD.
Go to Disk Data Recovery mode. The program will detect and list all storage disks on your PC. Select the SSD where you deleted data from earlier and click "Search for lost files" button to initiate the scanning process.
Step 4. Locate the deleted data.
After scanning, recoverable items will be displayed on the left panel according to different file categories. Preview and specify the deleted data you wish to recover. Use filter tools or search bar if there are too many scanned files.
Step 5. Recover the deleted data.
Select the wanted data and click "Recover" to restore them to the SSD on your computer or Cloud platform.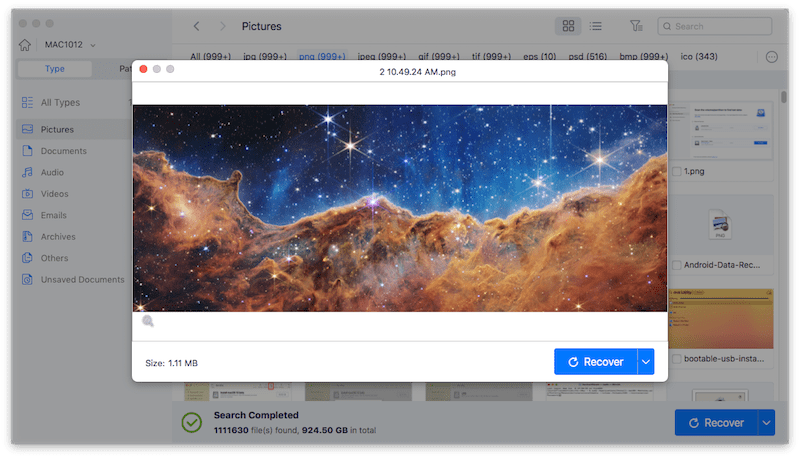 Concern 2: How to recover data from corrupt/formatted SSD?
Another problem that SSD users are concerned with is: if my SSD drive have been formatted or corrupted out of unclear reasons, how can I resume my vital data in it? Here data recovery applications can also come to the aid.
As mentioned before, Cisdem Data Recovery for Windows and Mac has an unique trait of supporting data retrieval from a corrupted/formatted SSD. To solve this data loss dilemma in a few simple clicks, just use Cisdem to detect your SSD and follow the steps described in Concern 1. If there are videos that you have recovered from the corrupt SSD but cannot open, you can use the Video Repair tool to repair all the videos.
Bear in mind that SSD data recovery by this way is possible only if the SSD can be recognized by your computer.
How to fix a failed/corrupt SSD?
After recovering and exporting the data from your broken SSD, is there any way to repair it and make it reusable? Surely yes. This section will discuss several potential approaches to perform corrupted SSD fix.
Reformat the SSD and upgrade the operating system of your PC.
Update the SSD firmware.
SSD firmware controls the operations of hard drive. If firmware damaged, SSD can not work properly. Run a firmware update tool to update it could be a solution. Here's the detailed guide.
Right-click on the Start icon and select "Device Manager".
Choose "Disk drives" and right-click the SSD. Select "Properties".
Click "Details" > "Hardware IDs" >"OK".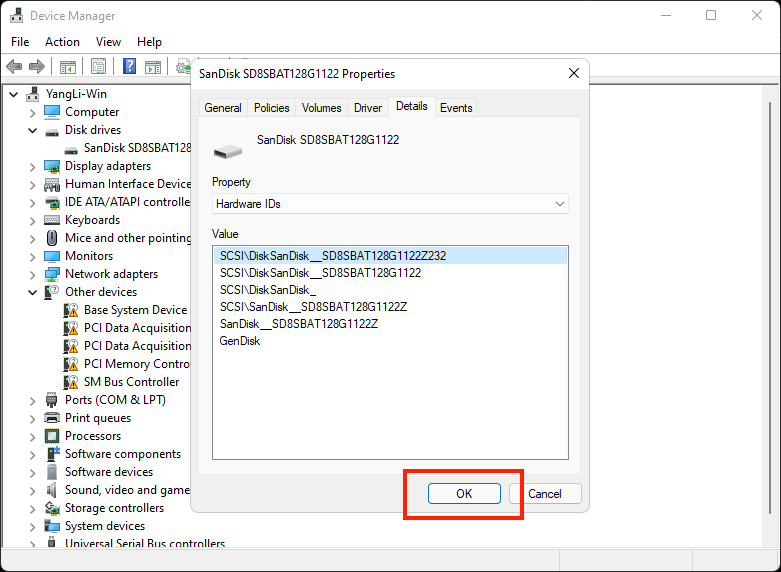 Launch the SSD firmware update tool to check whether the firmware is in its latest version.
Select "License" > "Accept".
Hit updates available and click "Update Drive". Then select "Yes" to confirm the update.
Click "OK" to complete the update process.
Shut down your computer and unplug both data and power cables.
Turn on your computer.
Shut down it again and reconnect those two cables.
Reboot your computer to see if the SSD can run normally or not.
Concern 3: How to recover SSD data from a dead laptop/desktop?
When a SSD computer becomes died, its data may remain undamaged but inaccessible in the SSD drive. So the third much-talked-about topic should be how to recover data from an SSD of a dead laptop or desktop. See below for the tutorial with no need of any data recovery software or service.
Step 1. Purchase a hard drive supportive enclosure. Also prepare a working desktop or laptop with the same operating system as the dead one.
Step 2. Pull out the SSD storing data from your dead computer.
Step 3. Place the SSD into the disk enclosure.
Step 4. Connect this enclosure to your prepared PC by a USB cable.
Step 5. Open the SSD drive recognized on the working PC. Click "Continue" to get access to the data folder.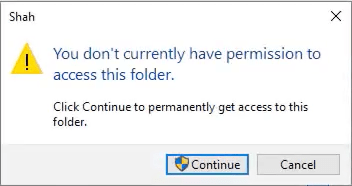 Step 6. Transfer the SSD data to local drive of the computer or a second external hard drive (optional) by copying and pasting.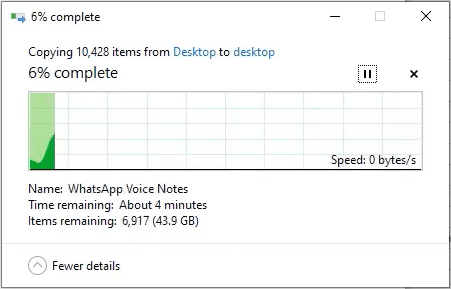 The transfer process finished, so far SSD data from the dead computer has been restored to an accessible location.
FAQ
1. How long can SSD store data?
SSD lifespan varies based on multiple factors. Generally speaking, a majority of SSDs will retain their data without power for 5-10 years.
As a matter of fact, SSD data storage can last for even more years if the drive is kept in a dry and cool environment free of electromagnetic influence. It all depends.
2. What are the difference between SSD vs. HDD?
Hard Disk Drive (HDD) is the traditional storage hard drive. The differences between HDD and SSD in different aspects are listed below.
Pricing. SSD is more expensive (2-3 times) than HDD per unit storage.
Speed. SSD is much faster than HDD. A computer with SSD boots faster, transfers data faster and launches programs faster. This is exactly the light spot of SSD.
Noise. HDD produces noise due to mechanical movements, while non-mechanical SSD makes no noise at all.
Durability and reliability. HDD is less reliable on account of possible mechanical failure, while SSD is more likely to avoid data loss.
Energy consumption. SSD consumes lower energy than HDD.
3. Why do SSD get failed/corrupt?
Overheat. If SSD is left under the sun or a hot place, it is most probably to die or fail because of long-time overheat.
Power interruption. A crucial element --- capacitor requires a constant power supply. Power delivery failure during operation may corrupt SSD.
Virus attack. Virus and malware infections are also possible reasons leading to SSD corruption.
4. How to tell if my SSD is corrupted?
A corrupt SSD does not give any audible warning signs, but there are still other symptoms to indicate its damage.
Your computer fails to boot properly.
SSD suddenly switches to read-only mode.
New data can no longer be written on SSD.
Frequent errors when transferring files.
File system needs repair frequently.