Communication becomes more convenient through phone, message, Facebook, What's App, Twitter, etc, but after we merge them at one place, there are so many duplicate contacts. Or when you transfer the contacts from one SIM to another one, there will be some copies of your contacts, then how to delete duplicate contacts? In this tutorial, I will introduce some ways about how to delete duplicate contacts on iPhone, android and mac by the system itself or some contact management software.
How to delete duplicate contacts at iPhone
Most of our contacts are on our mobile phone, so the energy thing is deleting duplicate contacts to free up the space. At first, let's talk about how to delete the duplicate contacts at iPhone. Except deleting the duplicate contacts manually, I search for other convenient ways, but no results. In order to can help the people who really hate the annoying duplicate contacts, here introduce several free apps what you can download them at Apple Store.
# 1 Clean Doctor - Free App
Clean Doctor is a free application. As the name said, the main function is cleaning the iphone. When you start clean the iPhone or iPad, you can choose the folder or app, such as the photos, calender, contacts, etc. So it can detects several duplicate contacts and images.
# 2 Cleanup Duplicate Contacts - Free App
Cleanup Duplicate Contacts is also free software. It can delete the duplicate contacts on iPhone and iPad. Before we scan the contacts through this app, we can decide the merge level - only detect 100% matches or also detect several kinds of partial matching.
How to delete duplicate contacts on Mac
Except manage our contacts on mobile phone, we also could manage our contacts on Mac. Here, I will recommend one contact management software Cisdem ContactsMate, which has free trial. And the price of it is $19.99. There are some features about how to use this app.

Free Download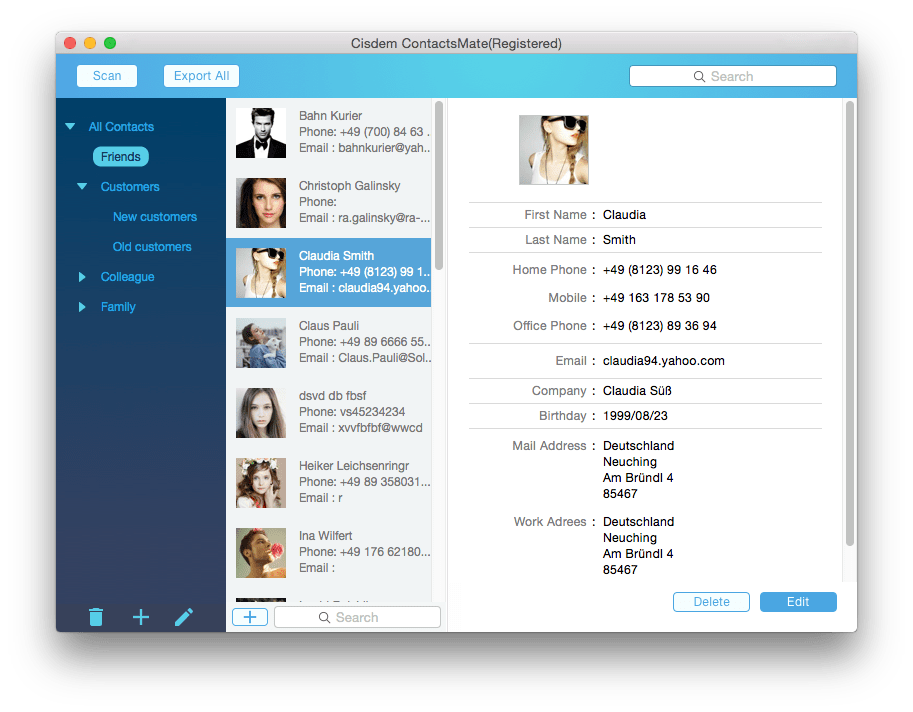 Support collecting iCould, Google contacts at one place
Can add, enrich, find and updates contacts
Group your contacts to manage and export some contacts in bulk
Strong setting about how to scan the duplicate conflicts
Support totally 8 output formats for backup or sharing

How to delete duplicate contacts with Android
Another system we store our contacts are mobile phone with android system. In the most phone, they do not have perfect function to merge and delete duplicate contacts. Follows are some methods to talk about how to delete duplicate contacts on android without the third application.
# 1 Merge the duplicate contacts use the mobile phone itself
If you duplicate your contacts or have two SIM in your phone, there must be many duplicate contacts. In this way, open the phone contacts, in the setting, choose merge contacts.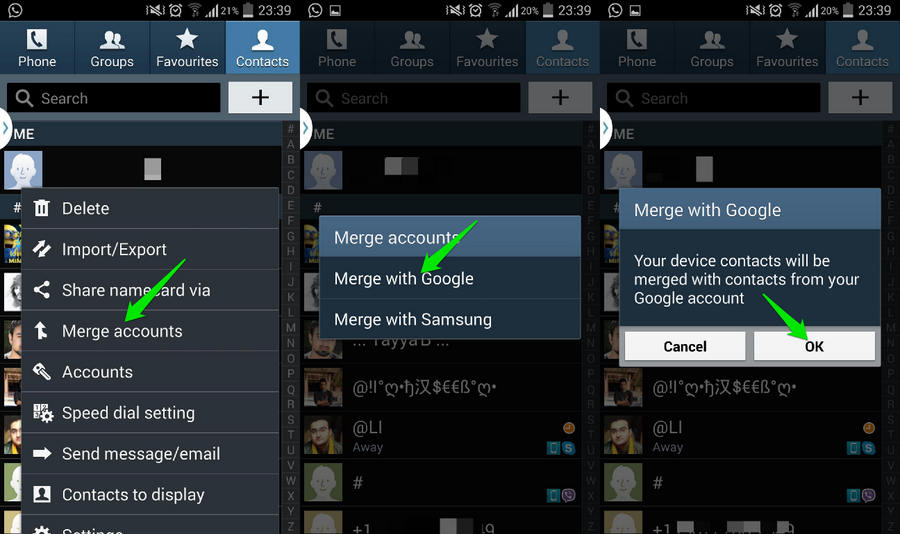 PS: Because there are different manufacturers, the exact place about the setting is different. Here, just show the screen shoots of one kind of situation to explain it. The things we can ensure is that the android system has this basic setting.
# 2 Delete duplicate contacts through Gmail
After sync the android contacts to Gmail. Find and delete duplicate contacts are very easy.
Step 1. Sign into your Google account, choose the contacts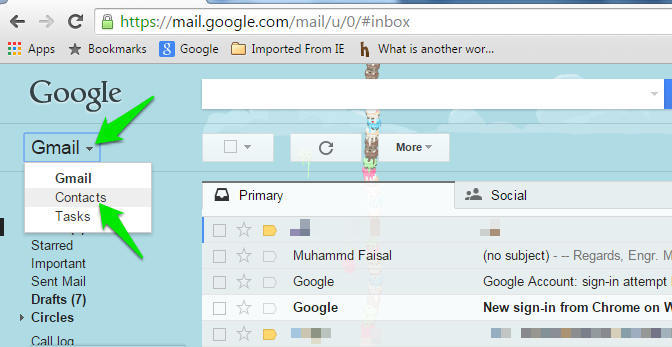 Step 2. Click the more and choose the action you want to do, you can import, export or find & merge duplicates

Final words about how to delete duplicate contacts
Contacts information are very important. Maybe contact someone in time can reduce some trouble. More important, manage all of our contact at one place are very convenient. If you read this article by accident, just check your mobile or mac whether there are duplicate contacts, and try this tutorial.

Rosa has worked in Mac software industry for more than eight years. She believes that the purpose of software is to make life better and work more productively. In addition to writing, Rosa is also an avid runner.