Are you troubled with tons of videos (like movies, TV shows, and anime episodes) kept on the computer and not willing to delete them? If so, you may be interested in how to burn multiple movies on one DVD with a menu to save more storage space. However, a DVD can't contain an unlimited number of videos. Before burning multiple videos to DVD at once, you should learn some basic knowledge.
Best App to Burn Multiple Movies to DVD
Burn multiple videos to DVD-5, DVD-9, DVD folder, and ISO
Supported disc types: DVD+/-R, DVD+/-RW, DVD+/-R DL, DVD-RAM
Support numerous video formats, like MKV, MP4, M2TS, WMV, 3GP, VOB, etc.
Edit multiple video files by cropping, rotating, adding watermarks/effects
Import external subtitles to movies
Offer beautiful and stylish menu templates of Holiday, Travel, Birthday, and other themes
Customize DVD menu templates via background picture, music, and title
Smart preview available before final modifications
Easy to use for beginner
Used for Windows 10/11, macOS 10.12 Sierra or later

Free Download

Free Download
Things to Know before Burning Multiple DVDs at Once
1) Common Types of Writable DVD
There are 3 common types of DVDs: DVD-5, DVD-9, and DVD-10. Currently, double-sided DVD-10 is not very popular. Most people are still using DVD-5 and DVD-9.
2) How Many Movies Can a DVD Hold?
It depends on the movies' length, not size. As shown in the table above, a standard 4.7GB Single Layer recordable DVD is able to store around 120-133 minutes of video. And a Dual Layer 8.5GB blank DVD can hold video up to 240 minutes.
Movies are almost always 80-120 minutes long. That's to say, DVD-5 may merely hold one movie, whereas DVD-9 can hold 3~5 movies. To burn multiple movies on one DVD, DVD-9 is more suitable. But if you just want to burn multiple shorter TV shows and episodes to DVD, DVD-5 is a great choice.
3) Why Not Increase the DVD Storage Capacity (Minutes)?
The video bitrate determines the capacity of the DVD. The lower the bitrate is, the more movies a DVD can hold. 1000 kbps helps you store approximately 9 hours in DVD-5 and 15 hours in DVD-9. 3200 kbps is 3 hours in DVD-5 and 5 hours in DVD-9.
Then, you might ask, "why not reduce the bitrate so that I can burn multiple movies to DVD-5".
DVD encoded with MPEG2 can't set the bitrate under 3000kbps. Otherwise, the DVD quality will be very poor with a significant amount of artifacts (especially the movies that have many explosions, action scenes).
Although a high bitrate delivers high quality, the maximum bit rate of an encoded MPEG-2 movie should not exceed 8MB in order to leave enough headroom for audio and sub-pictures. The bitrate of standard DVD burning software used to burn multiple videos to DVD is usually set to 5MB. All burned movies will be fixed at 720x576 (PAL) or 720x480 (NTSC) in resolution to meet the DVD specification.
4) AC3 VS MP2, Which One to Choose?
To be compatible with any player, the MPEG2 codec is still more popular than H.264 codec for the DVD authoring program. So, what's the best audio codec to burn large video files to DVD?
Most commercial DVDs have AC3 as an audio stream choice, because:
Encode 100% DVD compliant 5.1 Channel audio files
Maintain high quality and compatibility
Higher efficiency and can provide the same or similar quality as 192kbps AC-3 at a lower bitrate
NTSC DVD players support AC3, but not MP2. PAL DVD players support both AC3 and MP2
Due to different coding principles, MP2 at 320kbps or higher may be better than AC-3.
All in all, a standard authoring program should specify codecs as MPEG2 at 5MB and AC3 at 320kbps in DVD encoding settings.
How to Burn Multiple Movies on One DVD with a Menu?
Cisdem DVD Burner is such an effective DVD authoring program to burn multiple movies to DVD. Its audio bitrate is set as AC3 320 kilobits per second by default. And it provides three modes to smartly adjust the video bitrate:
Fit to disc: The bitrate fluctuates between 1.8M-8M according to the size of your video. It allows burning up to 5.5h to 4.7GB DVD and nearly 10h to 8.5GB DVD.
High Quality: Bitrate is fixed at 8M. It can burn about 1.25h for DVD 5 and 2.2h for DVD 9, and preserves the highest video quality.
Stardard: Bitrate is 5M. It's the best option for DVD 5 to store videos less than 2.5 hours and DVD 9 to save files less than 4 hours.
The app also has the ability to create DVD movies from a wide range of video formats, like H264, RMVB DivX, MP4, MKV, AVI, MOV, etc. You can also edit videos with the built-in tools and apply free DVD menu templates.
Although its interface only shows that the output DVD types are DVD 5 and DVD 9, in fact, except for Blu-ray DVD, Cisdem DVD Burner supports all writable and recordable DVDs, including DVD 10, DVD 18.
Steps to Burn Multiple Movies on One DVD with a Menu:
Step 1. Download Cisdem DVD Burner to Windows or Mac, and install it.
Step 2. Import multiple video files.
Launch the software, and directly drag-n-drop multiple movies, TV shows, episodes, or others you wish to burn to the "Source" interface.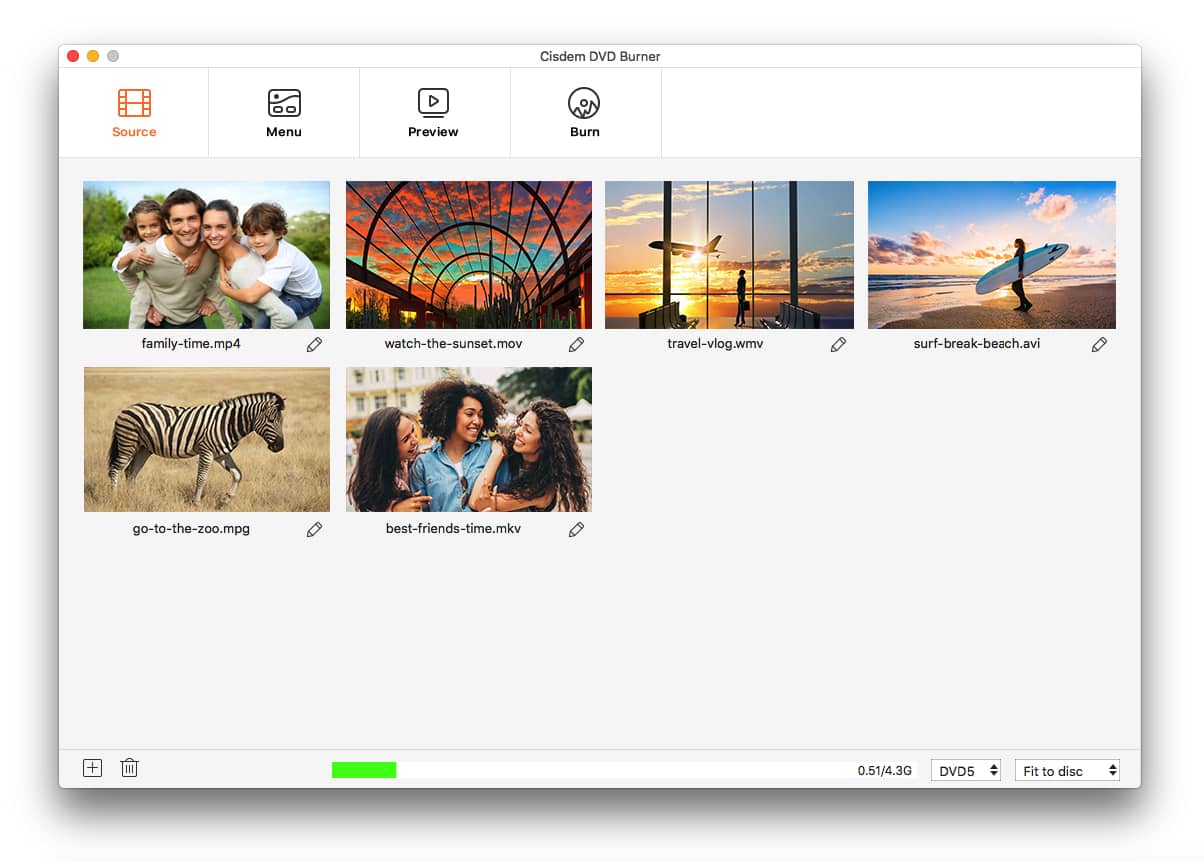 In the lower right corner, select the burning mode you want.

Step 3. Edit video files (Optional).
Click

under one of the video thumbnails to bring up the inbuilt video editor, from which you can edit and retouch multiple videos, such as tweaking brightness, and contrast.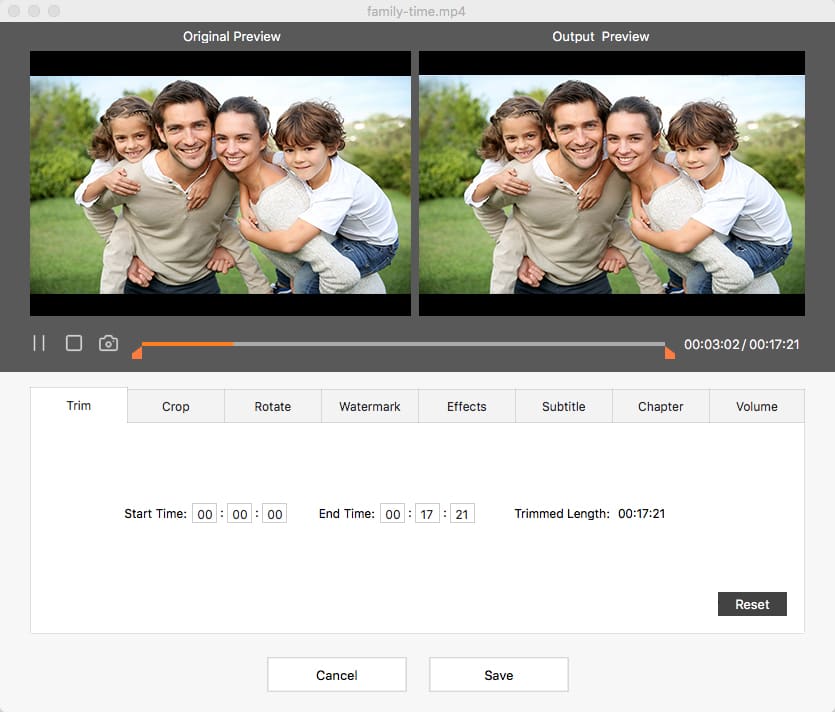 Step 4. Add a DVD menu.
Go to the "Menu" tab, and you will see all free templates on the left. Scroll the list and select a suitable one. Click

to pop out the tools which let you regroup all elements in templates.
If none of them satisfy your needs, import a downloaded or your own image as background.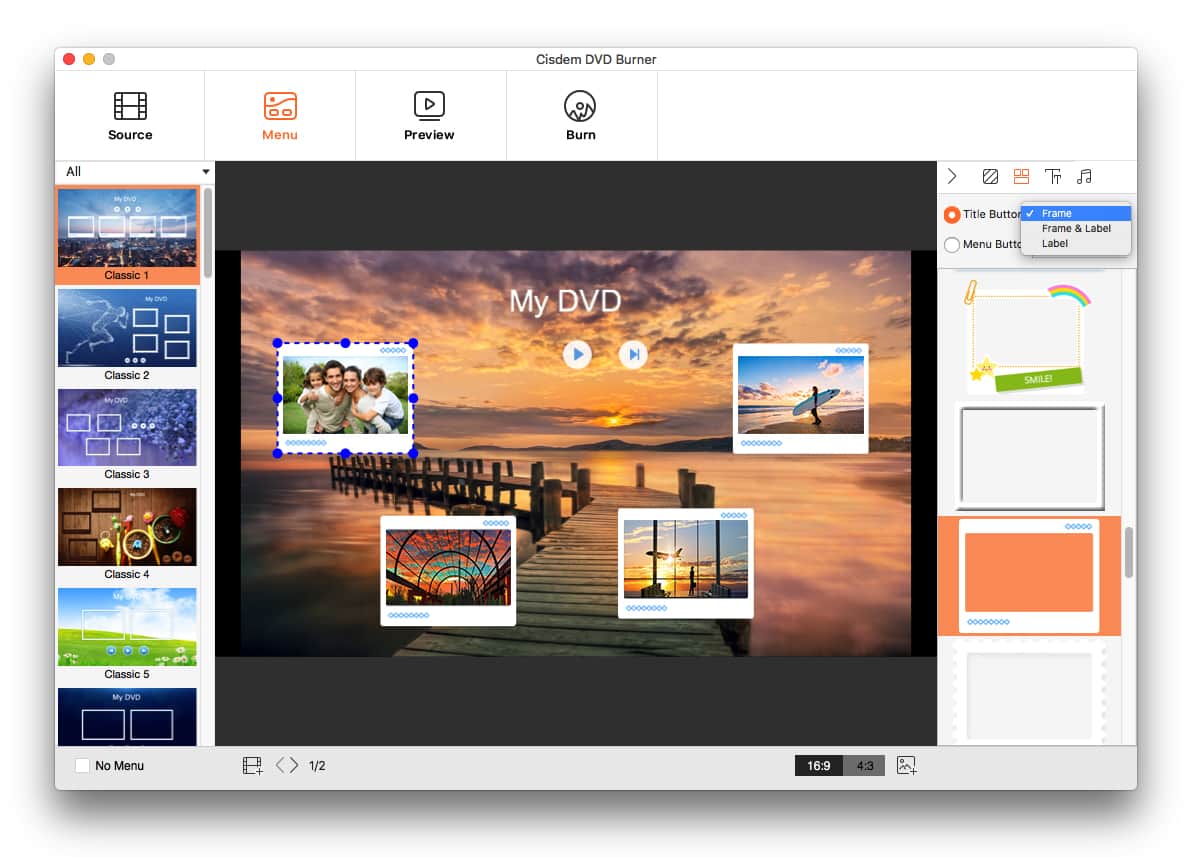 Step 5. Burn multiple videos to DVD.
Insert a blank 4.7GB DVD or 8.5GB DVD.
Go to the last tab and complete the output settings. When everything is ready, click "Burn" to start burning large video files to DVD.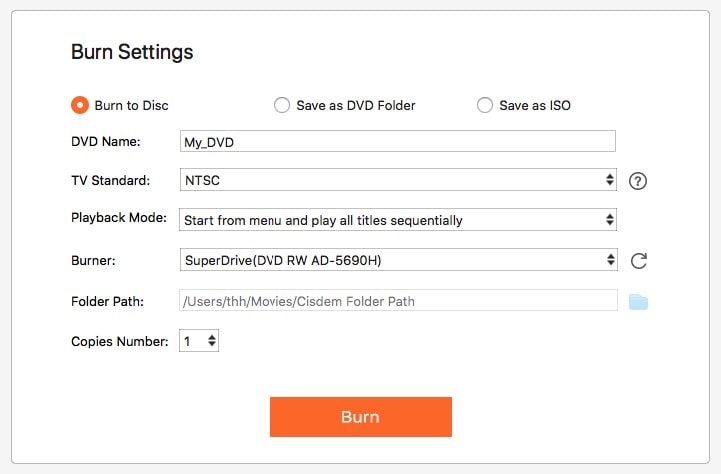 Cisdem DVD Burner can only burn multiple DVDs at once on Windows and Mac. To burn multiple audio tracks, you should use the CD burning software, like CDBurnerXP, BurnAware Free.
How to Burn Multiple Movies on One Data DVD?
If you burn multiple movies to a data DVD, it won't be limited by the movie length but the data size (4.7GB for DVD-5, 8.5GB for DVD-9). Burning videos, music, documents, images, etc. to a data DVD is a good way to back them up. However, many DVD players are unable to play movies from data DVDs unless they are in special formats like DIVX. In addition, you can usually play the data discs on a games console or a computer with a DVD drive.
Below are the steps to burn multiple movies on one data DVD on Windows and Mac (no DVD menu added).
On Windows (e.g. Windows 10)
Insert a blank DVD into your disc drive.
Launch Windows Media Player. Click the "Burn" tab in the top-right, then select "Data CD or DVD".
Click the "Videos" library from the left panel to display its file contents. Drag and drop multiple movies into the "Burn List".
Click "Start Burn" to burn multiple videos to a data DVD on Windows.
On Mac
Place a blank DVD into the DVD drive.
Choose "Open Finder" from the pop-up menu. Press "OK".
Double-click the disc to open its window. Drag multiple movies you desire to burn to the window.
Click "Burn", and a dialog box will appear.
Give a title to your DVD. Select the burning speed, 4x is recommended.
Hit the "Burn" button.
Conclusion
This post has given you a clear picture of how to burn multiple movies on one DVD. You can try two methods. Method one is to burn multiple movies to a video DVD with a menu, which can be enjoyed on any DVD player. No matter what type of DVD you choose, there is a limit to the length of the burned movie. The larger the capacity, the longer the time. Method two only has a restriction on the total size of added movies. But the output DVD is a data DVD.