Are there OST, original dialogue scripts, or old songs on your movie DVD or music DVD that you wish you could listen to more than once? You want to play them on anything other than DVD players, but can't find resources to download on the Internet. The only solution to fix it is to extract audio from DVD. This article outlines how to create lossless and Hi-Res audio from DVD to MP3 on Mac or Windows computer.
Best DVD to MP3 Converter for Mac/Win
Convert ISO image, VIDEO_TS folder, DVD-Video disc to MP3 or other 300+ digital formats and preset devices/platforms
Bypass DRMs, CSS, UOPs, region codes, Sony ARccOS, etc. From protected DVD-Video
Detect all original audio tracks in different languages and convert them with high quality
Rip DVD to MP3 with fast speed
Merge multiple songs in DVD to MP3
Trim DVD audio and control its volume before ripping it
Play your inserted DVD, no need to install additional DVD player
Convert between video and audio files in bulk
Download movie and music from YouTube or other 1000+ streaming sites

Free Download
macOS 10.12 or later

Free Download
Windows 11/10/8/7
DVD-Video vs. DVD-Audio
DVD-Video, a.k.a. DVD-V, is a type of optical disk that holds video content like movies, television shows, and music videos. Its audio is encoded in Dolby Digital AC-3, MP2, DTS, or PCM, and supports up to 8 simultaneous tracks per video. Previously, DVD-Video replaced VCD, but Blu-ray DVD took over.
DVD-Audio, a.k.a. DVD-A, is tailored to deliver high-resolution audio on DVD discs. It supports different bit depths/sample rates, mono or 5.1-channel surround sound, and low compression ratios. Its sound quality is better than CDs and lower than SACDs. As far as I know, DVD-Audio has not become popular.
How to tell if it's a DVD-Video or DVD-Audio?
Open the DVD Folder, check the directory structure. Both DVD-V and DVD-A contain VIDEO_TS and AUDIO_TS folders, but the AUDIO_TS folder of DVD-V is empty. In DVD-V, you can only find BUP, IFO, VOB files, while in DVD-A, you can find BUP, IFO, VOB, AOB files.

How to Rip MP3 Audio from DVD-Video, Including Encrypted One
Cisdem Video Converter is all-in-one video software for Mac and Windows that contains an excellent DVD ripping module. This module can read all DVD AC-3, MP2, DTS, PCM audio tracks and rip DVD to MP3, FLAC, WAV, AAC, M4A, WAV, OGG, Apple Lossless, or more. It allows you to extract MP3 files from encrypted DVDs you purchase, including DVDs with 99 titles, country codes, bad sectors, CSS, RCE, etc.
When it comes to ripping videos from DVD, you can choose MP4, MKV, AVI, MOV, WebM, or other video formats as the output. It will preserve 1:1 image quality.
The app supports more modules. Not only a DVD to MP3 converter, but a video converter, video editor, and video downloader.
How to extract audio from DVD to MP3 on Mac or Windows:
Download Cisdem Video Converter, install and open it.


Free Download

macOS 10.12 or later

Free Download

Windows 11/10/8/7

Import the DVD into the app.
Insert the DVD-Video into your computer's DVD-ROM drive. When the disc icon appears in the Windows Explorer or Finder sidebar, click on it and drag-n-drop the VIDEO_TS folder into Cisdem's "rip" interface.
Choose which titles, audio track, and subtitle track you want.
The app will detect all titles. If it is a movie DVD, the longest title is the main title.
You can deselect a title by clicking the "checkmark" icon in the upper left corner of the thumbnail. Also, if your DVD contains multiple audio or subtitle tracks, you the language you want.
Choose the MP3 audio format you want.
Open the "Output Format" window, then select "MP3 Audio" from the "General Audio" category. There is a settings icon next to the audio format you selected. Click it and you can configure the specific audio settings, including audio codec, channel, sample rate, and quality.
Start ripping.
Click the "rip" icon in the lower right corner of the interface to rip audio from DVD to MP3 on Mac or Windows. Once finished, click the blue tick "Succeed" icon to locate the audio files.
How can you convert partial DVD to MP3?
Cisdem Video Converter lets you rip a particular portion of a DVD.
Before DVD to MP3 ripping, click the pencil-like "Edit" button of the title. From the appearing window, stay in "Trim" tab, adjust the "Start Time" and "End Time" to remove the unneeded parts.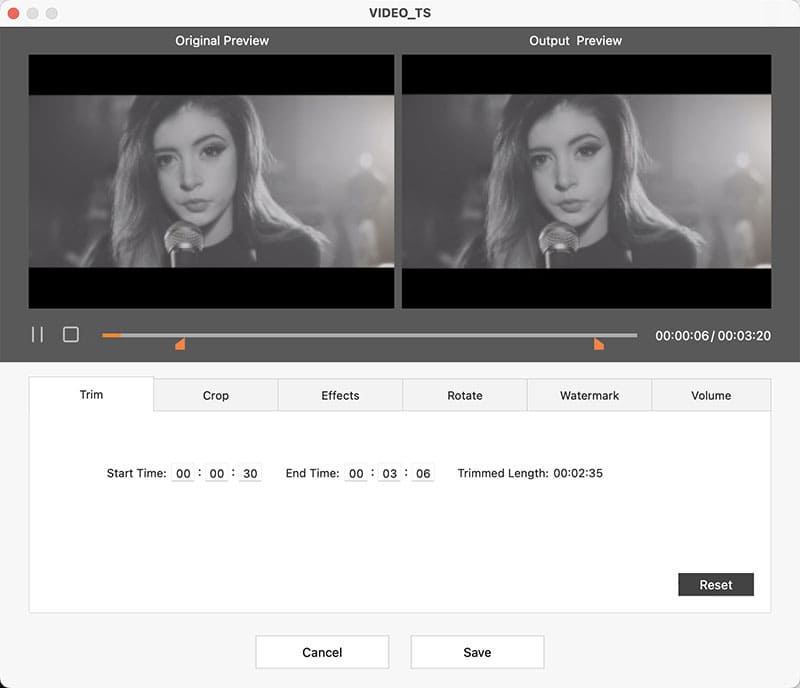 If you convert a music DVD with multiple songs to MP3, how can you split them into individual one?
Cisdem Video Converter supports merging multiple DVD songs but does not have the capability to separate them. In this scenario, the software you need is Audacity. Check how to use it here.
How to Extract MP3 from DVD-Audio and Decrypt CPPM Protection
FooBar2000 + plugin can play DVD-Audio discs, AOB, MLP, ISO files, Dolby TrueHD files. So far, the Mac version only supports playback, while the Windows version allows you to rip DVD to MP3, Opus, FLAC, WAV, AIFF, AU/SND, etc., totaling 13 audio outputs.
How to install Foobar2000 DVD-Audio Decoder:
Download and open Foobar2000.
Go to https://sourceforge.net/projects/dvdadecoder/ website in you browser.
Download DVD-Audio Decoder and Watermark Detector.
Unzip the foo_input_dvda folder.
Install the plugin.
Way 1: Double-click foo_input_dvda.dll. If you trust the website, click "Yes", then hit "OK".
Way 2. Navigate to "File" > "Preferences". Click "Install", choose foo_input_dvda.dll from your computer. Click "OK".
Once complete, restart the app. DVD-Audio Decoder will list in the "Installed components" of the preferences.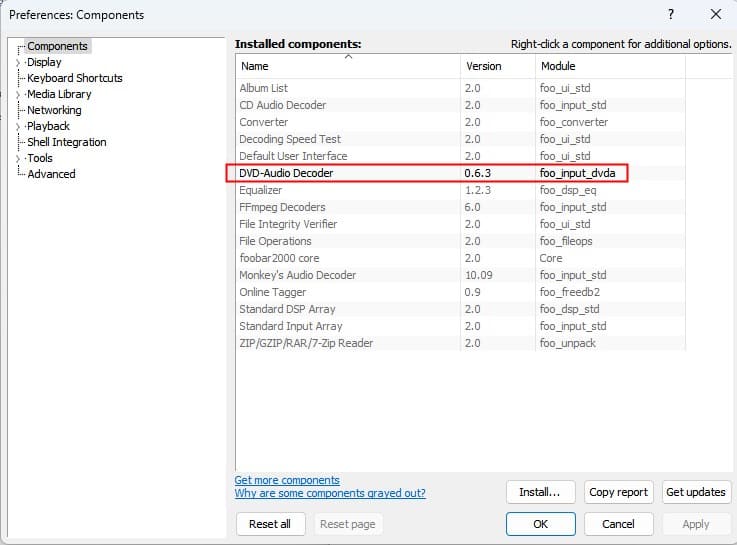 How to convert DVD to MP3 with Foobar2000:
Insert the DVD-Audio into the optical drive.
Head to "File" > "Open" to add the DVD-A AUDIO_TS folder.
Select all detected audio files, right-click on them and select "Convert" > "…".
On the "Converter Setup" window, click "Output Format".
Choose "MP3 (LAME)" and hit "Back".
Go to specify a folder as the output path.
Click "Convert".
How to know if your DVD-Audio is encrypted?
There are 2 ways to judge.
Way 1: Open AUDIO_TS folder. If you can find a file named DVDAUDIO.MKB, then the DVD content is protected.
Way 2. Install dvdcpxm command-line utility. Run the command like cpxm G:\AUDIO_TS\ATS_01_1.AOB D:\Install\dvd-audio\TheCorrs.
How to Record DVD-Video or DVD-Audio to MP3
Mac and Windows provide built-in audio recorders - QuickTime Player and Voice Recorder - for recording internal system audio. Let's see the steps below.
On Mac
By default, QuickTime can only record microphone sounds, not computer sounds. You may, in this case, download the BlackHole extension, which allows programs to pass audio to other app.
In addition, QuickTime can't directly record DVD to MP3, you need to use iTunes or Apple Music to convert the recorded file to MP3.
Visit https://existential.audio/blackhole/. Enter email for download link. Download and install BlackHole 2ch, 16ch, or 64ch.
Launch Audio MIDI Setup and here you can see all your audio devices on Mac.
Click "+" > "Create Multi-Output Device".
Put a checkmark into the box of the BlackHole, e.g. BlackHole 16ch, you just installed.
Go to "System Preferences" > "Sound". Under the "Input" tab, choose BlackHole 16ch. Under the "Output" tab, choose "Multi-Output Device".
Start QuickTime Player. Click on "File" > "New Audio Recording". Click the little arrow on the QuickTime window, then select BlackHole 16ch.
Click the red record button and play your DVD-audio.
When you are finished, stop recording audio and click "File" > "Save" to export DVD audio to M4A.
Run iTunes or Apple Music. Go to "Preferences" > "Import Settings", change the "Import Using" to "MP3 Encoder".
Add the DVD M4A audio into iTunes or Apple Music. Head to "File" > "Convert" to create MP3 from DVD.
On Windows
Open "Control Panel" and click "Hardware and Sound" > "Sound".
Select the "Recording" option. Right-click the blank area, click "Show Disabled Device".
Enable the "Stereo Mix" option and set it as the default device.
Press the Windows key, enter "sound" or "voice". Click Sound Recorder to launch the app.
Click the 3 dots icon in the bottom-right corner. Click "Settings", under "Recording format", pick .mp3.
Click the record button to start recording computer audio.
Play the DVD-audio you want to record.
When you are done, click the stop button and your DVD MP3 recording will be listed on the left panel.
Final Words
There are total 2 ways to convert DVD to MP3 on Mac: rip audio or record audio from DVD. I'd suggest opting for the first method, as it will yield superior audio quality. When converting DVD-Video to MP3, VLC Media Player can also be utilized. It's free but can't extract MP3 audio from encrypted DVD. If you desire to convert DVD-audio to MP3 on Mac, you can employ DVD Audio Extractor powered by dvdae.com. It's not free. Moreover, I want to emphasize that Windows Media Player is limited to ripping a CD to MP3, not a DVD.