Although you are so careful about keeping your data on your Mac, there are also plenty of reasons can result in data loss, such as deleting files accidentally and viruses and damaging malware. And not all people would make data backups on regular basis. If you find your critical documents or pictures missing, what would you do?
People who had experienced this situation might hear about Disk Drill quite a lot. Admittedly, Disk Drill is an excellent Mac data recovery software that helps users to recover deleted files on macOS. But is Disk Drill worth the money and what are the better alternatives when Disk Drill fails to retrieve your data on Mac. Here you will find all the answers.
What is Disk Drill?
Disk Drill is useful Data Recovery software for Mac, it makes data recovery on Mac OS easy. Its recovery vault allows users to recover critical business documents, music, photos or videos on virtually any storage device connected to Mac, including internal Mac hard drives, external hard drives, cameras, iPods, USB flash drives, Kindles, and memory cards. Users can also preview recoverable items and determine which ones to be recovered.
But it is more than a data recovery program. There are extra tools offered in Disk Drill too to monitor Mac and manage data efficiently: S.M.A.R.T. monitoring, Data Protection, Boot Drive, macOS Installer, Byte-to-byte Backup, Clean Up, Find Duplicates, Data Shredder, Erase free space.
Disk Drill provides three versions for Mac users to choose, Basic, Pro and Enterprise, the basic version is totally free, users can download at any time and start to scan for lost files and backup partitions or drives. But please note, the basic version can only recover 500 MB of data. If you want to recover more, you'll have to purchase a pro license for $89.
Is Disk Drill Safe to Use?
Disk Drill is 100% safe to use. There is no malware or bundled app contained in this program, it is clean and safe to use.
In addition, Disk Drill was released in 2009, it is now widely used by 500K+ customers in 150+ countries, including giants in various fields: Google, Nestle, Samsung, Lego, etc. When checking reviews on those large software download websites, like MacWorld, CNET, Softonic, you will find it has high ratings and being recommended by many users. All these proves Disk Drill is safe to use.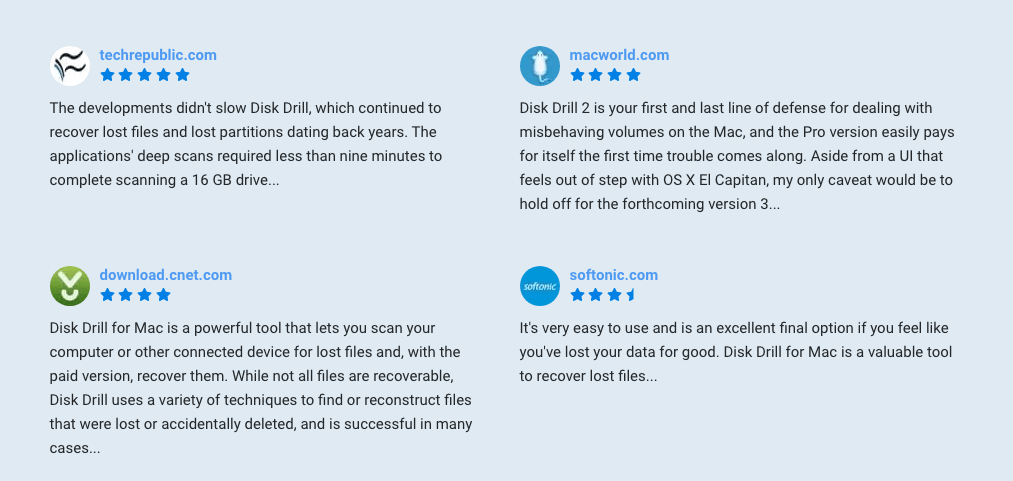 The most important is it recovers your deleted files and won't do harm to your data by leaking or writing to your drive, it offers the securest way to get your lost data back and keep original data untouched.
Is Disk Drill Worth the Money: Check The Review
The Disk Drill Pro costs $89, when comparing to other Mac data recovery programs, the price is high. But when taking its full features and performance into consideration, Disk Drill is worth the money.
Full Features
As we mentioned in the first part, Disk Drill is more than a data recovery program, here is a list of its full features:
Recover deleted files from Mac internal hard drive, iPhone/iPad/iPod, Android devices, Digital Cameras, USB, Memory Cards
Monitor disk health
Protect data with Recovery Vault or Guaranteed Recovery
Create macOS bootable installation drive
Back up data by creating disk image
Get a data map of your files and remove them to free disk space
Scan duplicate contents to free up space
Shred, remove, destroy unwanted files completely
Erase free space on Mac disk
Not any other Mac data recovery program adds so many tools to keep your data safe and make your Mac always in good status for fluid working, but Disk Drill makes it. It is the best Mac data management tool.
Data Recovery
Disk Drill for Mac is mainly designed to recover deleted data and it does the job perfectly.
It scans both internal hard drive and external storage devices connected to Mac, recovering files in 300+ file formats: 34 video formats, 38 audio formats, 80 image formats, 134 document types and 13 archive types. All the found files will be showed in these 5 folders, you can preview each recoverable item and check the file info to recover wanted files only.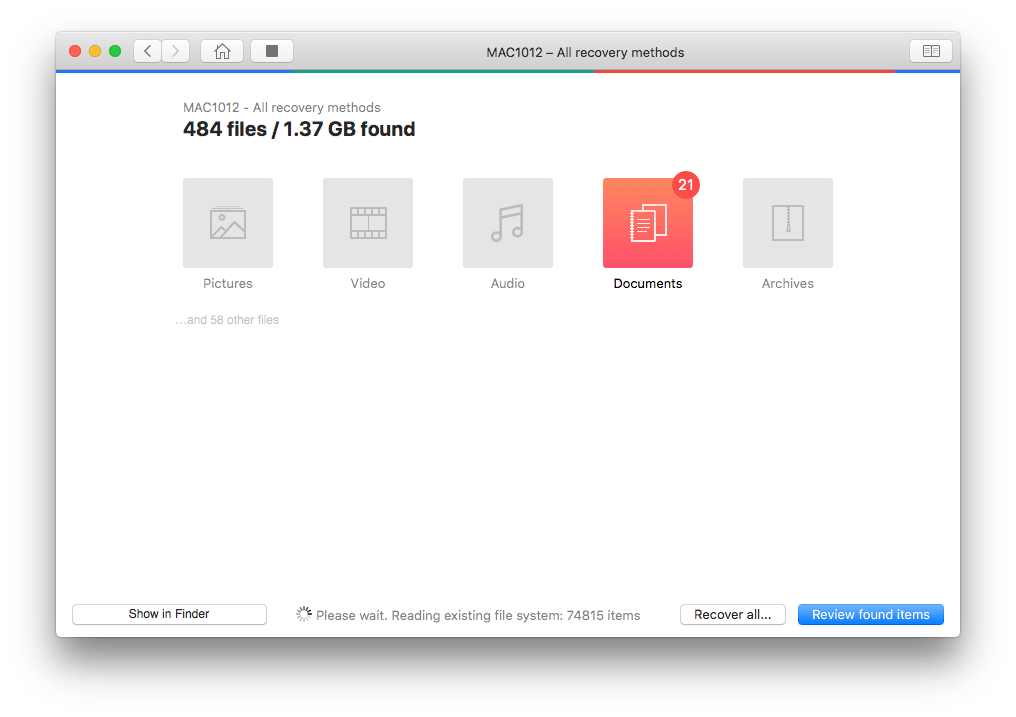 Disk Drill for Mac allows recovering deleted files to specified location and recommends users to save recovered files to a different location.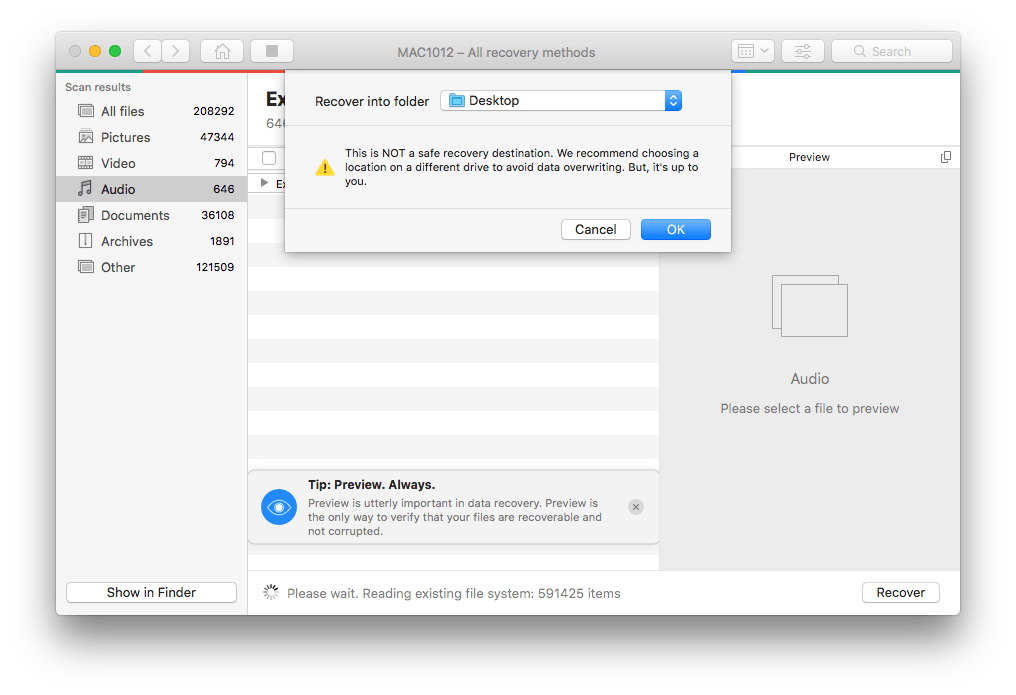 It can run deep scanning on your drive to find files as many possible. A scanning may take long time, but Disk Drill save each session to resume the scanning next time you want to.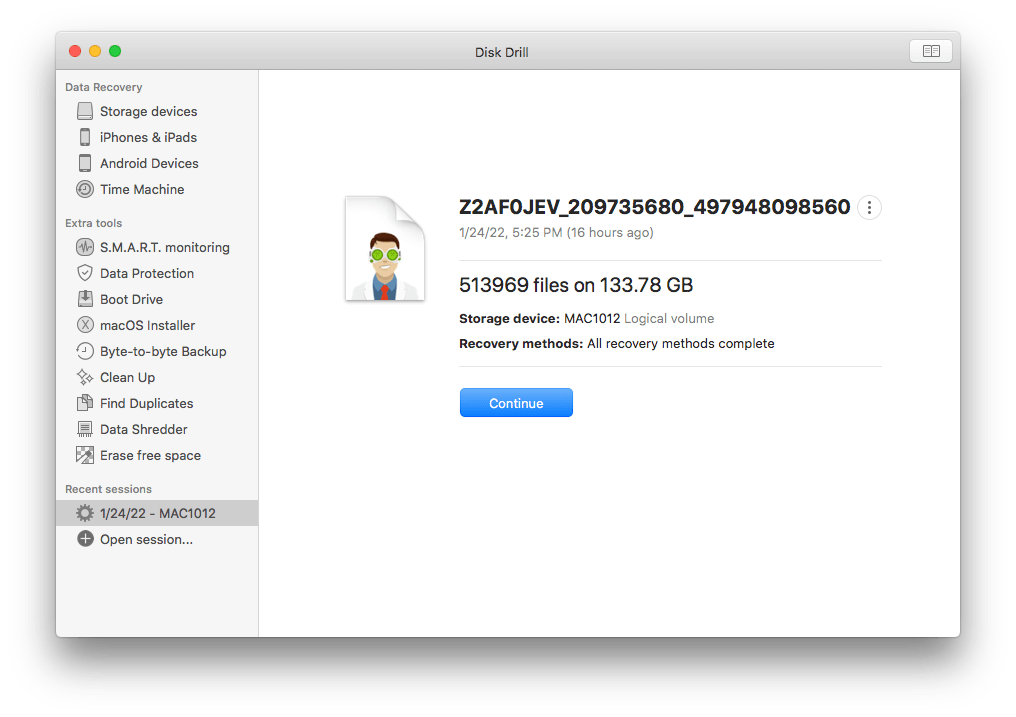 User Experience
Disk Drill has a clean and intuitive interface. The left pane shows Data Recovery, Extra Tools and Recent sessions. By choosing different tools, there is different explanation displayed and instructs you to perform tasks within the program.
You can tweak the General or Extra preferences before using the tools.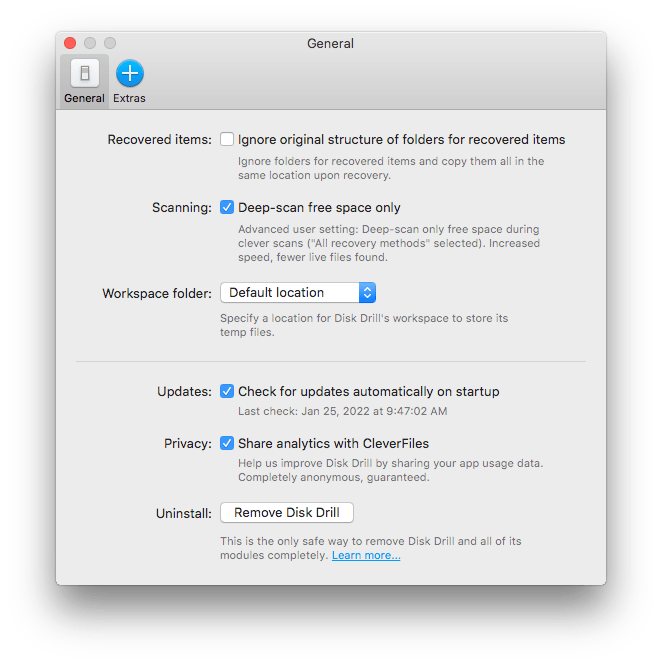 However, the scanning speed is not that satisfying to me. Every time I start a scan, the program freezes a while (approx. 10 seconds) to collect removed files info or analyze storage system, and the scanning takes much longer than I think.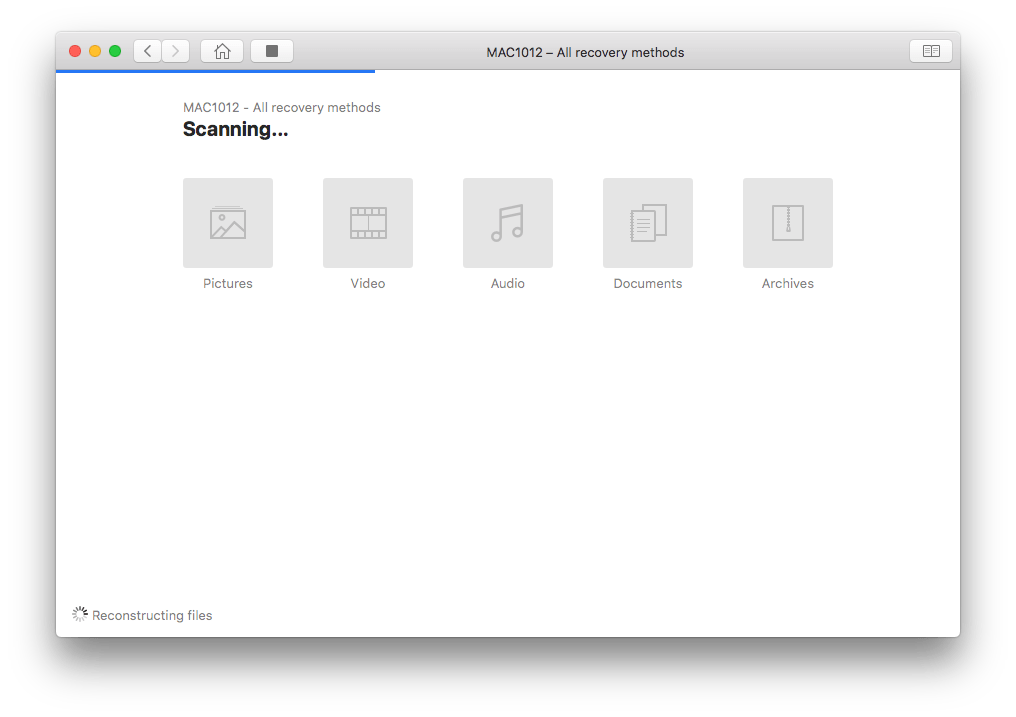 Disk Drill Mac Review
Pros:
An excellent data recovery tool to retrieve files on Mac
Rich features: 9 extra tools to manage data on your Mac
Save scanning sessions to resume next time
Easy to use
Cons:
High price
Not fast in scanning
What is Better Than Mac Disk Drill? The Best Disk Drill Alternative
What if you just need a data recovery tool with an affordable price but does the job as excellently as Disk Drill? Or is there any tool better than Mac Disk Drill to recover deleted files?
We did a lot of tests and Cisdem Data Recovery proves to be the best Mac Disk Drill alternative. It can recover lost photos, videos, documents and emails from any Mac supported data storage media with it, including internal/external hard drives, USB drives, SD card, digital cameras, iPods etc. And the speed of its scan is breathtaking, just get this Mac data recovery software now, your lost photos, videos, files, etc. will be recovered within minutes. And Cisdem Data Recovery for Mac also provides free trial for each user, it allows users to scan and preview all your lost files.
Cisdem Data Recovery VS Disk Drill
Both Disk Drill and Cisdem Data Recovery are Mac data recovery software, they may share some similarities or vary in different ways, you will find the details as follows.
1. Scan
Disk Drill and Cisdem Data Recovery for Mac are support scan and recover data from Mac hard drive and external devices. You just need to connect your storage devices to your Mac, and then the two application will help you scan and recover lost data. The scan speed of Disk Drill is time consuming. Comparatively speaking, the scan speed of Cisdem Data Recovery will make you satisfied. Normally, Cisdem Data Recovery scans very quickly.
2. Recover
Disk Drill and Cisdem Data Recovery for Mac support recovering different types of files, including photos, videos, documents, etc on Mac. So whatever file you lost, they will help you to recover on your Mac perfectly. For documents and photos, Disk Drill recovered them perfectly, but according to the editor's opinion of Top ten Reviews, the video and music recovery rates of Disk Drill are well below average. Cisdem Data Recovery can recover photos, videos, documents, etc. on Mac efficiently.
3. Preview
Some similar software may not support preview scanned file before recovering. You don't need to worry about that problem, Disk Drill and Cisdem Data Recovery for Mac support users to preview these files with file name, size, delete date and original path, so that you can select the right files to recover.
4. File listing after scanning
Disk Drill will list existed files and lost files in one catalogue after scanning, if you want to find your target file, you may need to spend some time on that. But Cisdem Data Recovery for Mac will only list lost files for you by file types, which will save your so much time.
5. Price
Disk Drill will cost your $89 for one user, many users think that is little expensive. Compared to other Mac data recovery softwares, Cisdem Data Recovery is cheaper, it just needs $69.95, but its function has no less than others.
Recover Data with Best Mac Disk Alternative
Cisdem Data Recovery for Mac provides a simple interface for users, even for Mac newbies, it is super easy to use this program, you can find the steps as follows.
Go to Cisdem Data Recovery website or just click the "Free Download" below to install it on your Mac.
Free Download
Open Cisdem Data Recovery, choose the Mac hard drive or other storage devices you want to recover, if you want recover data from access equipment, such as SD card recovery, you need to confirm that your device is correctly connected and showing as a drive.
Click on "Search for lost files" to start the scanning. Wait for a few minutes, all of your lost files will be listed.
Then preview the recoverable items Cisdem finds for you. Select them and click Recover to retrieve the deleted files on Mac.
Bottom Line
True, Disk Drill is very good at Mac data recovery, it undoubtedly is valuable software, but it also has some shortcomings, such as its price and scanning speed. For most people, data loss doesn't happen frequently, the price of $89 and the upgrade fee of $29 are too expensive for them. While the price of Cisdem Data Recovery for Mac is so good, more important, it provides free Lifetime upgrade to new versions. Moreover, on recovering files, Cisdem Data Recovery also has very a better performance. In that case, why don't you consider choosing Disk Drill alternative for Mac --- Cisdem Data Recovery for Mac?

Free Download