Are you are interested in downloading interview, speech, news reports, radio shows, music, etc. from YouTube as audio for listening purposes? While there are many YouTube to MP3 downloaders available, MP3 is not an ideal output format if you care about audio quality and size.
Converting YouTube to M4A audio is recommended since M4A provides higher quality at a much smaller file size. And the downloaded M4A files can be played in iTunes, QuickTime, Windows Media Player, or anywhere. Wonder what M4A is and how to convert YouTube to M4A on Mac, Windows, and mobile devices? Follow us to resolve your doubts now.
Best YouTube to M4A Converter for Mac/Windows
Download and convert YouTube to M4A, MP3, AAC, WAV, MP4, MKV, etc.
Quickly convert multiple YouTube audio files to M4A at once
Keep M4A files in original quality after downloading
Download audio and video along with subtitles from 1000+ sites
Download massive 4K, Full HD, and HD videos
Download the whole YouTube playlist in one go
Convert local or downloaded videos to 300+ formats
Convert to optimized presets for iPhone, iPad, Samsung, etc.
Choose audio bitrates, ranging from 32kbps to 384kbps
Edit & enhance videos via watermark, crop, effects, rotate, and more
Can cut or increase the length of the downloaded videos at will
Rip dozens of DVDs to M4A or other media files for easy playback

Free Download

Free Download
What's M4A?
M4A is the extension of the MPEG-4 audio standard file. It's encoded with the Advanced Audio Coding (AAC) and Apple Lossless (ALAC) formats. M4A is often found in Apple iTunes store as the default format for audio download.
What are the benefits of converting YouTube to M4A?
Since Apple began using M4A in iTunes and iPods to distinguish video and audio files from MPEG4. The M4A format has become widely adopted. So far, almost all programs that support MPEG4 audio also support M4A.
Even though the M4A file is compressed, its quality remains high. In this case, you can enjoy the lossless audios offline after converting YouTube to M4A file.
The MP3 you get from YouTube may not be added to iTunes. Many users have found that MP3 files obtained from online YouTube conversion tools always fail to fit in Apple Music since Mac Big Sur.
M4A file is unprotected, you can feel free to convert and edit the file on your device.
M4A is a common format for podcasts. Converting YT to M4A can help podcast producers better manage and distribute their audio content.
Convert YouTube to M4A on Mac and Windows with a Reliable App
Cisdem Video Converter is an excellent YouTube to M4A converter that comes with a suite of superior features. It allows you to download videos in M4A format from YouTube, Vimeo, Facebook, Twitch, Instagram, and 1000+ websites only by URL. It is pretty safe to download online videos or music with a few clicks.
The app helps you convert video and audio files from one format to another, like MP4 to MP3, FLV to MP4, MOV to WMV, WMA to MP3, FLV to M4A, H264 to MP4, etc. Unlike other converters, it does not lose quality and works faster.
Additional functions that make Cisdem Video Converter the ultimate video tool include batch processing, DVD ripping, video editing, and more.
Steps on how to convert YouTube to M4A on Mac or Windows:
Step 1. Run Cisdem Video Converter
Launch the software. The main interface appears immediately and the "Convert" tab is selected by default. You should click

tab at the top.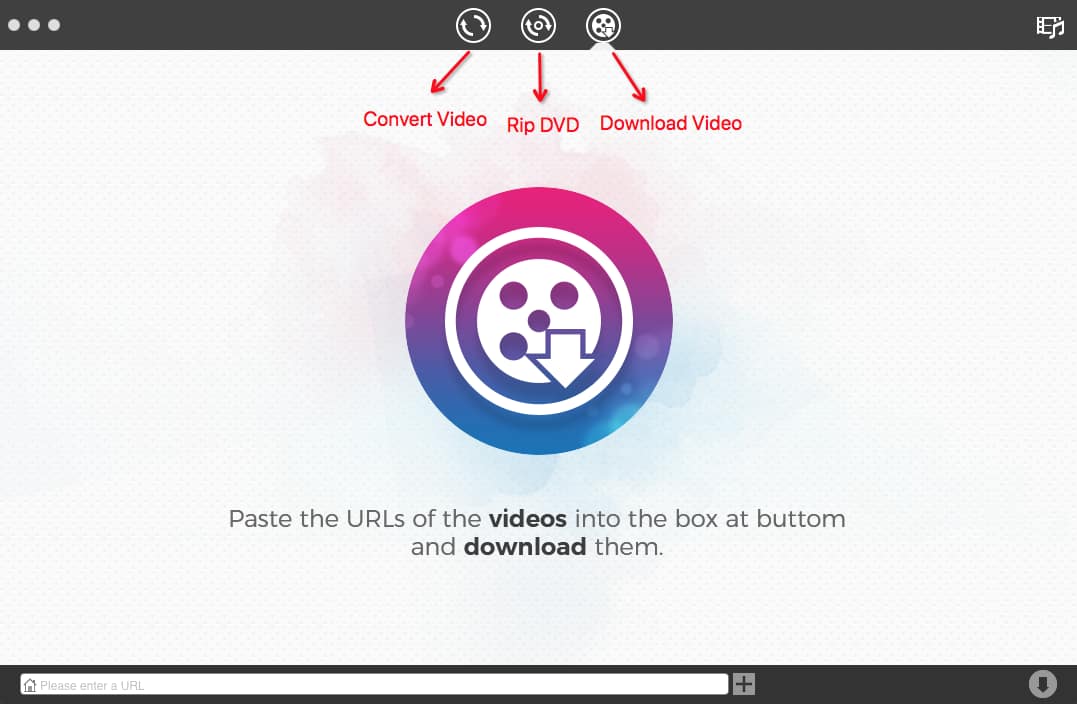 Step 2. Copy YouTube video URL and paste to Cisdem
Visit youtube.com and locate the video you intend to download. Copy the URL and paste it into the download box of the Cisdem Video Converter. Click the "+" button to analyze the input video.
To download multiple YouTube videos at once, you can repeat the copy & paste steps or click "File > Input URLs..." at the top menu to add multiple YouTube videos to the download list.
Step 3. Choose M4A as the output format
Click the drop-down icon of the format box on each video thumbnail to select M4A as the downloaded audio format.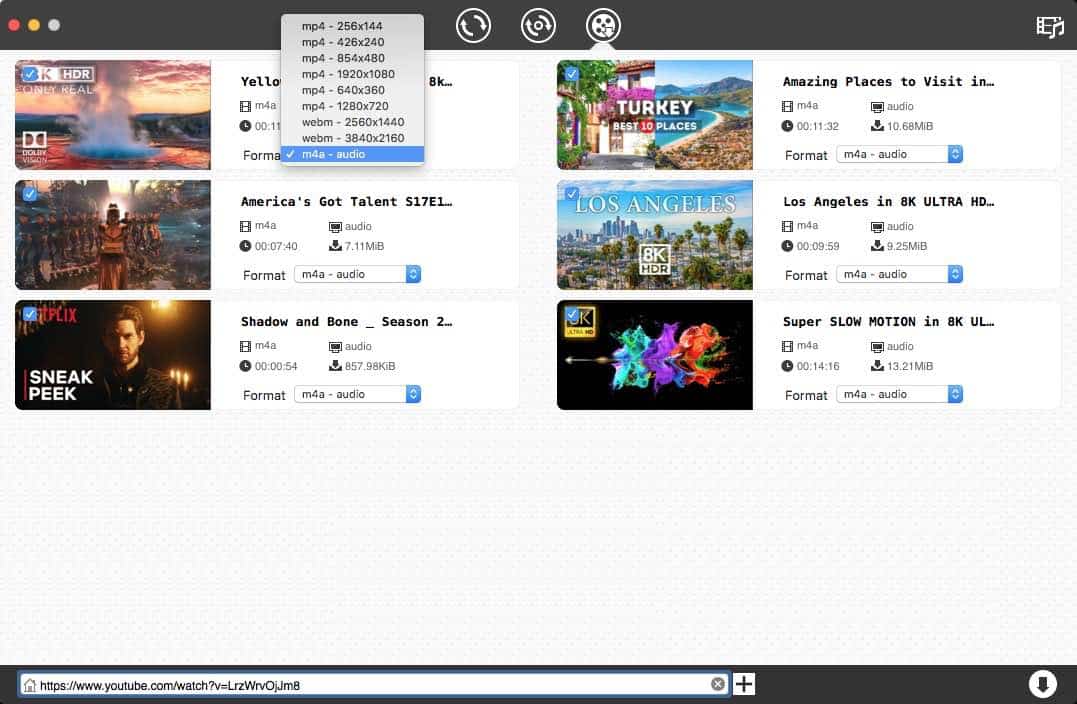 Step 4. Download YouTube videos
Click on

button to start to downloading YouTube videos to M4A by default. When finished, click

button to open the folder where the downloaded videos are stored.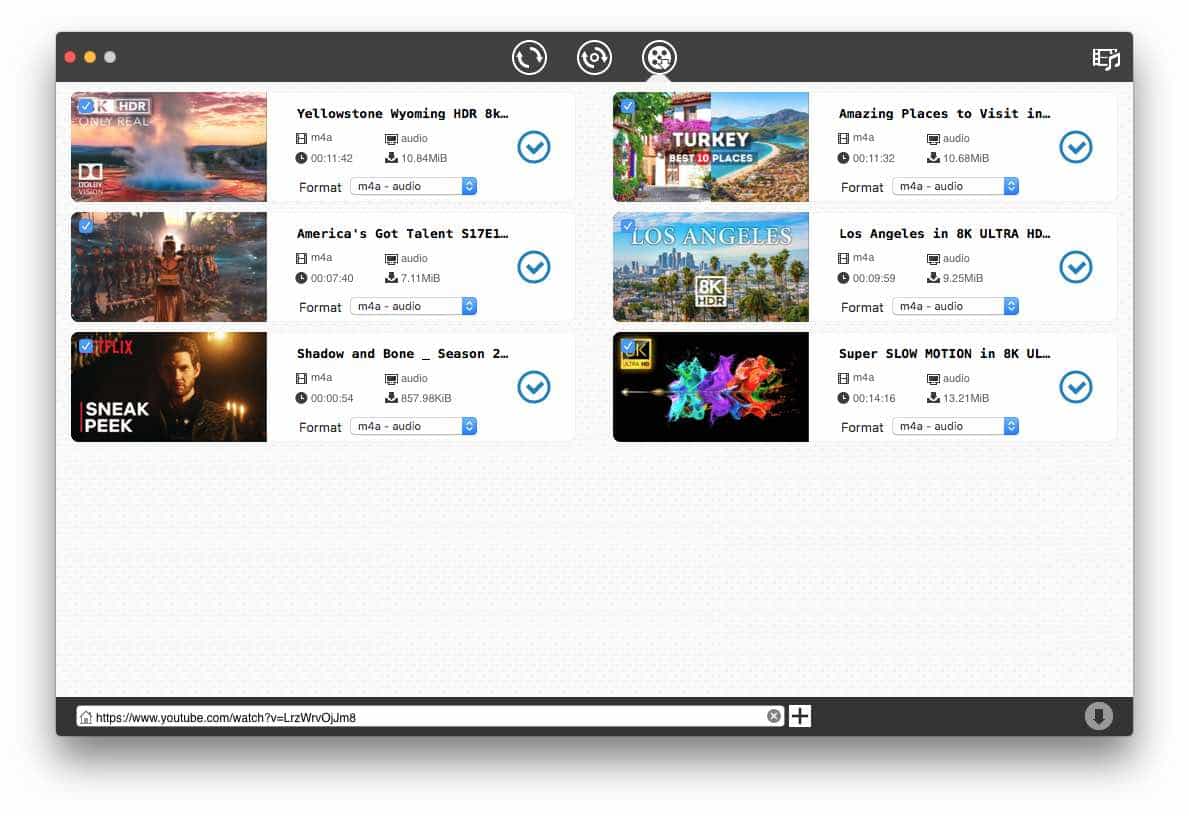 Tip 1: Convert YouTube Playlist to M4A
Cisdem Video Converter also supports downloading a whole YouTube Playlist in one go. To download and convert YouTube playlist to M4A. Just find the url of the YouTube playlist, copy and paste the url to Cisdem Video Converter. Then follow the same steps above.
Tip 2: Convert YouTube to other audio formats
Not only can the software convert YouTube to M4A, but also convert YouTube to many other formats you like.
Drag the downloaded videos to the converting panel.
Click on the format icon to get a list of output file formats.
Proceed to "General Audio" to choose any other audio format.
Tip 3: Customize "Advanced Settings"
The software supports more conversion settings that include the ability to change the audio quality, bitrate, sample rate, audio channel, and codec. Click

icon to open the "Advanced Settings" window and adjust the audio parameters.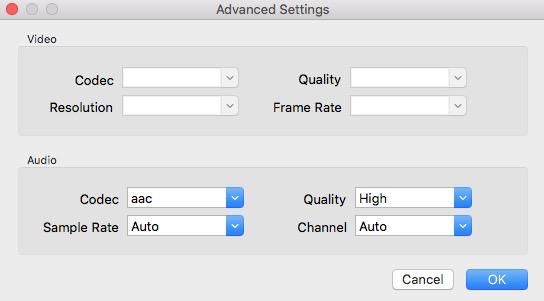 Use the Free Online YouTube to M4A Converters
If you don't use video converters very often, then you can give a try on free online tools. It also assists us to convert YT to M4A with fast speed. Check out the best YouTube converters online below.
Tuberipper.com
It's a free online YouTube to M4A converter, letting you download and convert YouTube videos to M4A, AAC, MP3, 3GP, MP4, MKV, F4V, and WebM. It doesn't require an account or install extra software. Make sure to enter a valid URL, it allows you to fetch audio, video and muted video source.
However, sometimes, it may fail to analyze the entered URL for uncertain reason. In this case, you need to ask help for another useful tool for downloading.
1. Find a video you wish to download on YouTube and get its link from the address line.
2. Visit tuberipper.com, and input your copied link into the specified field.
3. Click

or tap on "enter" on your keyboard to parse the URL.

4. When done, it shows you 3 options to download: extract audio (m4a), extract video (mp4) and extract muted video (mp4).
5. Click "extract audio (m4a)" to download YouTube to M4A immediately.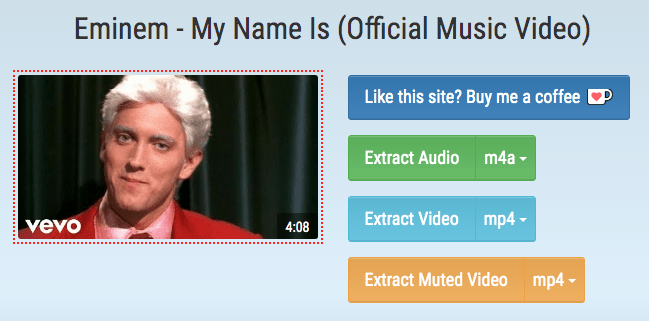 ClipConverter.CC
It's a steady web-based YouTube to M4A converter that supports converting online videos or local files to 8 different formats, including M4A, MP3, AAC, MP4, MOV, 3GP, AVI, and MKV. It also ensures that you download videos in various SD, HD, and UHD resolutions, except for music videos.
However, this online tool sets some limits. It only allows 25 conversion minutes each day and 25 minutes of maximum conversion time per file. Plus, the maximum file to convert can't exceed 1GB.
Open https://www.clipconverter.cc/2/ in your browser.
Copy a video URL from YouTube, and paste it into the "Video URL to Download" bar.
Click the "Continue" button.
Select the video quality from "Detected Media".
Choose M4A as the conversion format.
Edit the "Conversion Options" and click "Start".
Convert YouTube to M4A through youtube-dl
M4A is the default YouTube audio format of youtube-dl. Even if you input the --audio-format mp3 command, the format won't be changed. But it can only be DASH M4A, which hasn't been widely recognized by audio players such as VLC. To make it more regular, you can demux DASH M4A to M4A (AAC DL) via FFmpeg or afconvert.
Not much to say, let's see how to download YouTube to Dash M4A with commands.
Install youtube-dl to your computer, and initiate Command Prompt on Windows or Terminal on Mac.
Enter a command: youtube-dl -x url or youtube-dl -f m4a url.
Note: To obtain M4A in a higher quality, you can use the command: youtube-dl -f bestaudio url or youtube-dl -f bestaudio --audio-quality 0 url. You can set the value of --audio quality from 0 (best) to 9 (worst) for VBR. By default, it's 5.
Finally, press the "Enter on keyboard.
But youtube-dl can download YouTube playlist to M4A. When you try the command: youtube-dl -x playlist, it will merely download the first video in playlist to WebM. When use youtube-dl -f bestaudio playlist, it will download all playlist videos to WebM.
Convert YouTube to M4A on iPhone and Android with Apps
On iPhone
The iOS app Documents by Readdle is one of the best YouTube to M4A converters even though it doesn't sound like one. Essentially, it is the Finder for iOS, a file hub that holds all your digital media and content. There is a web browser built into the app, enabling you to save YouTube M4A audio to your iPhone. Overall, Documents by Readdle acts as a file manager and media file player/downloader/converter.
Steps to convert YouTube to M4A on iPhone:
Download Documents by Readdle in App Store and open it.

tap the bottom-right icon labeled Browser.
Type "https://ytbdownload.com/" in the search bar and tap "Go".
Tap the "YouTube to M4A" option.
Paste the video URL you copied from YouTube into the search bar. Tap on "Download" to parse the URL.
Scroll down, and tap the new "Download" button that appears. Choose the M4A audio you want to download.
When finished, check the M4A file in the "Downloads" folder.
On Android
Video MP3 Converter is a simple and free tool that can convert the downloaded YouTube videos to some popular video and audio formats such as M4A, MP3, AAC, MP4, 3GP, FLV, and so on. It helps users attain high-quality sound easily and allows users to reset the converted file name and location for a better storage.
Besides, it offers a built-in video editor for users to do some editing tasks without quality loss such as trimming, cropping, merging the files. However, one of its shortcomings is that it contains ads in the app, which may affect your viewing experience.
Steps to convert YouTube to M4A on Android:
Download and install Video converter to MP3 from play market.
Open it, enter the copied URL from YouTube for parsing.
Choose audio icon in the convert type and choose AAC as the output format. Plus, you can choose the bit as your need, like 245, 192 and 128 kb/s (VBR).
Besides, you can click the information button to edit the details of the file like title, and click save as button to choose a suitable storage destination.
Once done, click the red "convert" at the bottom and you will get a M4A file.

Frequently Asked Questions
Is M4A better than MP3?
Both M4A and MP3 are lossy formats. Compared with lossless format like FLAC, M4A and MP3 use compression to lower file size while sacrificing the audio quality. M4A was designed as the successor of MP3, which adopted more advanced lossless codecs than MP3. Hence, under the same file, the M4A format file is usually smaller and of better quality.
Can I Convert MP3 to M4A with iTunes (or the new Music app)
Most of the online YouTube rippers and downloaders download music in MP3 format. How can we convert those MP3 files to M4A? if you want to convert MP3 to M4A format, the easiest and quickest way to do so is to use video converter software. You will also find plenty of online platforms that will allow you to convert the format in no time. And for Mac users, iTunes can also convert MP3 to MP4, Here is How:
1. Open iTunes or the Music App >> Go Preferences and navifate to files >> import settings.
2. Change it to M4A Encoder and click OK.
3. Add MP3 files and in the menu click file >> convert >> create M4A.
4. You can then find the M4A file in your Music library and don't worry that you old MP3 file will still be there.
Can I Merge M4A files together as One large file?
You can use Cisdem Video Converter to merge M4A files into one. Add M4A files to the app, arrange the order of the files, and click the merge button in the lower right corner of the interface to complete the merge.
Conclusion
Admittedly, online YouTube to M4A converters brought great convenience to us. But I still won't highly recommend them to all of you due to the limitation of Internet connection, converting quality and other issues. From my aspect, picking a piece of fabulous third-party software is a way of doing it once and for all.