How to clear Mac cache Safari is a common question frequently asked in many Q&A websites and Apple Community. An example is as follows.
"Any one help clear Mac cache Safari? I use Safari and I find many contents not updated when browsing some websites, for many websites only loads partially or look like they're badly formatted. I was suggested to clear Mac Safari cache instantly. But how? Thanks a lot!" -- Shelly Singh
Well, in this case, let's focus on the "Safari Mac clear cache" topic in this article. Before that, I think it's necessary to know what browser cache exactly is and why we should clear Mac Safari cache firstly.
What's Browser Cache?
Any website we visit is actually a composition of hundreds or even thousands of files. Browsers try to do their part to speed up the loading process by downloading some files when you visit a page for the first time, including html files, CSS style sheets, JavaScript scripts, as well as graphic images and other multimedia content. These files are so-called "caches" from browser.
Why Should We Clear Cache Safari?
1. Get the latest versions of websites: Cache can sometimes make a mistake and don't show the latest or complete version of the web page. For example, there may be some browser errors like run time error, buttons missing on the page, unable to save the Timesheet, etc.
2. Take up storage space: The browser cache can get quite large and take up a lot of space on your hard drive, filled with data from websites you will never visit again. Regularly clearing the cache files can help free up space on Mac and speed up your Mac. Clearing out the cache from webpages you don't visit frequently puts some precious hard drive space back in your hands, which can be used for extra music, games or movies.
3. Protect your privacy: Since cached data reveals what websites you have visited in the past, it is dangerous to reveal your privacy once others get access to your Mac.
How to Clear Mac Cache from Safari?
Then, let's back to the point. How to clear Mac Safari cache in the easiest way? Here below is the guide.
Step 1. Open the Safari browser on your Mac. Open the "Preference" to begin the setting.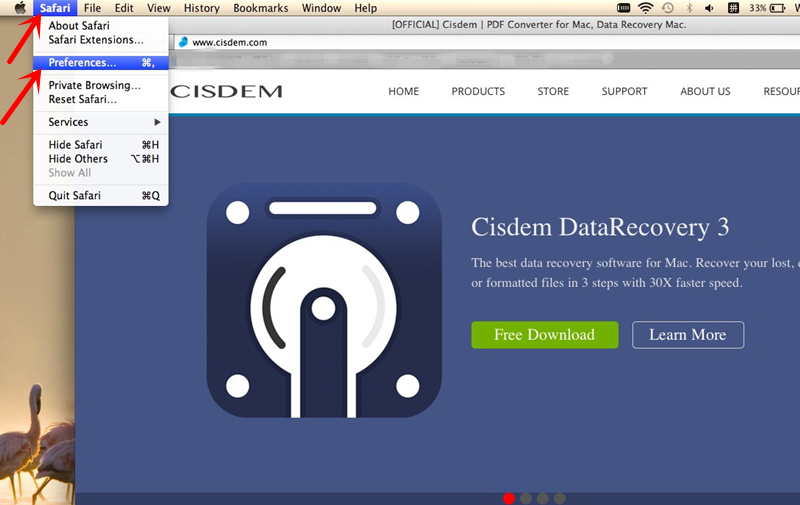 Step 2. Under the "Advanced" menu, check the box before "Show Develop menu in the menu bar".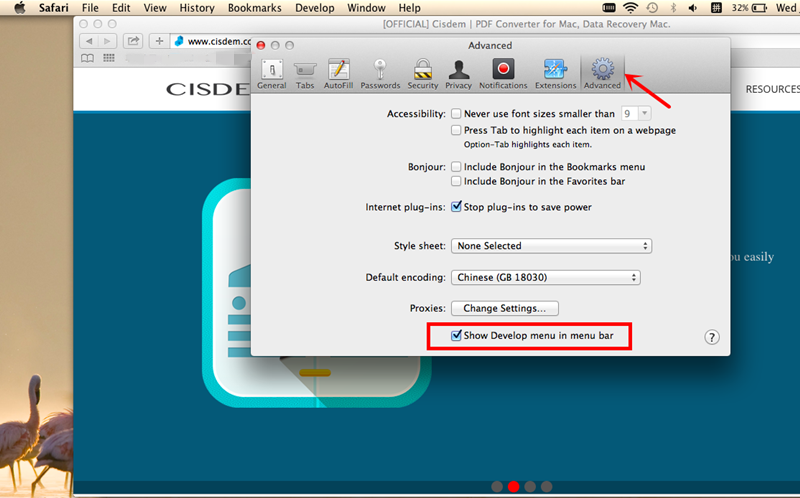 Step 3. Reopen Safari and you'll find "Develop" menu.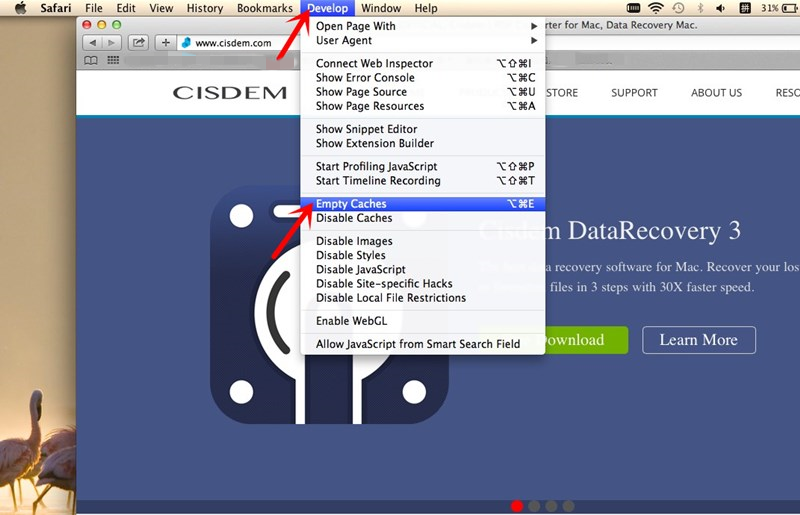 It is a way that I use regularly whenever I need clear caches from Safari on my Mac. However, though easy to handle with, it is reported that there will still be some residual files in this way. If so, another way is also suggested here for your reference. You can also have a try by manually deleting them yourself if you need get caches deleted thoroughly.
Step 1. Press "Shift + Cmd + G" to launch the Library folder on your Mac.

Step 2. Find and click the "Caches" and "com.apple.Safari" folder in turn.


Step 3. In the "com.apple.Safari" folder, find the file with name of "Cache.db" and then delete it. You've now already cleared manually the Safari caches.

Warning: For the ones who choose to delete the caches manually, you should be with great care to make sure you've selected the right files to delete. As we all know, when we delete some documents by accident, we can easily get data back on Mac via backup or data recovery tools. However, it is not the case for manually-deleted system files. The files are difficult to be recovered and may even bring you some unexpected troubles, say, browser crash.

Rosa has worked in Mac software industry for more than eight years. She believes that the purpose of software is to make life better and work more productively. In addition to writing, Rosa is also an avid runner.