When processing photos on mac, we may delete some precious pictures carelessly. Or there are some photos just missing even corrupted after mac update. There are more and more Mac users encountering this dilemma. Don't worry, here you will find a list of 6 best photo recovery software for mac, no matter you want to do the photo recovery from mac internal hard drive, SD card or external hard disk.
Quick Review of 6 Best Mac Photo Recovery Software
2 Features to Make A Photo Recovery Tool Great
As you may have noticed that there are so many photo recovery programs for mac to find back the lost photos. But how can we define a good one? According to the user reviews and related discussions on various platforms, there are 3 important features that a good photo recovery tool should build in:
Fast Scanning Speed.
Your photo library can never be small in quantity, right? To scan and find out the missing or lost photos on mac, the photo recovery software should respond fast and scan in a fast speed, especially when you are not sure the location where you store the lost photos on a 500GB Mac, or 16GB sd card, or 2TB external hard drive.
Recovered Photos can be opened.
Finding back the photos is not the end of a mac photo recovery job, a successful photo recovery means the recovered photos should be opened and worked on normally. And any good mac photo recovery software should be capable of doing so.
6 Best Photo Recovery Software for Mac
In the beginning, I planned to list 15~20 recovery tools in this post, but as I took more and more tests, I realized that some from the previously long list are just not qualified to be the best ones. Also for the reason I want to direct all my efforts to those ones that really worth a try, I finally shortened my list of best photo recovery software for mac to be 6 options as following.
#1 Cisdem Photo Recovery for Mac---The Best
The first and also the best mac photo recovery tool is Cisdem Data Recovery. The program came into service since in 2013, it has been under active developments and updates for these years. Due to its high recovery rate and user-friendly interface, more and more users pick or recommend it as the 1st choice to recover photo files on mac.
It supports photo recovery from SD card on all kinds of camera or media players and help to recover various type of photo format, be it popular, or raw image, or others.
Why Cisdem Photo Recovery?
Recover missing, deleted, lost, formatted or other photos caused by different reasons
Recover virtually all types of photos (mainstream, raw image and others)
Recover 200+ types of files (photo, video, audio, document, archives, etc.)
Repair corrupted videos
Recover files from internal/external hard drives, SD card, USB drive, etc and perform equally outstanding
Preview files before recovery
High recovery rate
Files can be opened after recovery
Filter files with keyword, file size, date created, date modified
Recover files to local drive or cloud

Free Download
Where Cisdem Photo Recovery Excel?
In terms of scanning speed and simplicity to use, Cisdem is equally matched with other 5 tools, but where Cisdem excels is lies in its stable performance to recover photos successfully. It can not only find out as many as photos, even those hidden deep on your mac that you are not even aware of their existence, but also recover up to 95% of your lost photos. And for these recovered photos, up to 98% of them can be opened normally, except those ones have been damaged or corrupted in the first place.
In addition, it supports virtually all kinds of photo formats, including mainstreams ones such as JPG, PNG, BMP, GIF, TIFF, or raw images for different cameras and others, total 48 formats.
How to Use Cisdem Photo Recovery?
Step 1

Download and install the free trial of Cisdem Photo Recovery on mac.

Free Download
Step 2

Choose the disk where lost photos are stored.

Go to Disk Data Recovery, choose the disk that your photos are stored.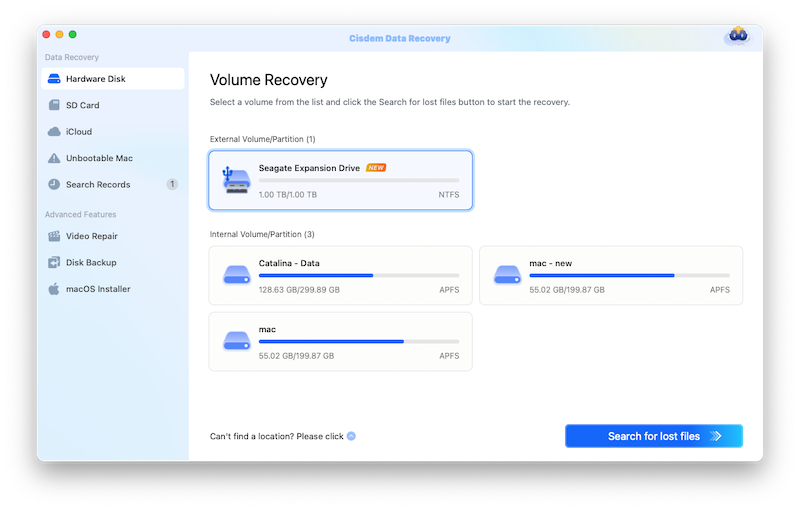 Step 3

Scan and preview lost photos.

Click "Search for lost files" to find out the lost photos. During the scanning, you can go to Type>Pictures, check and preview photos before recovery.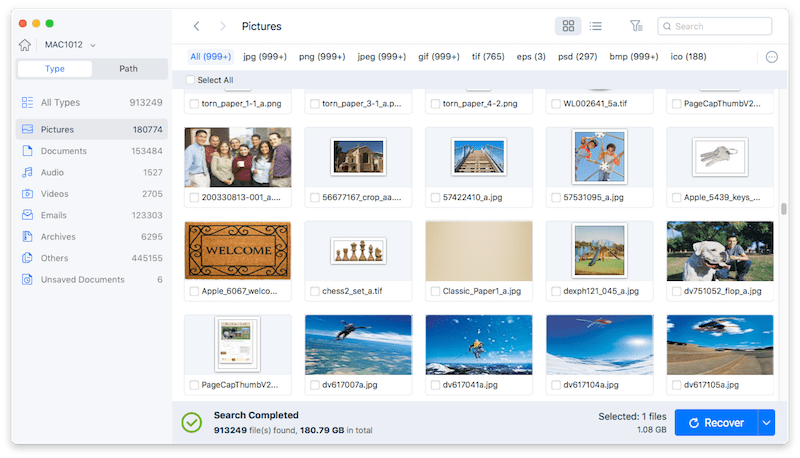 Step 4

Recover photos on mac.

Select all the photos you want to recover, then click "Recover" to restore.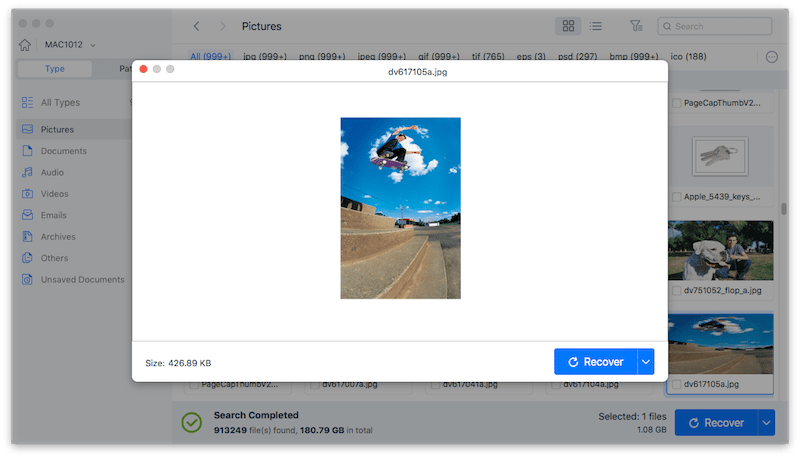 #2 Stellar Photo Recovery
If you have been looking for data recovery tool for some time, you should have heard about Stellar Phoenix data recovery, it is always one of the most powerful tool to deal with data loss. For mac photo recovery, we highly recommend the Stellar Photo Recovery rather than Stellar Mac Data Recovery, which has been complained of taking too much time for scanning by users. The Stellar Photo Recovery can only recover photos, videos and audios.
Where Stellar Photo Recovery Excel?
When working on photo recovery, the issue "found files are named weirdly" is always a headache, so we need to preview each photo one by one to make sure we are recovering the wanted photos. Luckily, Stellar Photo Recovery does a good job on this issue, though there are some found photos are still named with strange series numbers, it does helps us to fast find and select the wanted photos for recovery.
How to Use Stellar Photo Recovery?
Download and install Stellar Photo Recovery on your mac;
Choose to scan everything or scan photos only;
Select the location to do photo recovery;
Preview the files before photo recovery;
Then click "Recover" to get the lost photos back onto your mac.
MiniTool is based in Canada and dedicated to provide customers with solutions in the filed of data process, such as data recovery and backup. It offers both personal and commercials editions for different users. For more than a decade, MiniTool has won a lot of users due to its outstanding performance to recover data on mac.
Is MiniTool Free to Use?
When talking about MiniTool Photo Recovery, many users are trying to figure out if MiniTool is really free to use since it claims to be free.
However, in my opinion, it is not free. Yes, it is free to scan the data on your mac, but only 1MB data can be restored. Obviously, 1-mb data restoration won't never meet our needs, so at last, we will have to pay if you want to recover photos or other files using MiniTool.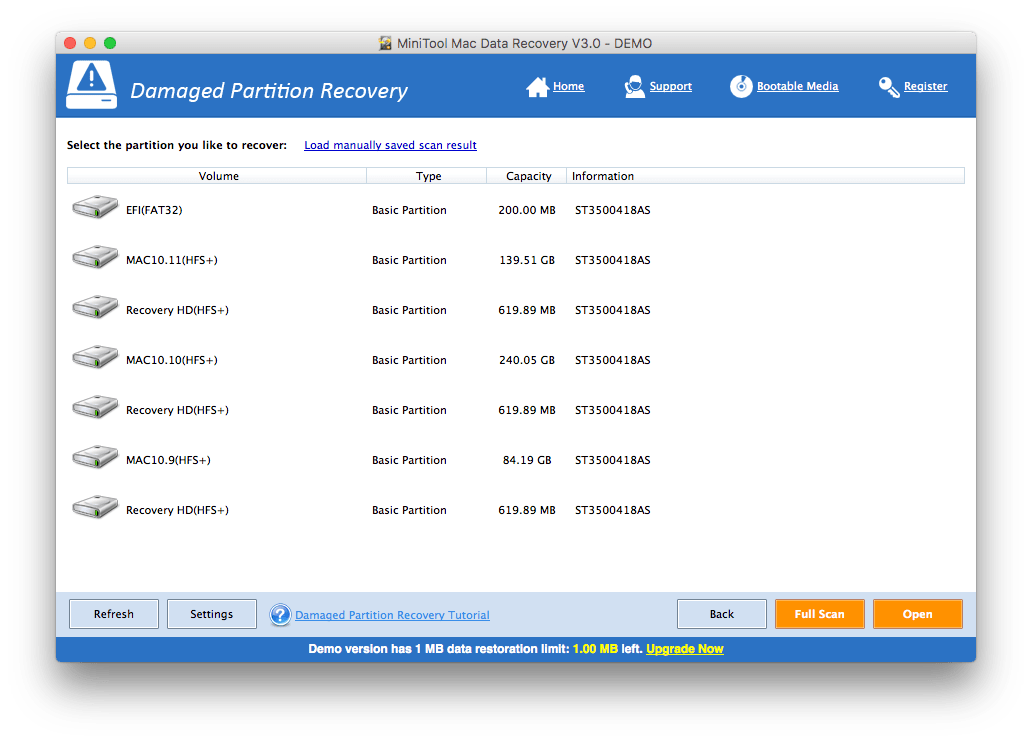 Where Mini Tool Mac Data Recovery Excel?
As you may have learnt from it main interface, MiniTool makes much efforts to recover data from damaged or lost partition, in light of that many users prefer to partition their mac hard drive into separate parts for different uses. So, if you are one among these users, MiniTool is a good choice for you to recover photos and other files from partitions on your mac. Still, you can try its digital media recovery to recover photos on mac from a SD card or other memory cards.
How to Use MiniTool Photo Recovery?
Download and install MiniTool Photo recover on your mac;
Choose a recovery mode, for example, the Digital Media Recovery;
Choose the target device, then click "Full Scan";
After the scanning, all found photos will be listed, preview;
Select the photos you want to recover, then click 'Save" and choose the output partition to recover.
#4 DiskWarrior
DiskWarrior 5 from Alsoft is absolutely a super powerful data recovery tool to even recover damaged, corrupted and inaccessible files on mac. Alsoft itself is a company developed by 2 former Apple employees in 1984, while its product, DiskWarrior 5 is a award-winning repair and data recovery tool that recommended by tech authorities for years. Due to its prominence, DiskWarrior 5 comes with a high price tag.
Where DiskWarrior Photo Recovery Excel?
Very often, we find some of our photos cannot be opened, they are just damaged or corrupted , even we cannot access to these photos since we can not open and view files on the hard drive properly. In this case, you will need a tool to repair your hard disk or storage device first, then get the photos back, and this is what DiskWarrior can do for users. Still, you can use this tool to detect and monitor errors on your mac, saving your troubles of lost of damaged data caused by the hard drive problems.
How to Use DiskWarrior Photo Recovery?
Download and install DiskWarrior 5 on your mac;
Choose the hard disk to repair, then click "Rebuild";
Then go back to check if the photos can be accessed or opened.
#5 Remo Photo Recovery
Remo Software is an India-based company focusing on data recovery, repair, backup and management. Undoubtedly, it is a trusted data recovery software developer basing on its 6-year professional services. Though you can find Mac Data Recovery and Photo Recovery on its website, they are the same program, you just need to try the Remo Mac Data Recovery since it builds in a photo recovery software.
Where Remo Photo Recovery Excel?
To tell you the truth, Remo Photo Recovery is the one took me the most time and efforts to finish a photo recovery process. You need to choose between different options, which seemingly unnecessary to me. But it does a relatively better job on recovering photos from SD card, also you are allowed to scan and recover photos only using Remo.
How to Use Remo Photo Recovery?
Download and install Remo Photo Recovery on mac;
Choose "Recover Photos"> "Recover deleted photos" or "Recover lost photos";
Select the location for scanning and click "Next";
Mark the types of files your want to select, for example, the "Picture". Then click "Next";
#6 PhotoRec---Best Free
PhotoRec is a 100% free and clean data recovery software to recover videos, documents, archives and photos. And this is also the reason why PhotoRec is picked as the best free photo recovery software for mac. It is available on different platforms, including macOS, Windows, Linux, etc. Since the program is command-line based, you need to run with Terminal to do the photo recovery.
Where PhotoRec Excel?
In fact, when comparing with other mac photo recovery software in my list, PhotoRec has no way to outperform others in performance, versatility and user experience. However, as far as I know, it is the only 1 100% free and safe program to recover photos on mac. So if you have photos in a small quantity that need to be recovered, it is worth a try.
How to Use PhotoRec?
Download and install PhotoRec on your mac;
Run PhotoRec with Terminal;
Use the arrow key choose the location for scanning;
Once ready, press the C key to start scanning;
Then the photos will be recovered and check the destination folder;
How to Avoid Photo Loss?
To never ever use a mac photo recovery software, we should be aware of following tips to avoid photo loss:
Always back up photos on iCloud or external hard drive;
Handle your SD Card or any other storage devices with care: do not force eject the SD Card, do not bend or keep your SD Card or others in environment that is either too hot or too cold, do not water them……;
Install anti-virus programs to protect your photos on mac;
Name each photo folder, so you won't accidently delete;
Back up files before any mac update;
Final Words
You may find many other options that can be picked as the best photo recovery software for mac, but according to our practices, the 6 photo recovery software on our list are proved to be outstanding and worth a try.

Free Download