This article provides a list of the top 8 duplicate MP3 finders for Windows, Mac and Android. A duplicate MP3 finder is designed to efficiently find and delete duplicate MP3 files in folders, drives and music libraries. Getting rid of duplicates can help you free up space and better organize your music collection.
Top 8 duplicate MP3 finder apps
Here are the top-rated apps to help you easily identify and eliminate duplicate MP3 songs.
#1 Cisdem Duplicate Finder (Windows & Mac)
Excel at removing duplicate music and any other duplicate files, including those in iTunes and Music
Compatibility: Windows 10 and 11; macOS 10.11 or later
Latest version: 2.7.0 (22/4/21)
Price: $19.99 One-Year Subscription; $39.99 One-Time Purchase
Cisdem Duplicate Finder is an easy-to-use and powerful duplicate file finder and remover. More than just a great MP3 duplicate finder, it can find all types of duplicate files, helping users free up storage space and making it easier to manage files.
Cisdem Duplicate Finder main features:
Find duplicate audios, videos, photos, documents and any other duplicate files
Support all audio formats such as MP3, AAC, AIFF, OGG, WMA, WAV and FLAC
Find duplicate MP3 files in folders, iTunes and Music
Help Mac users remove duplicates from Photos and iPhoto
Identify true duplicates by content
Offer 3 preview modes, letting you preview songs and others
Automatically select duplicate files to mass delete with 1 click
Also let you customize the selection
Easy and safe to use (User Guide)
How to find and delete duplicate MP3 files on PC and Mac
1. Download the best duplicate MP3 finder and install it. Open it.
2. Click the plus icon (+) and add one or multiple folders to scan for duplicates.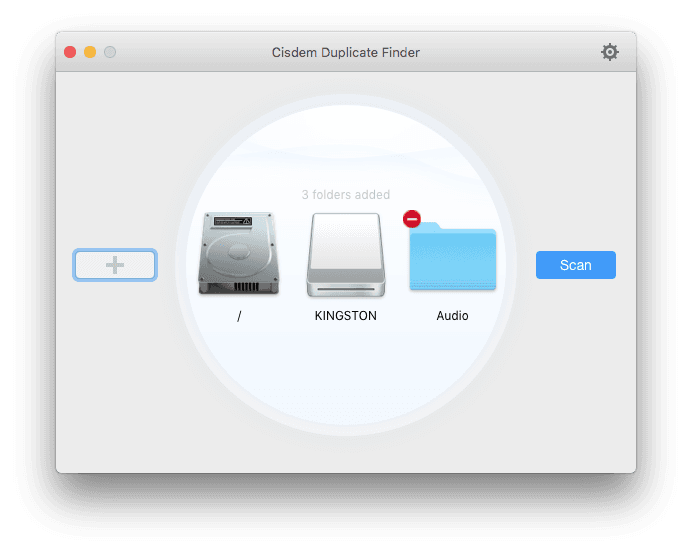 3. Click Scan.
4. Once the scan is finished, in the scan results window, go to the Music tab where you can find a list of all duplicate audio files including MP3 duplicates. You can sort, view and preview them.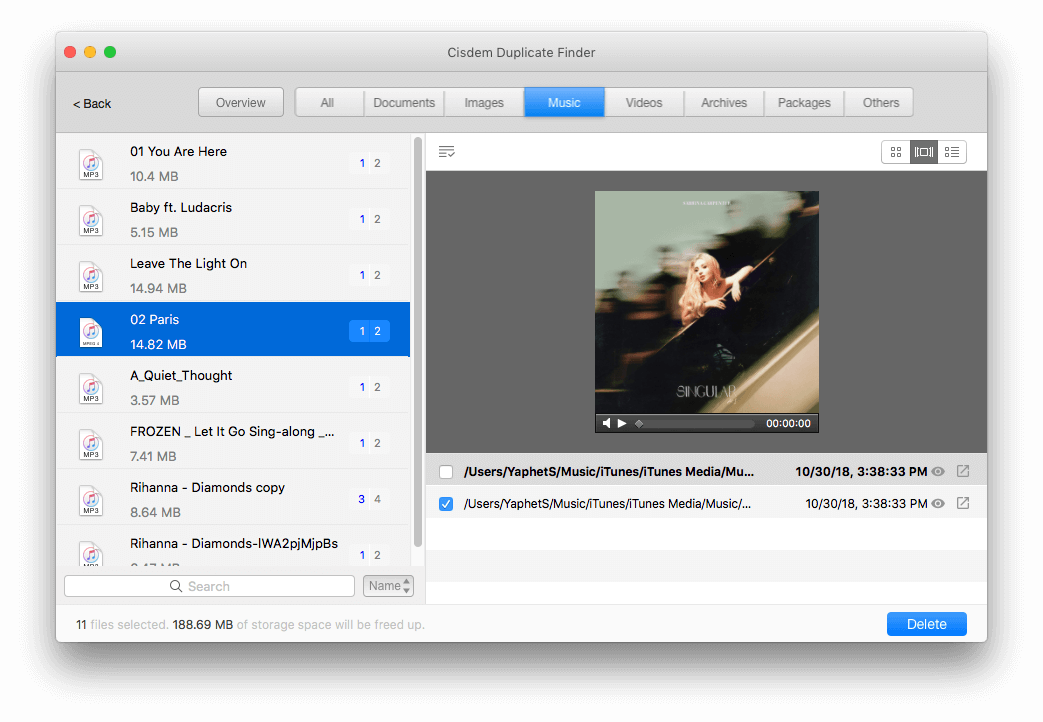 5. This MP3 duplicate finder already automatically and smartly selects duplicate copies for you to delete all at once with a click.
6. If needed, customize the auto-selection by clicking the icon

and choosing a desired selection rule. Or, you can select or deselect by hand.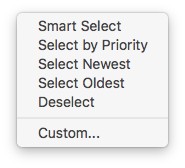 7. Click the Delete button to remove the selected MP3 duplicates.
Tips to use the best music duplicate remover
Delete duplicate MP3 files in iTunes
Add your iTunes Media folder to Cisdem Duplicate Finder. To find the folder on a Mac, you can open Finder and select Go > Home > Music > iTunes.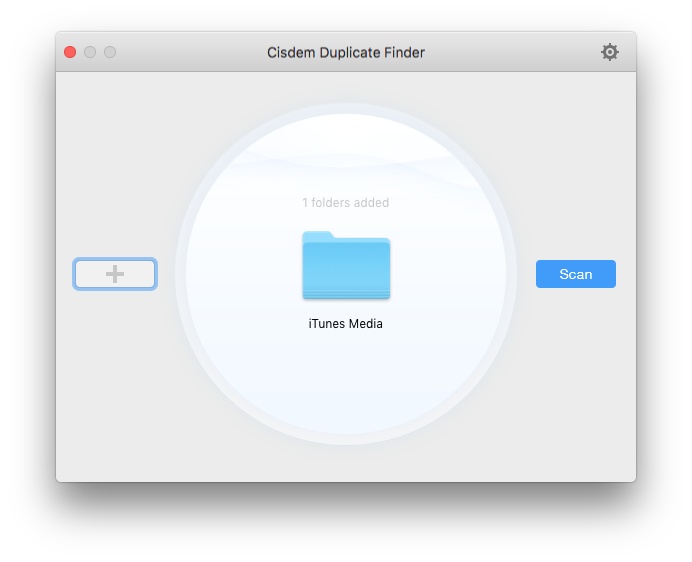 Customization
Before performing a scan (as in Step 3), you can click the settings icon in the corner to access General settings and the Ignore List feature. There, you can customize the detection and removal of duplicate music.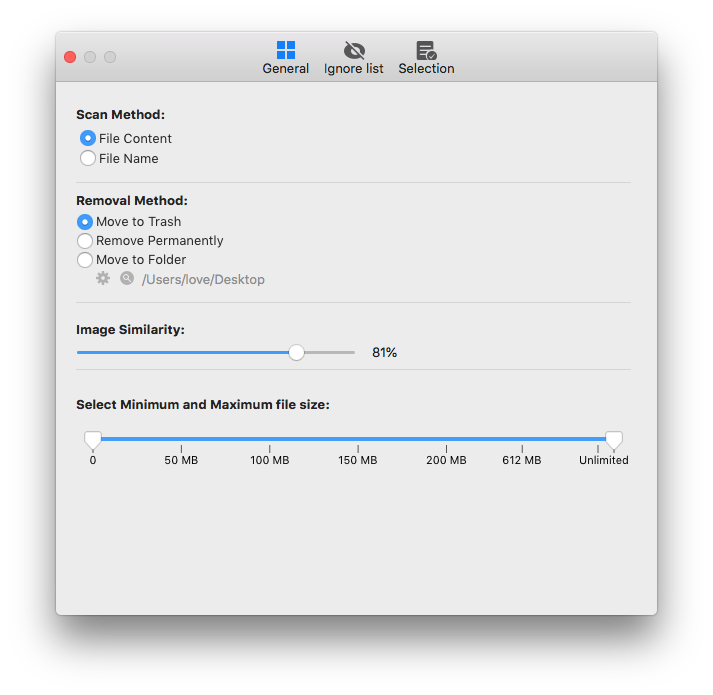 Pros
Find all types of duplicate files including duplicate songs, videos, images, Word documents, PDFs, spreadsheets, presentations, ebooks, archives, etc.
Provide high accuracy and speed due to advanced algorithms
Delete duplicates on computer, external hard drive, SD card and cloud storage, etc.
Make it easy to preview dupes
Offer an auto mode to smartly select duplicates for you to delete
Also offer multiple selection rules
Provide 3 removal methods including Move to Trash
Easy to use and customize
Help clean up duplicate MP3 files on Mac and external storage devices
Help regain storage space
#2 Easy Duplicate Finder (Windows & Mac)
Help you get rid of duplicate songs on Windows and macOS
Compatibility: Windows 10 or earlier; macOS 10.6 or later
Latest version: 7.17.0.35 (22/04/06)
Price: $39.95 for 1 device
Designed to detect duplicate files on Windows and Mac, this is another app that can be used as a duplicate MP3 finder. Supporting various audio file formats such as MP3, WMA and AAC, it can find duplicate music files with the same name or file properties.
It allows users to scan selected folders for duplicate songs based on the SHA256 algorithm and hash comparison. In addition to computer hard drives, it also works with removable devices like floppy and USB disk. By cleaning up duplicate MP3 music with this duplicate MP3 file finder, you can make room for new music.
How to remove duplicate MP3 files on Windows
1. Get this duplicate MP3 finder on your PC. Open it. Choose the Advanced mode.
2. Click Add a Folder to Include to Scan. Add one or more folders. Click the big Start Scan button. The scan time depends on the amount of files in the folder(s) you have added.
3. When the scan finishes, you can click Auto Remove to automatically delete all detected duplicate MP3 tracks. However, it's recommended to click Manual Review to check out the files first.
4. Go to the Music section where all duplicate MP3 audios are listed. In the Preview window on the right, you can play and listen to a track without leaving the app.
5. Clicking the edit icon in the bottom left corner of the Preview window will allow you to choose a selection rule. You can also manually select duplicates to delete.
6. Click the trash bin icon, and this duplicate MP3 finder will delete the selected items all at once.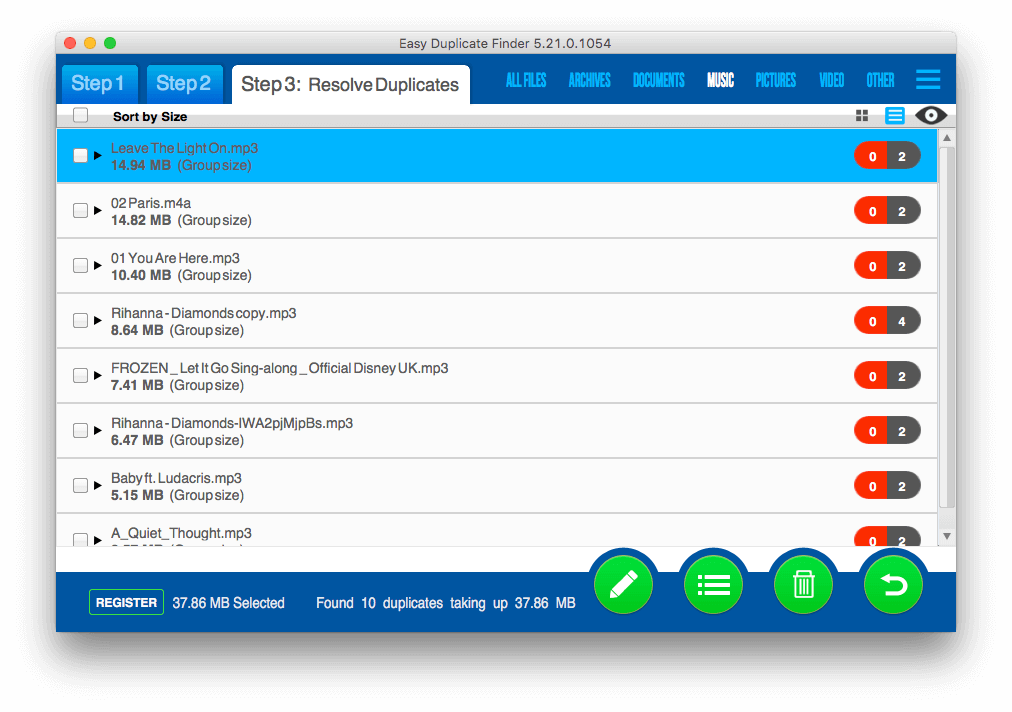 Pros
Capable of identifying common types of file duplicates
Come with 2 scan modes: Easy and Advanced
Offer predefined filter masks to quickly and effectively find duplicate audio files
Provide a built-in preview feature
Let you view the found duplicates by file type such as Music
Offer 2 removal methods: Move to Trash and Delete Permanently
User friendly with an easy-to-understand interface
Cons
Crash when scanning iTunes for duplicate music
Relatively high price
#3 Gemini 2 (Mac)
A beautiful and handy duplicate MP3 finder for Mac
Compatibility: macOS 10.10 and higher
Latest version: 2.8.0 (21/01/26)
Price: $44.95 for 1 Mac
Gemini 2 is a good choice for people who want to eliminate duplicate MP3 music files effortlessly. It helps users locate and remove duplicate files including pictures, songs, folders, archives, etc.
It uses fast and accurate scanning algorithms to precisely detect duplicate files. Features like scanning the biggest files first, auto-select and spectacular shredding of duplicates make Gemini an excellent macOS utility. In addition, it has a truly remarkable interface design.
Users of this MP3 duplicate cleaner can easily add folders to scan. Once the scan is finished, one can click Review Results to view and delete the found duplicate songs. The preview feature enables you to play MP3 directly using this app, which is convenient.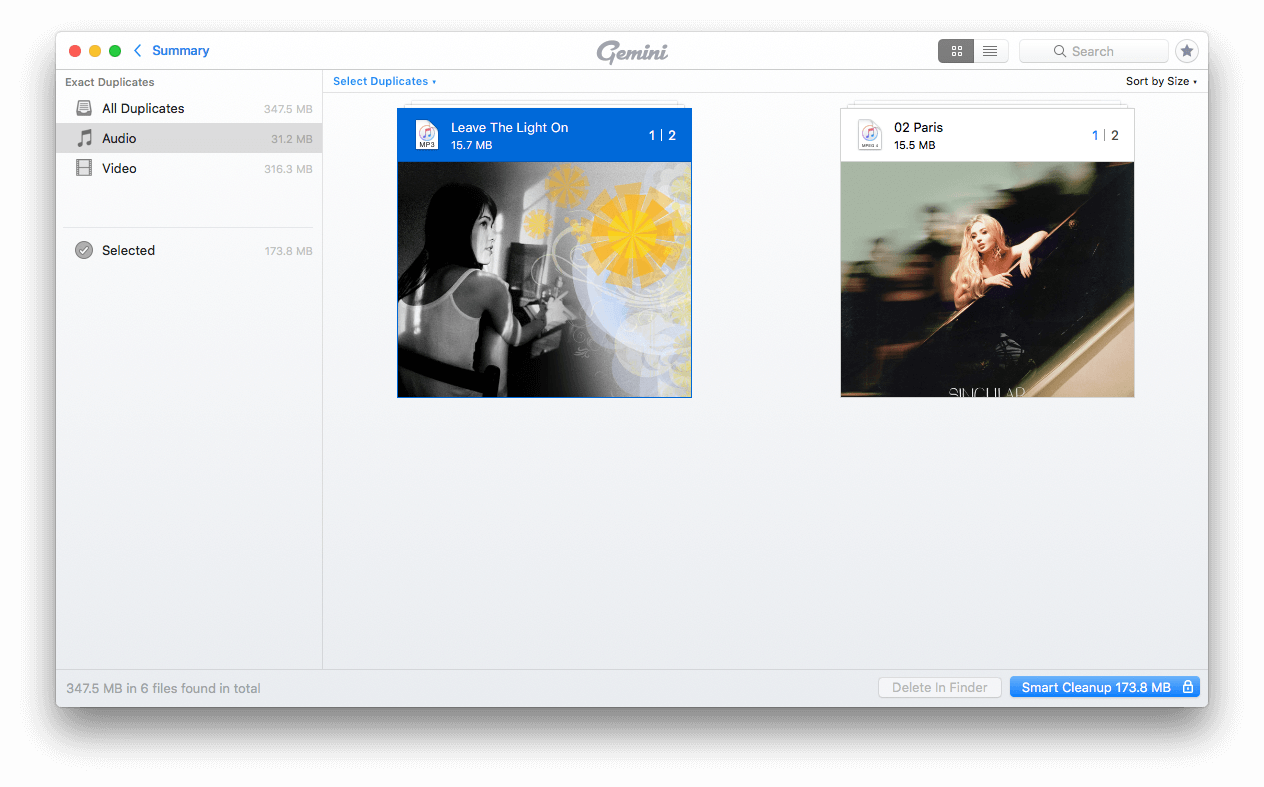 Pros
Good-looking and easy-to-use interface
Work with MP3 audios and other file types
Provide a preview feature
Make it easy for users to select and delete unwanted MP3 duplicates
Offer an innovative Duplicates Monitor feature
Cons
Likely to accidentally delete non-duplicates
Relatively slow when scanning large files
Need to launch multiple programs when use this tool
#4 Duplicate Music Fixer (Windows)
Automatically locate your music folder(s) to scan for duplicates
Compatibility: Windows 10 or earlier, both 32-bit and 64-bit
Latest version: 2.1.1000.11048
Price: $39.95 for 1 PC
As the name suggests, Duplicate Music Fixer is designed especially for the purpose of finding duplicate music. This duplicate MP3 finder supports various formats such as MP3, WAV, M4A and WAV. You can use it to find duplicate MP3 files in selected folders.
It automatically locates and lists the music library folders (such as the iTunes folder) on your computer. You can also manually add folders for scan.
The duplicate MP3 finder will start looking for duplicates once you click Scan for Duplicates. The scan is relatively slow when compared with some other similar software. In the Results window, you can find groups of detected MP3 songs. In addition, this program supports to find and remove similar music files based on ID3 tags like title, album, file name etc.
The Selection Assistant tools can auto-select duplicate copies based on the default or custom settings, which makes it easy to filter unwanted MP3 audios for selection. The MP3 duplicate finder can move selected MP3 files to the Recycle Bin or a folder of your choice.
In the Preview window, there is a play button. However, as a matter of fact, the app doesn't provide a built-in media player. If you select a song and then click the said button, it will open the default audio player on your computer.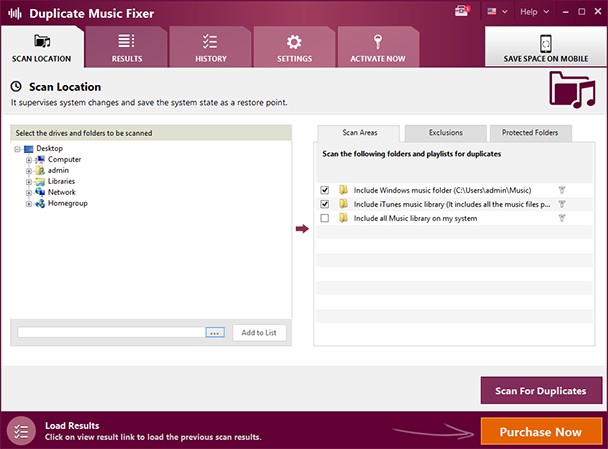 Pros
Automatically locate the music folders on computer
Multiple options to remove duplicate MP3 files
Useful Selection Assistant tools
Multiple ways to remove unwanted song duplicates
Also helps to find similar MP3 files
Cons
No drag and drop functionality
No preview for audios
#5 Duplicate Cleaner (Windows)
Sophisticated software to weed out duplicate MP3 tracks and other duplicates
Compatibility: Windows 10, 8, 7 and Vista
Latest version: 5.16 (22/04/29)
Price: $39.00 for 1 PC
Developed by DigitalVolcano, Duplicate Cleaner 4 is one of the best duplicate MP3 finders to remove duplicate music files on Windows 10 and earlier versions.
In addition to MP3, it also supports 8 other formats such as OGG and WAV. To use it as a MP3 duplicate finder, you need to choose Audio mode in the Search criteria window. There are a number of matching types for you to choose. The Pro version offers more match setting options for advanced users.
When this MP3 duplicate finder finishes scanning, it will list all found duplicate MP3 files in the Duplicate Files window. In the left column, you will find a list of Selection assistant tools, which will help you mass mark unwanted copies for deletion. As for deleting unneeded songs, you can move them to the Recycle Bin or to a folder. There are other options such as Rename or Move files.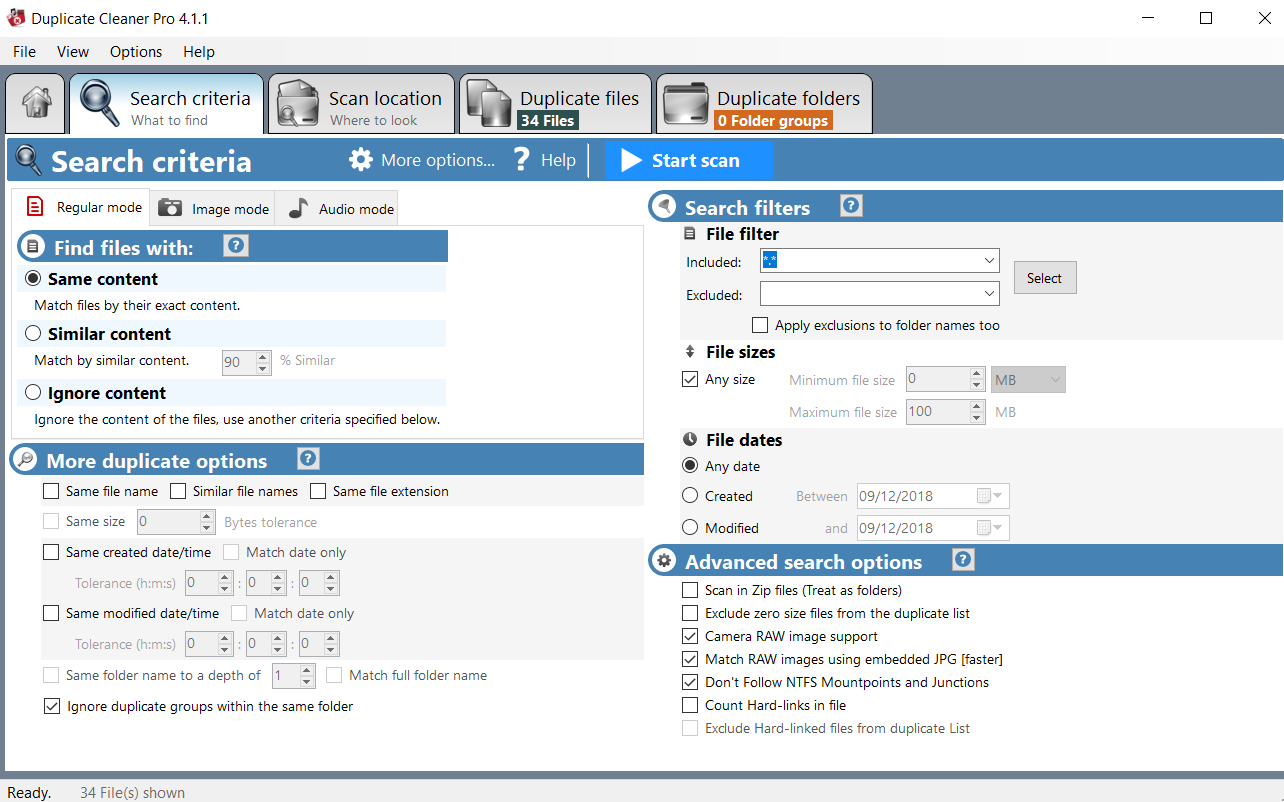 Pros
Useful Audio mode for removal of duplicate MP3 songs
Multiple matching types providing high level of customization
Advanced search options for experienced users
Useful built-in preview for music, images and more
Auto-mark feature
Support for other types of files such as videos, documents, etc.
Cons
Not easy enough for new users
It's main interface looks a bit complicated
#6 Similarity (Windows & Mac)
Use the acoustic fingerprint technology to compare audio file content and identify MP3 duplicates
Compatibility: Windows XP, 2003, Vista, 7, 8 and 10, 32-bit or 64-bit; macOSX 10.7 and above
Latest version: 2.5.1 (21/11/17)
Price: $19.95 for 1 year
Similarity, also known as Similarity Duplicate Music Finder, is made to deal with duplicate music files. After scanning your music files, it will show all the duplicates it finds. It has support for a lot of formats such as MP3, M4A, OGG and so on. Just like the duplicate MP3 finder apps mentioned above, this one can also scan a large amount of files without using resources heavily.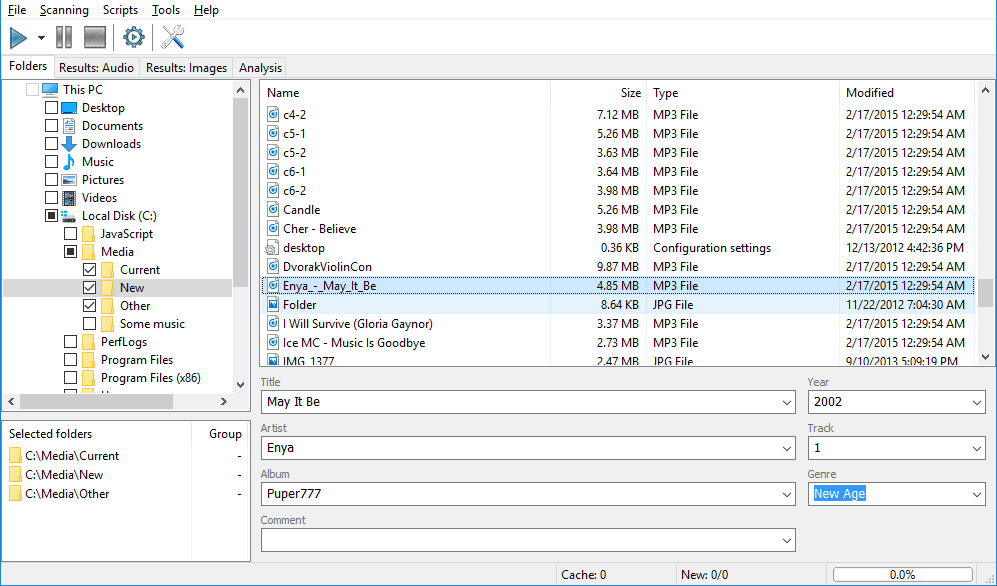 Pros
Available in 17 languages such as English, German, French, Spanish and more
Compare audios by acoustic fingerprint, tag and filename
Good as a duplicate MP3 cleaner
Also supports other audio formats
Cons
A bit expensive as it only works for audios
#7 TriSun Duplicate MP3 Finder Plus (Windows)
Compare MP3 audios binary by binary to find the duplicates among them
Compatibility: Windows 10, 8.1, 8, 7, Vista and XP, 32-bit or 64-bit
Latest version: 17.2 (21/12/16)
Price: $14.99 for 1 year
It is specialized in finding duplicate music files. It uses high-speed comparison algorithm to scan MP3 and other kinds of music files. You can use it to find and remove the duplicate MP3 songs on hard drives, in folders and subfolders. You can exclude specific folders from the scan, which is useful if you are scanning a whole hard drive and want to skip certain folders. Currently, it only has a Windows version and is not available for Mac users.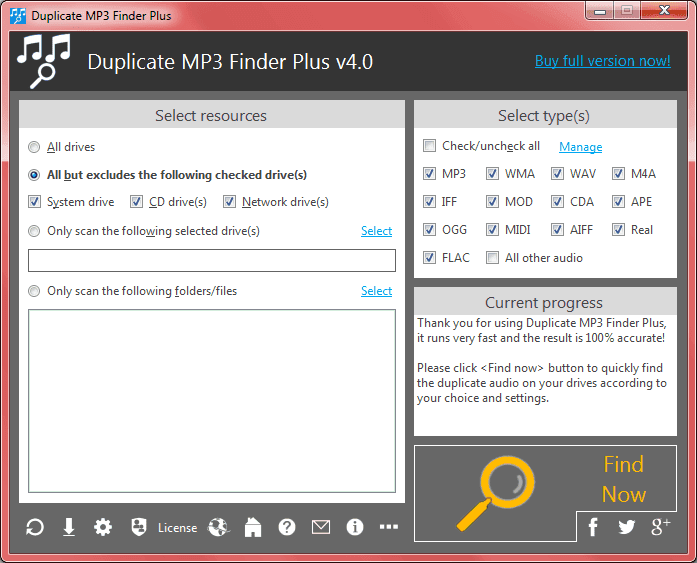 Pros
Easy and accurate to use
Can find duplicate MP3 songs regardless of name
Offer instructions to guide you through the process
Cons
A bit pricey as it only works for audios
#8 Duplicates Cleaner (Android)
The best free duplicate MP3 remover for Android to help clean up your mobile music collection
Compatibility: Android 6.0 and up
Latest version: 3.4.0 (22/05/11)
Price: Free
This popular and highly rated app can help Android user find and remove duplicate MP3 files and other types of duplicates such as duplicate images and videos.
It's easy to use and customizable. To find all duplicate music files on your Android phone, you can directly use the "Scan Duplicate Audio" option. To deal with duplicate MP3 songs only, you can go to Settings and add the MP3 format as the custom file type. After that, add one or more folders to search for dupes.
The detected duplicate songs will be listed in groups. This duplicate MP3 file finder will automatically selected for elimination. You can manually go through them and deselect the songs that you actually need.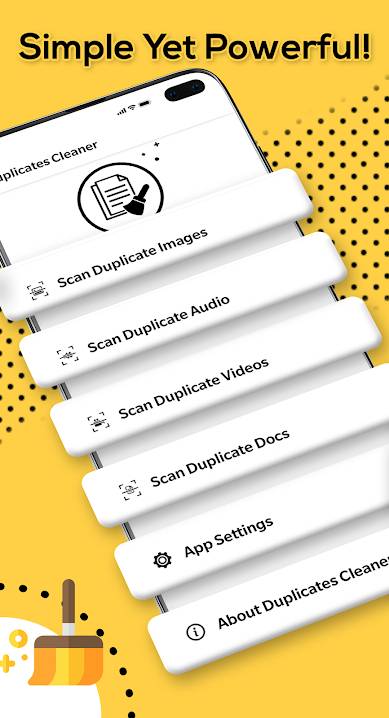 Pros
Free to use
Let you remove duplicate MP3 and other duplicate music
Also support other common file types such as images
Offer an auto select feature
Cons
No support for SD card (until you pay)
Conclusion
Above are the best duplicate MP3 file finders. Some of them only find duplicate audio files, and others are more versatile with support for videos, images, documents and more. If you are a Windows user, you can use Duplicate Music Fixer. If you have a large number of duplicate songs, videos and photos on your hard drive, Cisdem Duplicate Finder for Windows and Mac is the best.
Windows users can also check out EF Duplicate MP3 Finder, an app dedicated to finding and removing duplicate audio files on PC. When identifying MP3 dupes, it will take into consideration the audio content and ID tags. In addition to MP3, it also supports OGG, WMA and FLAC. Also, I'd like to mention an app called Yet Another Duplicate File Remover, in case you are interested in an open-source app. It's free to use and available on SourceForge.