"I need a iPhone clean app to help me get more storage on my iPhone 6 (16GB). I'm looking for an app that will allow me to clean up my iOS devices, but I'm not sure I can find such an app on the Apple store. Will somebody recommend me a iPhone cleaner app to clean cookies, cache, junk files on my iPhone or iPad? Thanks in advance." From a iPhone user who wants to free up space on iPhone.
Sometimes, we try to install new apps or games on iPhone or iPad, and only to find that there are not enough storage space on iOS device. Most recently, many iPhone users might receive insufficient storage alert when updating your iOS device to iOS 11. Without enough storage, you won't be able to install new apps, games or do other things. So this article will recommend you five best iPhone cleaner app for Mac to clean up your iOS devices including iPhone, iPad and iPod Touch.
Part 1. Five best iPhone cleaner app for iPhone 8
1. Cisdem iPhone Cleaner
Cisdem iPhone Cleaner for Mac is a powerful iPhone cleaner which capable of cleaning temporary files, cookies, script files, cached and offline files and other junk files from your iPhone, iPad, iPod touch to free up space of your iOS device. This iPhone cleaner app Mac supports finding large files and backing up your iPhone videos, photos, contacts, messages, etc. And its built-in file manager helps you get a break down of how much space are being taken up.

Free Download
Download Cisdem iPhone Cleaner for Mac to try!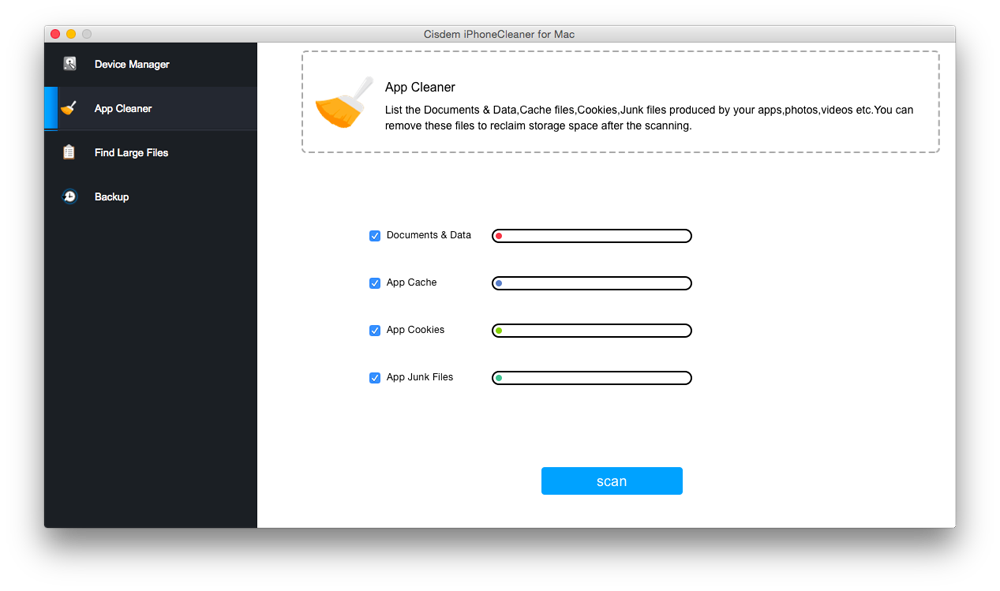 2. Macgo iPhone Cleaner for Mac (Free)
Macgo iPhone Cleaner for Mac is an excellent iOS cleaner and file explorer tool run on Mac OS X. It is free when you use it on only one Mac. It can clean up most junk files on iPhone, iPad, iPod Touch to free up storage space for more fun securely. You can dig out redundant and useless files on your iPhone and strike them out with just three clicks. It supports cleaning most types of junks and useless files.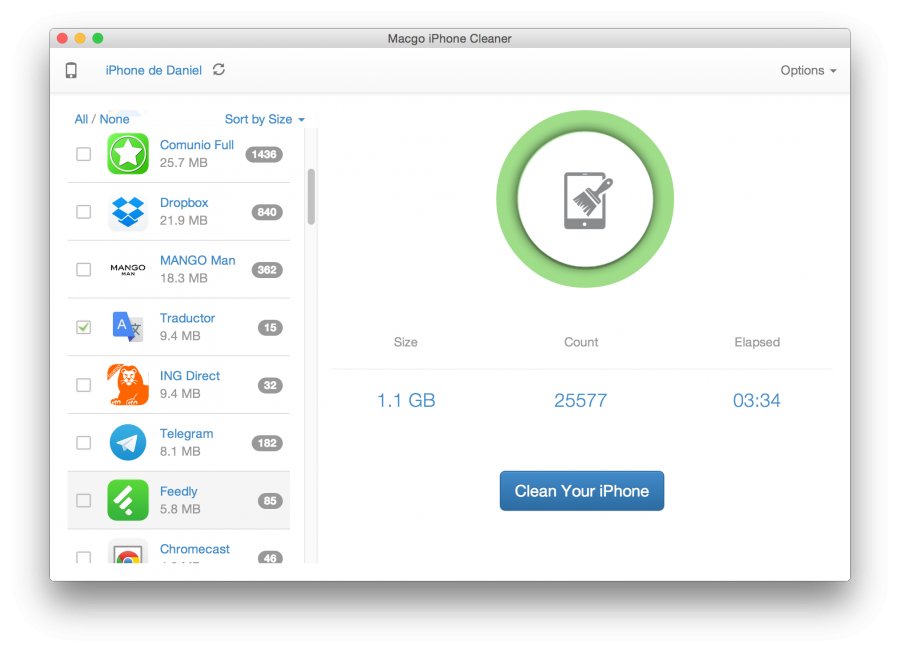 3. PhoneClean
PhoneClean is a iPhone Cleaning app now works for both Windows and Mac. PhoneClean 4 is the newest version which brings you the hands-free cleaning, in-depth privacy protection, ultimate speed-up and an array of innovative iOS maintaining features. The biggest advantage of this iOS cleaner is that it ensures the safety of your property and privacy to prevent the leak or abuse use of your personal information. But this iPhone cleaner app is more expensive for that it will cost you $19.99 per year subscription before it can do anything for you.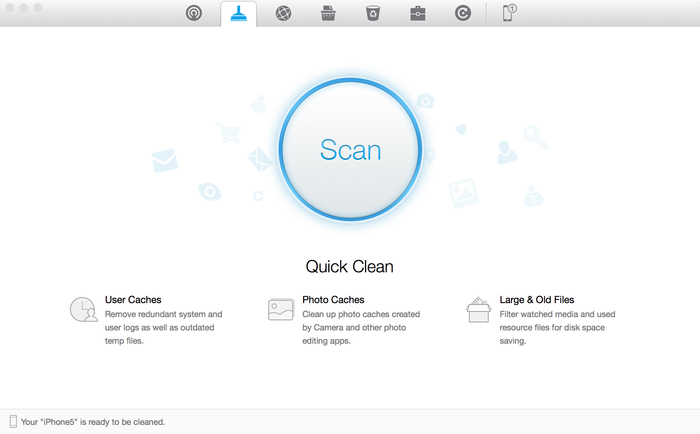 4. iFreeUp
iFreeUp provides iOS users with simple and quick solutions to clean junk files, free up storage space, optimize iOS performance, transfer all kinds of media files, export and import games and apps, etc. It has windows and Mac version. iFreeUp uses DOE-compliant technology to delete and shred deleted photos and other files permanently and also overwrites 5 passes or more to prevent other people from recovering and revealing your privacy.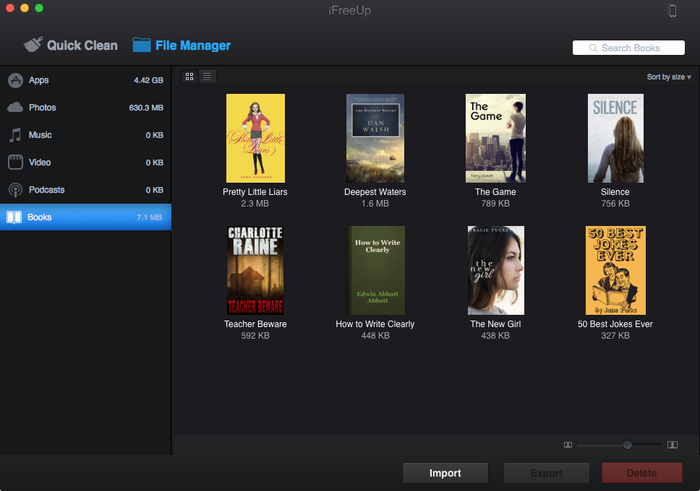 5. Clean MyPhone
CleanMyPhone is designed to free up storage space on iOS devices by managing and removing apps and file from your iPhone, iPad or iPod touch. Just like Cisdem iPhone Cleaner does, CleanMyPhone helps you find out the large files quickly and clean up the disk space.It also protects your privacy, cleans cookies and scripts to guarantee the safety of your personal information.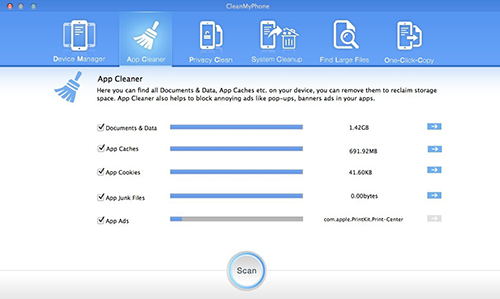 Part 2. Comparison among 5 Best iPhone Cleaner App for iPhone 8
This part contains contents that users care about most. As we can see from the table above, only Macgo iPhone Cleaer for Mac is totally free, but it is not compatible with iPhone 8 or iPhone X. And other iPhone clean apps have free version for you to try before you buy, but free version always has flaws and limitations. So if you get an iPhone 8 or iPhone X, you'd better buy a iPhone cleaner app to free up iPhone or iPad storage space.
Accodring to the comparison table, I recommend Cisdem iPhone Cleaner as the best iPhone cleaner app for its reasonable price and powerful features. It is not only a iPhone cleaner, but it also is an iPad cleaner. More importantly, it can help your remove useless files permanently and find large files that take up much space. Just download to have a try!

Free Download

Megan has an impressive deal of experience with Mac software and has the ability to explain tech stuff in a simplified, straightforward and easy to understand way.