Apple has pulled the wraps off macOS Sierra at WWDC 2016 complete with Siri, picture-in-picture and Apple Pay integration. As expected, Sierra does much more than just providing bug fixes and performance updates, as we saw with the move from10.10 Yosemite to 10.11 El Capitan.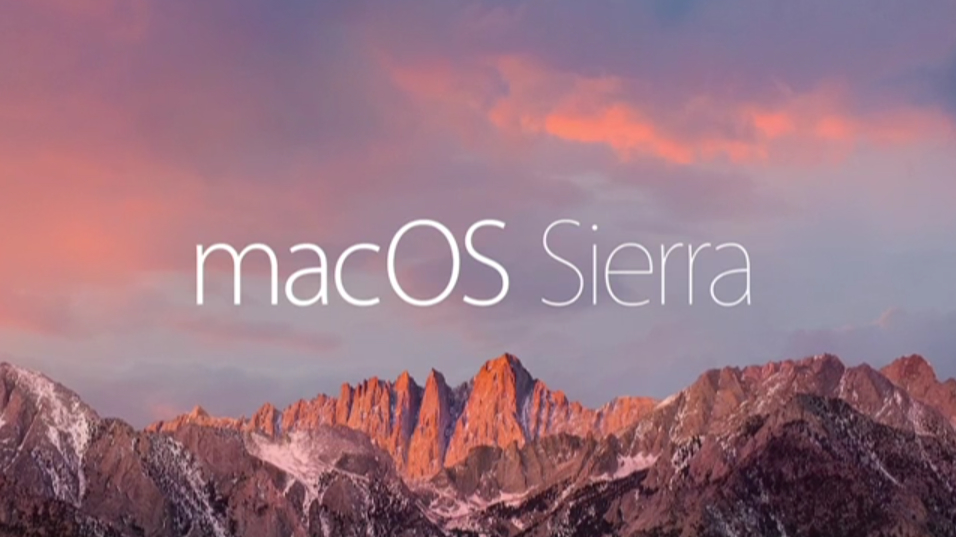 macOS Sierra release date
We all know Apple has opened the wraps of the macOS Sierra at WWDC 2016. The developer can get it in mid-June and a beta preview over the summer. After all this finished, the final OS will come to our hands by November.
Siri finally makes an appearance
For the first time, Apple's Siri personal assistant is available on Macs through macOS Sierra. In macOS Sierra, Siri can be accessed through an icon on the menu bar, a dock app, or a user-specified keyboard command. At WWDC, SVP of software engineering Craig Federighi demonstrated how Siri can help with sophisticated queries for files like, "Show the files I worked on last week about the off-site." And from there users can narrow down their search based on tags. What is more, Siri also has full access to other parts of macOS' including applications such as iTunes, making her your personal DJ. Besides, Apple opened has issued an SDK for developers to make their own applications work with Siri.
Continuity gets even better
Continuity between Mac and iOS is a big deal fro those engulfed in Apple's hardy ecosytem. Ever since its introduction, users have been able to pick up calls and text conversations from their phones and conveniently pull them up on their Mac computers. With macOS Sierra, not only will you be able to access your computer from other machines including your iPhone, but if you need to copy something from one device to another, you can achieve that using the Universal Clipboard function. By copying something from one device, you can seamlessly paste it over to another. If you thought AirDrop made your life easier, this enhances the Apple ecosystem even further with yet another method of shuffling around files.
Better photo and video functionality
Finally we have the Photos app getting an overhaul in iOS 10, and because of the way Continuity works, the incoming features also apply to Mac. These include a new "Memories" tab for a more magazine-like viewing mode as well as an Al that automatically sorts photos either by people or topics. Likewise, if you're a skilled multi-tasker interested in watching videos while you work, you'll be delighted to know that macOS Sierra's picture-in-picture mode allows users to take their video windows with them even as they rotate between desktop screens.
The Price of OS 10.12
For the past several years, the latest version of Mac OS has been available as a free upgrade to users of the previous version of the operating system. So the successor to OS X 10.11.5 El Capitan will be a free update for Mac users. Therefore, the only issue will be whether your Mac is powerful enough to run the new OS.
Others update
Redesign the iTunes for macOS Sierra: Like OS X 10.11.5, macOS Sierra improves performance tweaks. The tweaks fixes an issue where applying a configuration profile to set allow 'SpotlightInternetResults' to 'False' would cause Spotlight to use large amounts of CPU time, an issue where applying a configuration profile to set 'ShutDownDisabledWhileLoggedIn' to 'True' would have no effect and an issue where only a single NetBoot image would appear in the Startup Disk pane of System Preferences, even if multiple NetBoot images were configured on the server.
New Remote Unlocking Feature for macOS Sierra: The new feature will enable users to unlock their computer with their fingerprint without Apple introducing any new hardware. This will be made possible by linking the user's iPhone (if the have one) to their computer, which will then enable them to use Touch ID on the smartphone to unlock the Mac or MacBook with "Remote Touch ID". The intention is to get round one of the most persistent computer security problems in the world - the regular use of weak passwords.
New Files System for macOS Sierra: Over the past several updates to OS X, it has been theorized that a file system update might be inbound. Apple will switch to a new option like BFS or ZFS. They are working on a new in-house file-system and Apple will switch to a new option like BFS or ZFS. They are working on a new in-house file-system.
Better Backup for macOS Sierra: A lot of Apple users do remember Time Machine. However, Time Machine hasn't evolved well now. Its usefulness as a backup system is minimal when it comes to saving and protecting data. In our days, we have got a lot of data to work with these days including movies, musics and projects can be effortlessly zoomed up to the iCloud without major expenses. So that a frequently requested update for OS is a new Time machine, or a better backup option altogether.
Deepper iCloud for macOS Sierra: It makes all of the files stored on the desktop or the documents folder of a Mac available on all of a user's devices, including other Macs, the iPhone and the iPad through the iCloud Drive app, and the web through iCloud.com. So you will be more convenient to use your data on different Apple devieces.
The Macs of macOS Sierra Supports:
iMac (Mid-2007 or later)
MacBook (13-inch Aluminum, Late 2008), (13-inch, Early 2009 or later)
MacBook Pro (13-inch, Mid-2009 or later), (15-inch, Mid/Late 2007 or later), (17-inch, Late 2007 or later)
MacBook Air (Late 2008 or later)
Mac Mini (Early 2009 or later)
Mac Pro (Early 2008 or later)
Xserve (Early 2009)

Connie has been writing for Mac productivity and utility apps since 2009. Each review and solution is based on her practical tests, she is aways energetic and trustworthy in this field.