Since Windows 10, Microsoft has abandoned WMP's integrated DVD codec, making DVD playback no longer supported. It may be due to the decline in physical media usage and to save on license costs. Microsoft responded by offering the Windows DVD Player app on the Microsoft Store. However, only those who upgraded to Windows 10 from earlier versions (editions of Windows 7 not included) can get it for free, while others need to pay $15. It has also been reported that Windows DVD Player fail to play some copy-protected DVDs.
Thus, we suggest that Windows 10 or Windows 11 users can directly rip DVDs for digital backup and easy viewing. Throughout this article, we will introduce how to rip a DVD on Windows 10/11, including the way to bypass DVD encryption.
The Best App to Rip DVD on Windows 10/11
Rip DVD to video, audio, and in-built device preset, totally 300+ outputs
Help to rip DVD to computer, USB, SD card, hard drive, iTunes, etc.
Rip DVD disc, DVD folder, ISO, and copy-protected DVD
Decrypt DVD protected by DRM, region code, CSS, multi-angle, RCE, etc.
Rip DVD with audio sound and subtitles kept
Batch rip DVD titles or merge them to rip one DVD title
Rip DVDs flawlessly at 1:1
Edit videos on DVD by trimming, cropping, adding effects/subtitles, etc.
Also allows conversion between multimedia formats
Effortlessly download videos from YouTube and other 1000+ websites
Easy to use

Free Download

Free Download
What does it mean when a DVD is copy-protected?
The purpose of DVD copy protection is to prevent DVD content from unauthorized copying and distribution. Film production companies like Warner Bros, Disney, Paramount Pictures, DreamWorks, etc., or copyright holders would like to apply encryption techniques to DVDs. The technologies include CSS, Macrovision, ARccOS, Safedisc, DVD Region Code/RCE, UOP, Disney Fake, RipGuard and ACP, and more. Among them, DVD DRM and Region Code are the most widely used.
How do you tell if a DVD is copy-protected?
There are three methods to determine whether a DVD is copy-protected.
Check what the DVD looks like: It says "Copy Protected" or something similar.
Play DVD: Use VLC Media Player to play individual VOB files instead of the entire DVD folder, as VLC can't unlock the encryption of a single VOB.
Burn DVD: Create an ISO file from DVD with ImgBurn. If your DVD is copy-protected, you will receive an error message stating that the disk is encrypted.
How to Rip a Protected DVD on Windows 10 or 11 Computer
Cisdem Video Converter is definitely an expert in the field of DVD ripping. It can rip homemade and encrypted DVDs, regardless of their type, including movie DVDs, workout DVDs, music DVDs, game DVDs, educational DVDs, software installation DVDs, etc. Plus, it can rip DVD on Windows 10/11 to MP4, HEVC, AVC, AVI, MPEG, WMV, FLV, WMA, MP3, mobile phones, iPad, Samsung, Xbox, PSP, etc. Shortly, Cisdem Video Converter can convert any DVD into any digital with 60x real-time faster speed and maintaining the original quality.
Steps to rip a protected DVD on Windows 10 or 11:
Click the download button to install Cisdem Video Converter.
Free Download
Launch it on your Windows computer. Then, switch to the "Rip" interface.
Import DVD source to the software.
Put the DVD into an external or computer's DVD drive. Once your computer detects the DVD disc, directly drag-n-drop the entire DVD or VIDEO_TS folder into the DVD ripping interface, and wait for decoding.
Choose output formats for videos you want to rip, and you can also adjust format parameters by clicking the "gearwheel" icon next to the selected format.
If your DVD contains multiple subtitles and audio tracks, select your preferred one.
Click the pencil icon to open the editing interface, and edit the video on DVD.
Rip a DVD on Windows 10/11
Press the "convert" icon in the lower right corner to rip a DVD and the copy protection will be removed automatically. When finished, click the "tick" icon to find the ripped files.
Tip: Rip a DVD with multiple titles
Cisdem Video Converter will rip out all individual titles at once. If you just want to rip the longest main title from a 99-title DVD, deselect the others. A "Merge" option is also there, allowing you to rip all or certain titles as a single file.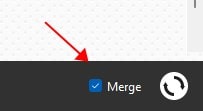 How to Rip a DVD on Windows 10 with VLC Media Player
VLC is a free app that can not only play media files and transcode them, but also rip DVD on Windows 10. It supports multi-threaded processing, helping you quickly convert large DVDs to MP4, MKV, MP3, and other formats. There are many customization options available, such as picking audio tracks and subtitles. But VLC DVD ripper can't directly rip a protected DVD in Windows, and may lead to quality loss.
Launch VLC on Windows 10, and insert the disc you expect to rip.
Click "Media" drop-down menu and choose "Convert/Save".
When the "Open Media" dialog appears, go to the "Disc" tab.
Click "Browse" to select a disc or a VIDEO_TS folder from your Windows. Click "Convert/Save" at the bottom.
Click profile drop-down list and select the format you want.
Hit "Browse" to select the destination and name the ripped file. By default, VLC will convert DVD to ISO. To digitize it to video format, you need to remove the ISO suffix from the name.
Click the "Start" button to rip an unprotected DVD.
Can VLC rip a multi-title DVD on Windows?
You can tell VLC which title to start ripping from, but it won't let you choose specific titles to rip. For instance, your DVD contains 10 titles, and you choose to rip from the 5th title, then VLC will rip the 5th to 10th titles of the DVD. To know how many titles a DVD contains and what content each title involves, you need to use the playback function of VLC.
Click "Media" > "Open Disc".
Add the DVD device to VLC. Click "Play".
Head to "Playback" > "Title" to check the title numbers and the currently playing title that belongs to which number.
After many tests, we discover a problem. We ripped a DVD with more than one title, starting with title 5. After ripping title 5, VLC continued ripping title 6, title 7... But the final ripping result only kept title 5, and all subsequent titles were covered.
How to Rip a DVD on Windows 10 Using Handbrake
Handbrake is another well-known open-source software that is often mentioned when ripping a DVD on Windows 10. It's able to detect multiple titles, and the longest main title on the DVD will be selected by default. Handbrake can't rip copy-protected DVDs itself unless the third-party library called libdvdcss provided by VideoLAN is installed. The supported output formats are limited to MP4, MKV, and some preloaded devices.
Insert a DVD, go to Handbrake, and you will see your DVD in the left panel.
Click "Open this DVD or Bluray Drive" to scan your DVD titles.
Choose your target preset and format.
If you don't want your video to be changed too much, click the "Video" tab, and make sure "Framerate" is set to "Same as source".
Browse to the folder you have made to save the output DVD videos. Click "Save".
To rip all DVD titles, you need to add your titles to queue.
Click "Start Queue" to rip files from a DVD in Windows.
How to Rip a DVD in Windows 10 via FFmpeg
In previous posts, we explained how to use FFmpeg to convert videos and rip DVDs. This time we wanted to try another command-line tool - Mencoder, since it supports more unpopular formats, but we found it more complicated to operate and the DVD ripping speed slower. So we suggest you continue to use FFmpeg to rip DVD on Windows 10. It is worth noting that neither FFmpeg nor Mencoder can rip an encrypted DVD.
Download ffmpeg from https://ffmpeg.org/download.html and install it on your Windows computer.
Place the DVD in the disc tray.
Go to command prompt.
Type the command: ffmpeg -i VTS_01_1.VOB -c:v libx264 -c:a aac output.mp4. It means converting the first VOB file on DVD to an MP4 file, using H.264 and AAC codecs. If you want to use the simplest command line, type: ffmpeg -i VTS_01_1.VOB output.mp4. To keep the original resolution, you can insert -vf "scale=your DVD resolution" into the command. In addition to ripping VOB files to video, FFmpeg can also rip ISO images, you can use the command: ffmpeg -i My_DVD.iso output.mp4.
Execute your input command and wait for FFmpeg to finish ripping a DVD on Windows 10.
Test Results
We used above 4 methods to rip DVD to computer Windows 10. The test statistics are as follows.
What DVD and format did we use?
Can Windows Media Player rip a DVD on Windows 10 or 11?
No. Windows Media Player supports burning video and audio to a DVD or CD. In turn, it can also convert CDs to audio, but it can't convert DVDs to multimedia formats. Except for Windows 10 and Windows 11, in fact, all versions of Windows Media Player do not allow ripping DVDs.
To Conclude
To successfully extract DVD content, programs must be used. Currently, online DVD ripping is not possible. 4 ways are introduced in this article on how to rip a DVD on Windows 10/11. Many individuals are familiar with VLC, Handbrake, and FFmpeg. All of them are open-source, free, and easily accessible. But none can rip a copy-protected DVD in Windows. Even if Handbrake is installed with libdvdcss, it can only decrypt CSS-protected DVDs. There are various forms of DVD encryption on the market, and Cisdem Video Converter is the perfect solution.