Looking for a porn blocker for iPhone? Here you will find a list of the best apps that block inappropriate content on iPhone.
Nowadays, iPhones and other smartphones are becoming more and more popular and accessible even for children. Some parents buy their children iPhones or give their old ones to them. Kids can also use their parents' iPhones. iPhones can help children with homework, help parents know where their children are and provide other benefits. However, this can also mean easier access to inappropriate online content such as porn websites.
Children and teens can be exposed to porn accidentally or intentionally. According to a recent survey, nearly three-quarters of teens have seen porn contents online. And the average age of first exposure to pornography is around 12 years old. Using a porn blocker can help prevent that from happening. iPhone's Screen Time offers the Limit Adult Websites option. You can also choose to use a third-party porn blocker for iOS.
The Best Porn Blocker for Mac & Windows
Block adult websites and any other inappropriate sites with password
Work with Google Chrome, Safari, Edge, etc.
Let you block websites by categories: porn, gambling, games, etc.
Allow you to block all sites except a few
Require password to quit or uninstall the blocker
Also lock any apps with password
Offer Schedule feature to block website or lock apps at certain times
Help protect kids from porn
Help adults quit porn addiction
Help limit and control screen time
Available for Mac and Windows PC

Free Download
macOS 10.12 or later

Free Download
Windows 11/10/8/7
Block porn websites on iPhone with Screen Time
Before considering using a third-party porn blocker for iPhone, you can check out iPhone's built-in solution to block access to adult content. Coming with iPhone's Screen Time, it's called Limit Adult Websites. The instructions below will walk you through the entire process.
On your child's iPhone (or your own one), tap Settings and choose Screen Time.
Turn on Screen Time, if it's not already on.
Tap Use Screen Time Passcode. Set a passcode.
Tap Content & Privacy Restrictions and enable it.
Choose Content Restrictions > Web Content > Limit Adult Websites.
Now this iPhone will automatically limit access to many adult websites. If you think it's not enough, you can also add specific porn websites to block. To do this, tap Add Website under NEVER ALLOW. To unblock a specific website that you've added, under the NEVER ALLOW section, slide the website to the left and tap Delete.
Alternatively, you can also choose to enable Allowed Websites Only, which lets you block all websites except the few that you allow your child to visit.
Tip: Set up Restrictions on iOS 11 and earlier
Apple provides Screen Time only for iOS 12 and later. If you still use iPhone old versions, don't worry. There's an alternative on iPhone running iOS 11 and earlier, it's a built-in feature similar to Screen Time called Restrictions. Can't find Restrictions on your iPhone? Follow the steps to set up Restrictions on your iPhone:
Tap Settings on iPhone.
Choose General > Restrictions.
Tap Enable Restrictions and set a passcode for it.
Under the ALLOWED CONTENT section, tap Websites.
Tap Limit Adult Content.
Regardless of the iOS version used, this built-in solution is also available for adult content blocking. If you think that the Restrictions settings are not effective enough, you can consider third-party porn blocker for iPhone.
The best apps that block inappropriate content on iPhone-2023 update
#1 Porn Block Plus
-A Safari extension to block porn sites and explicit content.
Developer: Anish Modan
Price: $ 9.99/month
Compatibility: iOS 13.0 or later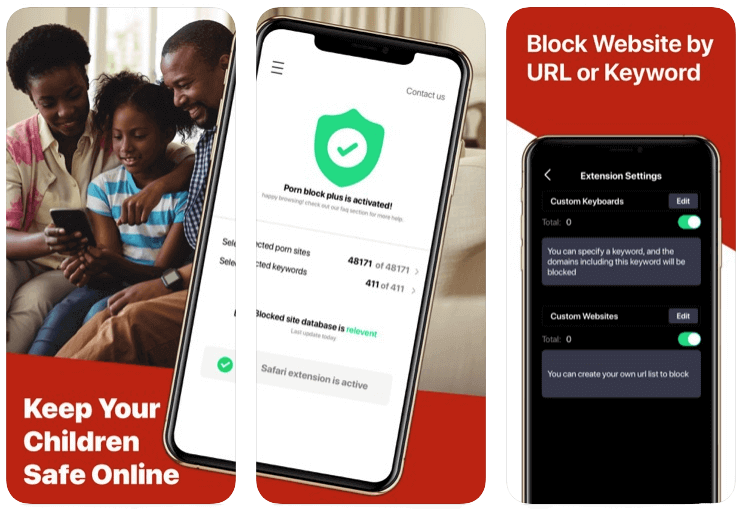 There are iOS apps that are dedicated to providing a healthier Internet experience for both kids and adults by blocking dirty websites and other inappropriate online content. Porn Block Plus is one of them.
Available as an extension for Safari, it's easy to use and customize. It can automatically block porn (and other explicit) websites, webpages, images and even links containing such content. Some users report that many porn blockers will block normal search terms mistakenly. Fortunately, Porn Blocker Plus added new WHITELIST recently. It allows users to submit websites and keywords that are wrongly blocked. After approved, they would be unblocked. In addition, you can also create a custom blacklist of keywords and websites in Extension Settings.
This porn blocker's Password Protection feature makes sure that kids and anyone else can't easily bypass the blocking or change your settings. As the blocker only works in Safari, it's recommended to remove other web browsers (if any) from iPhone, which will make the blocking more effective.
#2 Shield Porn Blocker
-Block explicit images and other potential sources for porn on Safari.
Developer: Jonathan Arnold
Price: $ 2.99/month
Compatibility: iOS 13.0 or later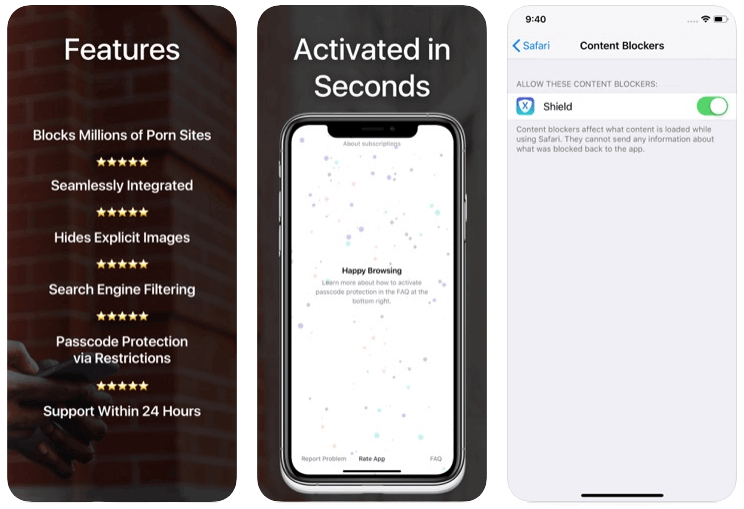 Once you successfully install this iPhone porn blocker in Safari on your iPhone, it will start automatically blocking access to porn websites, certain normal websites that may sometimes display mature-related content. In addition to blocking individually adult websites, it can also hide explicit images. It also automatically blocks certain search terms on various search engines, which can also help stop porn. But some users report that this porn blocker iPhone being too effective on blocking porn. Some content that isn't explicit is blocked. That causes some problem under normal use.
Shield Porn Blocker for iPhone doesn't provide a feature for you to add a password. But it's possible and easy to add password protection to it by using the Screen Time on iPhone.
#3 BlockSite
-A well-known porn blocker app that works on Safari, Chrome, Opera, etc.
Developer: SystemBase Ltd
Price: Free with in-app purchases
Compatibility: iOS 14.0 or later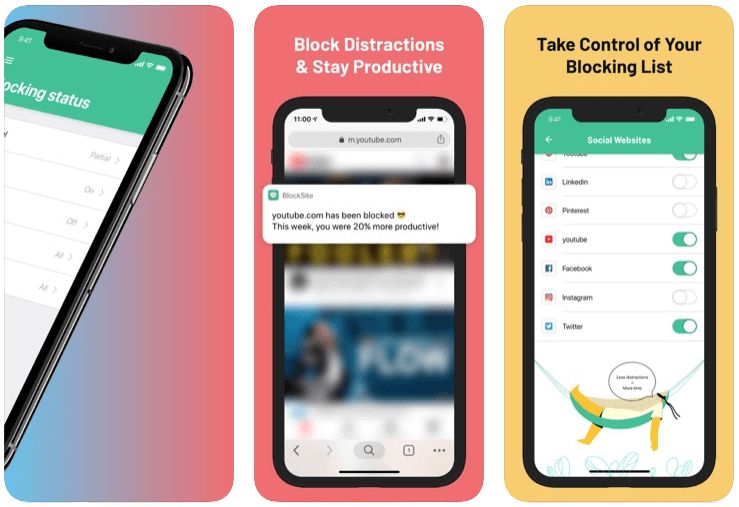 BlockSite is a relatively well-known app to block distracting websites and improve productivity. As a matter of fact, it also enables users to block porn on iPhone with one click.
It can block websites by category such as Adult, Gambling and more. To make adult websites inaccessible, just switch the status to On for the Adult category. You can also manually add any specific websites to block. The Groups feature lets you create custom block lists that include URLs, keywords and categories. Then perform this block according to your customized schedule.
The blocking will be applied to web browsers such as Safari, Chrome, Opera, etc.
#4 Purge
-Let you get safe results on Google and Bing Search, as well as YouTube.
Developer: J C L TRAVELS INC
Price: $ 1.99/month
Compatibility: iOS 11.0 or later
Purge-Porn Blocker & Safe DNS is an app designed for providing safe search results for text, images and videos, especially to protect children from inappropriate porn contents. It protects you and your family's privacy and safety using DNS servers, which will not slow down the speed of your browsers.
After installing it, you and you family won't be exposed to adult contents of any kind. To prevent your child from deleting the app, you can take advantage of the iOS restrictions settings.
The only downside is that after you use this porn blocker for a few hours, it will completely block the Internet. You need to upgrade to the pro version.
#5 WebProtectMe Safe Browser
-The best parental control browser with built-in porn filters and web filters.
Developer: DigiTar
Price: Free trial with in-app purchases
Compatibility: iOS 12.0 or later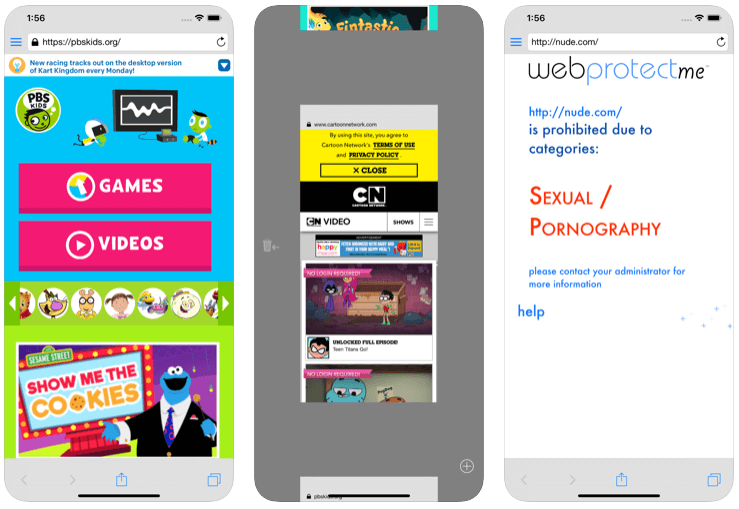 For iPhone users, safe browsers like WebProtectMe are another common type of porn blockers. Its features and benefits are only available when users use this very browser to surf the web. So it's recommended to set it as the default browser on your device. And WebProtectMe actually provides instructions in its app to show you how to set it.
It provides over 50 predefined categories of websites for you to mass block with one click.
Sexual/Pornography
Nudity
Vulgar or Obscene Language
And more...
Parents can use it to effortlessly stop access to porn and various types of other inappropriate websites. Also, it lets you create your own blacklists and whitelists, which offers much flexibility.
As you may know, Google Search provides a feature called SafeSearch to prevent mature and offensive content from appearing in the search results. In the same spirit, this safe browser applies strict safe search on all popular search engines.
Here's another great thing about this web content filter and blocker. You can set customized levels of protection for your family members. For example, younger kids may require higher levels of protection.
By the way, it can also recognize and block potentially malicious websites and make the Internet safer to surf.
#6 SPIN Safe Browser
-A free web browser designed to auto-block inappropriate content on your phones.
Developer: National Education Technologies Inc.
Price: Free
Compatibility: iOS 13.0 or later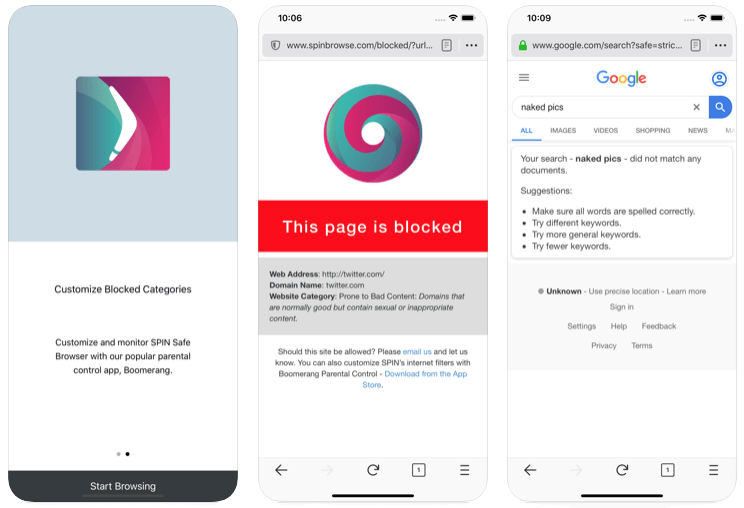 Suppose that a kid is doing a web search or image search but is misspelling the search word. The search ends up leading to very inappropriate search results containing porn websites and explicit images. It'd be horrible. How to prevent this? SPIN Safe Browser uses Strict Safe Search filters to effectively help block inappropriate content on common search engines like Google and Bing.
It can also automatically identify and block access to various kinds of inappropriate websites such as porn, nudity and gambling. By getting Boomerang Parental Control (which is from the same developer), you are able to customize categories and add specific websites to block. This parental control app also offers other benefits.
To make the filtering more effective, you'd better change the default web browser on your child's iPhone from Safari to one of these porn blocker browsers (device with iOS 14 or later supports changing the default browser). Then when your child tries to access certain links from other apps, they won't be open if the links are inappropriate.
Tips
How to block inappropriate YouTube videos on iPhone
Thanks to these porn blockers, parents can effortlessly make Internet safer for children by blocking bad websites. YouTube is definitely not one of them. YouTube is a great place for kids to watch cartoons and educational videos. However, there is also some content that you don't want your kids to see.
The good news is that this situation can be improved by enabling the Restricted Mode in YouTube app for iPhone. There are official instructions on it along with a video guide.
When it comes to the YouTube website rather than app, the above-mentioned WebProtectMe browser can help. It uses advanced technology to apply controls and block content on YouTube website.
How to filter explicit result on Chrome by enabling SafeSearch
If Chrome is a frequently used browser on your child's mobile, you can follow this easy tip to block explicit content from Google search result. By doing so, you can make it safer for children to surf on Internet.
1. Go to the Google browser on your child's iPhone or yours. Log in Google account.
2. Tap the profile picture on the top right.
3. Go to Settings > Hide explicit results.
4. Turn on Explicit result filter.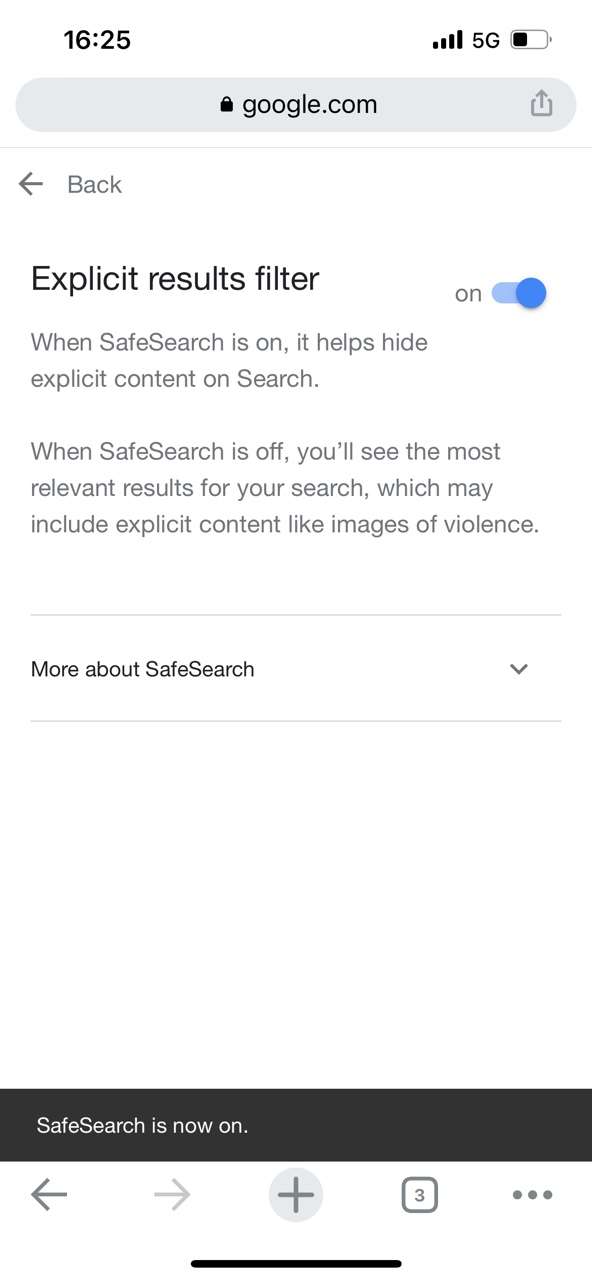 After that, Google SafeSearch will start working. Help you filter explicit content on Chrome. Note that it only block pornography, violence, and gore on Google search result. If the user use other search engines or go to porn site directly, it won't work.
Conclusion
This article lists the best tools available to block porn on iPhone as well as iPad and provides a brief review for each. I hope it will help you pick the porn blocker for iPhone that best suits your situation. Such tools constantly updates their blacklists by adding newly found inappropriate websites and also encourage users to report such website to them. If a tool's blacklist mode is not enough sometimes especially for young kids, you can use the whitelist mode.