Faced with iTunes error 4009 while try to update or restore your iPhone, iPad, or iPod touch? In this article, we have jotted down some tricks that have worked in resolving the iTunes or iPhone error 4009. Give them a chance to get rid of the "iPhone could not be restored error 4005" on your device as well.
*Note: This guide could also be useful to fix the following errors in addition to Error 4009: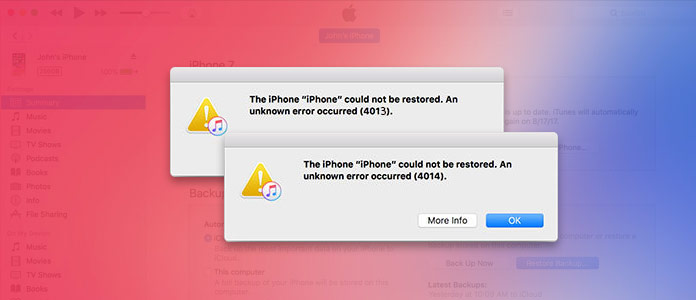 The iPhone [device name] could not be restored. An unknown error occurred (9).
The iPhone [device name] could not be restored. An unknown error occurred (4005).
The iPhone [device name] could not be restored. An unknown error occurred (4013).
The iPhone [device name] could not be restored. An unknown error occurred (4014).
How to Fix iPhone Restore Error 4005 - Preparation
Before you start fixing the iTunes error 4005 issue, remember to check the following items:
1. Back Up Before You Try Anything - It's advised that you do an iTunes backup and an iPod/iPhone backup before you try any fixes.
2. Your iPhone has 1GB or more space.
3. Your iPhone is fully charged.
4. You have installed the latest version of iTunes.
5. You have a original Apple certified USB cable.

iTunes Error 4005 Causes, Symptoms, and Common Cases

Before we get to the solutions, let's first understand exactly what iPhone error 4005 is exactly and what might be causing it.

Now let's see what the causes of iTunes error 4005/4014/4013:
iTunes Error 4005 is a very common error for iOS devices, and it could crop up due to more than one reasons. Usually it occurs when updating or restoring your iDevice via iTunes. And
1. Some security software package interfering with your restore.
2. There are some iOS system problems on your iDevice.
3. Incomplete iTunes download or installation.
4. iCloud backup may have not been properly disabled, which leads to its inability to restore.
5. You are running an outdated iTunes version or computer operating system.
6. Problem on USB connections.
7. iOS or iTunes-related program files are corrupt or not working.
8. There may be a Virus or malware infection.
9. Another program maliciously or mistakenly deleted iTunes-related files.
10. In the process of the jailbreak or system update/downgrade, the iPhone may also show the error 4005 of the phenomenon. and many other reasons could be happening behind the occurrence of this error.
Symptoms of error 4005
However, before you get iTunes Error 4005, you will see signs and symptoms that could lead to this problem.
1. "Error 4005" appears and crashes the active program window.
2. "The iPhone [device name] could not be restored" is displayed.
3. Windows runs sluggishly and responds slowly to mouse or keyboard input.
4. Your computer periodically "freezes" for a few seconds at a time.
How To Fix iTunes Error 4005
Since there could be a lot of possible reasons that will trigger iTunes Error 4005 to your iPhone, Lots of different possible solutions may come of help! We hope that something in what follows below proves to be useful to you.
iPhone error 4005 solution 1. Check or change the battery of your iPhone
Before restore or upgrade your iPhone, please ensure that the battery on your device is no less than 60%. A low battery may leads to iTunes error 4005. So, make sure your iOS device has enough power. If your have problem on battery, we recommend you to replace with a original battery.
iPhone error 4005 solution 2. Restart iPhone and computer
This basic troubleshooting is popular among almost all mobile issues. Restarting will help refresh the iOS device and its operating system. Some users reported having fixed iTunes Error 4005 by simply force restarting their devices. So you can try to force restart your iPhone, iPad, iPod touch to see if it can fix the iPhone error 4005 or iTunes error 4005 or not.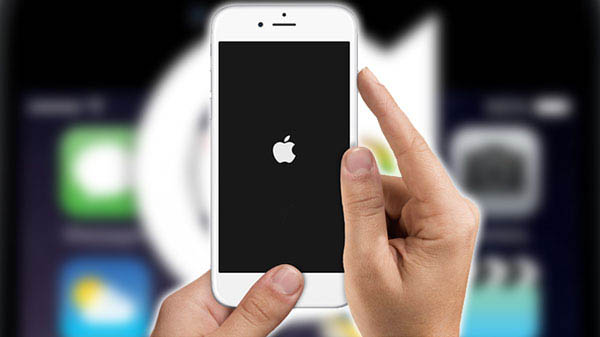 To force restart your iPhone
On an iPhone X, iPhone 8, or iPhone 8 Plus: Press and quickly release the Volume Up button. Press and quickly release the Volume Down button. Then, press and hold the Side button until you see the Apple logo.
On an iPhone 7 and earlier, Press and hold both the Sleep/Wake and Home buttons for 10 seconds, until you see the Apple logo appears
iPhone error 4005 solution 3. Check the USB connection
Sometimes iTunes error 4005 may appears just because problem of the USB cable or the USB port of computer. you can try using a different USB cable or use the original USB cable from Apple. If this will fail then think about other advanced methods to fix iTunes Error 4005.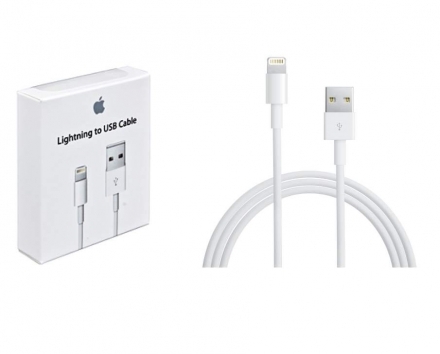 iPhone error 4005 solution 4. Fix iTunes error 4005 without data loss (Recommended)
Before trying every means you could think of, here is a kind suggestion that everybody should follow. Rescue data and files on your iPhone when it ran into error 4005 and could not restore it to normal.
To fix iTunes error 4005 and at the same time without data loss, or if you have something urgent you want to take off from you dead iPhone. You can use a iPhone Data Recovery software. The tool will help you fix with various iOS system issues like stuck in recovery mode, white Apple logo, black screen, looping on start, etc. It works all models of iPhone, iPad and iPod touch.

Free Download
Steps to fix iTunes error 4005 with iPhone Data Recovery
1. First of all, please download, install and run iPhone Data Recovery on your computer.
2. Now connect your iPhone to the computer. when the phone has been detected, it will list the current device name, device type and iOS version. Just click 'Start' to continue.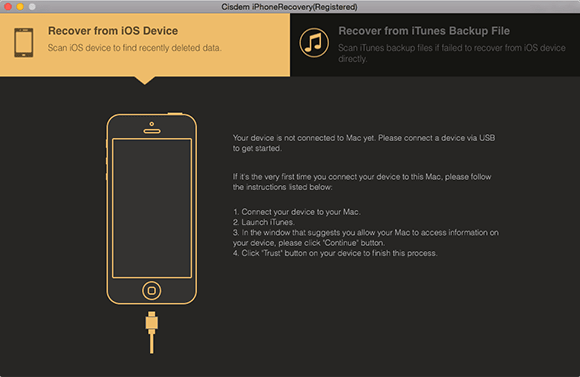 3. iPhone Recovery will starts to scan the whole files of your iPhone. After scanning, you can see all extracted files, and categorize it by file types.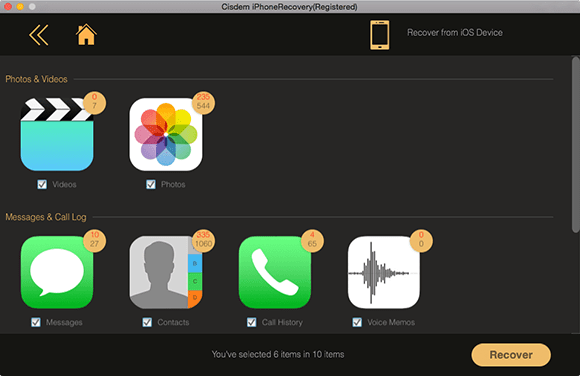 4. Find and preview all the files one by one by, and then select the files you want to retrieve and click "Recover" to export and save them on your PC.
After a few minutes, the iPhone device is now back to normal and had been updated as well. The best part is, no data was lost during the entire process. Everything is kept perfectly inside your device. Why not try it for free?

Free Download
iPhone error 4005 solution 5. Update the computer OS
Another factor to consider in troubleshooting iTunes Error 4005 is your computer's Operating System. An out of date OS is probably one of the most common causes for all the problems. Check and update your computer system as the following:
For Mac users, you can click Apple Menu and go to Apple Store to check if there are available updates.
For Windows user, you can directly click on "Start", then tap on "All Programs" and choose "Windows update".
iPhone error 4005 solution 6. Replace proximity sensor flex cable
Try to replace the Replace Proximity Sensor flex to fix Error 4005. If you still get a error 4005, try to replace the front camera flex cable also.
iPhone error 4005 solution 7. Restore without a LCD
Disconnect the display from your device completely, connect to iTunes and try to restore it. If you have hardware problem in the display, this will bypass the problem. Follow the videos to do so.
[https://www.youtube.com/watch?v=t6O-bGY\_1dM&vl=en]
iPhone error 4005 solution 8. Remove compass IC
The compass chip can be the main problem you getting iTunes error 4005. Try to remove the Compass iC to get rid of this issue. We must to note that you need to have a technical skills to do this method.
iPhone error 4005 solution 9. Disable your Antivirus software temporarily
Antivirus programs could create connection or software conflict with iTunes. To make sure whether the antivirus software is the main reasons for iTunes error 4005, please navigate to turn off them for a few minutes.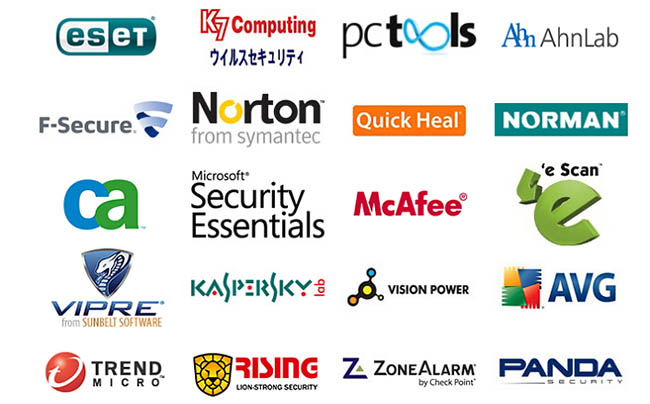 iPhone error 4005 solution 10. Update iTunes to the latest version
Older versions of iTunes are prone to leads conflict between hardware and software handling and sometimes cause iTunes Error 4005. In this case, Installing latest version of iTunes will fix the unknown error 4005. It's effortless and do well occasionally.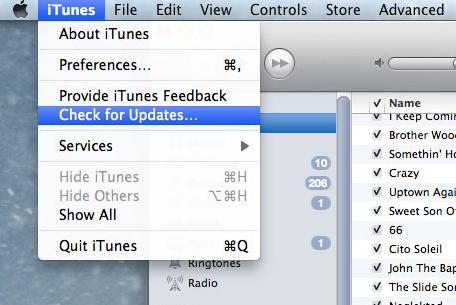 To update iTunes on Mac
1. Open iTunes on Mac computer
2. Click iTunes from the top main screen menu bar
3. Click Check for Updates among the drop down choices.
To Update iTunes on Windows
1. Open iTunes on Windows 10
2. Click Help from the menu bar on top of the screen
3. Scroll down and look for Check for Updates
4. Follow the onscreen guide on how to download and install the latest iTunes version
iPhone error 4005 solution 11. Restore iOS device in DFU mode
Sometimes, put your iOS device into the recovery mode may get everything going again and it can fix the iTunes Error 4005 in most of the cases. but this method will delete the entire settings, apps, and contents of the device, you'll take a risk of losing everything. So please make a backup of your iPhone before doing this.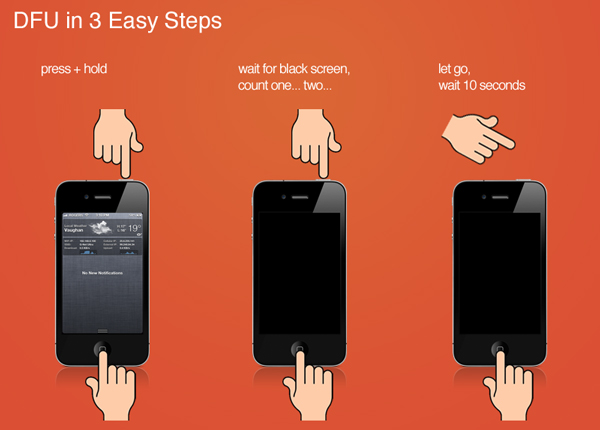 1. Run iTunes and connect your iPhone to computer with a USB cable.
2. Turn off your device.
3. Press and hold down the On/Off button for about 3 seconds.
4. keep holding Home and hold Power for 10 seconds.
5. Now release Power, but keep holding button for 5 seconds.
6. If the screen stays black, the iPhone should now be in DFU mode.
iTunes will detect your iPhone in Recovery mode. Now you can start the restore process.

The Bottom Line
That's all for how to fix iTunes error 4005. Usually, these methods would totally heal the Error 4005 issue on iTunes. However, some of these methods are complex and may cause data loss, and the error 4005 problem may persist. It is suggested that you try the solution described above in Part One, using dr.fone to solve the problem permanently, easily and safely.
in case the problem still persists it's suggested that the Apple device is taken to an Apple service center immediately. If you have any comments, any questions, any advice you want to share, we would be very happy to hear from you.