Given the frequent transmission of PDF files at work and daily life, compressing file size has become an essential step for PDF files, especially for files containing many high-definition images. Compression doesn't only make your files compatible for sending, it also helps with storage optimization. It means you will get more data space, both for local devices and cloud.
Want to compress PDF to 1 MB or less? To 500 KB, 300 KB, even to 100 KB? Now, read this post to learn 7 PDF compressors. Whether it's online, offline, free, paid, or built-in tools, you will find them all here.
Compress PDF File Size to 1MB or Less
Compress PDF by 50% without losing quality
Preset file size to small, medium, large, or other modes
Batch compress multiple files at once
Customize compression level according to your needs
Excellent compression speed, intuitive user interface and high compatibility

Free Download

Free Download
Compress PDF to 1 MB or Smaller Size Without Losing Quality on Windows & Mac
At the beginning of the tutorial, let Cisdem PDF Compressor give you a hand. Since 2014, it has been known as outstanding and professional PDF software to compress PDF file size below 1 MB. When it comes to the degree of compression, you can customize it or choose the appropriate mode. Compressing files to 1 MB, 500 KB, 300 KB, or even 100 KB is no problem.
In the compress setting, you can find 4 personalized modes: small file size (high compression, low quality), medium file size (medium compression, medium quality), large file size (low compression, high quality) and custom mode. Cisdem PDF Compressor will do its best to reduce file size to the smallest, saving more space for your computer devices and cloud drives.
What are the system requirements to install Cisdem PDF Compressor?
512MB physical RAM (memory) or more
50MB free space or more for installation
Windows 11 and earlier, macOS 13 and earlier
How to Compress PDF to 1 MB or Less Easily on Windows and Mac?
Free download the best offline PDF compressor — Cisdem PDF Compressor.
Free Download Free Download
Drag and drop all the PDF files to the interface.

Select all the PDF files and adjust the compress setting as you need.
Set your output folder and click the Compress button to compress the file size below 1 MB.
Notes for you:
Cisdem PDF Compressor supports compress scanned documents and password-locked PDF files. Permissions-password-protected PDF can be compressed without entering password, but open-password-locked PDF requires the correct password.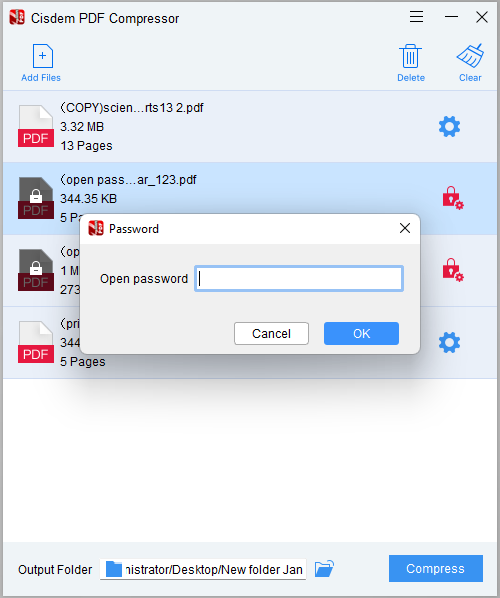 Compress PDF to 1 MB with Adobe Acrobat's Optimizer
Adobe Acrobat Pro can provide everything you need to work with your PDF files. This highly convenient PDF program is accessible to everyone either on Windows PC and Mac PC or even on the browser for free. Some users say it has a complicated learning curve and is not newbie friendly. In fact, Acrobat's rich tools, multiple ways to open tools and advanced property options are extremely useful for office workers or professionals.
Follow the Steps to Compress PDF to 1 MB in Adobe?
Import a PDF file that you want to compress from your device or cloud.
Go to File > Save as Other > Reduced Size PDF...
Set the Acrobat Version Compatibility to greatly reduce the file size. Need to compress PDF to 1 MB in bulk, then click "Apply to Multiple Files".
Click on OK to start compressing your PDF to 1 MB.
Tips:
We all know that there is more than one way to open tools in adobe, you can open them from the menu bar, you can operate at the thumbnails, or you can go in from the toolbar. So, let's add here that you can open the compression tool directly from tool > Optimize PDF.
Can We Compress PDF to 1 MB Free Online?
Maybe after understanding the above desktop software, you still want to know about free tools that don't need to be downloaded. If you are desperate for help with a compression tool, just use an online PDF compressor. There are various PDF-related online websites supports compressing PDF to 1 MB or smaller file size for you. We pick DocuPUB and iLovePDF here, they are worth a try.
#1 DocuPub
DocuPub is one of the intelligent websites that allows you to convert files, compress PDF, combine PDF files into one and resize/scale PDF. The most attractive part is the rich and advanced settings, including image settings, discard objects and misc. settings. The fly in the ointment is that it can only compress one file at a time.
How to Compress PDF to 1 MB Free Online?
Go to docuPUB and click Compress PDF on toolbar.
Select a file to compress. (Upload limit: 50 MB)
Preset the compression mode, compatibility, and other advanced settings.
Click the Upload & Compress button to directly download the compressed PDF onto your hard drive.
#2 iLovePDF
It's easy to find its prominent name on the first page Google Search. It provides multiple PDF solutions on web, desktop and even mobile. The compression tool in iLovePDF online offers three modes to reduce file size: extreme compression (less quality, high compression), recommended compression (good quality, good compression) and less compression (high quality, less compression).
We tested a 2.1 MB file and it was able to reduce its size by 57% in extreme compression mode. Try it with us if you are interested in this free online PDF compressor:
Navigate iLovePDF and choose Compress PDF in the tool list.
Upload PDF files by clicking "Select PDF file", you can process 2 files for free.
Choose the compression level on the right pane: extreme compression, recommended compression and less compression.
Press on the Compress PDF to get the smaller size PDF.
Can We Compress PDF to 1 MB Free Offline?
We can also find offline freeware, some of which are already built into your computer, waiting for you to discover its more useful functions related to PDF. Here we have found easy solutions to compress PDF to 1 MB for Mac and Windows users respectively.
For Mac:
Preview has become a tool that most Apple users can't live without every day. This is not only an image processor, but also a file compressor. The Mac-only desktop app provides many popular tools you need to work with PDF files without paying. It covers different services like compressing PDF, rearranging pages, adding text to PDF, inserting watermark, adding bookmark, converting PDF, and annotating PDF.
How to Compress PDF File Size to 1 MB on Mac For Free?
Right-click your PDF and open with Preview.
Go to File > Export.
In the drop-down menu of Quartz Filter, choose Reduce File Size.
Finally, click on the Save button.
For Windows:
#1 Microsoft Word
Some Microsoft users may know that MS Word can successfully open and edit PDF files, but I guess few people know that it can also optimize the file size when saving the file. If you have downloaded and installed Microsoft Word on your PC, open your PDF with it and start optimization now.
How to Compress PDF to 1 MB on Windows with MS Word?
Open a PDF with Microsoft Word. Then a message will appear to the interface to notice you that the PDF will be converted to an editable Word document, click OK.
Go to File > Export > Create PDF/XPS Document.
Set the output type as PDF and change the file name. Then in the "Optimize for" options, choose Minimize size (publishing online).
Finally, press on the Publish button to save your compressed PDF file.
#2 PDFZilla PDF Compressor
We have also found software for Windows users that specializes in reducing the file size and supports batch compression. There are 4 modes for text PDF file: best quality, high quality, standard, and smallest file size. What's more, if your PDF documents is protected by password, this utility can automatically remove this restriction.
Features:
Shrink & Reduce PDF File Size
Compress both scanned PDF & text PDF to 1 MB
Remove restriction of protected file
4 compression modes for text PDF
High compression ratio
Support batch compression
How to Compress PDF File Size to 1 MB in Batch with 3 Steps?
Run PDF Compressor on your Windows and click Add to upload PDF files.
You can choose the PDF Type, change the Compress Quality slider, select the output path in the Preferences bar.
Click the Start button to start compressing your PDF files in batch.
Attention: The free version will add a watermark, so if you mind that and don't want to subscribe to it, you will find a better utility in other parts.
Need Compress PDF to 1 MB Often? Pick Cisdem
You have got plenty of choices for compressing PDF to 1 MB or less. Trust me, it's necessary to get a compressor on your desktop. Taking all the pros and cons into consideration, you can start compression with Cisdem PDF Compresor. It's a premium application that provides all users access to a 14-day free trial. Enjoy powerful yet simple-to-use PDF compressor by Cisdem!