Find one contact among different Internet accounts will be an annoying thing, especially only know little information of the contact. Supposed that you can edit and manage all your contacts from different place like Google, Facebook, and Gmail etc. at one place with the best contact manager.
Today, Cisdem announced that the ContactsMate 4 released with all new features. This mac contact management software with new support for importing and syncing contacts with Internet accounts and other great features. What's more, to celebrate the new version of ContactsMate, Cisdem provides $10 discount from June 26th to July 5th.
"More convenient and strong features with our new version of ContactsMate, it not only supports to scan the conflicted contacts, but can integrate all the contacts of your Internet account, it helps save much time on managing them. You will fall in love with them", said Edward L. Riley, Cisdem Project Manager.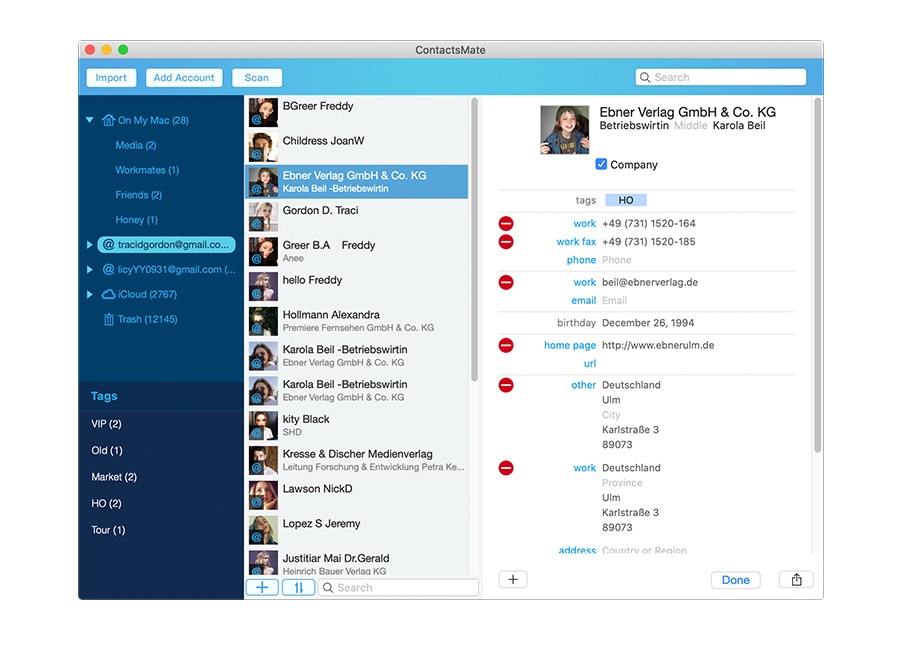 New Features in Version 4.0.0
1. Sync contacts with Internet account
Add Internet account to sync the contacts from Google, iCloud, exchange, Facebook, LinkedIn, etc to contact management software. No need to export or import contacts in advance. Cisdem contacts manager software helps you manage all of your contacts from different Internet account, just use the sync feature to update contacts within 3 steps.
2. Import contacts
Except exporting and adding contacts through account contacts, it also supports to import contacts files (.csv, vCard, etc) to this contacts manager.
3. Add tags to contacts
Sub-categorize contacts with tags to find and organize contacts easier.
4. Share contacts
Support to share the specific contact to the social media, such as the Mail, Facebook, etc.
5. Print contacts
Choose to print group or specific contacts to use and restore handy.
6. Quickly message, call, Facetime video, and email friends by clicking the icon at menu bar, no need to open the main interface again.
7. More intellective preferences
* Choose what item needs to be exported in export field
* Backup to restore contacts in case of wrong operation with contacts
Above are the new features of this best contact manager of this version. And Cisdem also keeps enhancing other main features.
Other Main Features
Edit, delete, add, and update contacts at one place.
Scan to find and delete conflicted contacts and provide solution of fix them.
Group contacts according to the sources, interest, etc.
Use prefix and suffix to filter conflict contacts.
Quickly add, search, and open contacts with the shortcut at menu bar.
Setting the conflict situation then scan the specific conflicts quickly.
Export contact to .csv, excel, and vCard. Support to export all the contacts, one kind of contacts, single contact, and specific contacts.
Price and Availability
Cisdem ContactsMate 4.0.0 for Mac is currently available from the Cisdem official website. From June 26th to July 5th, there is $10 discount for the new version, you can get a single license with $19.99 (Reg. Price $29.99), and free update the latest version all the time. A free trail version can also be downloaded. To get more information about this best contact manager for mac, you can visit https://www.cisdem.com/contact-manager-mac.html.
About Cisdem
Cisdem provides productivity and business software that helps Mac users to get their job done faster. The products include top rated software centered on Utility Tools – data recovery, contacts manager, duplicate finder, PDF Management, and File Management. The company is dedicated in building highly efficient Mac software that make life easier and processes simpler. More detail information about Cisdem at https://www.cisdem.com/.

Megan Charles


Megan has an impressive deal of experience with Mac software and has the ability to explain tech stuff in a simplified, straightforward and easy to understand way.