Apple won't release its next-generation iPhone until the fall of 2016, so there are still months of development ahead. From January of 2016, the rumors about the device started trickling out. We have already gathered many details about the upcoming iPhone, here is for you.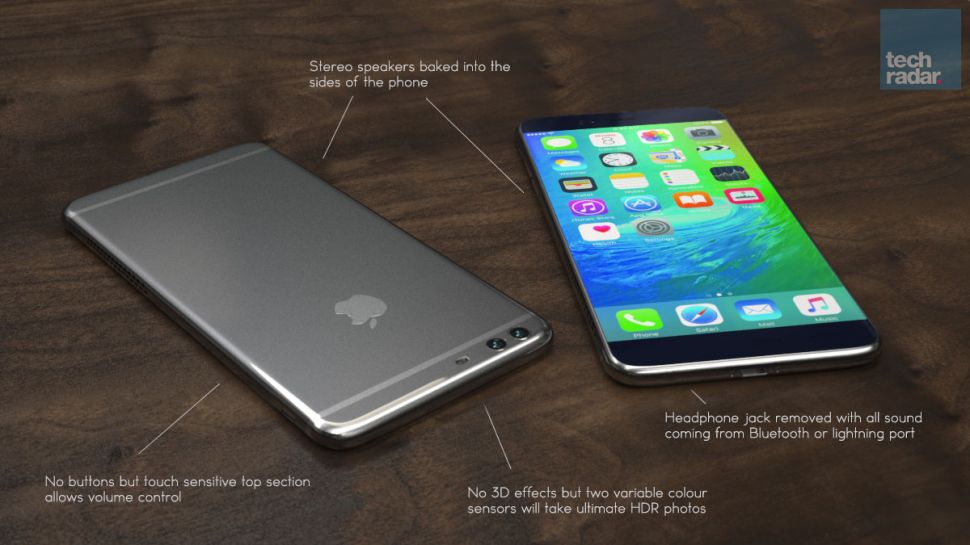 iPhone 7 Release Date
If we were betting folk, we'd bet the house on the fact the iPhone 7 will launch in September 2016. Apple never losses its schedule and the last few iPhones have all been launched in the month of September. According some 'reliable source' Apple might actually bring it to market earlier. Sadly, how much earlier is unclear. We would't expect to see it before September for iOS 10 is coming at that time.
iPhone 7 Price
The iPhone cost rarely varies from year to year. That means the iPhone 7 price will be around US $649, but here's the good news: for that money you'll apparently get 32 GB of storage rather than 16 GB. At the top end it will be more expensive than the US $849 iPhone 6S 128 GB, but you'll apparently get 256GB of storage.
iPhone 7 New Design
Apple always has its own trends. If this time he still follows its own steps, the iPhone 7 should come with an entirely new design. At present, as we have known the next iPhone will be water-resistant, feature liquid metal, and eliminate antenna lines. There are also rumors that it could sport a smart connector, a larger camera lens, ditch the 3.5 mm headphone jack and be thinner with 32 GB the minimum storage choice.
Slimmer Model: The model seems to be slimmer than the 7.1mm-thick iPhone 6S. As Ming-Chi Kuo of KGI Securities reckons it'll drop to between 6mm and 6.5 mm. That sounds unnecessarily slim to us, especially as it could cause the battery life to take a hit.
Water-resistant: According to a supply chain source, Apple screen supplier Japan Display has come up with a new technology called "Pixel Eyes", that is now in its second generation and makes it easier to use the screen while you have wet fingers. So there means a water and dust-resistant phone on the way. What is more, there are another rumor Apple will opt for a slimmer phone rather than a water proof iPhone 7. So at present it can't be sure whether there is waterproof phone.
No more camera bump or antenna bands: A design tweak rumor which will likely please many is that Apple will give up the camera bump which has been present since the iPhone 6/6 Plus - with the firm going for a sleeker finish on the iPhone 7. As well as being totally flat the back could also be uninterrupted, as the same report points towards the removal of the antenna bands. As some image leak which picked up by Nowhereelse.fr showing the iPhone 7 to have no antenna bands and a larger camera.
The same shape as iPhone 6S: As the rumors said the size and shape of the iPhone 7 may not change much. According to image of dimensions shows it as being the same length and width as the iPhone 6S, as well as having similarly curved corners. There are two separate leaked of the back panel have emerged to help corroborate these claim. The first is MobilPicker which shows the iPhone 7 in gold with a rounded design, and antenna lines at the top and bottom and a new camera module, which could be a laser autofocus. However, the newer image tells the alleged back of the iPhone 7 itself. It looks like it could have been manipulated, but with most design rumors lining up it could still be close to the truth.
iPhone 7 No Headphone Jack: Apple could leave the headphone jack in place on both the iPhone 7 or 7 Plus rendering rumors fully wrong, or remove it on just the iPhone 7 Plus, leaving it intact on the iPhone 7. The component does not mesh with multiple rumors pointing towards the removal of the headphone jack, so it should be viewed with some skepticism until confirmed as an actual part.
A larger battery of iPhone 7: iPhone 7 lists a capacity of 7.04 watt-hours. That's slightly larger than the equivalent battery capacity listed for the iPhone 6s (6.6.1 watt-hours) and almost identical to the iPhone 6 (7.01 watt-hours). Voltage is not visible on the alleged iPhone 7 battery, so the exact charge capacity is not yet available, but should be similar to the iPhone 6 battery.

Connie has been writing for Mac productivity and utility apps since 2009. Each review and solution is based on her practical tests, she is aways energetic and trustworthy in this field.