Fantastic news! Our popular Cisdem AppCrypt for Mac app blocker turns to version 3. Now Cisdem AppCrypt not only simply protects your Apps, but also contains most of the improvements like setting specific encryption time periods for some applications, adding kind alerts to remind your kids outoff app, automatically setting passwords to some crucial system applications, and we hope you will be pleased with the result.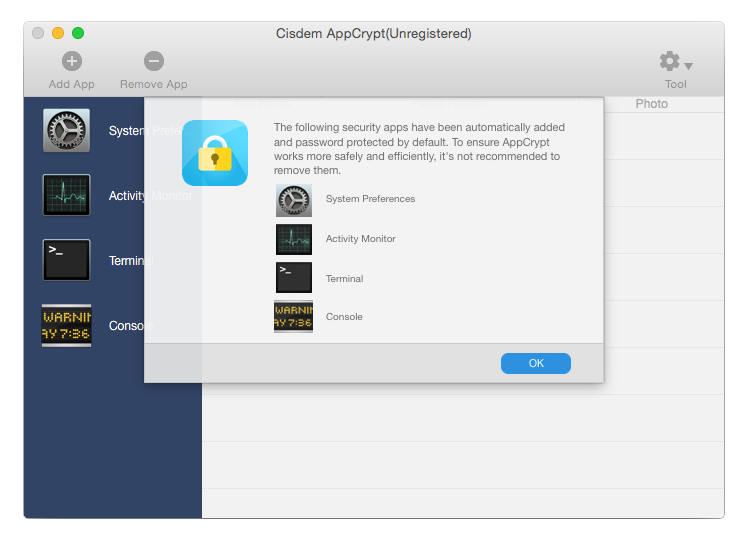 What's new in AppCrypt 3.0.0 for Mac?
Set specific encryption time periods for some applications. Users can designate a period of time during which authorized users can access applications when they're in public places or sharing Mac with their kids, co-workers, friends, etc.
Intelligently terminate the programs that aren't currently running in frontmost when your display goes sleep.
Automatically set passwords to some crucial system applications like Activity Monitor, System Preferences, Console.
Add kind alerts to remind users to remember their passwords when setting.
Besides, improved operational performance and stability in the following aspects:
Block Mac apps with one password, including Contacts, Quicken, iPhoto, iTunes, Safari, Mail, etc.
Keep tracks of failed attempts to access the blocked apps with date, time, and optional photo.
Set shortcuts to hide or reveal the app from menu bar.
Work as a background process and does not modify any system or application files.
Please note, that all users who have purchased Cisdem AppCrypt and keycode is still availabe to this latest version. For new users - We have a special offer for you - you can purchase with 50% discount.
Try Cisdem AppCrypt now!!!

Peter has always had great enthusiasm for writing, programming and web development. He likes writing about software and technology, his works are featured on some tech blogs or forums like Tom's Hardware, CNET, etc.