Less than a week ago Apple unveiled its new MacBook Pro line-up, with the focus of its "Hello Again" event centering on the OLED Touch Bar that replaces the function keys on the company's 13-inch and 15-inch flagship models.
Initial media reaction to Apple's event was positive, and most journalists in attendance were impressed after their limited hands-on time with the new machines. Over the weekend, however, there are some negative sentiment toward Apple last week's event as the Loop and Daring Fireball post says. And the criticisms is more and more.
Whether the MacBook Pro is worth to buy, I roundup some latest MacBook Pro reviews for you and hope it can help you.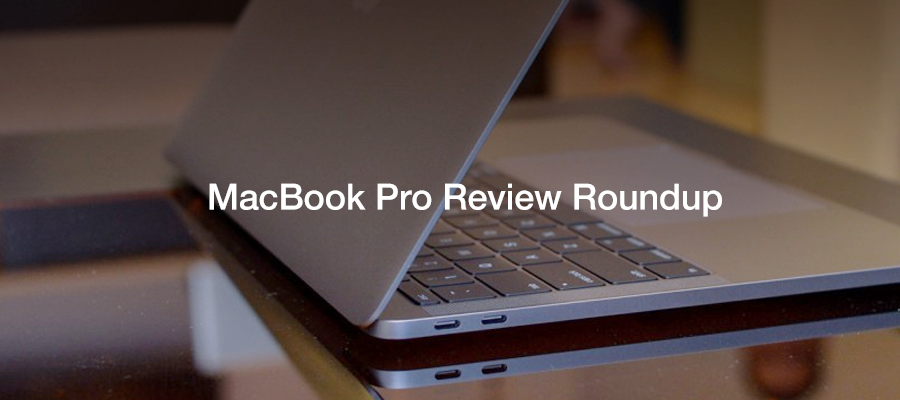 Ars Technica says: The 2016 MacBook Pro is good but it's missing all the cool stuff
Putting aside larger concerns about Apple's stewardship of the Mac as a hardware and software platform, the new MacBook Pro is a very solid design that should serve Apple well over the next few years. Some pros will claim that it isn't "pro" enough, but the 13-inch models have always served as more of a bridge between the consumer MacBooks and MacBook Airs on the low end and the 15-inch Pros and the desktop lineup on the high end. They've never been particularly "pro."

Even so, the $1,499 version of the laptop isn't the one I'd recommend first, not unless the presence of a physical function row is make-or-break and you value it over the other stuff that's missing. Those two extra ports and the extra speed bump will go a long way, and both the Touch Bar and Touch ID have a lot of potential (they should also only improve over the course of the three-to-five years that you'll be using the laptop).
The Verge says: Like an artfully carved chess set without a Queen, This laptop is lovely but is missing vital pieces
Any doubts about why this new MacBook Pro exists while being so similar to the MacBook should really be extinguished by its performance. The Pro has a much more powerful processor and smoother graphics to go along with a significantly improved keyboard and a titanic trackpad. The MacBook is still the better computer to take on a flight with you, but the MacBook Pro approaches its level of portability while offering vastly more power and a longer-lasting battery.

The cool thing about the pricier MacBook Pros is that they split their USB-C ports evenly, two on each side, and since you can use any one of them to charge, that lets you pick which side to plug the charger into. I've always thought that an underrated advantage of Google's Chromebook Pixel, but in Apple's world, $1,499 is apparently not enough to unlock ambidextrous convenience. The MacBook Pro does have a headphone jack, unlike the new iPhone 7, but that's hardly a consolation since buying the two devices together would mean either carrying around two sets of headphones or always having yet another dongle with you.
PC Magazine also found a lot to love, but with a few important caveats.
Overall, the MacBook Pro is impressive, with improved screen quality and battery life over the previous model, and its use of 6th Generation Intel processors helps boost performance as well. Troubling though, is the move to USB-C/Thunderbolt 3 and the removal of on-board ports for Thunderbolt 2 and USB 2.0/3.0 (Type-A) devices. On the bright side, other PC makers are adopting USB-C and Thunderbolt 3, so many more compatible peripherals will be available soon. But should you buy one?

If you're looking for a new laptop for multimedia work, it should be on your short list, yes. But if you have a lot of legacy peripherals, we can't help but think that you're probably better off with a system with more versatile connectivity, like the Dell XPS 13 Touch, our Editors' Choice for high-end ultraportable laptops. If you don't want to make the move to Windows, however, last year's 13-inch MacBook Air and MacBook Pro are still available at their 2015 prices; you'll just have to scroll a little further down on Apple's website to find them.
Mashable says The new 13-inch MacBook Pro looks like a cross between the venerable MacBook Pro circa 2012 and the edgier and much lighter 12-inch MacBook introduced in 2015. On the other hand, had no issue recommending the new laptop:
At a glance, the profiles of the two MacBook Pros are virtually identical, a reflection of Apple's ongoing satisfaction with a portable design language it introduced in 2008. Since then, it's been refining that theme.

This time, though, Apple wanted to boil down the MacBook Pro. The only way to achieve that kind of reduction, though, was to borrow heavily from the MacBook. Apple took all the system design lessons learned from the creation of the single-port ultraportable and poured them into the thinner, lighter and smaller MacBook Pro.

Overall, the entry-level 13-inch MacBook is a satisfying and still sexy system with myriad improvements, but no signature innovation. It should attract budget-conscious MacBook Pro users (those who aren't willing to switch to Windows where they can get a similarly appointed system for under $900) who think $1,799 is too much for a Core i5 MacBook Pro, even if it does feature that unusual new Touch Bar.
Alphr says: No longer as good value as it once was, but the new MacBook Pro 2016 is still a fantastic laptop
Personally, I'm still sold. I might have to sell an organ or two to get one, but the MacBook Pro still represents the pinnacle of laptop design, and I see no reason to change back to a Windows machine just yet. No, it's not quite as good value as it has been recently, and it's a shame Apple is pricing the Touch Bar model quite so high, but given the choice I'd still opt for the MacBook Pro.
Finally, Laptop Mag backs up all the other reviews — at the end of the day, the new MacBook Pro is simply a great laptop, despite its port problem:
The 13-inch MacBook Pro improves upon its predecessor in nearly every way. It's faster, lighter and more compact, and it offers a brighter display and considerably longer battery life than most Windows machines. I also like the rich and powerful stereo speakers. However, while I'm glad Apple included 2 fast Thunderbolt 3 ports, I wish it kept a traditional USB 3.0 port around for charging the iPhone and connecting other peripherals, as well as an SD card slot.

At $1,499, the MacBook Pro also has a higher starting price than most premium Windows ultraportables, and it's $200 more than its predecessor. I'm also not a fan of the decision to opt for an older 6th-generation Intel processor, which means you simply don't get as much performance as systems with 7th-gen CPUs, such as the Dell XPS 13, HP Spectre x360 and Yoga 910. The HP and Lenovo have the added benefit of being 2-in-1s with touchscreens you can use as tablets.

So, yes, the new MacBook Pro is an excellent laptop, and I strongly recommend it. But I also wish Apple included the latest Intel processors for the price.

Jose specializes in reviews, how-to guides, top lists, etc. on PDF, data recovery and multi-media. On his spare time, he likes to travel or challenge some extreme sports.