After iPhone 7 came out, there were some rumors said "both the regular iPhone 7 and the iPhone 7 Plus producing hissing sounds when they're subjected to a heavy processor workload, such as a game. What is more, it's not clear what the cause." When I read this news, I doubt whether should I buy the new iPhone 7. So I rounded up the reviews of iPhone 7 following and hope it help you.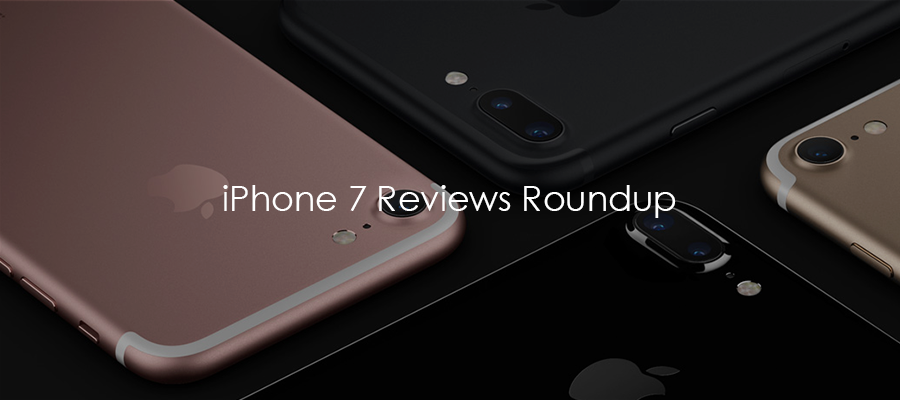 iPhone 7 Review From Cnet.com
The iPhone 7, as you may have heard (you've certainly heard), has no headphone jack and it looks almost identical to the 2014 iPhone 6 and 2015 iPhone 6S. But there are still compelling reasons to consider an iPhone 7, even if you own last year's model.

It's also got a "wide color gamut" screen with enhanced color accuracy, and enhanced stereo speakers, though I didn't find those improvements as critical as the ones above. And the home button isn't "clickable" anymore -- it uses the same pressure sensitivity and vibration feedback found on the 3D Touch screen. It works perfectly well, but takes some getting used to because there's no mechanical click when you press the home button.
iPhone 7 Review From Macrumors.com
Redesigned antenna bands no longer span across the back of the devices, for a cleaner, sleeker look, and there are two new colors being sold alongside the standard Silver, Gold, and Rose Gold shades: a matte color Apple is just calling "Black" and a new "Jet Black" with a high-gloss finish. Most importantly, the body of the iPhones has been reengineered to be IP67 dust and water resistant, so it will hold up to splashes and brief submersion in water.
iPhone 7 Review From Theverge.com
The iPhone 7 and 7 Plus are deeply unusual devices. They are full of aggressive breaks from convention while wrapped in cases that look almost exactly like their two direct predecessors. Even that continuity of design is a break from convention; after almost a decade of Apple's steady two-year iPhone update pattern, merely retaining the same design for a third straight year plays against expectations.

Inside that case, everything else about the iPhone 7 is a decisive statement about the future. The dual cameras on the iPhone 7 Plus promise to usher in a new era in mobile photography. The iconic iPhone home button is no longer a physical button, but instead a sophisticated ballet of pressure sensors and haptic vibration motors that simulate the feel of a button. The new A10 Fusion processor blends two high-power cores that rival laptop performance with two low-power cores that combine with a much larger battery to extend run time by up to two hours.
iPhone 7 Review From Mashable.com
With or without a headphone jack, Apple's iPhone 7 and iPhone 7 Plus are superb smartphones I had a good time placing the iPhone 7 and 7 Plus under running water and dropping them into water-filled containers and sinks. Not only did they hold up, but both phones continued to function in the drink.

Each time I tried this, the iPhone 7 and 7 Plus were unharmed. I fished them out of the water and dried them with a cloth and then continue using them. One thing you cannot do right after submerging your phone, though, is charge it. Apple recommends letting the Lightning port dry out for five hours before attempting to charge either device again.
iPhone 7 Review From Techcrunch.com
Techcrunch said "Apple tees up the future with iPhone 7." Apple, too, is going through a splitting-atoms phase with the iPhone. Apple knows that the future is a camera that can see the world in 3D. It knows that the future is one without wires because wires are awful. It knows that the iPhone may be our primary computer, but its screen won't be the primary way we interact with that computer. These changes are inevitable and ultimately welcome — but until we get to that future, some difficult decisions are going to have to be made.

All of these are tied together by technology, materials, philosophical choices and future plans. In fact, if you're a fan of reading the Apple tea leaves to see what it's going to do next, and in turn how it will influence the industry, then the iPhone 7 and iPhone 7 Plus are the most interesting iPhones ever.
iPhone 7 Review From Telegraph.com
Telegraph said it was an upgrade but not a revolution: Let's start with the obvious: Looking at it on my desk, next to a 6s, there is literally no discernible difference. Turn it over, and you'll see some slight changes - the antenna bands are in different places and the camera is noticeably bigger. But apart from that, little's new: It comes in the same 4.7-inch and 5.5-inch screen sizes, has the same button layout, and the same curves.

If you're the type that upgrades their iPhone when there's a big redesign – as there has been every two years since the first phone almost a decade ago – you'll be disappointed.
iPhone 7 Review From Techradar.com
If you're going to buy a new iPhone, this is the one to get – there's slightly longer battery life, a better camera, fast innards and protection against water. However, many of the changes are slight, and the iPhone 6S, for the lower price, suddenly becomes a very attractive option.

Megan has an impressive deal of experience with Mac software and has the ability to explain tech stuff in a simplified, straightforward and easy to understand way.