Find and delete duplicate files to free up the Mac space! From Sep 6th-17th, Cisdem provide a special offer - 25% OFF on Duplicate Finder for Mac, you can get it with $29.99!
Longer you used the Mac, more and more duplicate files exist, so keep a good habit to clean duplicates regularly will make your Mac be in good status and organized files easier. Cisdem Duplicate Finder for Mac can find & delete duplicate photos, documents, music, videos etc. out of depth quickly and easily.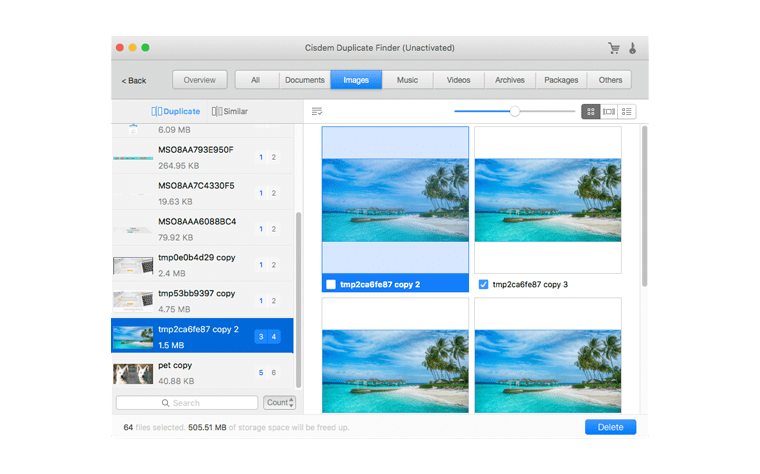 Main Features of Cisdem Duplicate Finder for Mac
Deep Accurate Scan
Scan multiple folders. It supports to add single or multiple folders at one time.
Scan hard drive and devices. Except the internal hard drive, connected the external devices like memory card, cameras, USB etc. to Mac, you can scan them immediately.
Not just compare the size and name of files, it also compares the content of files to find duplicate accurately.
Detailed Reports
Classify duplicates files to 7 categories - Documents, Images, Music, Video, Archives, Packages and Other.
Know detail information through the pie chart and could trace the location by click them.
Safe deletion
Support to preview files before delete them.
Two deletion: Move to trash and deleted completely
Friendly Interface
Know the real time scan situation and result.
Support to search the duplicates you want to find through name.
None Select or all select to deal with duplicates easily.
Price and Availability
The Cisdem Duplicate Finder for Mac is on special offer with 25% OFF from Sep7th to 17th. You can get a single license with $29.99 (Reg. Price: $39.99). To get more information about this Mac duplicate finder software, you can visit at Cisdem Duplicate Finder for Mac.
About Cisdem
Cisdem provides productivity and business software that helps Mac users to get their job done faster. The products include top rated software centered on utility tools, PDF tools, multimedia tools, and some mobile tools. The company is dedicated in building highly efficient Mac software that make life easier and processes simpler. Get more detail information, please visit Cisdem.

Megan Charles


Megan has an impressive deal of experience with Mac software and has the ability to explain tech stuff in a simplified, straightforward and easy to understand way.