We're so excited to share the news that our New App - OCRWizard, has finally shipped. It's a revolutionary Optical Character Recognition (OCR) and PDF document conversion application which converts any PDF, scanned documents, or image files (including the picture of business card) into searchable PDF, Word, Pages, HTML, Excel, Keynote, and ePub, etc. on Mac.
"I'm excited to release OCRWizard for Mac users," said Brandon Hancock, manager of OCRWizard project for Cisdem. "Individual and business users can incorporate the easy-to-use, high-performance OCR app into their business workflows to increase efficiency."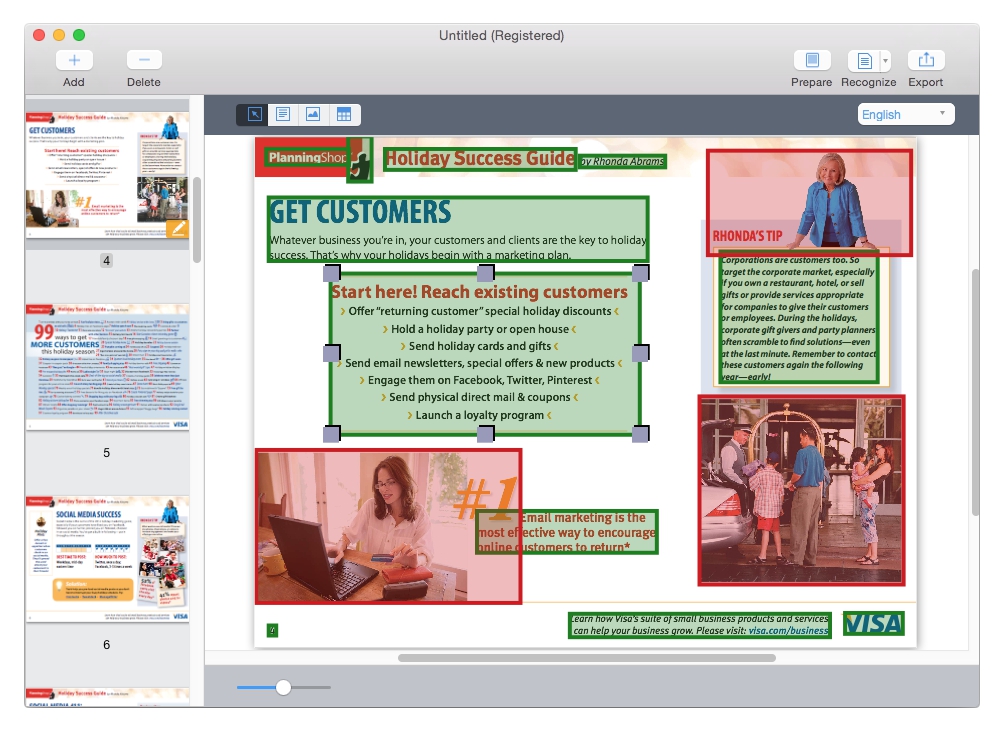 Accurate OCR Engine
The build in OCR engine gives you maximum control over the text recognition. It automatically marks every part of a loaded PDF or image in different color. To get specified results users can do a more delicate handwork on PDF or image files with 4 options: Select, Mark Texts, Mark Images, and Mark Tables.
Flexible Output Formats Support
Supports converting PDF, scanned documents, or image files to document formats (PDF, RTFD, DOCX, DOC, XLSX, PPTX, HTML, TEXT, ALTO, FB2, EPUB, ODT, PAGES and KEYNOTE) and image formats (JPG, PNG, GIF, BMP, and TIFF).
OCR with 49 Languages
Supports recognize text in 49 languages, including English, French, Italian, Chinese, German, Russian, Czech, Turkish, Portuguese, Polish, Romanian, etc.
Document and Business Card Recognition Mode
OCRWizard also includes document and business card recognition support which enables you to instantly convert PDF or collect contact data from a business card and export extracted data to Vcard or CSV, or directly add to your Contacts, Mail, Messages and AirDrop.
Handy Image and File Processing
OCRWizard can help correct image and file distortions (rotate, crop, invert, adjust brightness, sharpness, contrast and saturation, etc.) and convert into a wide range of formats.
Fully Supports macOS Sierra
It is designed with easy to use in mind; Numerous features like full-screen support, drag-and-drop functionality and easy deleting, rotating, etc. are implemented in a intuitive interface that will be clear for any macOS Sierra user.
Pricing and Availability
OCRWizard is available now through the Cisdem website. A trial version available on the site also allows any user without a license to have a try with the App. A Single License of OCRWizard is available for $59.99; License for 2 Macs of OCRWizard is available for $79.99, while License for 5 Macs costs $119.99. To get more information and obtain a free trial version, please visit: https://www.cisdem.com/ ocr-wizard-mac.html

Peter has always had great enthusiasm for writing, programming and web development. He likes writing about software and technology, his works are featured on some tech blogs or forums like Tom's Hardware, CNET, etc.