Cisdem, an innovative Mac applications developer, has newly released PDFConverterOCR 4 for Mac, a productivity app to help batch convert both native and scanned PDF files to many editable formats. The improved OCR recognition technology makes it possible to immediate re-use, update and share documents after conversions. No more tedious retyping!
"Efficiency is the core of daily work and study. With a user-friendly interface, CisdemPDFConverterOCR for Mac is especially developed to make work and study easy", said KarimRoumani, the PDF Project Manager of Cisdem, "Instead of sitting before computers and typing every word for hours, users can directly convert their scanned PDFs to editable and searchable formats. Not a simple PDF converter, the new version is now with a full pack of handy features. It deserves a try!"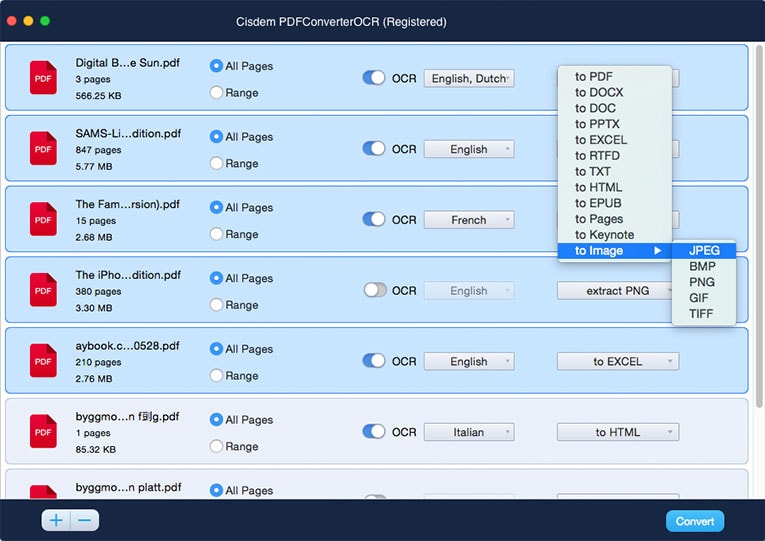 What's new in PDFConverterOCR 4.0.0?
Convert Native and Scanned PDF Respectively
In this new version 4.0.0, users can choose to turn on OCR icon to convert scanned PDF files or turn off it to convert native PDF files respectively to ensure best results.
Improved OCR Recognition for Better Accuracy
The all-new OCR recognition technology of CisdemPDFConverterOCR makes the output files exactly the same as the original ones. No need to reformat or retype.
CisdemPDFConverterOCR 4 allows users to drag-n-drop to add multiple PDFs and convert them in one go.
Before conversions, users can preview the PDFs directly and then select specified pages (e.g. 1,3-10,21 or all pages) to greatly save time.
The Re-designed interface makes it easy for even Mac newbie to handle with the conversions without any problem.
It's fully compatible with OS X 10.8 Mountain Lion, OS X 10.9 Mavericks, OS X 10.10 Yosemite, OS X 10.11 El Capitan and macOS 10.12 Sierra.
Other useful features of previous versions are enhanced:
Convert PDF to Many Formats: Convert PDFs to a range of formats, including Word(.docx, .doc), PowerPoint, Excel, Text, Rtfd, ePub, HTML, Pages, keynote, and images(JPG, PNG, TIFF, GIFand BMP).
Multi-language Support: OCR with 49 languages, such as, English, French, Italian, Chinese, German, Russian, Czech, etc. Any combinations of these languages are also supported.
Decryption: Directly convert PDF files encrypted by owner/restrictions password.
Pricing and Availability:
Users can get a single license of CisdemPDFConverterOCR 4 for Mac at $49.99. Besides, 20% discount is offered for qualified students and educators of qualifying educational institutions. Download the free trial version or learn more in https://www.cisdem.com/pdf-converter-ocr-mac.html.

Peter has always had great enthusiasm for writing, programming and web development. He likes writing about software and technology, his works are featured on some tech blogs or forums like Tom's Hardware, CNET, etc.