There were a lot of rumors about new 12-inch New MacBook 2016 last year. Finally Apple Inc on Tuesday updated its 12-inch MacBook line of laptops with faster processors, Extra hour of battery life, new color option and other features. Reviewers have gotten their first looks, and here's what they think.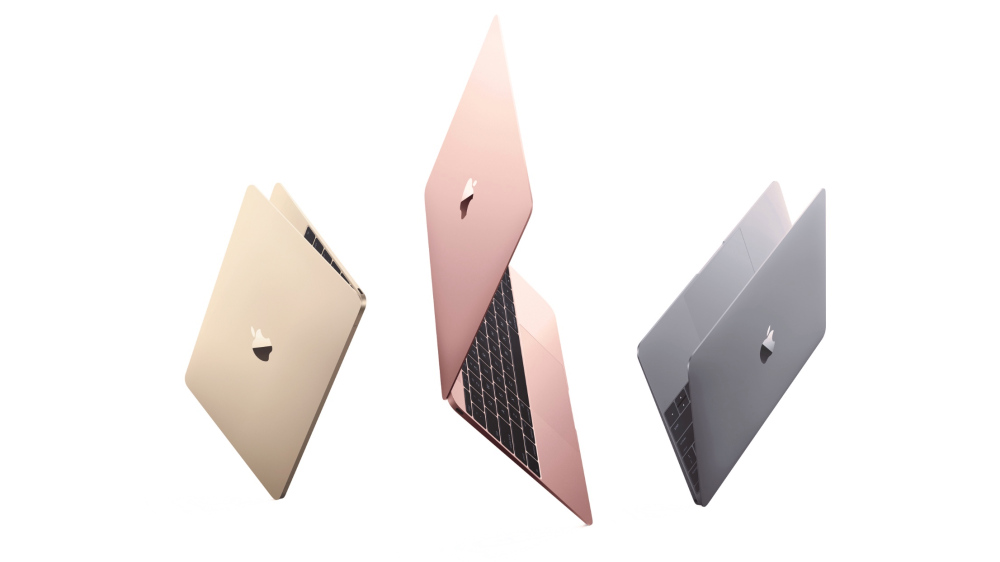 12-Inch New MacBook 2016 Review From Macnn.com
I have been using the original 12-inch MacBook since its release in April 2015 and (for the most part) love it. It took a while to get used to the all-new keyboard with its short-travel butterfly mechanism, but quite frankly, I really enjoy typing on it these days. Not that I'm suggesting Apple should bring this across to its next-generation MacBook Pros, whenever they should arrive -- something like the redesigned scissor mechanism keyboard on the new Magic Keyboard might be a better fit for that range. The ultra-thin design of the 12-inch MacBook necessitated a shallow keyboard with a ultra-low profile. The fact that the keys are 30 percent larger than standard, also helps to offset the shorter key travel with larger, easier to hit targets. Typing this article on the refreshed 12-inch MacBook suggests that Apple hasn't made any modifications to the typing experience, which is just fine by me.
12-Inch New MacBook 2016 Review From Arstechnica.com
If you were hoping for updated ports on this year's model, you'll be disappointed. The MacBook still uses a single USB Type-C port for everything from charging to data, display output, and docking, and Apple hasn't updated the computer with Thunderbolt 3. This is surprising, since Apple has been a big booster of Thunderbolt since its first iteration, and the new version uses the same USB Type-C port. Some PC makers are even offering it in laptops similar to the MacBook in size and weight. We'll have to hope Apple adds it in a future update.
12-Inch New MacBook 2016 Review From Techradar.com
Apple has reinvented the laptop with the new MacBook, but there's room for improvement. If you can stomach its flaws, it's such a beautifully-designed machine that they probably won't matter.
12-Inch New MacBook 2016 Review From Forbes.com
If it ain't broke….: The physical design remains untouched. Its ultra-thin chassis still doesn't allow for more than just a single, skinny USB-C port. The lack of ports is the most common critique. Let me chime in here.I've used the first-generation 12-inch MacBook extensively and am fine with the single USB-C port. A radical makeover (that's a mere 2 pounds and 13.1 mm thick), by definition, is not going to please everybody. Witness the original MacBook Air that Steve Jobs introduced way back in 2008. That was greeted with a chorus of criticism but the Air went on to become extremely popular. So, give the the newest MacBook time.
12-Inch New MacBook 2016 Review From Softpedia.com
The MacBook 2016 refresh is here to bring users the latest Intel processors, thus adding huge improvements to the graphics performance and battery life. With the new Skylake processors, the 12-inch Retina MacBook is now the fastest and lightest Mac ever made, and to make things a little more interesting, it comes, for the first time ever, with a gorgeous rose gold finish.
12-Inch New MacBook 2016 Review From Trustedreviews.com
Apple's new MacBook is the laptop in its most basic, stripped-back form – I called it a laptop for the iPad generation when Apple first announced it. This slight, 12-inch laptop weighs just 920g and, like the original 2008 MacBook Air, removes almost all external connections. It has no normal USB ports, no normal video outputs. In fact, it has as many ports as an iPad.
Check out the reviews and do you have any ideas about the 12-inch MacBook? Do you want to get the New MacBook with this release?

Connie has been writing for Mac productivity and utility apps since 2009. Each review and solution is based on her practical tests, she is aways energetic and trustworthy in this field.