Want to relax a little in the middle of busy preparations for incoming Christmas? Or want to send friends Christmas cards with funny Christmas quotes on? Today we compile some top funny Christmas quotes for you to start and spread the Christmas joy.
Top 20 Funny Christmas Quotes That Never Outdate
"Santa Claus has the right idea. Visit people only once a year."-Victor Borge
"Keep your friends close, your enemies closer, and receipts for all major purchases."-Bridger Winegar
"At Christmas, tea is compulsory. Relatives are optional. "- Robert Godden
"I love Christmas. I receive a lot of wonderful presents I can't wait to exchange."- Henny Youngman
"The one thing women don't want to find in their stockings on Christmas morning is their husband."- Joan Rivers
"There has been only one Christmas – the rest are anniversaries." - W.J. Cameron
"You know you're getting old, when Santa starts looking younger."- Robert Paul
"Three phrases that sum up Christmas are: Peace on Earth, Goodwill to Men, and Batteries not Included."- Author Unknown
"Mentally I am ready for Christmas, financially I am not ready for Christmas."- Author Unknown
"From a commercial point of view, if Christmas did not exist it would be necessary to invent it."- Katharine Whitehorn, Roundabout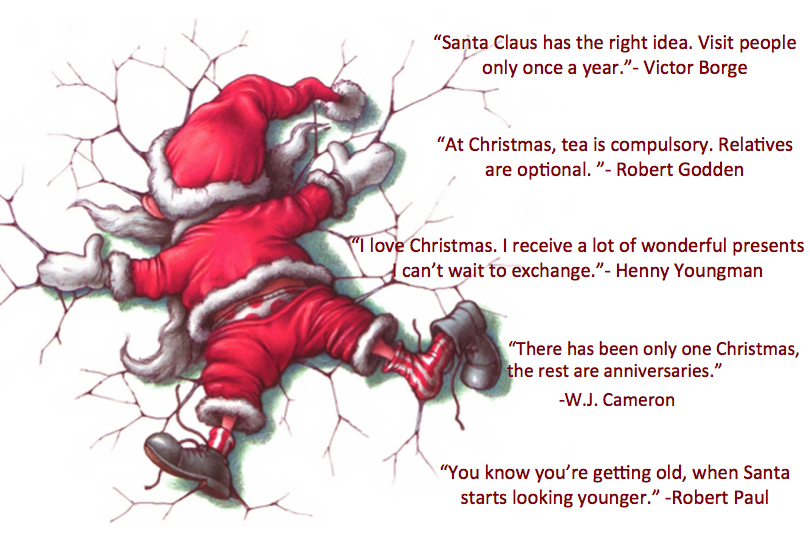 "Christmas is a time when you get homesick - even when you're home." - Carol Nelson
"Thank goodness Christmas is a state of mind. I'd hate for it to be the state of my bank account." - Melanie White
"I'm extremely sentimental about Christmas, actually. Every Christmas I still take my socks off and stand them in front of the fireplace." - Eric Morecambe and Ernie Wise
"A true Christmas miracle is when you manage to untangle all your Christmas lights from last year. Double miracle if they still work."- Melanie White
"There's nothing sadder in this world than to awake Christmas morning and not be a child." - Erma Bombeck
"You can never truly enjoy Christmas until you can look up into the Father's face and tell him you have received his Christmas gifr."- John R. Rice
Sending Christmas cards is a good way to let your friends and family know that you think they're worth the price of a stamp."- Melanie White
"Do you know why so many people love Jesus? Without Jesus, no Christmas."- Melanie White
"Mail your packages early so the post office can lose them in time for Christmas."- Johnny Carson
"Santa is very jolly because he knows where all the bad girls live." -Dennis Miller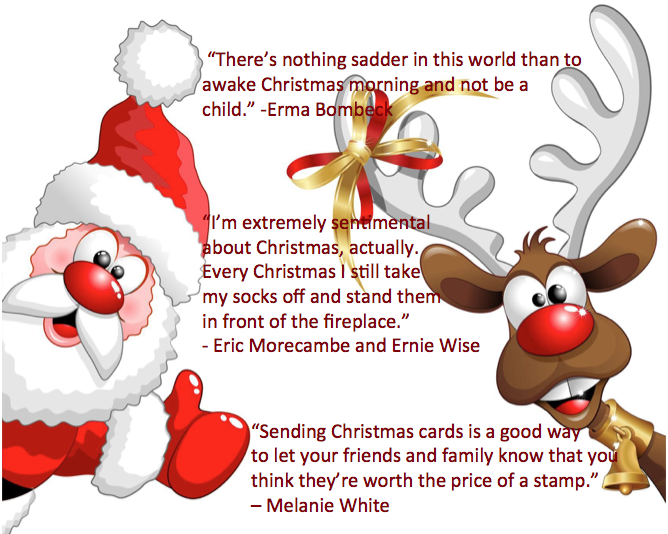 Other Funny Christmas Quotes or Sayings
"If I could work my will, every idiot who goes about with 'Merry Christmas' on his lips should be boiled with his own pudding, and buried with a stake of holly through his heart!" - Ebenezer Scrooge in "A Christmas Carol" (2009)
"One can never have enough socks. Another Christmas has come and gone and I didn't get a single pair. People will insist on giving me books." -Professor Dumbledore in Harry Potter
"Aren't we forgetting the true meaning of Christmas? You know, the birth of Santa"- Bart Simpson in "Simpsons"
Christmas Special Offer 2017
PDF Suite to Edit, Convert, Compress and Unlock PDF files(native and scanned)

Utilities to Recover Data, Find Duplicates, etc.

Multimedia tools to play and convert media files, also to burn DVD, etc.
"My worst Christmas? One Christmas morning, I woke up, I ran into the living room and my mother said, 'I just forgot.'"-Rob Burton
"I never know what to give my father for Christmas. I gave him $100 and said, 'Buy yourself something that will make your life easier.' So he went out and bought a present for my mother."- Rita Rudner
"Don't blame the holidays, you were fat in August."-Unknown author
Christmas is the festival full of joys and happiness. May the closeness of friends and the comfort of come renew your spirits in this special time, also in the New Year 2018 as always.