A month later, we will have long holiday. Want to improve working efficiency? Stop to click every windows to find what you want? Split your screen and put your important files within arms reach. Our Cisdem WindowManager can easily do that. Now with the promotion ONLY $ 9.9 (Reg. Price $ 14.99).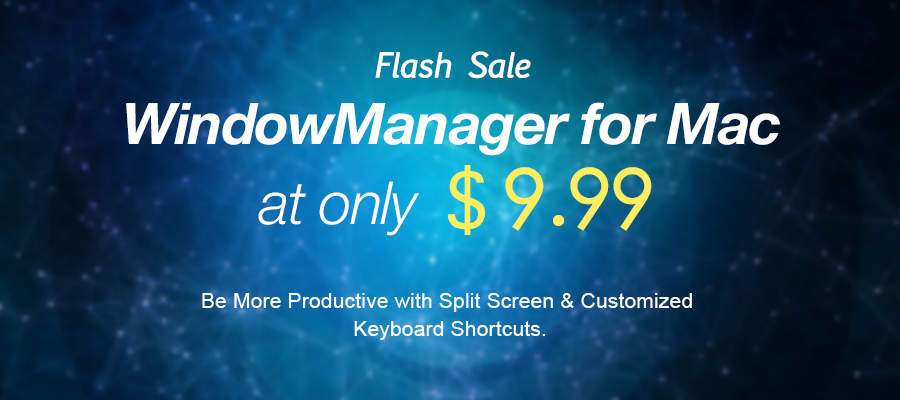 Cisdem WindowManager for mac is an easy-to-use desktop window manager to move, resize, and arrange windows with ease. All you have to do is drag windows to the edges or corners of your screen, or use our grid system to select the area that the windows should cover and you can also set keyboard shortcuts. Once you start splitting screens on mac with WindowManager you'll wonder how it can improve your working efficiency.
Key Features of Cisdem WindowManager:
3 Ways to Manager Windows: by mouse, grid and keyboard shortcuts;
Managing Window Edges: easily set the edges and borders, can also choose to ignore edges and borders;
Menu Bar Access: choose to show or hide the apps' icons on the menu bar;
Global Shortcuts: access WindowManager from anywhere using a configurable global hotkey;
Restore Size: restore old window size if the window is dragged away;
Edges Support: support 7 preset size/location options for easy window snap;
Grid system: support to resize your windows with the grid system;
Grid Size: easily set to customizable grid size (from 1x1 up to 10x10);
Keyboard Shortcuts: support to set unlimited user-customizable keyboard shortcuts.
Fully support macOS Sierra 10.12.

Download Cisdem windowmanager and have a trial.
If you want to know more ,you could visit https://www.cisdem.com/window-manager-mac.html

Peter has always had great enthusiasm for writing, programming and web development. He likes writing about software and technology, his works are featured on some tech blogs or forums like Tom's Hardware, CNET, etc.