We are glad to announce significant upgrade for Cisdem PDFPasswordRemover 3 for Mac, an ultimate PDF unlock tool to remove restrictions on any PDF document. With an easy-to-use interface, it now fully supports to recover both user password and owner password, and crack PDFs in any language & any Adobe PDF version.
"Adobe PDF is an industry standard for document exchange and archiving. The success of the PDF file format is a great example of how a product becomes a global technical standard", said Karim Roumani, the PDF Project Manager of Cisdem, "These years, our team has been committed to researching advanced file encryption and decryption technology. The release of PDFPasswordRemover 3 for Mac is the exhibition of our hard work. We're sure that the results will satisfy all customers troubled by PDF restrictions."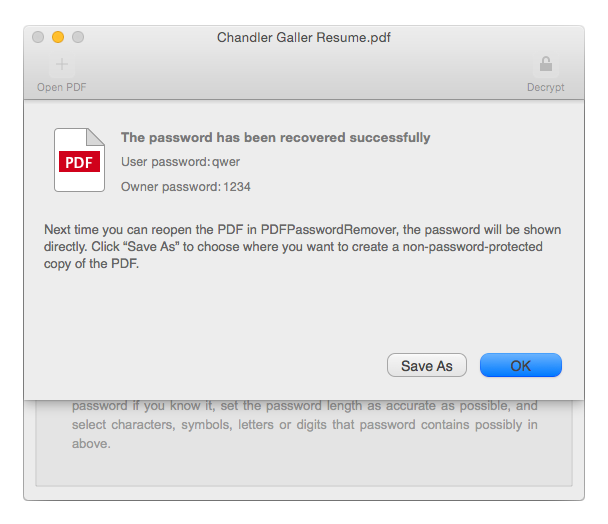 What's New?
- Recover & Remove Both User Password & Owner Password
Most related products in the market can only remove PDF owner password (required to print, copy and edit PDF files). PDFPasswordRemover 3 for Mac is powerful enough to remove or recover PDF user password (required to open PDF files) by using brute force decryption. No matter how complicate the password is, it's workable to restore the password though the time may differ a lot accordingly.
- Search Preference Setting
To save the search time, users can check or fill in the above options like user name, password length, additional characters, etc. Besides, the application will automatically remember your search preference for the settings.
- Resume Decryption Progress
When unlocking those PDF files protected by complicated passwords, users can click on "Save for Later" to save the decryption process. Next time, when reopening the PDF file, you can choose to continue the saved decryption progress or not.
More Enhancements to Make it User-friendly:
Provide the estimated remaining time of the whole decryption progress.
Unlock & Recover PDF password and restrictions with just 2 or 3 clicks.
Drag and Drop to add PDF files.
Don't require Adobe Acrobat Reader installed.
Now, two versions are available to meet different needs. For more information, you can refer to Cisdem PDFPasswordRemover Product Page or directly download the trial version for free to experience its amazing functions. Please don't hesitate to tell us your feedback or any advice!
Pricing and Availability
Cisdem PDFPasswordRemover 3 is available now. A trial version available on the site also allows any user without a license to have a try with the App. The price for a Single License is $34.99 for PDFPasswordRemover (Standard Version) and $19.99 for PDFPasswordRemover Lite.
Please refer to Cisdem online store for the detail price: https://www.cisdem.com/pdf-password-remover-mac/buy.html

Megan has an impressive deal of experience with Mac software and has the ability to explain tech stuff in a simplified, straightforward and easy to understand way.