We proudly announce the release of Cisdem PDFConverter 4. It can quickly and accurately convert native PDF files into editable Microsoft Word(.docx), PowerPoint(.pptx), ePub, RTFD, Text, HTML, Keynote, Pages and Images. Using this single free app, working with PDF can get simpler. No need to retype PDF files with complex layouts and graphics any more.
"If the precise formatting and fonts of a document are essential, PDF is the perfect format. However, PDFs, if you're using software like Adobe Reader, are usually a one-way street, consigning you to look and not touch", said Brandon Hancock, manager of PDFConverter project, "We're here to look at the solution: PDF converters. We have been committed to making using PDF easy. And this is why we bring you the latest Cisdem PDFConverter."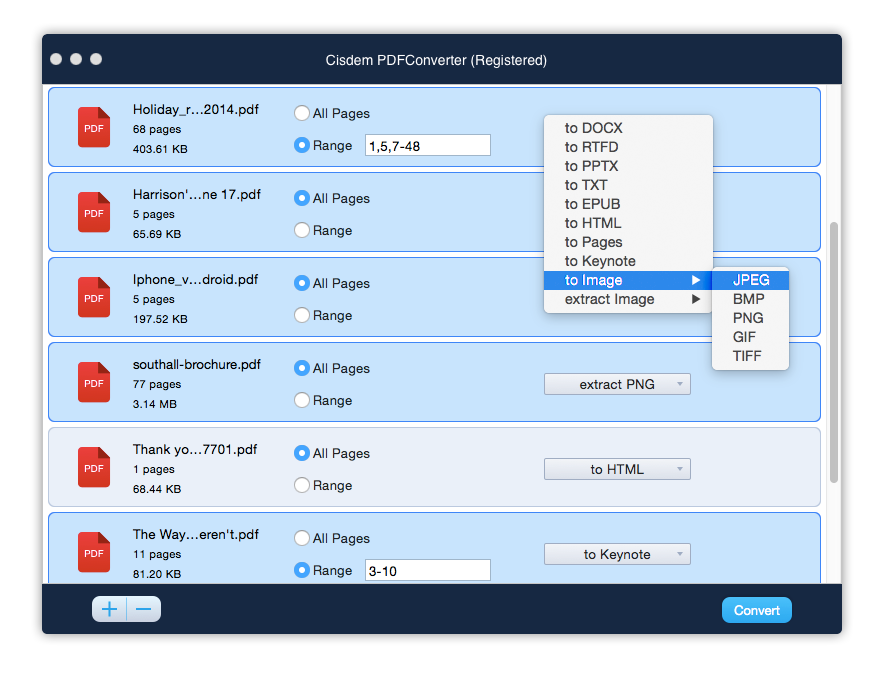 What is New Cisdem PDFConverter 4?
With the fourth version, Cisdem PDFConverter has become an all-round while easy-to-use PDF converting tool to meet all PDF conversion needs.
Improved Conversion Quality
When converting PDF documents to DOCX, PPTX, ePub, RTFD, Text, HTML, Keynote, Pages and Images, the embedded recognition technology will analyze them accurately and make the new output files look exactly the same as original PDF files.
Page Selection
It can convert any particular pages (e.g. 1,5-10,21 or all pages) so that users can just export the text they need to save time.
Much Faster Conversion in Batch
You can drag & drop up to 200 PDF files to the queue of the PDF Converter in a single click and convert 5 files at one time.
Directly Locating the Converted Files
In order to quickly find where the converted files, you just need to click the folder icon after the conversions.
macOS Sierra Support
The application can fully compatible with macOS 10.8 - macOS 10.12 Sierra.

Download Cisdem PDFConverter and have a trial >>>>>
Pricing & Availability
Cisdem PDFConverter 4 is available now through the Cisdem website and we also allow you have a trial without a license. A Single License is available at $39.99; License for 2 Macs is available for $59.99, while License for 5 Macs costs $89.99. To get more information please visits: https://www.cisdem.com/pdf-converter-mac.html.

Connie has been writing for Mac productivity and utility apps since 2009. Each review and solution is based on her practical tests, she is aways energetic and trustworthy in this field.