Many times, it is not easy to email or upload some large PDFs with many images and graphics. Here comes Cisdem PDFCompressor 3, a smart tool to radically reduce multiple PDF documents to users' preferred sizes, maintaining the layout and formats of original PDFs. The new version 3 compresses the PDFs for faster email delivery, smoother website uploading and more disk spaces!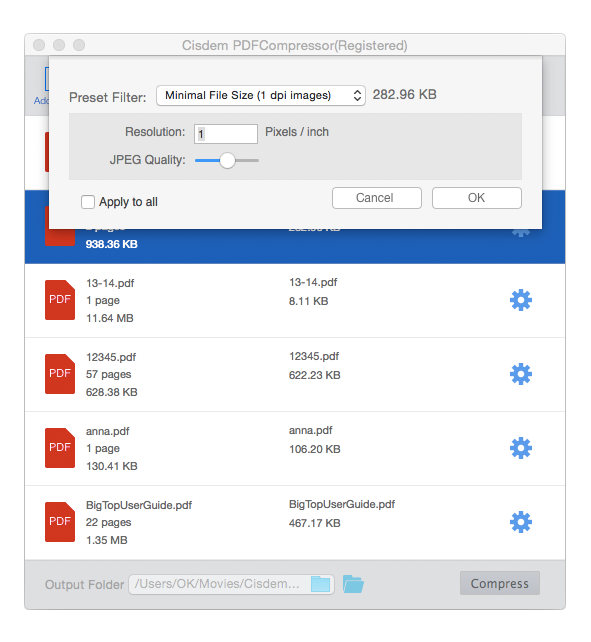 Cisdem PDFCompressor 3 is a powerful PDF compressor and PDF size reducer, allowing users to optimize PDF files by 90% - 20% comparing with their originals. Users can experience greatly improved PDF compression features when compared with its last version in February, 2014.
New functionality in Cisdem PDFCompressor 3 for Mac includes:
Optimized Four Preset Compression Modes
There are four preset compression modes for your choice: Minimal File Size(greatly save disk space), Small File Size(best screen match and sharpest display on web sites), Medium File Size(Crisp images with the smallest file size, which are sufficient for eBooks reading on iPad or e-book readers.) and Large File Size(perfect for office publishing and high quality laser printing).
Resolution and JPEG Setting
To meet different compression needs for some specific PDFs, users can also set resolution from 0 - 300 dpi or the JPEG image quality.
Brand-new Interface
The newly-designed interface is nice and easy-to-use. All users need to do is to add PDF file(s) - set a compression mode - click "Compress".
Keep Original Layouts
All PDF file compressions are done without change in quality. So it is ideal for web developers looking for essentially free bandwidth, business users needing to save space, or anyone else looking to decrease PDF file size.
macOS Sierra Support
It is fully compatible with OS X 10.8 - 10.12.
Additionally, the new software lets users:
Batch Compression
Users can easily drag-n-drop a single or multiple PDF files to the panel for compression at one time. This would highly improve the efficiency when Mac users need to compress multiple PDF files.
Page Selection and Preview
Users can drag-n-drop multiple PDFs in one go, preview them and select specified pages (e.g. 1,3-10,21 or all pages) to compress.
"If you work with PDF files, you definitely know how large they would become once you add some graphics and images. At times, it is necessary to compress these files so that you can send them as email attachments or upload them to websites", said Brandon Hancock, manager of PDFCompressor project, "Our team know it's meaningful to improve working productivity through providing Mac users a better PDF compressor. Cisdem PDFCompressor 3 is exactly the one! "
Pricing & Availability
Cisdem PDFCompressor 3 is available now through the Cisdem website with free trial. A Single License is available at $24.99; License for 2 Macs is available for $39.99; License for 5 Macs costs $59.99. Besides, business volume discount and education discount are offered. To get more information, please visit https://www.cisdem.com/pdf-compressor-mac.html.

Rosa has worked in Mac software industry for more than eight years. She believes that the purpose of software is to make life better and work more productively. In addition to writing, Rosa is also an avid runner.