We are really happy to announce the release of our flagship software – Cisdem PDFPasswordRemover for Mac 3.5.0, which is a comprehensive PDF password remover to help unlock both owner password and open password on Mac. No more restrictions to open, edit, copy and print any PDF file!
"We are excited to further mature PDF passowrd decryption solutions. These years, the R & D team of Cisdem PDF Software Department has accumulated precious of developing advanced file encryption and decryption technology for Mac", said Karim Roumani, the PDF Project Manager of Cisdem, "There are a growing demand to decrypt the passwords of PDF files for Mac users. We hope our newly upgraded Cisdem PDFPasswordRemover 3.5.0 will well satisfy and benefit them."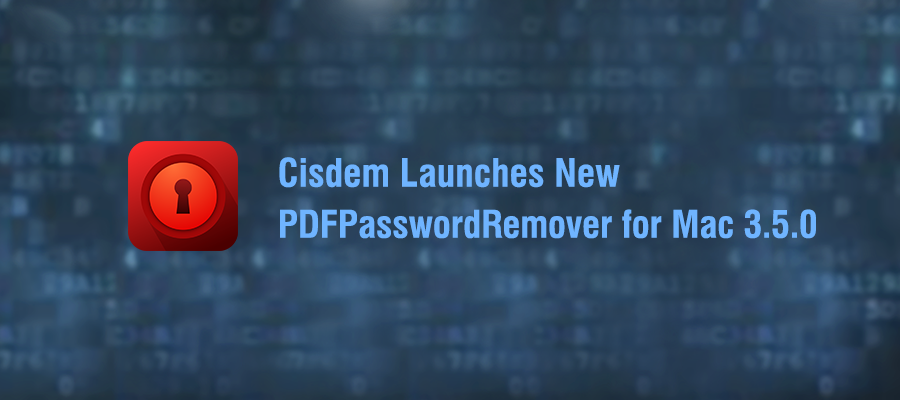 What's New in Version 3.5.0?
- Decrypt Both Owner Password and Open Password Respectively
Cisdem PDFPasswordRemover 3.5.0 can not only be used to easily remove PDF owner password ( used to limit printing, copying and editing PDF files) with 2 Clicks, but also recover PDF user password (used to limit opening PDF files) using brute force decryption.
- Greatly-improved Decryption Speed to Batch Remove Owner Passwords
The software allows you to remove limitations of PDF files that are protected by owner password in batch. Up to 200 PDF files can be added and unlocked at a time. Besides, the decryption process is as quick as a flash.
- Improved UI
The new PDFPasswordRemover design fully meets the beginner's need to guide the fastest decryption methods in different encryption situations.
Other features of previous versions are enhanced to make it more user-friendly:
When unlocking open passwords, you can check or fill in options, such as, password length, Latin letters, digits, special symbols, and additional characters, to save the decryption time.
The decryption process for files protected by complicated password can be kept to continue next time.
Fully support PDF version 1.0-1.7, Mac OS X 10.7 - 10.11 and multi-language, including English, German, French, Japanese, Greek, Latin, Korean, etc.
Work independently and doesn't require Adobe Acrobat Reader installed.
It won't alter PDF documents in any way and ensures that no harm to PDF file content is done.
Pricing and Availability
Now, you can get a single license of Cisdem PDFPasswordRemover 3.5.0 at $34.99. Besides, 20% discounts are offered for qualified students and educators of qualifying educational institutions. A free trial version is available in https://www.cisdem.com/pdf-password-remover-mac.html.

Peter has always had great enthusiasm for writing, programming and web development. He likes writing about software and technology, his works are featured on some tech blogs or forums like Tom's Hardware, CNET, etc.