Today, Cisdem announced DocumentReader 3 for Mac are rolling out to users with the new support for opening Winmail.dat files and better document reading experience. From Jan.12th to Jan.21th, $9.9(Reg.Price: $14.99) Flash Sale Now!
Besides winmail.dat files, this all-powerful reader can also bring Mac users more smooth reading experience for Windows-based documents including WPD, WPS, XPS, OXPS, VISIO, DjVu and PDF in preferred viewing styles. With a customizable toolbar, users can also use DocumentReader to extract images, print and convert the documents into PDF, RTFD, Text, JPEG, PNG, TIFF, BMP, GIF.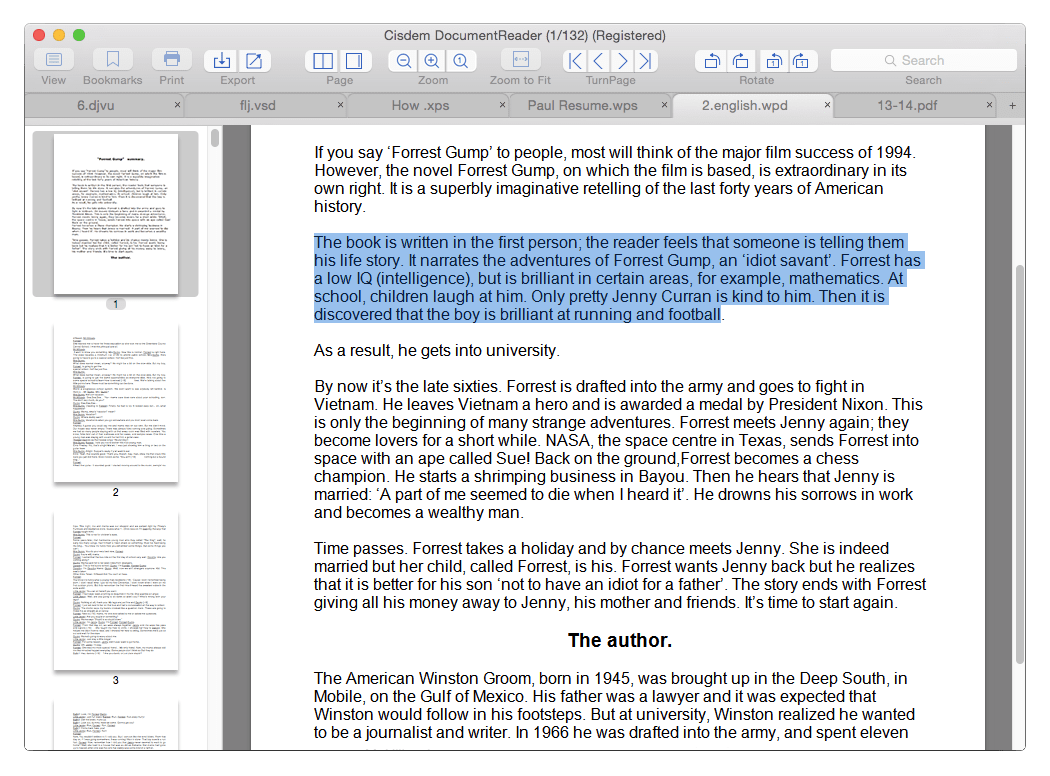 "Moving files from a PC to a Mac is a fairly simple thing. However, the problem is that many documents can be opened easily in Windows while not in Mac OS X. That's why we develop this document reading application", said Cisdem DocumentReader's developers, "These years, since many PC users using Microsoft Outlook as their email program, opening winmail.dat files also becomes a big headache to many Mac users. This time, we solve the problem in the new version of DocumentReader. More functions and same price! Enjoy it!"
New Features in Version 3.0
Open Winmail.dat Files in Batch
Users can open multiple winmail.dat files in one go. Moreover, the application will list all the attachments of the winmail.dat files to users.
Preview and Export Winmail.dat Attachments
Not only the content of winmail.dat can be shown clearly in a form similar to an email, all the listed attachments can be preview and export for further sharing.
Brand-new UI and Improved Documents Reading Experience
The re-designed easy-to-use interface, allowing users to open and read multiple files on Mac at a time and switch between them. Besides, full screen reading, zooming, rotating and page navigation are available.
It's fully compatible with OS X 10.8 Mountain Lion, OS X 10.9 Mavericks, OS X 10.10 Yosemite, OS X 10.11 El Capitan and macOS 10.12 Sierra.
Other Enhancements Based on Previous Versions
Improved performance to open WPD, WPS, OXPS, XPS, Visio, DjVu and PDF files.
Convert and export documents to PDF, RTFD, TEXT, JPEG, PNG, TIFF, BMP and GIF.
Extract images from specified pages of PNG, JPEG, BMP, GIF or Tiff files.
Print files easily if printers connected, allowing users to preview and set page ranges, copies, etc.
Customize toolbar to meet different reading habits and needs.
Two viewing modes: with thumbnails or content only.
Fix some minor bugs.
Pricing and Availability:
Users can get a single license of Cisdem DocumentReader for Mac at $9.9 (Reg. Price: $14.99) from Jan.12th to Jan.21th. Besides, 20% discount is offered for qualified students and educators of qualifying educational institutions. Download the free trial version or learn more in https://www.cisdem.com/document-reader-mac.html.

Peter has always had great enthusiasm for writing, programming and web development. He likes writing about software and technology, his works are featured on some tech blogs or forums like Tom's Hardware, CNET, etc.