At time goes on, 2014 Black Friday is drawing near. Although there are a couple of days, businesses' promotion of Black Friday has begun, Cisdem is no exception. So, what does Cisdem bring to us? Cisdem supplies 3 ways of promotion, I believe that always one kind is suitable for you. Read this article, you can get more details.
Holiday Giveaway
Unwanted $29.99, you can get PDFtoTextConverter for free now.
What is PDFtoTextConverter? The highly accurate, fastest PDF to Text Converter for Mac, which helps you convert PDF to Text for edit or reuse. You just need to enter your email, and then you will get a free code.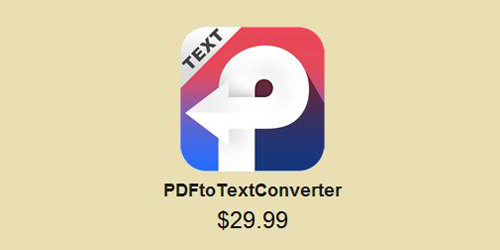 The main feature of PDFtoTextConverter:
Three Steps to Convert PDF to Text (Txt) Format.
Keeps Original Page Layout.
Convert Specified Page of PDF to Text.
Convert Encrypted PDF with Ease.
Support Batch PDF Conversion.
Crazy Bundle Deal
According to our star single-product, we made 2 bundle deals. They are PDFCompressor + PDFPasswordRemover and PDFConverterOCR + DuplicateFinder.
The original price: PDFCompressor = $24.99 and PDFPasswordRemover = $24.99. But the price right now: PDFCompressor + PDFPasswordRemover = $14.99.
The original price: PDFConverterOCR = $59.99 and DuplicateFinder = $29.99. But the price right now: PDFConverterOCR + DuplicateFinder =$33.99.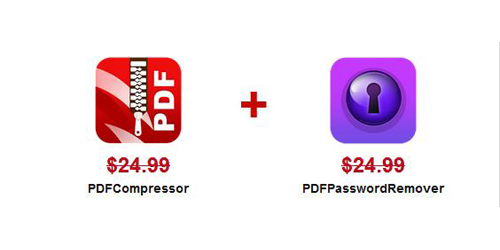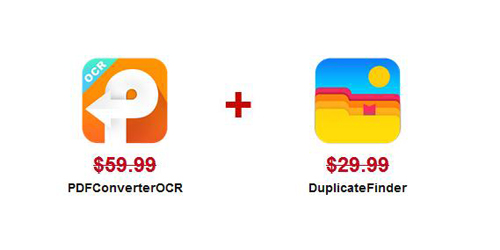 The main feature of PDFCompressor:
Choose to compress PDF or reduce PDF file size in 5 modes: a maximum of 90%.
Compress PDF file with at tremendous speed: compress a 500-page PDF file within 1 minute.
Support batch mode: easily compress multiple PDFs at a time.
Compress PDF file without any quality loss.
Keep the original PDF format - no unzipping required.
Support password protected PDF files on Mac.
Super easy to use: Just drop the files you want to compress to the app, choose a compression mode, then you are done.
The main feature of PDFPasswordRemover:
Directly Remove Password & Restrictions from PDF without damage any elements in your original PDF files.
Compress PDF Files to a Smaller Size: that will help you obtain important savings in bandwidth costs, digital storage costs and network transmission times.
Support All PDF Formats and Multi-language: English, German, French, Japanese, Greek, Latin, Korean, etc.
Support Batch Unlock up to 200 PDF Files at a Time.
The main feature of PDFConverterOCR:
OCR PDF into Editable and Searchable Text.
OCR with 49 Languages.
Selection of Area on Page for OCR.
Convert Normal/Scanned PDF to Word, Text, Excel, etc. to Make Edits.
Accurate PDF Conversion.
Convert Password-Restricted PDF Files.
The main feature of DuplicateFinder:
Find True Duplicate Files (Files with Same Contents).
Find Duplicate Images, Videos, Songs (mp3, wma, ogg, etc.).
Scan Multiple Sources and Devices.
Flexible Search Settings: Filter Where and What to Search.
Straightforward File Report.
Saves Time, Space & Money.
Less – Price Break
What's more, many people who want to own a Strong PDF tool but hesitate for its price have the opportunity to get PDFManagerUltimate by saving 50% money. Cisdem PDFManagerUltimate is the best PDF tool that assembles most all PDF functions, more than preview. It can help you to edit and convert your PDF files, more important, it comes with OCR function. Believe me, it is worth to be possessed.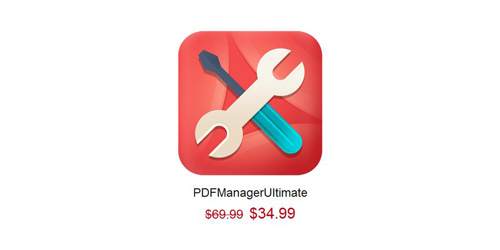 The main feature of PDFManagerUltimate:
View and organize PDF files.
Edit PDF files – rotate, add comments, text, shapes (Rectangle, Rounded Rectangle, Circle), highlighting, sticky notes, and more.
Merge, split, compress and extract text or images from PDF files.
Quickly fill and sign any PDF agreement or form! No need to print & scan!
Encrypt PDF with open and permission passwords.
Convert normal or scanned PDF files to Word, Excel, Text, PPT, Keynote, Pages, HTML, EPUB, Rtfd, and image(*.bmp, *.png, *.tiff, *.jpg, *.gif) formats.
The whole promotion of Black Friday will ends up on November 30, seize time by the forelock. Next, we will have activities of Cyber Monday, so stay tuned!