What are web browser cookies, why many users want to clear cookies and how can we delete them on Mac quickly? If you don't know how to clear cookies on your Mac, you can get detailed steps in this post. We will show you how to delete cookies on Mac in Safari, Chrome, Firefox and Opera web browsers. Before we plunge into details, let's figure out what are cookies.
The Best Duplicate File Finder
Find duplicate photos, videos, music files, documents and other duplicate files
Find similar photos too
Help Mac users remove duplicates from Photos, iPhoto, Music and iTunes
Let you scan one or multiple folders/drives for duplicates
Let you exclude files and folders from scan
Display the found duplicate files with preview and file info
Automatically select duplicates for you to mass delete with a click
Also offer selection rules to help you select
Offer 3 ways to delete: Move to Trash/Recycle Bin, Move to Folder and Remove Permanently
Easy to use and customize
Available for both Mac and Windows

Free Download

Free Download
What are cookies and what do they do?
Cookies are small text files that save the data of the websites like website preference, your login details, which will speed up the connection to the websites you regularly visit. There are two types of cookies including session cookie and persistent cookie.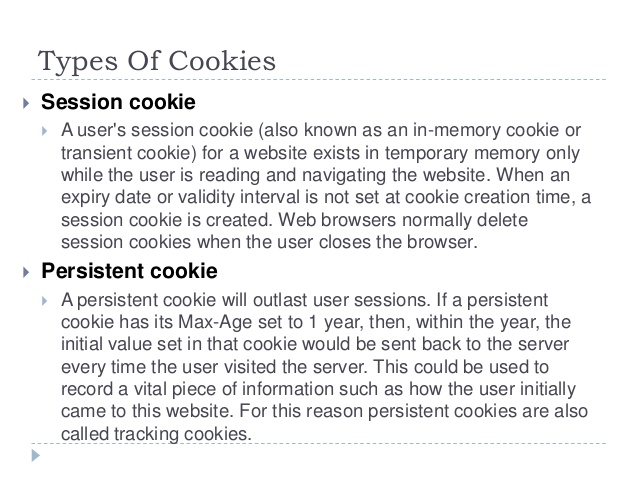 Cookies are used in a number of ways:
Cookies can be used to store login information for a website you visit frequently. In that way, you don't have to enter your user name and password each time you visit the site.
Another use of cookies especially the persistent cookie is to track items while you visit an online vendor. The cookie can keep track of the items you select while navigating through the different sections until you decide to go to the check out page and purchase them.
Cookies can also be used to save information you enter in a form. If there is a problem when you submit the form (if a field that is required is left blank, for example) the cookie can save you some typing and time by entering the rest of the information so that you only have to fill in the field with the problem.
Unfortunately, cookies can also be used by advertisers to track your web surfing habits so as to deliver ads based on your interests. This can be considered as an invasion of your privacy. While disabling cookies in your web browsers may limit the functionality of some websites that rely on them. This may be one of the reasons why you want to leave cookies enabled, but you can also clear cookies on your Mac at any time to protect your privacy. Though cookies are small text files, many cookies can also eat up much Mac space, so removing them can also help you free up Mac space.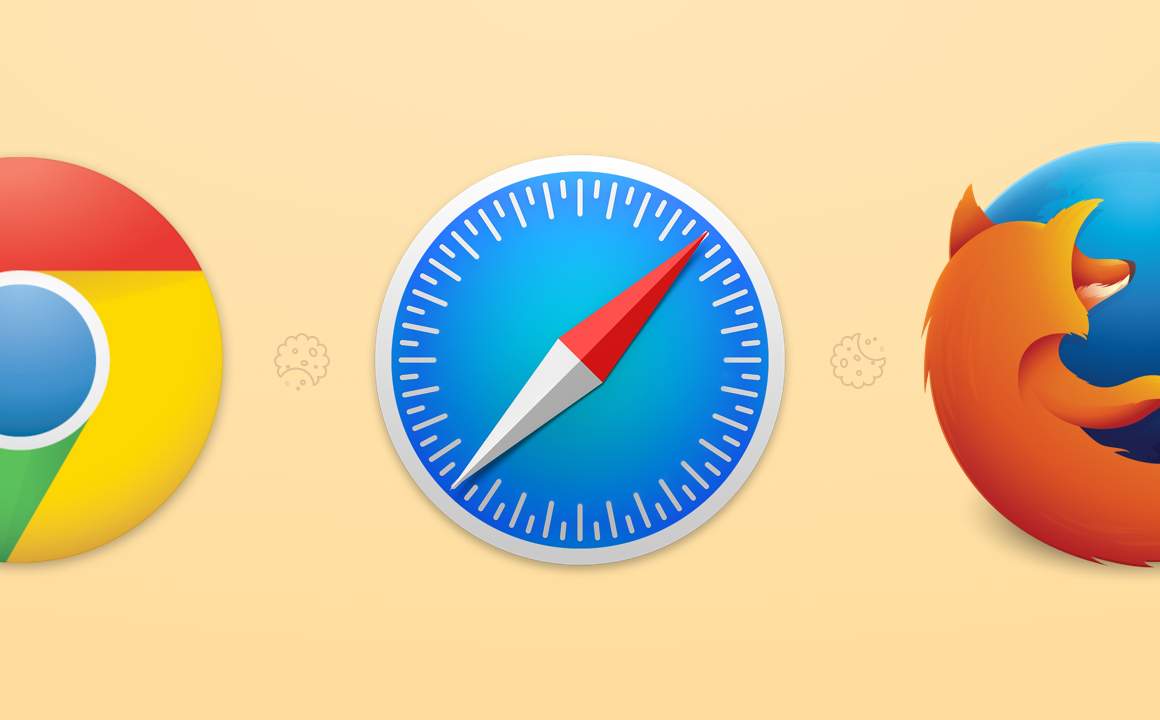 How to clear and delete cookies on Mac
Different web browsers offer differing ways to delete your browser's cookies. So in order to clear cookies on your Mac, you need to figure out which web browser you are using. Below are detailed guidance on how to remove cookies in Safari, Google Chrome, Firefox and Opera on your Mac.
How to clear Safari 8+ cookies on Mac
To delete cookies in Safari browser by hand you'll have to dig into its privacy settings. It shouldn't take more than a few seconds though. Here's how to clear cookies in Safari browser on any Mac:
1. Open Safari. Click Safari in the upper left hand side of your screen. In the menu that appears, click Preferences.
2. In the window that appears, click the Privacy tab. Click the button "Remove All Website Data.... ".
3. Click "Remove Now" in the pop up window that appears. If you want to clear cookies for specific sites, you can click "Details" to select the sites with stored data you want to remove. Hold down the Command key to select multiple sites. Hit "Remove" to delete cookies. Then click "Done".
Also interests you: Clear Cache Safari on Mac in Two Easy Ways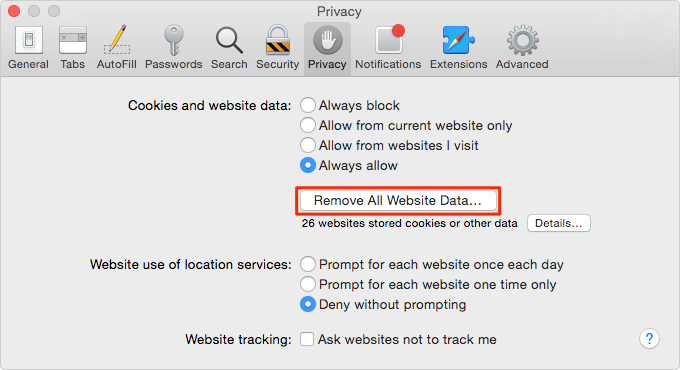 How to clear Google Chrome cookies on Mac
To delete cookies in Chrome browser manually, you have to get into its Privacy tab, because this is where cookies are stored. Technically, cookies are a part of your privacy, after all. To clean cookies in Chrome browse on your Mac:
1. Open Google Chrome on your computer.
2. Go to menu (the burger icon in the top right corner) and click "Settings".
3. At the bottom, click "Show advanced settings".
4. In the "Privacy" section, click Content settings.
5. In the "Cookies" section, click "All cookies and site data".
6. To delete all cookies, click "Remove all".
7. To delete a specific cookie for a site, just highlight it and click Close button on the right.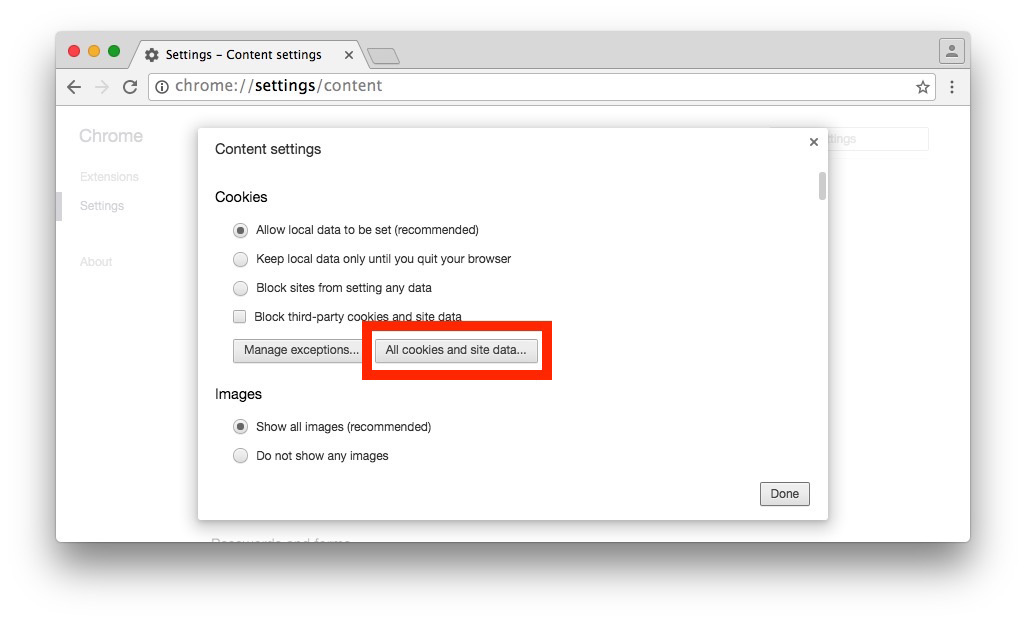 Tip: You can also choose to remove all cookies created during a specific time period. At the top right corner, go to menu (the burger icon), then go to More tools > Clear browsing data. In the window appears, please choose a time period such as past hour or past day and select "Cookies and other site and plugin data". Click "Clear browsing data".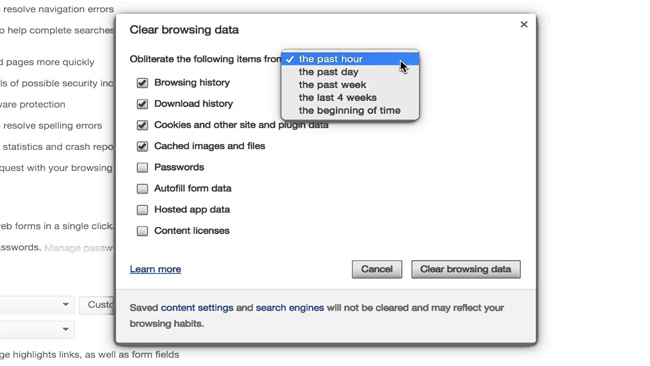 How to delete FireFox cookies on Mac
To delete cookies in Firefox browser you'll have to spend only a few seconds. Its Recent History is accessible right from the top menu bar. So, to clear cookies in Firefox browser on your Mac:
1. Open Firefox browser on your Mac. Find "History" (look to the menu bar at the top) and Choose "Clear Recent History".
2. In the window that appears, click on the dropdown menu to the right of "Time range to clear" and select "Everything". If necessary, expand the "Details" section and check "Cookies". If you want to clear Firefox browser history, you can also select browser history items.
3. Click the "Clear Now" button to clear the selected items.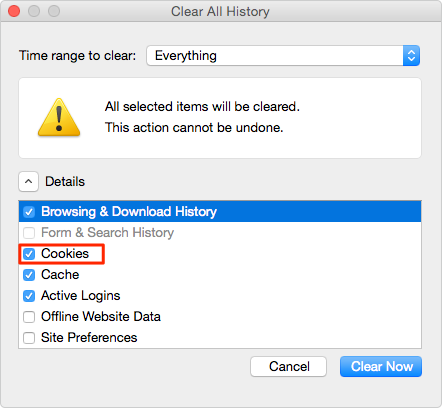 How to Delete Opera Cookies on Mac
1. On your Mac, open Opera browser.
2. Click on Tools > Delete Private Data....
3. Check "Delete temporary cookies" and "Delete all cookies", then click on "Delete".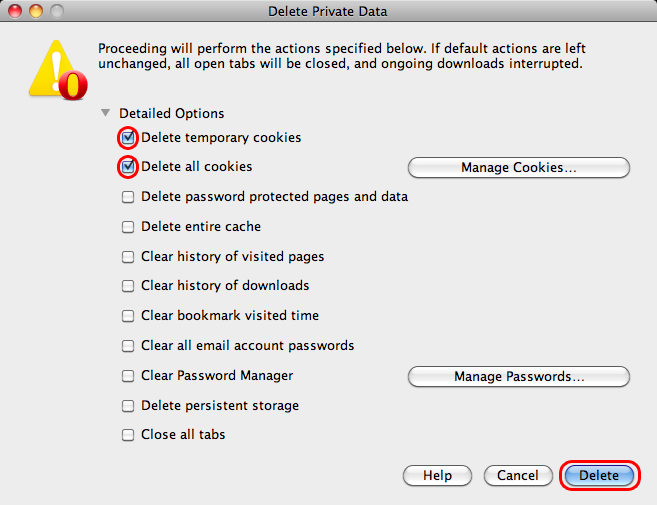 In all, you can follow above steps to delete any web browsers' cookies manually. If you think it is tedious to do that, below tips can help you clear browser cookies much easier:
1. Turn on auto clean feature to clear cookies every time you close the browser or turn on Do Not Track feature. If you use Chrome, you can also install the Click&Clean extension from the Chrome Web Store to clear all your private data when you close Chrome.
2. Some web browsers like Firefox allow users to browse the internet without recording information from visited sites (including cookies).
3. Disable web browser cookies if you don't need them.
For Safari users, go to Privacy > Cookies and website data, and choose "Always block".
For Chrome users, go to Settings > Show advanced settings > Privacy > Content Settings > Cookies, and choose "Block sites from setting any data" and "Block third-party cookies and site data".
For Firefox users, please go to Preferences > Privacy > History, and choose "Never remember history".
4. If you use several web browsers on a Mac and want to clean up all cookies and speed up your Mac, you can buy a Mac cleaning app which helps you dealing with browser junk files like cookies, caches, histories, and removes system junk files from the Mac itself.