I am looking for a way to securely encrypt files such as PDF, Word on Mac. Therefore, is this a safe/recommended way of encrypting files? (or zipped folders?)
As the development of technology, keeping your personal files safe doesn't have to be difficult-as long as you keep the sensitive files encrypted and under your control.

Why you should encrypt your files on your Mac
Many of us are increasingly concerned about protecting private data, such as your personal images, videos, or any text content, but there are still many people who don't realize the importance of protecting our data. Follow us to discuss the reasons why you should encrypt your files or folders on your Mac.
Prevents any unwelcomed guests from getting access to your personal data
Once your computer is stolen, your data will not be leaked
If you have children in your family, encrypting files prevents children delete your files by mistake
Prevents children from playing games by encrypting game apps
There are quite a lot of reasons why you should encrypt files on your Mac. Encrypting files provides a robust way to protect our personal files and data. Every time you try to open your files, the corresponding software will start on its own. When you encrypt Apps, you have to enter password to open the corresponding files. So the easiest way for you to encrypt your files such as PDF, word, excel or movies is using Cisdem AppCrypt. Cisdem AppCrypt allows you to set password to protect applications like Contacts, Photo, iTunes and keep tracks of failed attempts to access the protected apps. You can download Cisdem AppCrypt to have a free trial.

Free Download
Useful Features of Cisdem AppCrypt
Add multiple apps to the blocked apps list at one time
Works as a background process
keep tracks of every failed attempt to access the protected apps
Does not modify any system or application files
Capture a snapshot of the intruder with the front-facing camera
Important Notice: Though Cisdem AppCrypt can encrypt your applications on your Mac, but you must remember the password and must not share your password with someone who you don't want to access your files. If you forget your password, you will not be able to access the protected files. The password is not retrievable. If you have poor memory, you can write down the password somewhere else.
How to use Cisdem AppCrypt to encrypt files on Mac
Step 1. Click the download button below to install Cisdem AppCrypt, then launch it on your Mac.

Free Download
Step 2. Set your AppCrypt password. The password will be used to unlock the blocked applications and program settings. Once you set the password, you must remember it.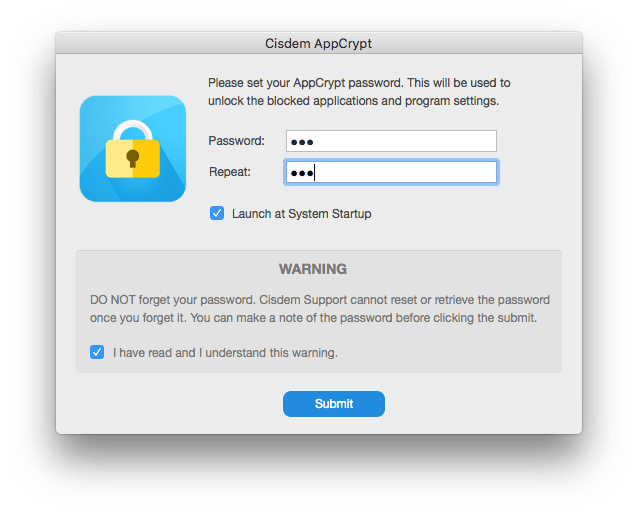 Step 3. Click App Lock and click the plus icon + to add apps to lock. If you wanna encrypt your movies, you can add your installed media players such as QuickTime, VLC. If you want to protect your audio files, add iTunes or other audio players installed on your Mac. After you add Apps to the block list, every time you launch these Apps, AppCrypt will ask for a password.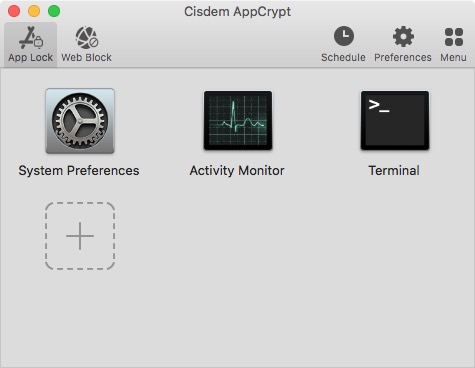 Step 4. You can click Preferences to change settings. You can choose AppCrypt to be launched at system startup in order to protect your files in a timely manner. And you also choose AppCrypt to take snapshots of the intruder with the front-facing camera. Click "Schedule" to set time period as you want. This step is optional.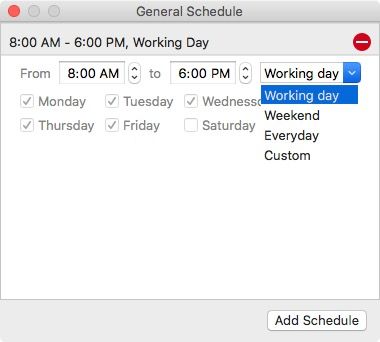 Connie has been writing for Mac productivity and utility apps since 2009. Each review and solution is based on her practical tests, she is aways energetic and trustworthy in this field.