Not all of formats file will look right on other people's screen, and not all formats files can be transfer to other operating system, but PDF file can do that. So many times, we need to convert other documents to PDF, and many people will choose the online PDF creator. But which one is the best? Today, I will test top 5 online PDF creators, and give the results for all of you. Please read on.
Part 1.Top 5 Online PDF Creator
Online PDF converter enables users to create PDF out from Microsoft Office, Publisher, OpenOffice, Images, XPS, PDF, etc, with versatile customized setting offered for an expected file(like set image margin and size, format the tables in Excel,, merge files, etc), it supports batch creating.
Online PDF-Converter can also create PDFs from password-protected files if you can enter the correct password to unlock it.
More about Online PDF-Converter, check details.
Online tool allows users to convert Microsoft Office, Images, Lotus and other files into PDF without limit on quantity of files (no batch conversion).
You can tweak the preferences such as "Auto-Rotate Pages"and "Resolution", even download the converted file in the browser or from the link sent to your email box later.
More about Document Converter, check details.
Online service to create PDF for free, allow users to create PDF from Word, Excel, PowerPoint, Images, Open Office, Lotus and other files.
You can download the PDF within the same web page, fast and convenient. It also offers its subscribed members with advanced PDF Creating services.

More about PDF Converter, check details.
Online PDF tool converts Microsoft Office and images into PDF from computer and icloud services.
You can also use this tool to merge&split, protect and compress your PDFs. Even, you can download the converted file into Dropbox and Google Drive.
More about Smallpdf, check details.
Online tool enables users to create PDF out from Microsoft Office formats, Text, Images, with a preview of the converted file available before downloading.
The interface is quite simple, once file is uploaded successfully, a preview window appears for users'check, you can download the file in PDF or HTML format.
More about PDFOnline, check details.
Comparison Between Top 5 Online PDF Creators
Part 2. Best Trending PDF Creator Mac for 2023
In the above-mentioned part, you may have realized some weak points of online PDF creator that may turn off PDF users. Yes, the formatting and limited features. If you are looking for good PDF quality with well-formatted content and high resolution images, cast your look into those well-performed 3rd party PDF Creator. Here to cut your time on the choice, we pick the best trending PDFMaster 2023 for you.
What is the Best PDF Creator for Mac/Windows
In this review, multiple PDF Creators are recommended based on features like easy to use, supported file types, lighter memory requirements, faster operation for conversion, affordability and more preference settings.
READ MORE >
Cisdem PDFMaster, the best trending PDF Creator in 2023, is a PDF tool allows users to easily create PDF from HTML, Word (.docx), PowerPoint (.pptx), EPUB, Text, RTFD, CHM, JPG, and PNG etc. on mac. There is no risk to upload file into this stand-alone tool, neither size limit on the selected file. The batch creating feature will enable you to generate a single PDF or multiple PDFs from files in one format or in different formats.

Free Download
Import Files

Go to PDF Create, drag&drop one file or multiple files into Cisdem PDFMaster, also you can add files by clicking "+". It is fast to import files in batch, even upload large size file.
Tweak the Setting According to Your Needs (Output Name, Merge)

Once the file is uploaded, you will find the details of total pages and file size. Input the output name if necessary.
Instant Conversion

Click the "Create" button to start generating PDF on Mac. If you want multiple files in same format, even in different formats into single one PDF, turn the "Merge" feature ON, you will find all the files are saved in one PDF.
Pros:
Import files fast and work with large size file smoothly
Versatile Import Format
Allowing Customized PDF Creation (Output Name, Merge into One)
High Conversion Quality with equivalent formatting and resolution as original
Extened features: convert, edit, compress, merge, split, encrypt and decrypt PDFs
Part 3.If You Have Already Got Adobe
But if have already installed an Adobe, make each penny worthwhile. According to Adobe supported formats, you can create PDF out from Microsoft Office formats(Word, Excel, PowerPoint), images, etc.
Take Adobe Acrobat Pro X as an illustration(Steps to create PDFs with different Adobe versions may be similar)
Step 1, Launch Adobe Acrobat, go to "Create PDF" in the welcome screen.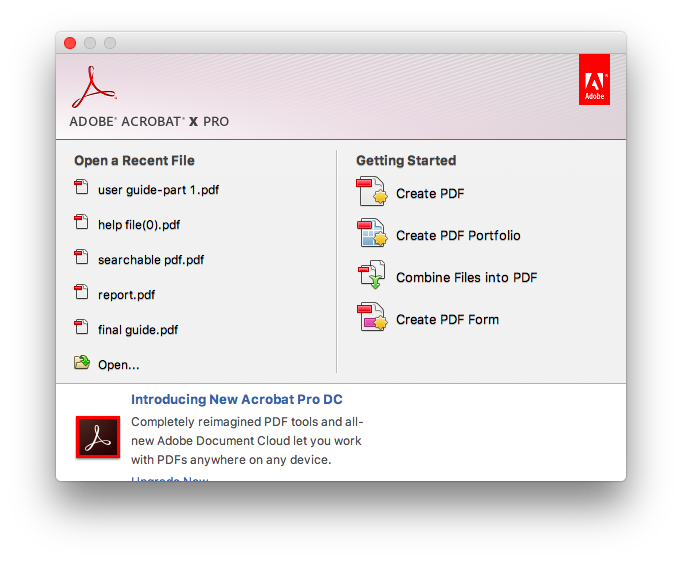 Step 2. Import the file from destination, check the supported import formats before uploading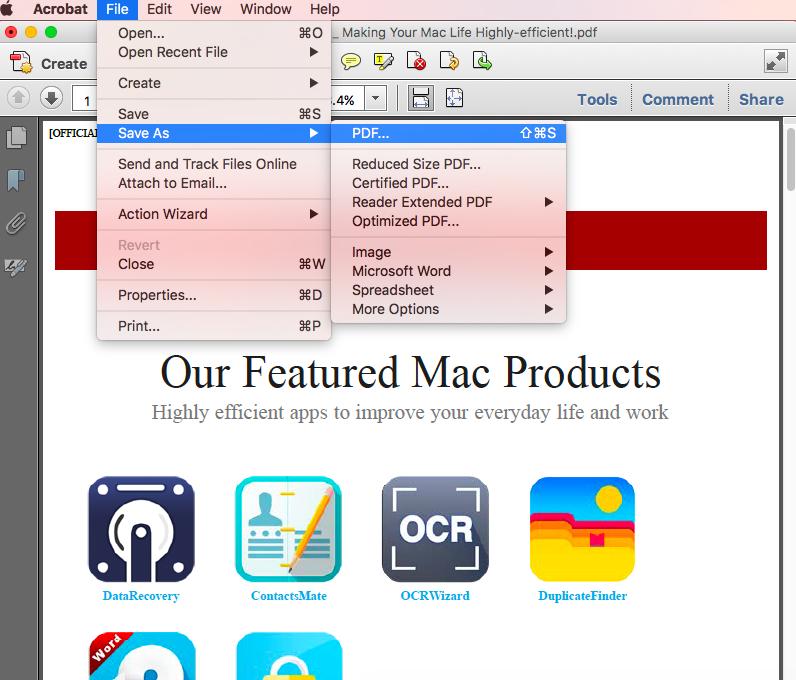 Step 3. Once the file is uploaded into Adobe, go to File>Save As>PDF. Also you can choose "Reduced Size PDF" or "Optimized PDF" to compress the PDF.
When you are using online PDF creator to generate PDFs, you should be aware of following risks that you will be brought to with these online free services:
Online PDF creator will store your files for several hours, which means that your files may be given away. And the liability of free online PDF creator is limited, if you don't want to others get your files, you should take a further thought before uploading.
Online PDF creator provides no warranties, which means that you can use this tool, but they can't guarantee the effect and others.
Online PDF creator will use cookies on this site.
Online PDF creator takes relative longer time to upload, process and download, or the project may crash when the server cannot respond promptly.