Remove Any Security from PDF Easily
Remove security of opening and viewing PDFs
Remove security of printing and copying from PDF
Unsecure PDFs even with unknown or forgotten PDF password
Batch unsecure PDFs at the same time
Easy to use

Free Download

Free Download
What is PDF Security?
PDF security is added to protect PDF files from viewing,editing, copying and so on.
Security Type: You can use either password to restrict users from opening, printing and editing PDFs,or use a certificate to encrypt PDFs so that only an approved list of users can open them.
PDF users who use password to protect their file is in a lion's share.There are two types of passwords used to secure PDF:
User (Open) Password: protect your PDF from opening and viewing;
Owner(Permission) Password: can open normally, but certain operations are restricted (e.g., printing or editing) and requires password for unlocking it.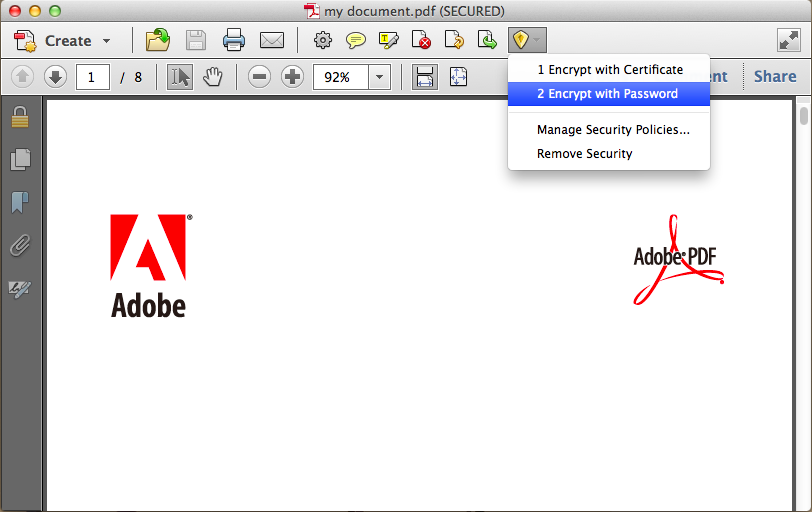 Why We Need to Remove Security from PDF?
Often we receive e-bills (on utility, telephone, Internet, mobile, cable and so on) in PDF format, and in consideration of the security, these PDF files have been protected with PDF password. PDFs which are protected cannot be changed, which means it is impossible to add links, bookmarks or combine pages from these files as part of your regular document operations. And it is extremely annoying for PDF users being locked out from the files when they have to get full access to these password-protected documents for personal or commercial use.
So, that's no wonder we often ask "Is there a tool available that can remove security from PDF files?", the answer is "Yes".
Remove security from PDF, also be known as removing password from protected PDF, unlocking PDF files, or recovering PDF files, allows PDF users to bypass the PDF security restrictions that were placed on the document by its creator, and finally allow users to 100% edit, print, copy, add context…
How to Remove Security from PDF for PDF Opening,Copying or Printing?
As a matter of fact, there are online PDF programs helping to remove PDF security, but users are not recommended to use online tools on this issue. Since basically, we add security to those highly private PDF files, if you upload these secured PDF files to the online program, it may bring potential risk of information leakage. Therefore, lots of users choose a desktop PDF Password Remover to remove PDF security.
Best For Mac and Windows Users
To remove PDF security, I recommend you to try Cisdem PDF Password Remover, an easy-to-use security removal tool for both Mac and Windows users, With several clicks, you will successfully remove all securities from PDF. Even in the case you forgot PDF password, you can directly decrypt the file.
Download and launch the Cisdem PDF Password Remover on your Mac or Windows.
Free Download Free Download
Import secured PDF files. Drag&Drop PDF files or directly add files as it instructs into the main interface.
Once you have added the encrypted PDF into Cisdem PDF Password Remover, click "Remove", you will get an equivalent PDF without password protection, and the PDF is unlocked.
Useful Tip 1:
If there is a lock icon appearing on the right side with your PDF, it indicates your PDF is user password protected from opening. Click the lock icon, either enter the user password if you know or directly decrypt the password if you forgot it. Then clikc "Remove" to create an equivalent PDF file without any PDF securities.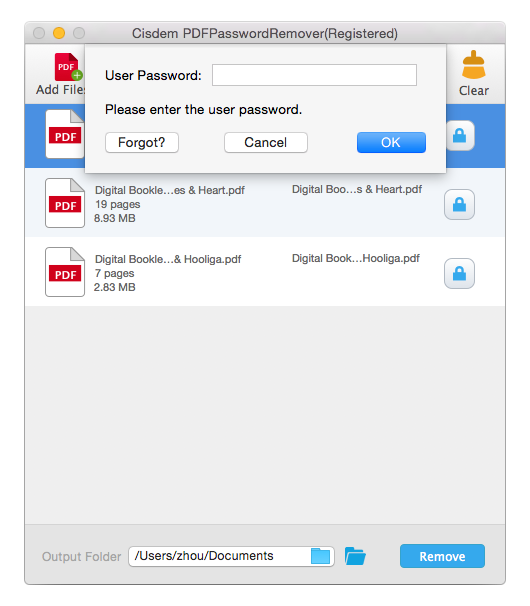 Useful Tip 2: Go to the settings as follows. You can check or fill in the above options like, password length, additional characters, etc. By doing so, you will save a lot of time to crack PDF password.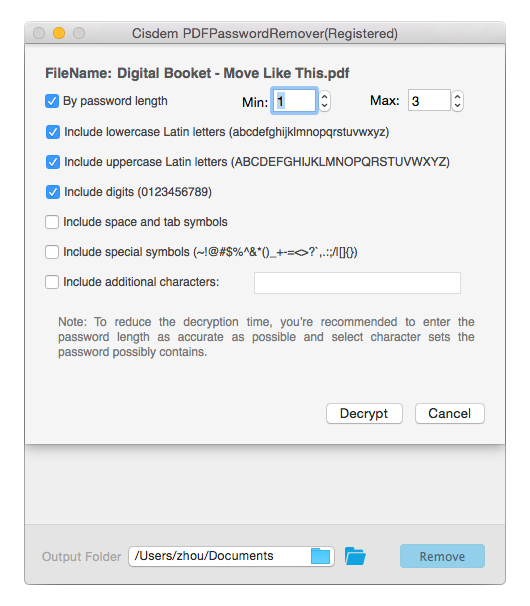 With PDF Password Remover, you can easily remove password from protected pdf and copy, print, edit secured PDF documents as you like.
Alternative For Windows Users
If you want to remove PDF security on Windows, you are recommended to utilize a PDF recovery tool, Eltima PDF Password Recovery. It is designed to directly decrypt or recover PDF password, then you can save as or create an equivalent PDF without any securities.
Go to the official website,download and install the program on your Windows PC.
Add the protected PDF file into the program.
If you want to unlock PDF directly, choose the "Decrypt" mode; if you want to recover the forgotten PDF password, you can choose one PDF recovery mode: Brute-Force, Dictionary or Network search. As you can see, you can fill in different parameters to narrow down the search and recover pdf password faster.
If you like these tools, just share it with your friends on Facebook, Twitter, Google Plus and other social networks.

Peter has always had great enthusiasm for writing, programming and web development. He likes writing about software and technology, his works are featured on some tech blogs or forums like Tom's Hardware, CNET, etc.