Pros
High OCR quality
Editing feature
Support encrypted file
Digitize business card
Versatile output format
Cons
No batch conversion
Pricey
Verdict:
The wide range of supported languages, extensive list of output profiles, the text enhancement capacity and partial conversion ability make this app a great converter... ― Mac.informer
It can save you a lot of time by quickly extracting text content, images, and tables from various sources, including scanned files. You have full control over the OCR process... ― Softpedia
With a growing demand of recognizing text or content from scanned files & image captures, OCR tools become increasingly eye-catching and finally stimulate aggressive software developers to create high-quality services. Cisdem OCRWizard is the one stands out from dozens of OCR tool designers, let's just figure out what brought it to its loyal clients.
At A Glance
OCRWizard, as its users describe, is a powerful PDF Reader+PDFConverter featured with OCR ability&Editing feature created by Cisdem.
It can open PDFs, allowing users to easily and fast review file in the program.
It can perform OCR on PDFs(both native and scanned) and Images, converting these files into more than 15 commonly-used formats.
It also allow users to edit the file during the OCR process, especially when you are working on Excel and need to customize your tables, etc.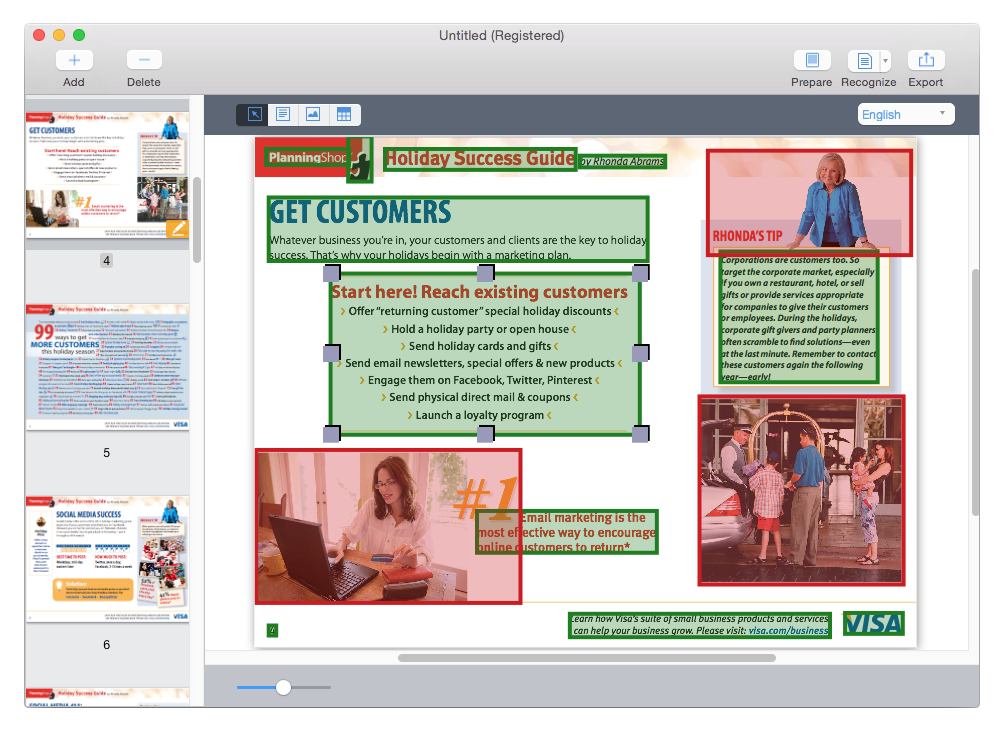 Outstanding OCR Quality
The most critical reason contributing for the soaring sales of Cisdem OCRWizard these days is its excellent OCR quality, also this is the factor making it such a powerful competitors to its counterparts. Several tests were taken to prove this, also these tastings revealed us how OCRWizard achieved to make a crazy-good OCR quality. And the credits go to the performance itself and built-in manual tools.
The Performance Itself: It seems Cisdem has located itself on a higher level in the OCR software industry, according to its ambition to fundamentally solve poor OCR work technically and programmatically. In another words, when you are working on normal-looking scanned files or images(the files are scanned or captured as similarly as their original, clear and clean), the OCR quality of Cisdem OCRWizard won't turn your down, you get what you expect.
Manual Tools: Another reason why Cisdem OCRWizard yields more accurate OCR results than its rivals is its embedded creative tools to adjust the file for better text recognition. In most cases, yes, we will work on high-quality files, but there are still chances we may need to deal with weird ones, they are not straight and flat, the text may be curved or we need to cut some certain part for a selective OCR processing, etc). However, with the tools from OCRWizard, we will be able to rotate the file in correct direction, adjust for best brightness/sharpness/contrast/saturation, straighten the curved text, remove blur, etc, to put the file in its best situation for best recognition.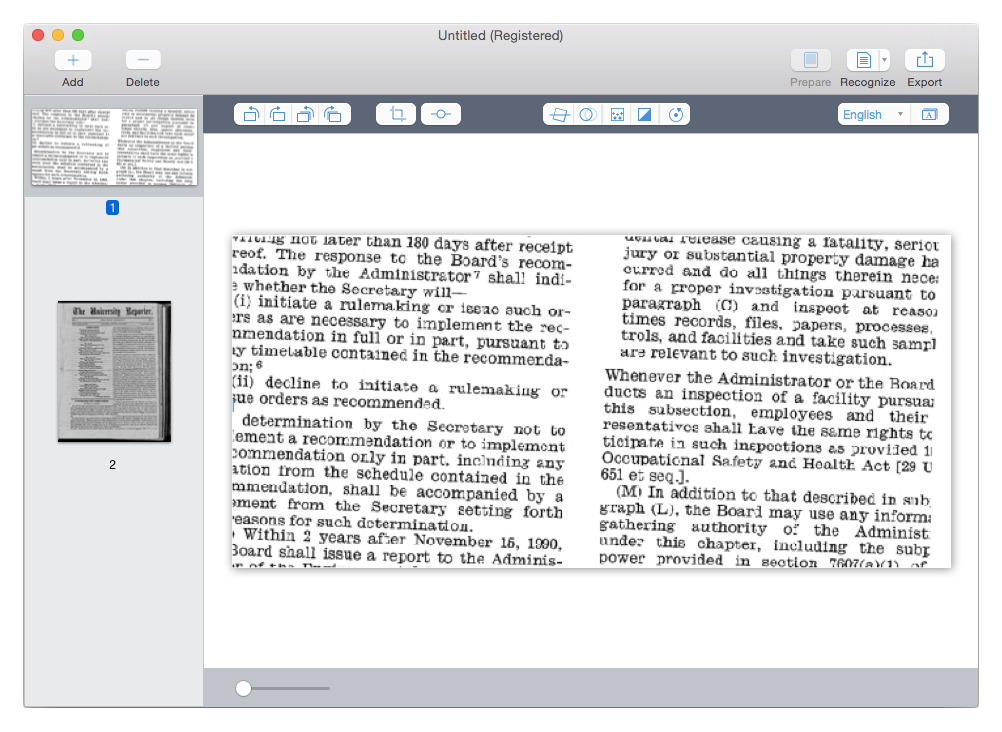 File-Editing Features
Few OCR tools are capable of doing editing in the program, but Cisdem OCRWizard does. You may have noticed its editing feature when we talk about the part "Manual Tools". Yes, in addition to the feature to edit on image(rotate, cut, crop, etc), OCRWizard can also edit Excel tables, though the feature maybe limited, it does add some charm to itself. And I guess, Cisdem OCRWizard will be armed with more editing features on Text, Image,Charts, etc. in the near future to keep leading in this field.
Let's say, in this file, once OCRWizard marked the tables in blue box, right click on the column to add or delete lines. Or click on the table icon to add tables.
Password-Protected and Business Cards too
As aforementioned, OCRWizard supports converting native PDF, scanned PDF and images into editable formats. Also, it can perform the OCR on password-protected files and business cards.
Password-protected File
PDF users are quite likely to add passwords to their PDFs, trying to enhance the security of their information. With OCRWizard, you don't have to remove the password protection for a OCR processing.
Just drag and drop the file into OCRWizard, you will be required to enter the correct password, input the password. If you forgot, try to unlock PDF first.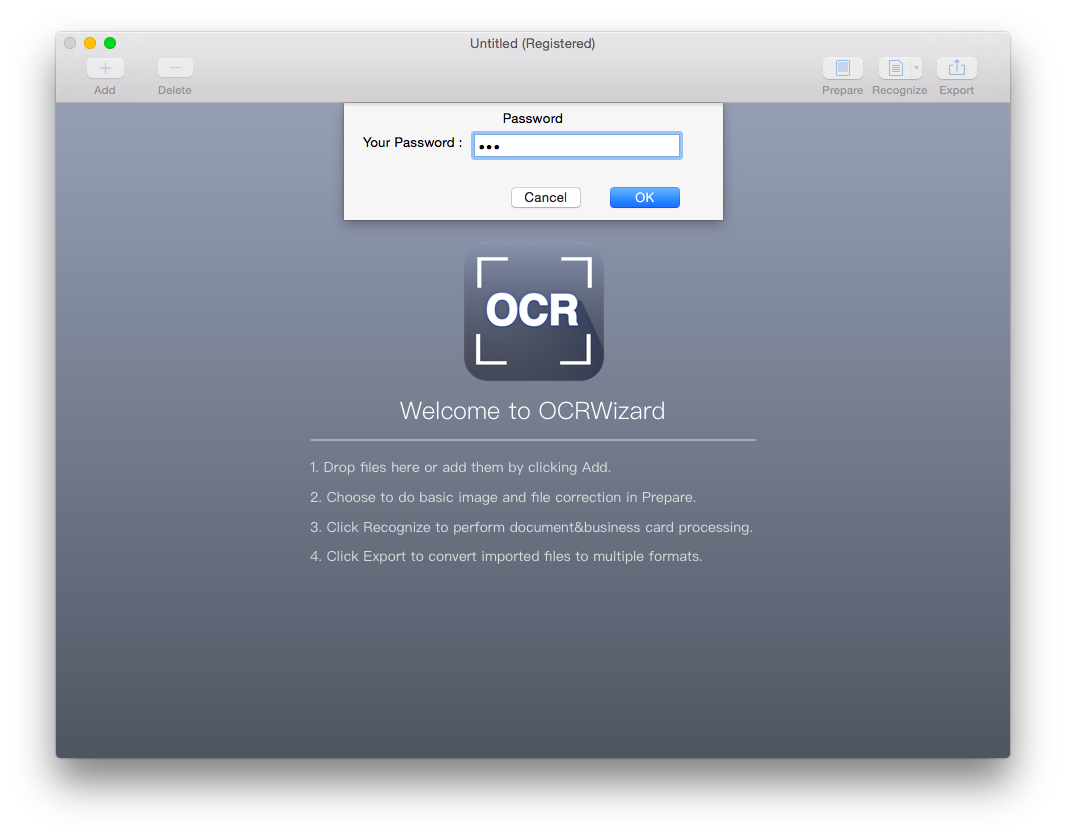 Business Card
Business Card is quite different from those office documents, the data should be well managed and imported to database program, like Contacts, Mail, AirDrop, etc. That's what makes Cisdem design OCRWizard with an embedded template to manage the business card for businessman.
Once you create a digital file of the business card, either using a business card scanner, printer or camera to capture the information, add the file into OCRWizard, go to Recognize>Business Card, a Contact template will automatically appear on the right, you can also update the data by adding or deleting. Once finish, share the contact data into Contacts, Mail, Airdrop for the digitized business card to share across different devices and recipients.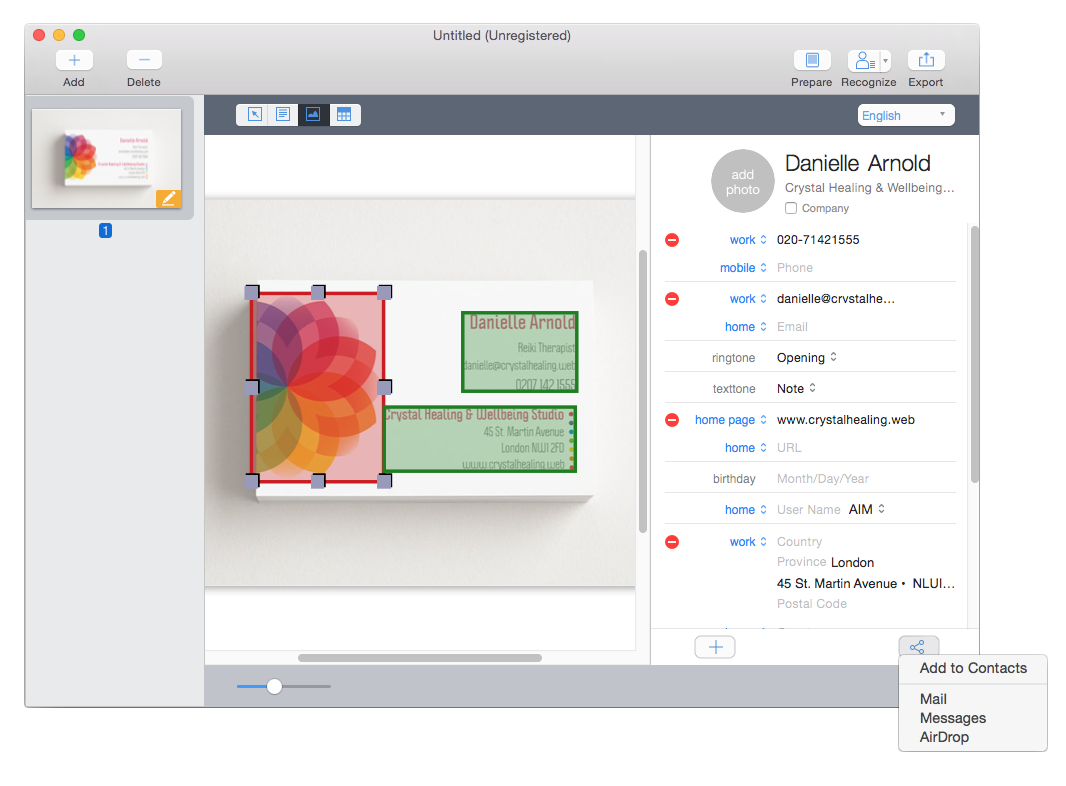 Save for Later OCR Processing
You can upload a file with hundreds or thousands of pages, or large size file, it won't be problem. But one thing for sure, it will take some time to process OCR on these large size files, of course you can just wait the OCRWizard to finish its work, but why not save the project for later OCR Processing. Next time when you work on your mac, just continue the task and go ahead with your other work.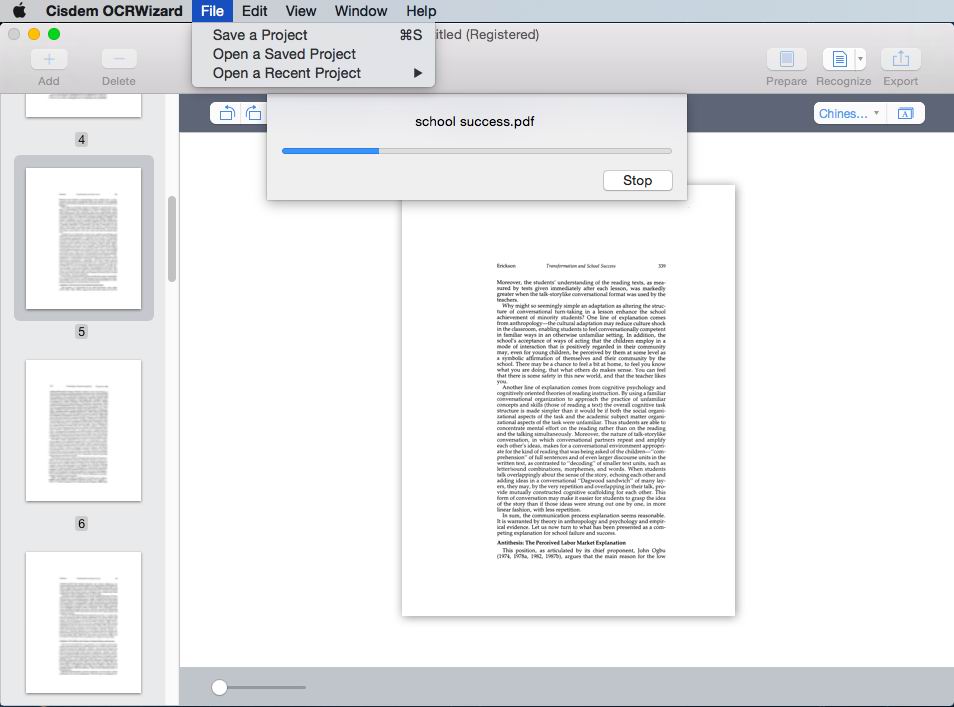 Export to 15+ Formats
15+ output formats, is another indicator shows Cisdem' ambition on OCR market. Put all those commonly-used file format into consideration, OCRWizard allows users to convert PDFs and Images into searchable PDF, Docx, Doc, PPTX, RTFD, HTML, ALTO, FB2, ePub, ODT, TEXT, PAGES, KEYNOTE, JPG, PNG, GIF, BMP and TIFF. No matter which way you prefer to present your ideas, OCRWizard will show its magic.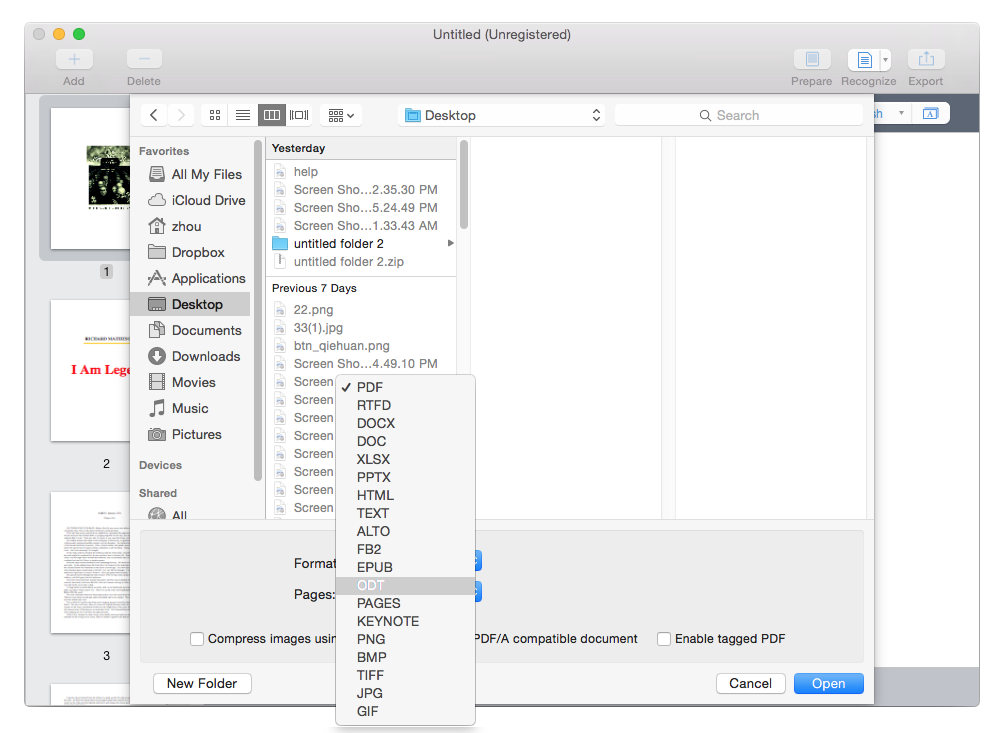 Final Words
As we can see, Cisdem OCRWizard Mac is a professional and powerful OCR tool. Its editing feature and extended features does add charming elements to its already impressive conversion quality. As it offers a free trial for all the users, anyone who want to convert PDFs and images into editable formats can utilize it for intended use.