"Is there a tool that can add a password to protect a PDF file?" A user asked me several days ago. I believe that many users want to know the answer. As Mac users, we all want to password protect PDF files for safeguarding sensitive information, and control PDF file permissions for copying or editing your information. In order to solve the confusion in users' mind, this article will show you two ways to encrypt PDF files with password with app blocker on Mac.
Password Protecting a PDF on Mac isn't as easy as you might expect. You can password protect or encrypt the PDF files using two ways; one by directly encrypting the PDF via Mac's built-in tool named Preview, two by using Cisdem AppCrypt to encrypt the apps which can open PDF files on Mac. You can choose the best way to encrypt your PDF files.
Add Password Protection to a PDF file on Mac for Free using Preview
Unlike Windows, Mac OS X comes pre-installed with software that allows you to encrypt your desired PDF. Known as Preview, the Mac's built-in application is typically set as the default program for viewing and editing PDF files. Furthermore, the tool additionally allows you to password protect the PDF files of your own choosing without ever opening Adobe Acrobat. Once done, simply share your PDF and passcode as you would normally. Below are the guidance to add password to protect PDF files using Preview.
Step 1. Launch Preview, click the "File" menu in the upper-left corner, and select "Open". Then choose the PDF file you want to password protect from its respective save location and click the "Open" button.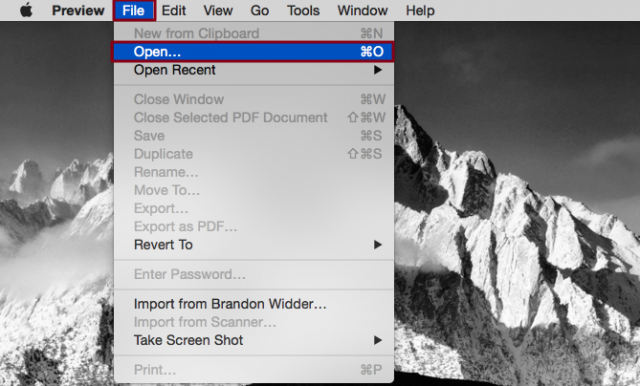 Step 2. After you open the PDF file you want to encrypt, click the "File" menu again, then select "Export" from the resulting drop-down list. And a window will pop up for you to name and select a save location for the resulting PDF file. Then, check the box directly left of "Encrypt" and enter your desired password in the space provided, verifying the password if prompted.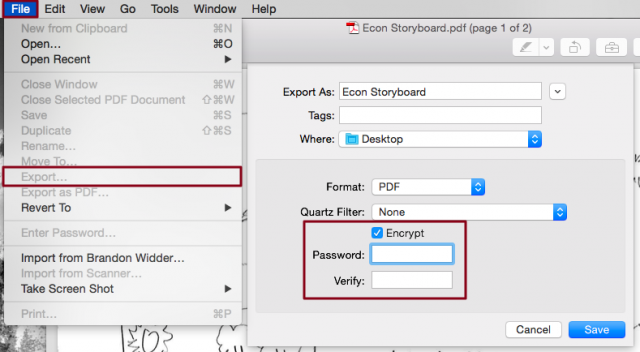 Step 3. You can open your newly-modified PDF in Preview to make sure that your PDF is protected. Once you open the encrypted PDF, a screen similar to the one below should appear, indicating you successfully password protected your PDF document.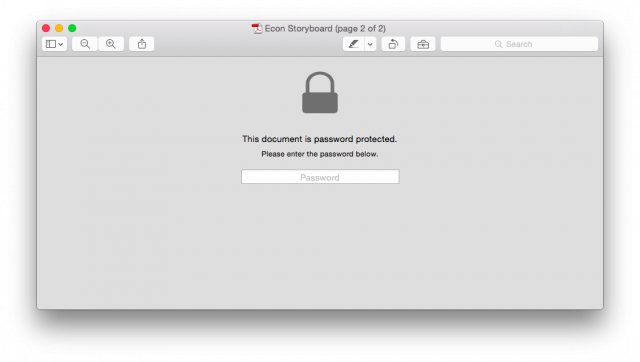 Encrypt and protect PDF files on Mac using Cisdem AppCrypt
Since Mac OS X has its own built-in encryption software FileVault for users of OS X 10.7 (Lion) or later. But there's no built-in ability to lock individual apps. Here Cisdem AppCrypt can help you to lock individual apps. Cisdem AppCrypt also allows you to encrypt and protect your PDF files by adding password to the apps which can open PDF files. Otherwise, Mail, Safari, Evernote, your favorite photo appliation, iTunes, YouTube, Mac App Store and any other application you use will be protected using Cisdem AppCrypt. Below are the guidance for you to encrypt PDF files using this encryption application. You can download it to have a try.

Free Download
Step 1. Install and launch Cisdem AppCrypt on your Mac. And a window will appear to set your desired password, check "I have read and I understand this warning" and click "Submit". And this password will be used to unlock the blocked or encrypted apps, so you must remember the password.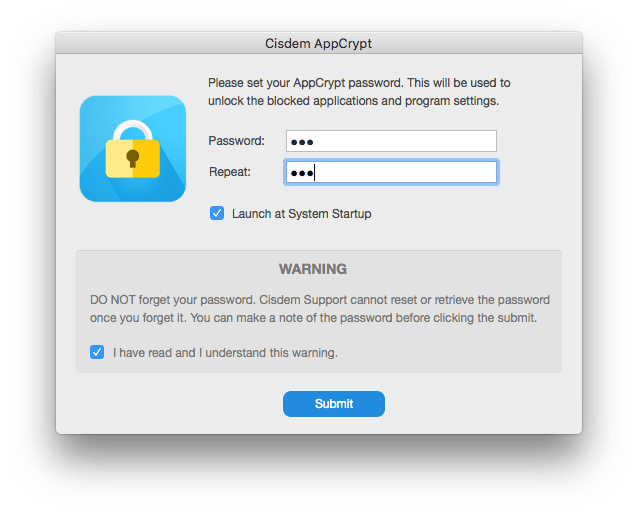 Step 2. Add all your applications like PDF readers which can open PDF files to the block list by clicking the plus icon + under the App Lock tab. Every time you open PDF files, Cisdem AppCrypt will ask you for the password to access the encrypted software which will be launched by default. Cisdem AppCrypt has a simple interface and you can password protect your PDF files by several clicks.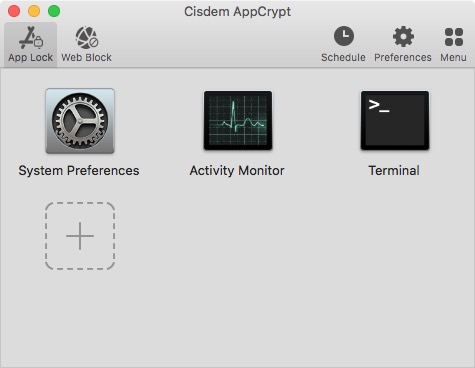 Peter has always had great enthusiasm for writing, programming and web development. He likes writing about software and technology, his works are featured on some tech blogs or forums like Tom's Hardware, CNET, etc.