Halloween is almost here. Do you figure out how to dress up yourself? If you've already picked up your outfit, then what kinds of Halloween makeup you will choose to top it all off? Actually, there are many Halloween makeup tutorial videos on YouTube. You can download them to watch and learn offline. I'm here to recommend the best Halloween makeup tutorial videos downloader and 10 great Halloween makeup videos on YouTube.
Halloween Makeup Tutorial Videos Download from YouTube
If you would like to download Halloween makeup videos to MP4, you'd better install a video downloader on your computer. Below I will show you how to download Halloween makeup tutorial videos on Mac and Windows.
Download Halloween Makeup Tutorial Videos on Mac
Cisdem Video Converter for Mac is a piece of magnificent software that offers safe and quick way to fast download Halloween makeup tutorial from YouTube and other 1000+ video streaming sites. The program also allows you to convert the downloaded Halloween makeup tutorial videos to all popular formats and devices, like MP4, MKV, MP3, iPhone, iPad, iMovie, etc.
Simply click the blue button below to download and install Cisdem Video Converter to your Mac.

Free Download

Launch the program and come to the third interface for Halloween makeup tutorial videos download.
Copy a link of Halloween makeup video from YouTube or other video streaming website.
Click the download button to start the processing task. Note: the software supports batch download multiple makeup videos, so you can continue to copy & paste the video URLs and download them together.
To play the downloaded Halloween makeup tutorial on any suitable device, you can switch to converting interface to do the conversion.
Download Halloween Makeup Tutorial Videos on Windows
HD Video Converter Factory Pro is an easy-to-use video downloader which to let beginners download Halloween makeup tutorial from video-sharing sites in minutes. It's enables you to convert videos as well. As a well-developed program, the functions of HD Video Converter Factory Pro have long been great.
Run HD Video Converter Factory Pro on your Windows, you will find a simple designed user interface.
Copy the URL of the Halloween makeup tutorial video from YouTube.
Click "Download Video" button in the program and then paste copied URL to "Add URL" box.
Analyze the YouTube video source and get the high-definition source to download.
Choose an output format and download Halloween makeup tutorial video on Windows.
Top 10 Halloween Makeup Tutorial Videos to Download on YouTube
For costume and makeup lovers, Halloween is definitely a carnival party. You can try all amazing and creepy makeup. And YouTube is an important source of inspiration for most people on Halloween makeup and costumes. Since you can download thousands of wonderful Halloween makeup tutorials there.
1. Melting Skull
https://youtu.be/flpl8Azsti0
This Halloween makeup is created by Desi Perkins above, and CosmoByHaley's floating head effect below. It looks interesting, creative and aesthetic. You could see tons of skulls on Halloween, but this one is special. To prepare for the optical illusions Halloween makeup, you need buy some flesh gel and face paint.
2. The Mad Hatter
https://youtu.be/eWJiTcY-A8A
The Mad Hatter is a nice makeup for Halloween that will never out of date. Johnny Depp played a lovely Mad Hatter with attractive, colorful and fun makeup. A decent Mad Hatter should come with bright orange hair and super long bright orange eyebrows.
3. Kitty Cat
https://youtu.be/K3RzAaoILCo
The creator Lucy Oriole said this Halloween makeup tutorial was inspired from cat or kitty, catwomen character. Girls are good fit this look. It shows the beauty, loveliness and sex appeal of girls.
4. Pencil Pierced Nose
https://youtu.be/7aBQzl9j2Ds
The first time I watched this Halloween makeup YouTube tutorial, I was scared and shocked. Karolina Maria indeed is an imaginative artist. If you are falling in love with Pencil Pierced Nose, be sure not to frighten the little kids.
5. The Walking Dead Zombie
https://www.youtube.com/watch?v=TChJtPRzN7I
Since the broadcast of walking dead, zombie makeup has became popular on Halloween. There are lots of Halloween YouTube videos about zombie makeup on Internet. You can pick your favorite one.
6. Emily from The Corpse Bride
https://youtu.be/-RYvxzkuHFo
This Halloween makeup tutorial earns high clicks on YouTube. It is assumed that dope2111 creates a disquieting and intelligent homage to Tim Burton's Corpse Bride. Now you can download and watch the step-by-step tutorial guide.
7. Broken Doll: https://www.youtube.com/watch?v=1SBNnSaE8r8
8. Sultry Vampire Halloween Makeup: https://www.youtube.com/watch?v=nLE5wKnBbTA
9. Two Faced Scary Monster: https://youtu.be/6dl-Ip2G0Rs
10. Friday the 13th Jasons Girlfriend: https://youtu.be/GFCzi82ShYc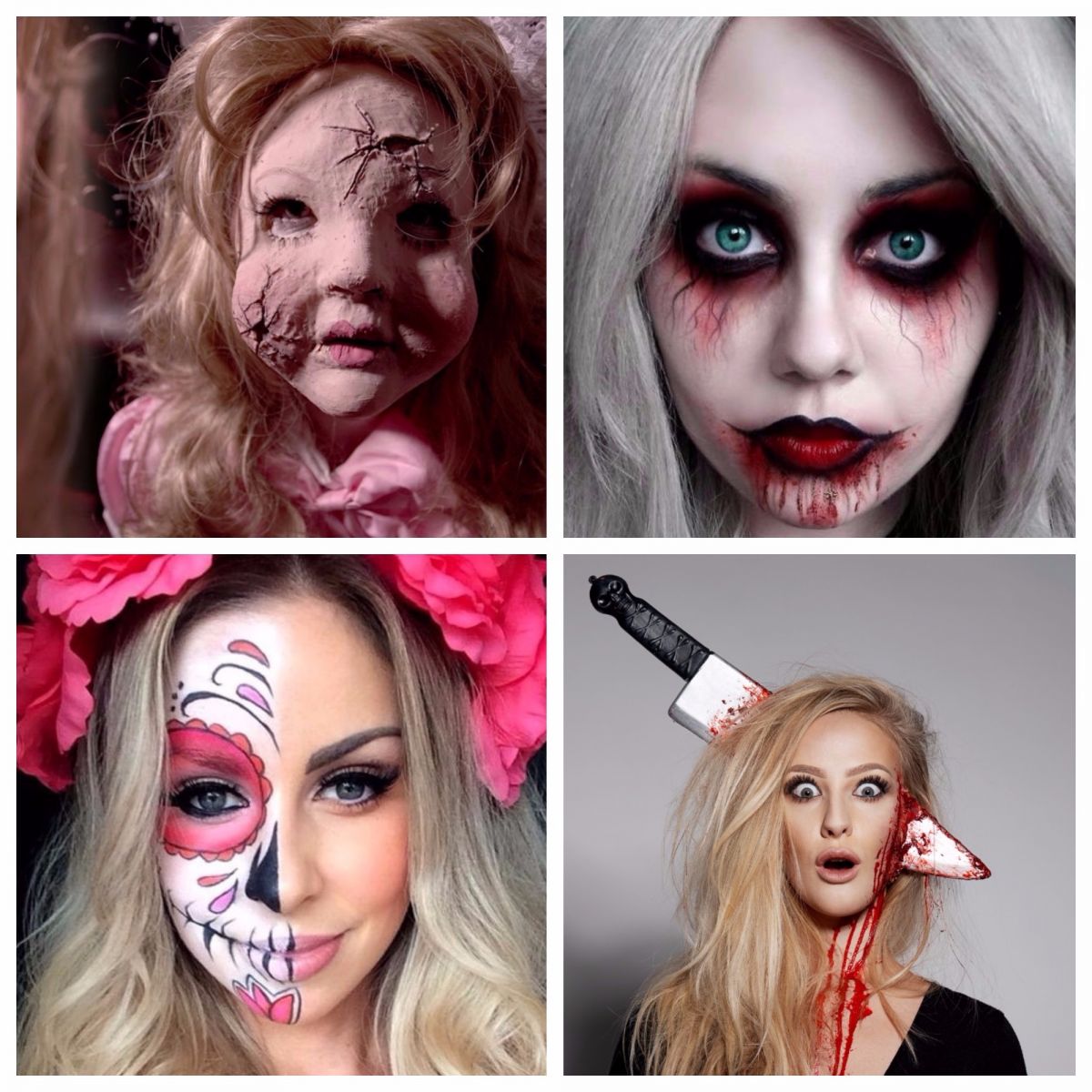 In short, Halloween makeup is bizarre and miraculous. Originality is the kingly way. Spending more time studying makeup videos from YouTube and coming up with some new designs, the full preparations will ensure you a nice holiday.

Peter has always had great enthusiasm for writing, programming and web development. He likes writing about software and technology, his works are featured on some tech blogs or forums like Tom's Hardware, CNET, etc.