Image is a web-friendly file format to store information, you can upload images to your social pages, or enclose them as attachment in an email conveniently. But what to do if you want to extract texts from an image file or make the image editable in Word? You will need an Image to Word converter to solve the problem. Here in this article, 3 workarounds to convert Image to Word are introduced with details listed.
For those who want to convert Image to Word for free, you can check the tutorial JPG to Word Online. However, you are not recommended to convert highly private and complicate images due to the information security and conversion quality of online free tools. Keep reading and try following workarounds if you want the best Image to Word conversion results.
Convert Image to Word with High Quality
Cisdem PDF Converter OCR is the one outstands its rivals. It allows mac users to convert any PDFs and images into 15+ formats (Word, Excel, Powerpoint, HTML, ePub, Pages, Keynote, Text, Image, etc) with original file quality highly retained. Unlike Readiris, Cisdem PDF OCR Converter supports batch conversion. Even with a free PDF Creator built in the program, this PDF OCR program enables users to create PDFs from virtually any documents (Microsoft Office, CHM, ePub, Image, etc), meanwhile, you can add password, customize PDF size and quality when creating PDFs with this program.
Steps to Convert Image to Word on Mac or Windows
Download and install PDF OCR program on your Mac/Windows, launch it.
Free Download Free Download
Add image files by drag and drop into the program, it supports importing JPG, PNG, GIF, BMP,TIFF, PSD, etc. Batch conversion is also supported.
Customize the Image to Word conversion on mac. Once the images is imported to the program, it will be under OCR mode by default, fill Page Range or choose All pages to convert. Also, select language and output as Word.
Click "Convert" to start OCR Image to Word on mac/windows. You will get the Word output instantly in output folder.
Notes:
For more accurate OCR results, you can click the "Settings" icon. You will notice that the OCR applied zone are automatically marked as Texts, Images or Tables in different colorful areas, you need to check if all OCR applied zone is marked correctly, if not or improperly, manually adjust (deleted the mark box first, then click on one of the icons under OCR applied zone, now you can drag a mark box to select all zone you want to be marked as the format you prefer). For example, if you want to output a part as table, remove the mark box in this zone, click on "Mark Tables" in the OCR applied zone, then drag a mark box to select those contents you want to mark as Tables. You can resize the mark box by dragging its corners and rotate the files if they are inverted. This is done to make sure all the parts are recognized properly and will be outputed with good formatting.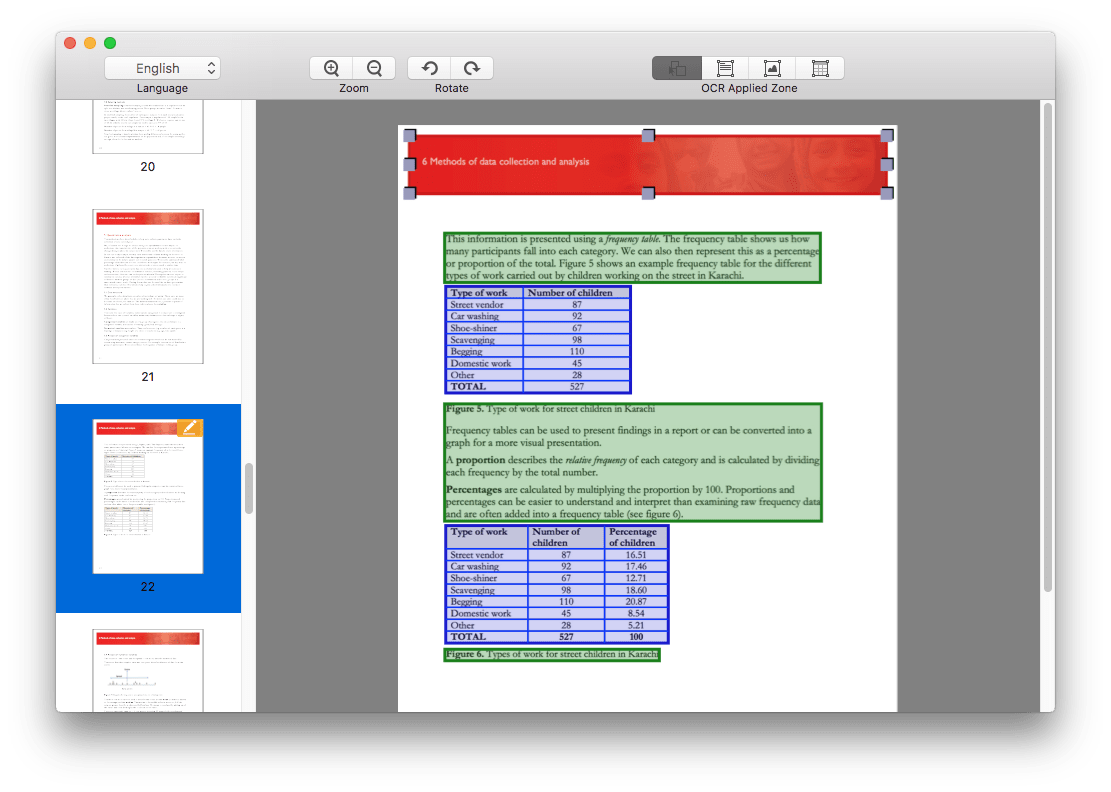 Can I Convert Image to Word with Adobe Acrobat?
Absolutely Yes. Though as the creator of PDF format, Adobe is also capable of dealing with images file, you just need to get Image in PDF format before the conversion. Here is the tutorial:
Run Adobe Acrobat DC.
Go to Tools>Create PDF. Click "Select File" to import image file, then click "Create" to open the image file in Adobe Acrobat DC.
Go to "Tools">"Export", choose the output as Microsoft Word. Done.
Conclusion
The image to word conversion is not a big problem if you find an adequate converter. No matter you are using a Mac or a Windows PC, a dedicated Image to Word converter will greatly save your time and efforts when perform OCR on scanned files and images. Now, have a try to make your images editable.

Connie has been writing for Mac productivity and utility apps since 2009. Each review and solution is based on her practical tests, she is aways energetic and trustworthy in this field.