How much storage space left in your Google Driver? Have you ever thought about saving the drive storage in some ways, say compressing video files or pdf files? As a matter of fact, considering the limited free storage space, it is of course a sensible idea.

It is reported that Google is planning to make $1 million in research grants available next year to security researchers to examine Drive for vulnerabilities. Google Drive uses the company's custom-built data centers to store users' photos, videos, and other important documents. It actually has never been hacked, but the company wants to make sure it stays ahead of the bad guys. In spite of its improved security, the storage is a big headache. Someone may recommend you to buy some storage. However, the price is not cheap. Except for the free 15GB, you'll have to pay $9.99 per month if you need to add your storage to 1TB. If so, why not save the storage of some large files like videos? Here is the guide on how to compress video files, pdf files, etc.
Part I. How to Compress Video Files on Mac
Solution 1. Compress Video Files with Video Compress Tools
In order to compress video files and shrink their sizes, we can make use of some video compress tools for Mac. A recommended free online video compressor is the far-famed Clipchamp, which empowers you to compress videos in very easy steps.
Besides, QuickTime Pro from Apple is also available to compress video files for Mac. You can do it in 3 steps:
Step 1. After downloading and registering the program, add your video files to it.

Step 2. Click the "File" tab and select "Export" to open the "Save Exported File As" screen. Now click on the "Export" option.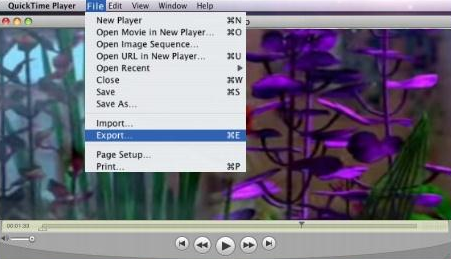 Step 3. Customize your video options (Wi-Fi, Cellular or Web) and change the "compression type" of your video to one with a smaller bit rate.
Solution 2. Compress Video Files by Converting to Smaller Video Formats
We can compress video files by converting original video files into another file format of smaller sizes. Now, there are lots of video file formats available. MP4, WMV, FLV, MPEG-4 and RealVideo are supposed to be small video file formats. MP4, for example, has the features of high compression rate, good video quality and wide compatibility. Cisdem VideoConverter is an all-in all video converter and editor for Mac. It can be used to cut or crop the video, or convert the video to MP4 and other video format with small size but good quality.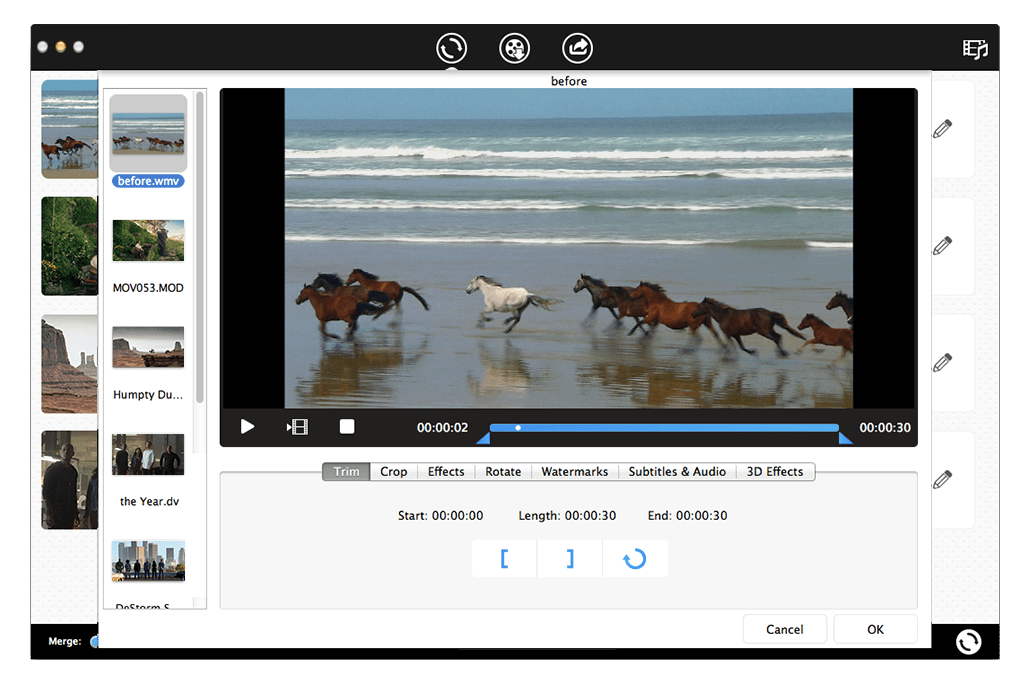 Part II. How to Compress PDF Files on Mac
In order to compress PDF on Mac, you can find many tools from the Internet. However, the qualities of the compressed PDF files differ a lot as per different tools. Cisdem PDF Compressor, a professional PDF compressing tool, enables users to choose different modes, including Normal Compression, Average Image Quality, Low Image Quality, Lossless Compression and Minimal Size Compression. What's more, you only need to drop the files you want to compress to the app, choose a compression mode, and then you are done!
Step 1. Download the Cisdem PDFCompressor for Mac and open it.
Step 2. Click "Add" to import your PDF files to the program.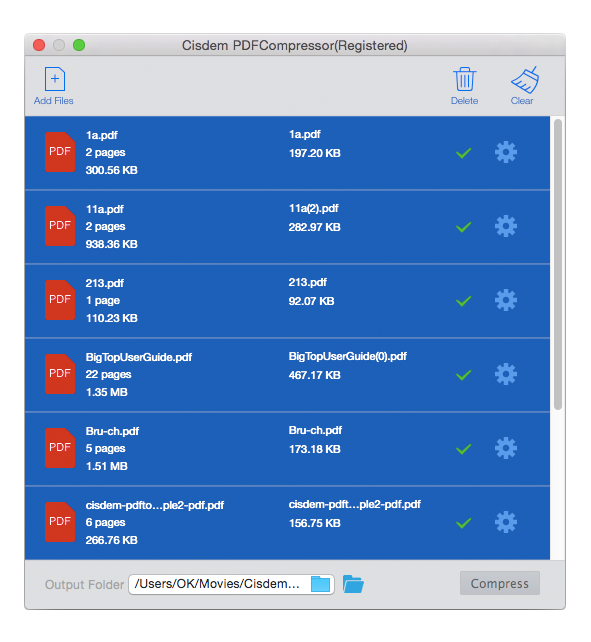 Step 3. Choose a compression mode as you like.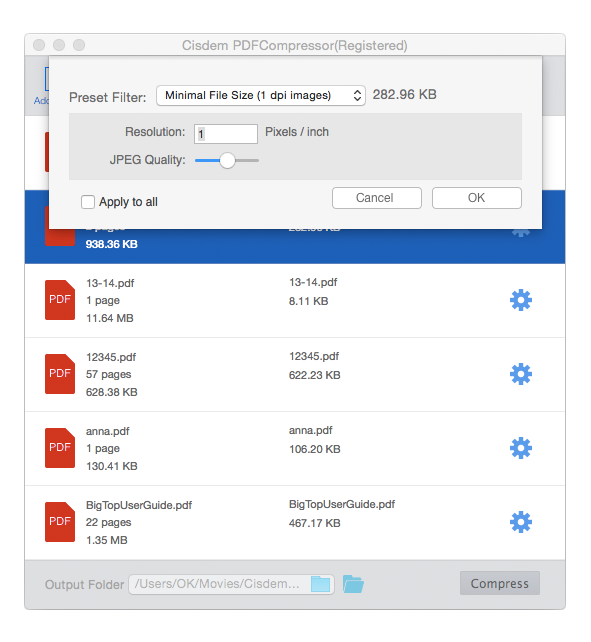 Step 4. Click on "Compress" in the bottom.
Part III. Compress Different Files with Cisdem BetterUnarchiver
Cisdem BetterUnarchiver, a Mac Unarchiver and archiver that lets you batch compress files, preview the contents inside archives and unzip (entirely or partially) archive files on Mac. No matter it is video, pdf or any other type of files, Cisdem BetterUnarchiver can efficiently compress the files into smaller sizes.
Step 1. Download Cisdem BetterUnarchiver and launch it on your Mac.
Step 2. Click on "iPack" icon and then add your files to be compressed to the program.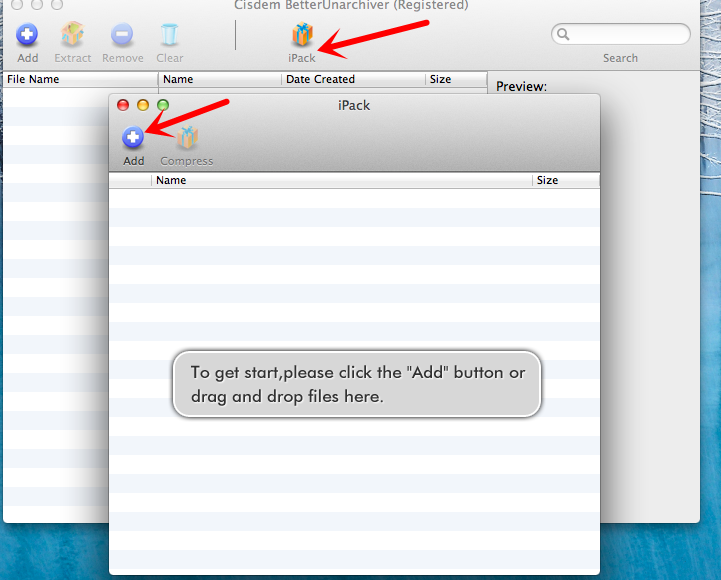 Step 3. Set the name, location and format for your files. After saving these setting, wait for several minutes to finish the compression process.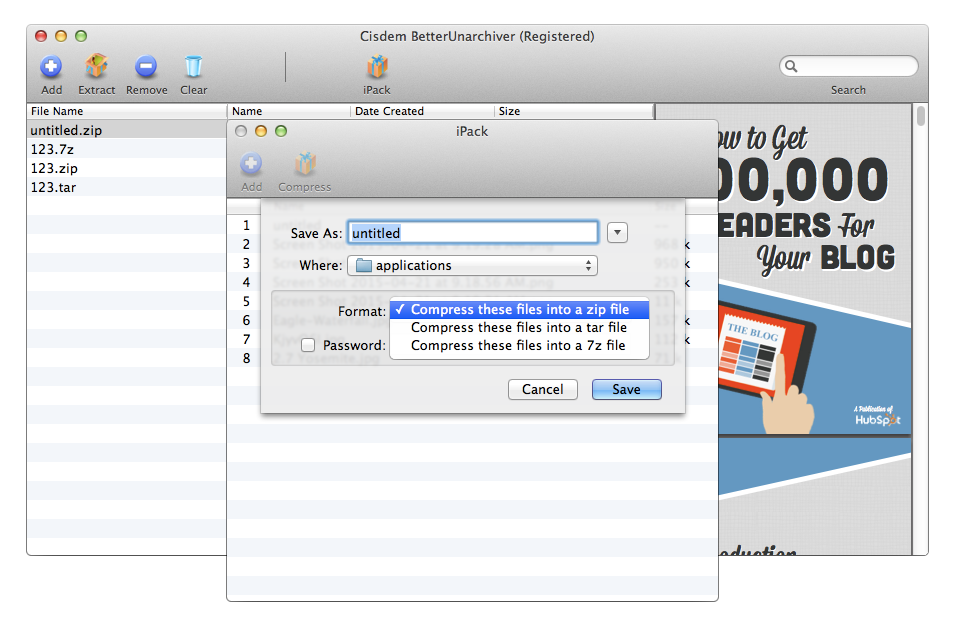 Part IV. More Information about "Compress"
1. When we say "create zip files", it refers to collecting one or more files and/or folders. However, the "compress files" technique is to make the data rearranged to save storage space and increaserate of data signaling. They aren't the same.
2.Repeatedly compressing a file using lossy methods may decrease the quality – every time you do it, more data will be lost. There is also a lossless compression, which is basically works by removing redundancy.
3. Besides, compression does help shrink the sizes of the data set. For the purposes of network transport, having less data to move means it should take less time to move it. However, many data types are not compressible and trying to compress data that is not compressible will waste CPU time.